Top 100 American Wrestlers Of All-Time
The Top 100 Countdown: 10-1
The Top 100 Countdown: 10-1
FloWrestling's countdown of the Top 100 American wrestlers of all time concludes with 10-1.
Jan 8, 2022
by Kyle Klingman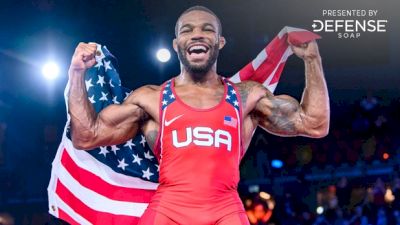 Unlock this video, live events, and more with a subscription!
Get Started
Already a subscriber? Log In
The countdown concludes as FloWrestling has officially released its top 100 greatest American wrestlers of all time. The inaugural episode was released on November 4 and ended with the announcement of the greatest wrestler of all time on January 10, 2022.
Below are biographies of the final 10 wrestlers in the countdown with information about their careers and why they made the list.
100-91
90-81
80-71
70-61
60-51
50-41
40-31
30-21
20-11

Lee Kemp's career defies logic. Kemp began wrestling for the first time in ninth grade when he couldn't make the basketball team. Kemp compiled a 14-2 record on the freshman team and was 11-8-3 on varsity the following season. Then, as a junior, things started to click. Kemp went undefeated for Chardon High School in Ohio before signing to wrestle for Wisconsin.
Up to that point, no wrestler had won four NCAA Championships. Kemp was close to becoming the first. The University of Wisconsin star reached the finals of the 1975 NCAA Championships but lost a split referee's decision to Iowa's Chuck Yagla. His sophomore season began his run toward history. He picked up a statement win over Dan Gable at the 1975 Northern Open, avenged his loss to Yagla, and, in 1976, won his first NCAA title. He went on to win two more – becoming a three-time NCAA champion and a four-time finalist.
But that was just the beginning of what Kemp would accomplish. He won the 1978 World Championships after his senior season then won again in 1979 – becoming the first American to win back-to-back World titles. Kemp was poised to win the 1980 Moscow Olympics – virtually everyone considered him the favorite – but the Games were boycotted when U.S. President Jimmy Carter after the Soviet Union invaded Afghanistan.
Kemp won a bronze medal at the 1981 World Championships then struck gold again at the 1982 World Championships – becoming the first American to win three World titles.
Is it Adeline Gray or is it Adeline Gold? Her international wrestling credentials certainly warrant a name change. Gray has won an incredible six World Championships over her brilliant career.
Her first World medal was bronze at the 2011 Worlds when she competed at the 67 kg weight class. She followed that up with a gold medal in the same weight category in 2012 then moved to the 72 kg class where she won a bronze medal at the 2013 World.
Then Gray hit a gold rush.
The U.S. heavyweight superstar won the gold medal at every World Championship she entered. She won 75 kg gold in 2014 and 2015, and 76 kg gold in 2018, 2019, and 2021. Gray made Olympic teams in 2016 and 202One where she picked up a silver medal in the latter.
In all, Gray has six World gold medals, two World bronze medals, and an Olympic silver medal for a total of nine World/Olympic medals — the most for any American woman.
Kyle Dake achieved a college wrestling feat that is virtually untouchable and it will always be unbreakable. The Cornell star won four NCAA championships in four different weight classes: 1st at 141 pounds in 2010, 1st at 149 pounds in 2011, 1st at 157 pounds in 2012, and 1st at 165 pounds in 2013. He remains one of four wrestlers to win four NCAA Division I titles.
For perspective, no wrestler had won NCAA titles in more than two weight categories prior to Dake. It will always remain a record that can't be broken. The Ithaca, New York, native has a knack for succeeding in multiple international weight classes, too. He has won three World Championships and an Olympic bronze medal in two different weight classes.
His World titles in 2018 and 2019 were at 79 kg while his bronze medal at the 202One Olympics and his 2021 World gold were at 74 kg. He also has the most wins over wrestlers in the top 20 on this list. Dake has defeated Jordan Burroughs (#2), David Taylor (#15), and J'den Cox (#19). Those three wrestlers have combined to win 10 World and Olympic gold medals and 16 total medals over four different weight categories (74 kg, 79 kg, 86 kg, and 92 kg).
Overall, Dake has won an NCAA title or a World title in weight classes ranging from 141 pounds all the way up to 174 pounds.
From the beginning, Dan Gable appeared to be destined for greatness. Born and raised in Waterloo, Iowa, Gable compiled a 64-0 record at Waterloo West High School and won three state championships in three attempts from 1964-66 (freshmen weren't allowed to compete at the time).
Gable showed early signs of greatness when he entered the 1966 Midlands Championships – one of the most prestigious tournaments in the country – nine months following his senior high school season where he competed at 112 pounds.
Although freshmen were ineligible to compete at the NCAA Championships at the time, the 18-year-old Gable won the 1966 Midlands by defeating an Olympic silver medalist and a 28-year-old NCAA champion.
When Gable entered the line-up as a sophomore, he did not disappoint. He won every match during his sophomore season and followed that up with arguably the greatest season in college wrestling history. Gable pinned 31 of 33 opponents and pinned his way through the Big Eight Championships and the 1969 NCAA tournament.
During his senior year, Gable moved up from his normal 142-pound weight class to take on the returning 150-pound NCAA champion from Oklahoma, Mike Grant. Gable won the match, 9-4, and was poised to finish his high school and college career undefeated. Gable pinned his way through the Big Eight Championships and the 1970 NCAA tournament until he ran into the sophomore buzz saw Larry Owings of Washington in the finals. Gable entered the match with 181 consecutive wins over high school and college but dropped his final college match, 13-11.
Motivated by the loss, Gable would take his sport to new heights. After he won the 1971 World Championships, the Soviet Union vowed to find someone who would defeat him. They failed.
Gable won a gold medal at the 1972 Munich Olympics by going 6-0 without surrendering a single point. Over the Olympic Trials and the Olympic Games, Gable surrendered one point. Although a handful of wrestlers have won World and Olympic titles since then, Gable became the first American two win a World title and an Olympic gold medal in consecutive years.
If you stare at Cael Sanderson's collegiate record long enough, you might wonder how any human can achieve such a feat. During his college career at Iowa State, Sanderson went 159-0 from 1999-2002.
You don't have to be a math wizard to understand what that means. Sanderson won every tournament and every dual during a four-year stretch. That includes four Midlands titles, four Big 12 titles, and four NCAA titles. He was named Outstanding Wrestler at the NCAA Championships all four years and was just the second wrestler to win four NCAA titles – and the first to win in consecutive seasons. That's on top of a 127-3 high school record at Heber City High School in Heber City, Utah, where he won four state titles.
Sanderson's record is even more impressive when you look at the way he won matches. Using his trademark ankle pick, Sanderson picked up victory after dominating victory during his brilliant college career. He won the majority of his matches by bonus points, including 64 career falls.
Cael-mania gripped the nation during and after his incredible run. Attendance at Iowa State doubled when he was there. Sports Illustrated named his feat the second-most impressive in college sports history behind Jesse Owens. Sanderson was featured on a Wheaties box. They made limited edition bobblehead dolls. He even won an ESPY as the top male athlete across all sports.
And that's not all. Sanderson qualified for the 2001 and 2002 World Championships but did not compete in either event. The 2001 World Championships were postponed after 9/11 and Sanderson wanted to focus solely on his college career. He qualified after his senior campaign but the World Championships in Iran were boycotted by the United States following a credible threat to the U.S. team.
Finally, in 2003, Sanderson got his chance. He won a silver medal at the World Championships in New York – losing a tight match in the finals to Sazhid Sazhidov of Russia.
The following year, Sanderson struck gold at the 2004 Athens Olympics, which included a satisfying victory over his Cuban rival, Yoel Romero, in the semifinals. Sanderson retired from active competition after the Olympics but returned to the mats in 2010 and made the 2011 World Championships where he placed fifth.
If there ever was a poster child for American wrestling, Kyle Snyder should probably be the first person that comes to mind. Snyder compiled a 179-0 high school record and won three prep national titles before spending his senior season at the Olympic Training Center in the Elite Accelerator Program.
The program must have worked. Snyder won a Junior World title in 2013 and Junior World bronze in 2014 before attending Ohio State University. Snyder reached the 197-pound finals of the 2015 NCAA Championships but was pinned by Iowa State's Kyven Gadson. Several weeks later, Snyder made the World team at 97 kg by knocking off 2012 Olympic champion Jake Varner in straight matches. At the age of 19, Snyder won the 2015 World championships – becoming the youngest American to win a World gold medal.

In 2016, Snyder moved up to heavyweight for his sophomore season and won his first NCAA title with a thrilling sudden victory win over returning two-time NCAA champion Nick Gwiazdowski of North Carolina State. In the process, Snyder became the first and only wrestler to win an NCAA title after he won a World title. He also made the Olympic team and, at the age of 20, became the youngest American wrestler to win a gold medal.
Snyder won his second NCAA title in 2017 and made his third straight World and Olympic team. His performance at the 2017 Worlds in Paris would cement his status as a legend. Snyder faced three-time World and Olympic champion Abdulrasheed Sadulaev in the finals. Not only was an individual title on the line, but the winner of the match would determine the team champion. Snyder fell behind early but came storming back for a 6-5 win – giving the United States its first men's freestyle title since 1995 by a point.
Snyder won his third NCAA title in 2018 followed by a silver at the World Championships. He picked up his fifth World medal when he secured a bronze at the 2019 Worlds then followed that up with silver medals at the 202One Olympics and the 2021 World Championships.
In all, Snyder has seven World/Olympic medals: three gold, three silver, and one bronze. All of his losses at the World/Olympic team trials and Worlds/Olympics have been to Olympic champions.
No matter what happens in wrestling from this point going forward, Helen Maroulis will always be known as the first. You can say she is the first four-time WCWA champion in women's wrestling history and you'd be right to a degree. She won a title for Missouri Baptist in 2010 then picked up titles for Simon Fraser in 2011, 2013, and 2014. Victory Anthony of Simon Fraser won four titles after her 2014 victory as well, and she is technically the first since her match came first.
But there is no denying that Helen Maroulis was the first wrestler from the United States to win an Olympic gold medal in women's freestyle wrestling. Women's wrestling entered the Olympics in 2004 for the first time and the Americans saw early success. A few wrestlers picked up medals, but none of them won gold. Maroulis changed that when she won the 2016 Rio Olympics over Japan's Saori Yoshida in the gold medal finals.
How good was Yoshida? She won 16 World and Olympic titles in a row before Maroulis pulled off the stunning upset, 4-1.
Maroulis's Olympic run is only part of her legacy. She won the 2015 World Championship and outscored her five opponents at the 2017 World Championships by a 52-0 count. That's on top of silver at the 2012 Worlds and a bronze in 2014.
The Rockville, Maryland, native suffered injuries in 2018 and 2019 so a return to the mat seemed doubtful. However, Maroulis rebounded to make the 202One Olympic team where she won a bronze medal at 57 kg — becoming the first American woman to win multiple Olympic medals. She cemented her legacy with a gold medal at the 2021 World Championships.
If there was ever a doubt that Bruce Baumgartner is the greatest heavyweight in American history, just take a look at the numbers. Baumgartner made 15 straight World and Olympic teams from 1982 through 1996 – an all-time U.S. record. But that's only the beginning of Baumgartner's domination of domestic competition that spilled over into international success.
Baumgartner won a bronze medal at the 1983 World Championships, which would be the start of a record-breaking run at the World and Olympics Games. The U.S. big man won the 1984 Los Angeles Olympics for his first World-level gold medal. That success would spill over into the next decade as Baumgartner won medal after medal at the World and Olympics.
His Olympic haul includes gold in 1984, silver in 1988, gold in 1992, and bronze in 1996. That's in addition to nine medals at the World Championships, including gold in 1986, 1993, and 1995. His wrestling feats were so impressive that the United States chose Baumgartner to be the flag bearer for the United States during the opening ceremonies at the 1996 Atlanta Olympics.
Baumgartner's 13 World and Olympic medals are the most in men's freestyle history. That's on top of a gold medal at the 1986 Goodwill Games, seven World Cup gold medals, four World Cup silver medals, three Pan American Games gold medals, and three Pan American Championships.
His college career wasn't too shabby, either. Baumgartner competed for Indiana State and reached the NCAA tournament finals in 1980 and 1981 before winning his lone NCAA title in 1982.
Given all Jordan Burroughs has accomplished, it's hard to believe he was only a one-time New Jersey state champion. His college options were limited. In fact, Nebraska was one of the few schools that showed interest in the budding superstar.
His freshman campaign didn't start out with a bang, either. He went 16-13 and went 1-2 at the 2007 NCAA Championships. Burroughs made improvements during his sophomore season by placing third at the 2008 NCAA tournament at 149 pounds – considered the toughest bracket in NCAA tournament history.
Burroughs moved up to 157 pounds the following season, which was the beginning of his rise to greatness. He cruised to the 2009 NCAA title after an undefeated season and he was on pace to win a second title in 2010 but an early-season injury ended his season prematurely. Burroughs used the time to solely focus on improvement – and improve he did.
The Cornhusker star moved up in weight a third time and blitzed through the 165-pound field on his way to his second NCAA title. Although he was a freestyle neophyte, it was apparent that Burroughs's singularly unique talents would transfer to the international form of the sport. Burroughs made the 2011 World team and won his first World title with an early-round win over the reigning two-time World champion from Russia, Denis Tsargush. He beat Tsargush again the following year on his way to a gold medal at the 2012 Olympic gold medal.
Burroughs's 2013 campaign defies logic. He shattered his ankle during training camp weeks before the World Championships. Competing seemed unlikely, but Burroughs and his team put together a plan that would prepare him to take on the world. And that he did. Burroughs won his third consecutive World and Olympic title through extreme adversity.
Burroughs was injured at the 2014 World Championships but fought back to earn a bronze medal. He followed that up with his fourth World or Olympic title during the 2015 World Championships that were held in Las Vegas. Burroughs was favored to win a gold medal at the 2016 Olympics but failed to medal after going 1-2.
Some thought Burroughs was finished and would not return to his winning ways. Burroughs had other plans. He won his fifth World or Olympic title in 2017 even though he was behind in every match. It was part of a team performance that saw the United States knock off Russia by one point.
As if that wasn't enough, Burroughs won bronze medals at the 2018 and 2019 World Championships. Then he moved up to 79 kilograms for the 2021 World Championships after Dake took over the 74-kg spot for the 202One Olympic Games. Burroughs tied Smith's American record of six World and Olympic gold medals after winning the 2021 World Championships.
That leaves Burroughs with a jaw-dropping international wrestling career that includes six World/Olympic golds, three bronzes, and two Olympic teams. And, at the age of 33, he's not done competing.
John Smith's wrestling career started out well enough. He was a two-time state champion for Del City High School and placed fourth at Junior Nationals in 1982 and 1983. This was a good start, but hardly the beginning of the legendary wrestling career that would follow.
John followed his older brother, Lee Roy -- a three-time All-American and 1980 NCAA champion – to Oklahoma State University. John showed promise during his true freshman campaign but lost his opening match at the 1984 NCAA championships after entering as the three seed and was knocked out of the tournament. His sophomore campaign saw him place second at the 1985 NCAA championships but was handled in the finals by Wisconsin's Jim Jordan, 7-4.
Smith took a redshirt year in 1986 – and American wrestling would never be the same. Using his trademark low single and his ferocious turns on top, John Smith reimagined what is possible in wrestling. The Del City native won the 1986 Goodwill Games with an impressive win over that year's World champion from Russia. When Smith returned to college competition he went on a tear that the United States hasn't seen before or since. He won NCAA titles in 1987 and 1988, but that's not all. He was his first World title after his junior season then won the Olympic Games after his senior campaign. Then he won again…and again…and again…and again.
Making the 1988 Olympic team was particularly memorable. Smith beat reigning Olympic champion Randy Lewis at the Olympic Trials just to earn a spot on the team. Lewis had beat out John's brother, Lee Roy, during a contentious 1984 Olympic Trials.
Smith was named Outstanding Wrestler in the world in 1991 and was the first wrestler to win the Sullivan Award as the top amateur athlete.
Smith retired from active competition the day before his 27th birthday after winning his second gold medal at the 1992 Olympic Games. He was the first American wrestler to win back-to-back Olympic golds since George Mehnert won gold medals in 1904 and 1908.
By the time he was done, he had won six consecutive World and Olympic titles. No other American had one more than two in a row up to that point. No American since then has won more than three in a row. Smith's legendary career remains unmatched in the annals of U.S. wrestling history.