Top 100 American Wrestlers Of All-Time
The Top 100 Countdown: 20-11
The Top 100 Countdown: 20-11
FloWrestling's countdown of the Top 100 American wrestlers of all time continues with 20-11.
Dec 31, 2021
by Kyle Klingman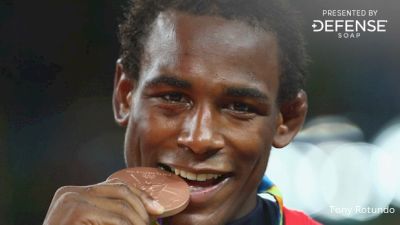 Unlock this video, live events, and more with a subscription!
Get Started
Already a subscriber? Log In
The countdown continues as FloWrestling releases its top 100 greatest American wrestlers of all time. The inaugural episode was released on November 4 and will end with the announcement of the greatest wrestler of all time on January 10, 2022.
Below are biographies of the next 10 wrestlers in the countdown with information about their careers and why they made the list.
100-91
90-81
80-71
70-61
60-51
50-41
40-31
30-21
20. Wayne Wells
There's nothing like making history — and Wells made plenty of his own history for the United States. His most notable achievement is becoming the first American to win a World title and an Olympic gold medal. He won the 1970 World Championships — just the third American to do so — then won the 1972 Olympic Games while going to law school.
On top of that, he placed fourth at the 1968 Olympics and won a silver medal at the 1969 Worlds. His college career for Oklahoma included a second-place finish at the 1967 NCAA championships before winning a title in 1968.


19. J'den Cox
Cox has a career packed with interesting facts and figures. He won the 2014 NCAA Championships for Missouri as a true freshman followed by a fifth-place finish in 2015 and titles in 2016 and 2017, all at 197 pounds. Cox cut down to 86 kilograms (approximately 189 pounds) for the 2016 Olympic Trials where he entered as the #9 seed and made the team following a best-of-three series win over Kyle Dake.
The Columbia, Missouri, native picked up a bronze medal at the Rio Olympics without giving up a takedown. He followed that up with an 86 kg bronze at the 2017 Worlds and 92-kg golds in 2018 and 2019. His most recent accolade was a bronze medal at the 2021 Worlds, giving Cox five Senior-level World/Olympic medals, including two gold.
Mensah-Stock was just the second American to win an Olympic gold medal in women's freestyle after she took the 68-kilogram title at the 202One Games. This was a follow-up to winning the 2019 World Championships where she was part of the most successful women's gold medal haul in U.S. history.
The Katy, Texas, native has a pair of World bronze medals — one in 2018 and one in 2021 — along with a pair of WCWA titles while she was at Wayland Baptist (2014 and 2017). Her greatest accomplishment, however, might be winning the prestigious Yarygin tournament three times.
Gardner shocked the world in 2000 when he defeated reigning 12-time World and Olympic champion Alexander Karelin during the super heavyweight Greco-Roman finals of the Olympic Games. His 1-0 win turned Gardner into a global superstar.
The Afton, Wyoming, native was more than a flash in the pan, though. He followed up his historic upset with a gold medal at the 2001 World Championships and a bronze medal at the 2004 Olympics. Gardner is the only American to win an Olympic gold medal and a World title in the Greco-Roman discipline and the only one to win titles in back-to-back years.
In college, Gardner placed third at the 1990 NJCAA nationals for Ricks (now BYU-Idaho) and first in 1991. He transferred to Nebraska where he placed fourth at the 1993 NCAA Championships.
Brands showed signs of promise at Sheldon High School but he certainly wasn't a sure thing in college. His lone state title came as a junior, although two finishes in the top five at Junior Nationals showed he had promise.
Brands's career took off once he arrived at the University of Iowa. Tom placed fourth at the NCAA Championships as a freshman before reeling off three NCAA titles from 1990-1992. His finals wins as a junior and as a senior were over Alan Fried — the same wrestler who defeated Brands 15-0 at the 1987 Junior National tournament.
Many felt like Brands's aggressive and punishing style wouldn't translate at the international level. As is his tradition, Brands proved everyone wrong. He won a World title in 1993 immediately after his senior year of college. He defeated Lazaro Reinoso Martinez in the finals — the only wrestler to defeat John Smith twice in international competition.
Brands didn't place at the 1994 and 1995 World Championships but concluded his career at the 1996 Olympics with a gold medal. Over the course of four matches, Brands only gave up one point.
Some say Taylor is a magician. That might be the only explanation for what he can do on a wrestling mat. Taylor's offensive and wide-open style makes him a fan favorite every time he competes. His college career was highlighted by four appearances in the NCAA tournament finals, placing 2-1-2-1 from 2011 through 2014 for Penn State.
Taylor's 2012 run was particularly memorable. He pinned his first four opponents before winning 22-7 to take the title. His 22 points were the most ever during an NCAA tournament finals match.
His career reached another level when he won the 2018 World Championships at 86 kilograms. His opening round match was against returning World and Olympic champion Hassan Yazdani — and Taylor won, 11-6. Taylor missed the 2019 season due to injury but came roaring back in 2021 to win an Olympic gold medal and a World silver medal.
Many will remember Kevin Jackson for his college career at wrestling power Iowa State and his battles with in-state rival Royce Alger. This is a good place to start, but it doesn't provide the scope and context of a legendary wrestling career that included three Olympic cycles.
Jackson only competed for the Cyclones in 1987 and he was an important piece to Iowa State dethroning Iowa after winning nine NCAA championships in a row. Jackson lost three times to Alger during the season, including a 10-4 loss in the NCAA tournament finals. Prior to that, Jackson competed for Louisiana State before the program was dropped after the 1985 season. He placed third as a freshman in 1983 and as a sophomore in 1984. Jackson dropped to seventh as a junior before moving to Ames for his final year of eligibility.
The loss in the finals to Alger would prove to be the ultimate motivation for Jackson. Not winning an NCAA title left a sour taste in his mouth — even though Iowa State won a team title with four champions and five finalists.
Jackson was finally vindicated when he won the 1991 World Championships in Varna, Bulgaria. Alger was the returning silver medalist and Jackson picked up a win over his domestic rival during the season. He defeated 1989 World silver medalist Melvin Douglas in straight matches just to make the team. Jackson made the 1992 Olympic team and struck gold again — winning a dramatic finals match over Elmado Javailov of Russia, 1-0 in overtime.
Jackson made World teams each of the next two seasons but didn't medal again until picking up his third World/Olympic gold medal in 1995. Jackson has the most World/Olympic gold medals of any wrestler that attended a college in Iowa.
Although his college career began at the now-defunct UCLA wrestling program, Mark Schultz would carve out a unique piece of history that only three other wrestlers have attained. His first trip to the NCAA Championships in 1979 ended with a first-round defeat. Once he transferred to the University of Oklahoma, Schultz's career would catapult into the stratosphere. He won his first NCAA crown in 1981 at 167 pounds. As a junior, he moved up to 177 pounds where he faced returning two-time NCAA champion Ed Banach in the finals. The two fought tooth and nail in before Schultz pulled away for a 16-8 win. The match remains one of the most fiercely contested and talked about matches in wrestling history.
Both Schultz and Banach won their third NCAA titles when Banach moved up to 190 pounds for the 1983 season. Both made the Olympic team in 1984 and both won gold medals — Schultz at 82 kg and Banach at 90 kg.
That was just the beginning of Schultz's groundbreaking career. He won a World title in 1985 and again in 1987 — making him the first wrestler to win three NCAA championships and three World/Olympic titles. Schultz made a second Olympic team in 1988 before retiring from competitive combat sports after a brief stint in the UFC. Schultz's life was featured in an Academy Award-nominated film called "Foxcatcher."
Although his life was cut short by the brutal murder at the hands of John duPont on January 26, 1996, Dave Schultz made his mark on wrestling that continues to this day.
Numbers hardly capture the significance of Schultz's impact – even though they are impressive. Schultz won his first World medal at the 1982 World Championships when he moved up to 82 kg from his normal weight class of 74 kg. Schultz won a bronze medal but earned gold the following year when he moved back down to 74 kg. He won a gold medal at the 1984 Olympics then won silver at the Worlds, bronze in 1986, and silver again in 1987.
Kenny Monday took over the spot from 1988 through 1992 but Schultz earned another silver at the 1993 World Championships when Monday stepped away from competition. Although he didn't medal at the 1994 or 1995 World Championships, Schultz was a leader during the greatest era for American freestyle wrestling.
After the collapse of the Soviet Union in 1991, the United States took advantage of a fragmented Russia. Team USA won its first World title in 1993 and its second in 1995. Schultz was an integral part of both teams. Schultz intended to wrestle at the 1996 Olympic Trials where he likely would have faced his rival Kenny Monday at some point. That moment never happened, but wrestling will be forever grateful that Dave Schultz was the transcended figure of a generation.
The first thing you should know about Kenny Monday is that he has won everything. His resume is so long and so deep that it's hard to keep track of all he's accomplished.
He is the only American wrestler to win the Olympic Games (1988), World Championships (1989), Tbilisi Tournament (1988), NCAA tournament (1984 for Oklahoma State), and Junior Nationals (1977). Monday also won silver medals at the 1991 World Championships and the 1992 Olympics and made a third Olympic team in 1996. The Tulsa, Oklahoma, native wrestled at Booker T. Washington High School, winning four state wrestling championships (1977-80), compiling a 140-0-1 record.
Monday's rivalry with Iowa State's Nate Carr is the stuff of legend. Monday would win the Big 8 tournament only for Carr to repay the favor at the NCAA Championships. The two would become Olympic teammates in 1988 with Carr winning bronze and Monday winning gold. Monday's victory was particularly significant. He became the first black wrestler to win an Olympic gold medal when he took down reigning World champion Adlan Varaev of Russia in overtime.