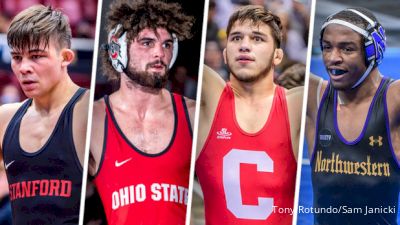 Unlock this video, live events, and more with a subscription!
Get Started
Already a subscriber? Log In
The Cliff Keen Las Vegas Invitational is the toughest early-season tournament and the pre-seeds are finally here! There are multiple national champions and over 100 ranked wrestlers in the field - take a look below to see the pre-seeds at every weight.
Brackets will eventually be in FloArena, but you can take a look at each preview to see all the athletes currently entered.
CKLV Previews: Lightweight | Middleweight | Upperweight
125 lbs
1 - #3 Patrick Glory, Princeton
2 - #15 Devin Schroder, Purdue
3 - #7 Malik Heinselman, Ohio State
4 - Jack Medley, Michigan
5 - #16 Joe Manchio, Columbia
6 - HM Brandon Kaylor, Oregon State
7 - HM Jacob Allen, Navy
8 - #23 Tanner Jordan, South Dakota State
9 - HM Jace Koelzer, Northern Colorado
133 lbs
1 - #6 Chris Cannon, Northwestern
2 - #11 Chance Rich, CSU Bakersfield
3 - #19 Dylan Ragusin, Michigan
4 - #20 Devan Turner, Oregon State
5 - #16 Mosha Schwartz, Northern Colorado
6 - Matt Ramos, Purdue
7 - Haiden Drury, Utah Valley
8 - #22 Job Greenwood, Wyoming
9 - Jake Gliva, Minnesota
10 - HM Anthony Sobotker, Binghamton
141 lbs
1 - #10 Clay Carlson, South Dakota State
2 - #7 Andrew Alirez, Northern Colorado
3 - #8 Chad Red, Nebraska
4 - #11 Grant Willits, Oregon State
5 - #15 Parker Filius, Purdue
6 - HM Dylan D'Emilio, Ohio State
7 - Lawrence Saenz, Cal Poly
8 - #23 Jake Bergeland, Minnesota
9 - HM Angelo Martinoni, CSU Bakersfield
10 - HM Ty Smith, Utah Valley
149 lbs
1 - #1 Yianni Diakomihalis, Cornell
2 - #2 Sammy Sasso, Ohio State
3 - #4 Yahya Thomas, Northwestern
4 - #6 Jaden Abas, Stanford
5 - #11 Ridge Lovett, Nebraska
6 - #15 Legend Lamer, Cal Poly
7 - #16 Mitch Moore, Oklahoma
8 - #23 Kanen Storr, Michigan
9 - #21 Michael Blockhus, Minnesota
10 - HM Zach Price, South Dakota State
11 - HM Cory Crooks, Oregon State
157 lbs
1 - #2 Ryan Deakin, Northwestern
2 - #6 Quincy Monday, Princeton
3 - #7 Peyton Robb, Nebraska
4 - #12 Kendall Coleman, Purdue
5 - #16 Jacob Wright, Wyoming
6 - #17 Justin Thomas, Oklahoma
7 - #9 Will Lewan, Michigan
8 - #14 Hunter Willits, Oregon State
9 - HM Andrew Cerniglia, Navy
10 - #23 Bryce Hepner, Ohio State
11 - HM Dazjon Casto, The Citadel
165 lbs
1 - #2 Evan Wick, Cal Poly
2 - #4 Shane Griffith, Stanford
3 - #13 Carson Kharchla, Ohio State
4 - #14 Cam Amine, Michigan
5 - #17 Phil Conigliaro, Harvard
6 - #15 Julian Ramirez, Cornell
7 - HM Tanner Cook, South Dakota State
8 - #21 David Ferrante, Northwestern
9 - Joe Grello, Oklahoma
10 - Josh Ogunsanya, Columbia
11 - HM Selwyn Porter, The Citadel
174 lbs
1 - #5 Mikey Labriola, Nebraska
2 - #6 Ethan Smith, Ohio State
3 - #10 Chris Foca, Cornell
4 - #11 Hayden Hastings, Wyoming
5 - #19 Cade DeVos, South Dakota State
6 - #22 Troy Fisher, Northwestern
7 - #15 Gerrit Nijenhuis, Purdue
8 - #17 Aaron Olmos, Oregon State
9 - #20 Jared Krattiger, Minnesota
10 - HM Anthony Mantanona, Oklahoma
11 - Jacob Nolan, Binghamton
12 - HM Tyler Eischens, Stanford
13 - HM Joshua Kim, Harvard
14 - HM Adam Kemp, Cal Poly
184 lbs
1 - #8 Bernie Truax, Cal Poly
2 - #13 Tate Samuelson, Wyoming
3 - #11 Taylor Venz, Nebraska
4 - #20 Jonathan Loew, Cornell
5 - #18 Darrien Roberts, Oklahoma
6 - Kaleb Romero, Ohio State
7 - #16 Max Lyon, Purdue
8 - #23 Travis Stefanik, Princeton
9 - #21 David Key, Navy
197 lbs
1 - #6 Jake Woodley, Oklahoma
2 - #7 Patrick Brucki, Michigan
3 - #9 Stephen Buchanan, Wyoming
4 - #10 Eric Schultz, Nebraska
5 - #11 Lou Deprez, Binghamton
6 - #13 Thomas Penola, Purdue
7 - #12 Tanner Sloan, South Dakota State
8 - #21 Jacob Cardenas, Cornell
9 - #22 Jake Koser, Navy
10 - HM Gavin Hoffman, Ohio State
11 - HM Alan Clothier, Northern Colorado
12 - HM Luke Stout, Princeton
13 - #19 Andrew Davison, Northwestern
14 - Nick Stemmet, Stanford
15 - #15 Michial Foy, Minnesota
285 lbs
1 - #7 Tate Orndorff, Ohio State
2 - #8 Brian Andrews, Wyoming
3 - #13 Christian Lance, Nebraska
4 - #14 Yaraslau Slavikouski, Harvard
5 - #15 Lucas Davison, Northwestern
6 - HM AJ Nevills, South Dakota State
7 - #18 Josh Heindselman, Oklahoma
8 - Joe Doyle, Binghamton
9 - #20 Jack DelGarbino, Princeton
10 - #21 Gary Traub, Oregon State