2021 Cliff Keen Las Vegas Invitational
Cliff Keen Las Vegas Lightweight Preview & Predictions
Cliff Keen Las Vegas Lightweight Preview & Predictions
Previewing the 2021 Cliff Keen Las Vegas invite at 125 pounds, 133 pounds, and 141 pounds, with predictions for all three weight classes.
Dec 1, 2021
by JD Rader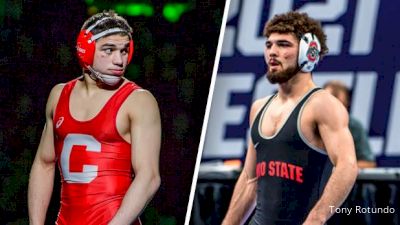 It's officially December, which means it's officially time for the best college wrestling tournament of the year - CKLV! With over 100 potential ranked wrestlers, the 2021 Cliff Keen Las Vegas Invitational starts Friday morning and runs through Saturday.
Let's take a look at the first three weights and predict how the top four will shake out. Jon Kozak will be handling the middleweights (149-174) and Andrew Spey is tackling the upperweights (184-285).
125 lbs
#7 Malik Heinselman, Ohio State
#15 Devin Schroder, Purdue
#16 Joe Manchio, Columbia
#23 Tanner Jordan, South Dakota State
#HM Brandon Kaylor, Oregon State
#HM Jace Koelzer, Northern Colorado
#HM Jacob Allen, Navy
Devin Garcia, California Baptist
Eddie Flores, CSU-Bakersfield
Jack Creamer, Oklahoma
Jack Medley, Michigan
Jake Ferri, Kent State
Jake Svihel, Wyoming
Jordan White, The Citadel
Joshua Portillo, Nebraska-Kearney
Kyle Randall, Sacred Heart
Logan Ashton, Stanford
Micah Roes, Binghamton
To me, this weight is about the return of Pat Glory. We haven't seen the Princeton junior wrestle a folkstyle match he beat Joe Manchio for the EIWA title in March of 2020. He was scheduled to wrestle Iowa a couple of weeks ago but did not compete. Now, Glory made the U23 World Team this off-season, so he hasn't just been sitting around. Still, running the gauntlet of folkstyle bracket where he will have to go through several ranked opponents, truly shows that he is back.
Another big question at 125 is whether or not Malik Heinselman can keep it rolling after beating Sam Latona two weeks ago. In his post dual interview, Ohio State coach Tom Ryan said he thought this would be the win that spurs a jump in levels for Heinselman. If that's the case, this is where he proves it.
CKLV was sort of Michael DeAugstino's breakout tournament in 2019. Going in as a freshman with a 1-1 record, DeAugustino left with a third-place finish and wins over Joey Prata (which was his lone loss of the year going in), Brandon Courtney, Jack Medley, and Jacob Schwarm. Unfortunately, he won't be competing this weekend. A guy with a similar situation this year is Greg Diakomihalis. Now, I'm not predicting Diakomihalis to take third this year, but with the opportunity to avenge losses to Jacob Allen and Logan Ashton, it's eerily similar.
I'd like to remind people not to sleep on Devin Schroder. The shortened season didn't do the now sixth-year senior any favors last season. But during the 2020 season, this man made the CKLV finals and was the five seed at NCAAs.
I can't point out that Schroder made the finals in 2019 without mentioning the fact that Taylor Lamont won the dang thing all the way back in 2017. LaMont is a seasoned veteran and as tough as they come when down to weight at 125.
Watch Taylor LaMont win 2017 CKLV below.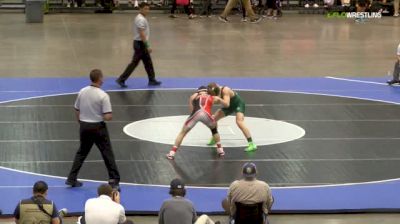 I'd also be remiss if I also didn't point out that Jack Medley was ranked #15 a week ago, but came out due to Suriano being the expected starter the second semester.
JD's predictions: 1) Glory 2) LaMont 3) Heinselman 4) Schroder
---
133 lbs
Entries
#11 Chance Rich, CSU-Bakersfield
#16 Mosha Schwartz, Northern Colorado
#19 Dylan Ragusin, Michigan
#20 Devan Turner, Oregon State
#22 Job Greenwood, Wyoming
#HM Anthony Sobotker, Binghamton
Anthony Petrillo, Sacred Heart
Brendon Fenton, Kent State
Dillon Murphy, Harvard
Dylan Koontz, Ohio State
Haiden Drury, Utah Valley
Hunter Leake, California Baptist
Joey Cape, Cal Poly
Joshua Koderhandt, Navy
Mason Clarke, Columbia
Nick Masters, Princeton
Trayton Anderson, South Dakota State
Matt Romas is the name I'm circling at 133 lbs. A 2018 Cadet World champion, Ramos is 5-0 so far on the year. A little undersized for 133, I'm not sure if Ramos is ready yet to be a factor on the national level, but this is a wide-open weight in Vegas.
The other big question mark for me at 133 is if Job Greenwood can keep the momentum rolling after a huge Cowboy Open tournament last weekend. The Colorado native knocked off Julian Chlebove before beating returning All-American Michael McGee. Was this a one-time performance or is Greenwood the real deal now?
Speaking of returning All-Americans, Chris Cannon is the clear favorite at the weight as the only returning All-American. Cannon actually also beat McGee en route to finishing 7th last year in St. Louis.
Dylan Ragusin is a guy anyone curious in the national team race should keep an eye on. Now that Michigan will be making a push for a national team title, Ragusin could be instrumental to their success. He won't be able to avenge his early-season loss to Anthony Madrigal or Lucas Byrd, but he can redeem himself with a couple of nice wins.
JD's predictions: 1) Cannon 2) Turner 3) Ragusin 4) Schwartz
---
141 lbs
Entries
#7 Andrew Alirez, Northern Colorado
#10 Clay Carlson, South Dakota State
#11 Grant Willits, Oregon State
#15 Parker Filius, Purdue
#HM Angelo Martinoni, CSU-Bakersfield
#HM Dylan D'Emilio, Ohio State
#HM Ty Smith, Utah Valley
Christian Nunez, California Baptist
Frankie Tal Shahar, Northwestern
Jack Whitmire, The Citadel
Jacob Butler, Oklahoma
Jacob Mann, Princeton
Jonathan Miranda, Navy
Jordan Carlucci, Sacred Heart
Kenny Duschek, Columbia
Kyle Rowen, Stanford
Lawrence Saenz, Cal Poly
Louis Newell, Kent State
Michael Jaffe, Harvard
Michael Zarif, Binghamton
Nick James, Nebraska-Kearney
Pat Nolan, Michigan
Andrew Alirez is looking lean and mean down at 141. We will once again be deprived of an Alirez - Dom Demas match, but that sets up a potential final with Chad Red. Red will be going for the CKLV title that has eluded him in his first three attempts. Red will also be trying to bounce back after a tough OT loss to Kizhan Clarke. Alirez, on the other hand, will be going in undefeated this season and off of the high of a big OT win over Allan Hart.
That first paragraph isn't meant to discredit the other three top-15 ranked guys: Clay Carlson, Grant Willits, and Parker Filius. If seeds follow the rankings, Red and Carlson would meet for the first time in their careers in the semis. En route to taking 8th last year at NCAAs, Carlson beat Filius 7-6. However, Fillius won the match at U23s in 2020.
A young guy to watch is Cole Handlovic. A Pennsylvania state champion, the Cornell freshman was the #37 overall recruit in the class of 2020. As it appears Yianni's new weight class is 149, Handlovic could be the Big Red's 141 for the next four years.
JD's predictions: 1) Alirez 2) Red 3) Carlson 4) Willits