2021 Cliff Keen Las Vegas Invitational
Every Ranked Wrestler We Could See At The Cliff Keen Las Vegas
Every Ranked Wrestler We Could See At The Cliff Keen Las Vegas
We list every ranked wrestler rostered on a team scheduled to participate at the Cliff Keen Las Vegas Invitational.
Nov 23, 2021
by Andrew Spey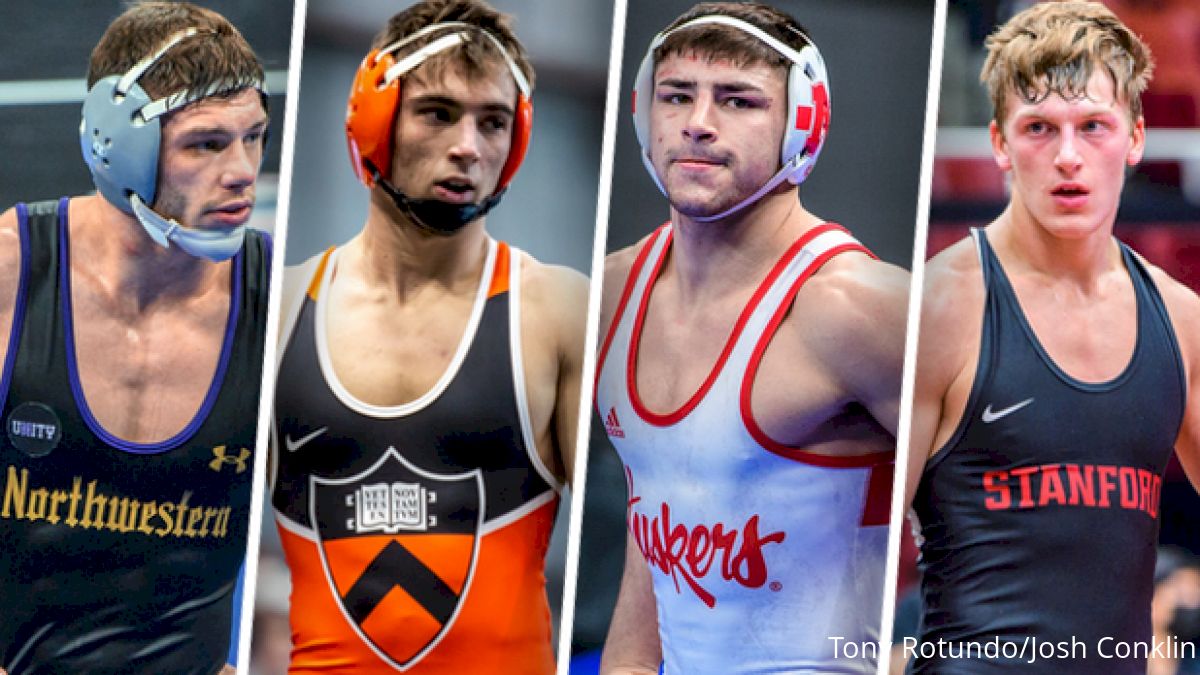 Just how tremendous is the 2021 Cliff Keen Las Vegas Invitational going to be? We haven't had one since 2019, so its mere existence is pretty tremendous in and of itself if you ask us.
Also, a whole lot of excellent wrestlers are going to be there. Which is quite tremendous in addition to the tournament's mere existence.
Though we still have a week in between now and the competition, so these rankings could change, below is a list of all the currently ranked wrestlers on teams that are scheduled to compete at the CKLV this December 3th and 4th.
125 Pounds
#2 Pat Glory, Princeton
#4 Taylor LaMont, Utah Valley
#6 Malik Heinselman, Ohio State
#9 Patrick McKee, Minnesota
#13 Michael DeAugustino, Northwestern
#14 Devin Schroder, Purdue
#15 Jack Medley, Michigan
#16 Joe Manchio, Columbia
#18 Joey Prata, Oklahoma
#23 Tanner Jordan, South Dakota State
#24 Liam Cronin, Nebraska
#HM Jace Koelzer, Northern Colorado
#HM Jacob Allen, Navy
Right off the bat, one of the deepest weight classes at the tournament looks to be 125. Don't expect them to finish in this order, though, as this is one weight class where volatility in the rankings is the weekly norm, not the exception.
---
133 Pounds
#4 Vito Arujau, Cornell
#6 Chris Cannon, Northwestern
#11 Chance Rich, CSU-Bakersfield
#13 Anthony Madrigal, Oklahoma
#16 Mosha Schwartz, Nothern Colorado
#19 Dylan Ragusin, Michigan
#HM Jackson DiSario, Stanford
#HM Anthony Sobotker, Binghamton
#HM Matt Ramos, Purdue
Might Vito move back down to 125? Possibly! But not the time the CKLV rolls around. If Arujau takes the mat in Vegas it will be at 133.
---
141 Pounds
#4 Stevan Micic, Michigan
#7 Andrew Alirez, Northern Colorado
#8 Chad Red, Nebraska
#10 Clay Carlson, South Dakota State
#13 Real Woods, Stanford
#14 Dom Demas, Oklahoma
#15 Parker Filius, Purdue
#21 Matt Kazimir, Columbia
#23 Jake Bergeland, Minnesota
#HM Dylan D'Emilio, Ohio State
#HM Angelo Martinoni, CSU-Bakersfield
#HM Ty Smith, Utah Valley
#HM Chase Zollmann, Wyoming
#HM Dylan Droegemueller, ND State
Full disclosure, we aren't expecting Micic to wrestle at CKLV, as the word is he will return to action in the second semester. But this will be a gnarly bracket regardless, in our humble opinions. Demas, Woods, Carlson, Red & Alirez are all either All-Americans or AA caliber guys, with several more contenders in the mix as well.
---
149 Pounds
#1 Yianni Diakomihalis, Cornell
#2 Sammy Sasso, Ohio State
#4 Yahya Thomas, Northwestern
#6 Jaden Abas, Stanford
#11 Ridge Lovett, Nebraska
#17 Legend Lamer, Cal Poly
#18 Mitch Moore, Oklahoma
#22 Michael Blockhus, Minnesota
#HM Zach Price, South Dakota State
#HM Kanen Storr, Michigan
Might this be the premier weight class at CKLV? Yianni vs Sasso would be a clear #1 vs #2. Yahya and Abas are also All-Americans. Would it shock anyone if that quartet stood on the top four steps of the NCAA podium in March?
---
157 Pounds
#2 Ryan Deakin, Northwestern
#5 Brayton Lee, Minnesota
#6 Quincy Monday, Princeton
#7 Peyton Robb, Nebraska
#9 Will Lewan, Michigan
#10 Jared Franek, ND State
#12 Kendall Coleman, Purdue
#16 Jacob Wright, Wyoming
#17 Justin Thomas, Oklahoma
#23 Bryce Hepner, Ohio State
#HM Andrew Cerniglia, Navy
#HM Colton Yapoujian, Cornell
#HM Dazjon Casto, The Citadel
We won't know for sure who wrestles until that first whistle blows but we're all hoping this is the first stop of Ryan Deakin's last go-round the NCAA circuit. He'll have plenty of competition if he does toe the line in Vegas, with one of the deepest fields in the tournament expected to compete at 157.
---
165 Pounds
#2 Evan Wick, Cal Poly
#4 Shane Griffith, Stanford
#6 Luke Weber, ND State
#9 Demetrius Romero, Utah Valley
#13 Carson Kharchla, Ohio State
#14 Cameron Amine, Michigan
#15 Julian Ramirez, Cornell
#17 Phillip Conigliaro, Harvard
#20 Andrew Sparks, Minnesota
#22 David Ferrante, Northwestern
#24 Cole Moody, Wyoming
#HM Tanner Cook, South Dakota State
#HM Selwyn Porter, The Citadel
This weight class is a mess, nationally, thanks to last year's NCAA finalists both taking losses in week 3. Griffith will have a shot at revenge if he meets Ramirez in Vegas, and Evan Wick has a chance to re-establish his bona fides after sitting out last season on an Olympic redshirt.
Lots of other podium threats on this list as well. It's one of the deepest weights in the NCAA overall and that fact will be on display in Vegas.
---
174 Pounds
#5 Mikey Labriola, Nebraska
#6 Ethan Smith, Ohio State
#9 Chris Foca, Cornell
#10 Hayden Hastings, Wyoming
#13 Gerrit Nijenhuis, Purdue
#18 Cade DeVos, South Dakota State
#19 Jackson Hemauer, Northern Colorado
#21 Jared Krattiger, Minnesota
#23 Troy Fisher, Northwestern
#HM Josh Kim, Harvard
#HM Adam Kemp, Cal Poly
#HM Anthony Mantanona, Oklahoma
#HM Tyler Eischens, Stanford
Fellow All-Americans and Big Ten rivals Labriola and Smith headline the division. They've only faced each other in college once before but it was way back in the spring of 2019. Dark horse title contender Chris Foca could play spoiler to either of them.
---
184 Pounds
#2 Myles Amine, Michigan
#8 Bernie Truax, Cal Poly
#11 Taylor Venz, Nebraska
#13 Tate Samuelson, Wyoming
#14 Rocky Jordan, Ohio State
#17 Max Lyon, Purdue
#19 Darrien Roberts, Oklahoma
#21 Jonathan Loew, Cornell
#22 David Key, Navy
#24 Travis Stefanik, Princeton
Like his teammate and fellow Olympian Stevan Micic, we don't expect Myles Amine to wrestle in this tournament. But that would still leave plenty of All-American contenders in the mix, including last year's fourth-placer at 174, Bernie Truax, who will have his toughest test yet at his new weight.
---
197 Pounds
#6 Jake Woodley, Oklahoma
#7 Patrick Brucki, Michigan
#9 Stephen Buchanan, Wyoming
#10 Eric Schultz, Nebraska
#11 Lou Deprez, Binghamton
#12 Tanner Sloan, South Dakota State
#13 Thomas Penola, Purdue
#14 Owen Pentz, ND State
#18 Andrew Davison, Northwestern
#20 Jacob Cardenas, Cornell
#21 Jacob Koser, Navy
#HM Alan Clothier, Northern Colorado
#HM Gavin Hoffman, Ohio State
#HM Luke Stout, Princeton
A weight that shares a lot in common with 184. Not as many of the top-tier guys but plenty of depth that will challenge for (and make) the All-American podium in March.
---
285 Pounds
#1 Gable Steveson, Minnesota
#2 Mason Parris, Michigan
#7 Tate Orndorff, Ohio State
#8 Brian Andrews, Wyoming
#13 Christian Lance, Nebraska
#14 Yaraslau Slavilouski, Harvard
#15 Lucas Davison, Northwestern
#19 Josh Heindselman, Oklahoma
#20 Jack Delgarbino, Princeton
#22 Lewis Fernandes, Cornell
#24 Brandon Metz, ND State
#HM AJ Nevills, South Dakota State
Will we see NCAA champ, Olympic champ, and future WWE superstar Gable Steveson in Las Vegas? We hope so! Any chance to see him wrestle is an opportunity to say "I saw him when." Mason Parris is no slouch either. In fact, we wouldn't call any of the heavyweights at CKLV slouches. They're huge D1 athletes, they would wreck us!