2021 Cliff Keen Las Vegas Invitational
Cliff Keen Las Vegas Upperweight Preview & Predictions
Cliff Keen Las Vegas Upperweight Preview & Predictions
Breaking down the big boy divisions at the prestigious 2021 Cliff Keen Las Vegas Invitational.
Dec 1, 2021
by Andrew Spey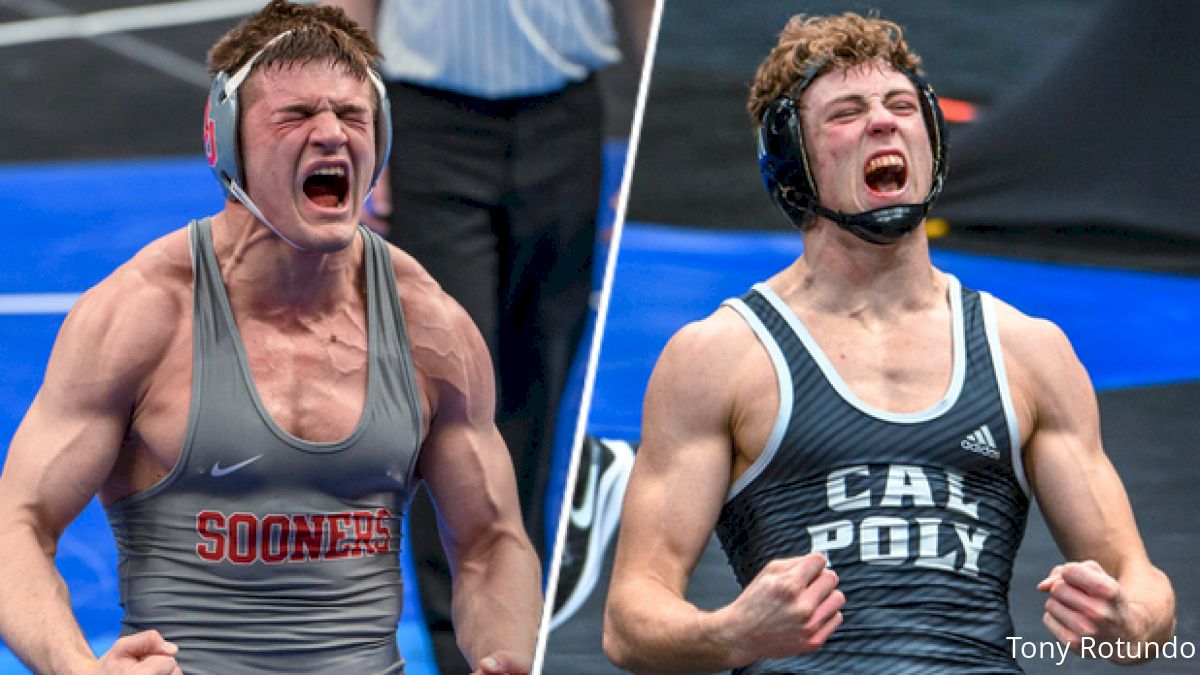 Outside of the NCAA championship, the CKLV is perhaps the biggest bracketed wrestling event of the season. Certainly, it is the most consequential prior to the start of the holiday break.
With over 25 D1 teams participating and 100 ranked registered wrestlers, this year's edition of the storied event will 'set the table' for the rest of the season like no other.
Indeed, the 2021 CKLV will kick ass, upperwieghts included. Here is proof.
184 Pounds
Title Contenders
Not quite as deep as some of the middleweights but still very kick-ass, especially when you consider how much parity there is at this weight class.
Bernie Truax is the highest-ranked wrestler entered, however, he is untested at 184. The lankster has done pretty well at those lower weights, however, placing fourth at 174-pounds at 2021's NCAAs and qualifying for the tournament in 2020 at 165. And would you believe it if I told you he started his redshirt freshman season at 149 before finishing 2019 at 157? Well you should, because it is true!
Watch Truax defeat the ranked Layne Malczewski of Michigan State at this season's MSU Open: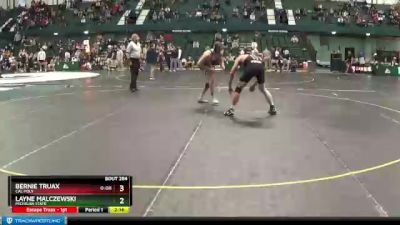 Unlock this video, live events, and more with a subscription!
Get Started
Already a subscriber? Log In
Also challenging for the CKLV crown is a pair of Big Ten wrestlers in Taylor Venz and Max Lyon, and another pair of Big 12 wrestlers in Tate Samuelson and Darrien Roberts. Or is Roberts in the SEC now? Actually, doesn't matter, the SEC doesn't sponsor wrestling so nuts to them.
This weight will have the any-given-Sunday factor in full effect, so consider most matches a toss-up
Other Contenders
Kaleb Romero and Jelani Embree aren't in the rankings at the moment but that's only because we have their teammates, #14 Rocky Jordan and #2 Myles Amine, respectively, in the top 33 in their stead.
Romero and Jordan are neck and neck for the starting spot in Columbus, so consider Kaleb, a bloodrounder in 2021 at 174, a ranked contender for all intents and purposes. Ditto for Embree who qualified for the canceled 2020 NCAA tournament and was later on the shelf for nearly all of 2021 with injuries.
Sleepers and Landmines
David Key got off to a rough start to the season but the Midshipman has All-American potential. Colin McCracken slimmed down from 197 where he competed for the last three seasons, and could be Kent State's best hope for an All-American in Detroit.
Every Entrant
#8 Bernie Truax, Cal Poly
#11 Taylor Venz, Nebraska
#13 Tate Samuelson, Wyoming
#18 Darrien Roberts, Oklahoma
#20 Jonathan Loew, Cornell
#23 Travis Stefanik, Princeton
Austin Eldredge, Nebraska-Kearney
Caden Gerlach, California Baptist
Jackson McKinney, Oregon State
Jacob Hansen, CSU-Bakersfield
Joe Accousti, Sacred Heart
Judah Duhm, Stanford
Leonardo Tarantino, Harvard
Sam Deprez, Binghamton
Tate Battani, South Dakota State
Xavier Vasquez, Northern Colorado
Spey's Spredictions
1) Venz, Nebraska; 2) Truax, Cal Poly; 3) Lyon, Purdue; 4) Key, Navy
---
197 Pounds
Title Contenders
The seeding committee did Jake Woodley no favors last season, though it was a unique season in the extreme and the committee doesn't have much leeway in the process to begin with. Luckily, Jake Woodley cares not for seeds, and powered his way to the podium last March in St. Louis despite receiving the #26 seed.
Woodley already has five quality wins to his name this season, including a decision over All-American Pat Brucki in the finals of the Michigan State Open. Brucki will be looking for revenge in what could be another finals meetings for the fellow All-Americans and top contenders in Vegas.
Watch Woodley and Brucki's scintillating MSU Open finals match from earlier this season: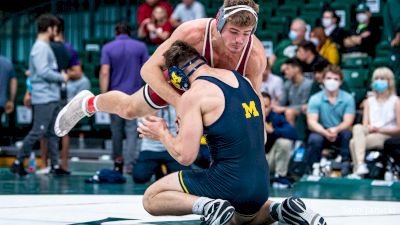 Unlock this video, live events, and more with a subscription!
Get Started
Already a subscriber? Log In
Other Contenders
A host of worthies will look to spoil the fun for everyone yearning for a rerun of that matchup.
Stephen Buchanan scratched and clawed his way (figuratively, of course), to the podium last season, denying Rocknrolla Tommy Penola an All-American honor in the bloodround in the Enterprise Center.
Penola will be looking for some revenge of his own as he's also registered to compete in this bracket, as are Eric Schultz, who was the #2 seed but got stopped in the round of 16 at NCAAs, and Tanner Sloan, who missed out on making the final eight by one match.
There is also Lou DePrez to be reckoned with, who intends to become DePredator at the CKLV. DePrez was an All-American last season at 184 and has since bulked up to 197 for his 2022 season.
Sleepers and Landmines
Perhaps the most terrifying bracket buster registered to compete is Jacob Cardenas, a product of New Jersey prep powerhouse Bergan Catholic is who only just now getting his varsity career going after two years of deferred enrollment at Cornell. He suffered a narrow defeat to DePrez at the Jon Kaloust Bearcat Open earlier in November.
Luke Stout is another Ivy Leaguer who is getting his first taste of varsity wrestling who could be problems for the rest of the division.
Finally, overlook Michial Foy at your peril. The junior college champion transferred from Harper to Minnesota in the off-season and just knocked off the aforementioned bloodrounder Tanner Sloan in a dual meet.
Every Entrant
#6 Jake Woodley, Oklahoma
#10 Eric Schultz, Nebraska
#11 Lou Deprez, Binghamton
#12 Tanner Sloan, South Dakota State
#13 Thomas Penola, Purdue
#15 Michial Foy, Minnesota
#19 Andrew Davison, Northwestern
#21 Jacob Cardenas, Cornell
#22 Jacob Koser, Navy
#HM Alan Clothier, Northern Colorado
#HM Gavin Hoffman, Ohio State
#HM Luke Stout, Princeton
Arick Lopez, California Baptist
Ben Stemmet, The Citadel
Connor Rossi, Sacred Heart
Evan Bockman, Utah Valley
Hayden Prince, Nebraska-Kearney
Jarrad Dixon, Oregon State
Joseph Franzese, Columbia
Mateo Morales, CSU-Bakersfield
Nick Marcenelle, Harvard
Nick Stemmet, Stanford
Trent Tracy, Cal Poly
Tyler Bates, Kent State
Spey's Spredictions
1) Buchanan, Wyoming; 2) Brucki, Princeton; 3) Woodley, Oklahoma; 4) Cardenas, Cornell
---
285 Pounds
Title Contenders
Reigning NCAA and Olympic champion Gable Steveson is not registered, but would be the runaway favorite if he was. But that doesn't mean there won't still be some brutal battles betwixt the bigguns at 285.
Beyond Mr. WWE, Tate Orndorff and Briant Andrews lead the pack of heavies contending for the highest steps of the Las Vegas podium. They've tussled five times in their collegiate careers, with Orndorff holding a 4-1 lead. However, the last two meetings were overtime matches, with Andrews winning at 2020 Big 12s and Orndorff victorious at 2021 NCAAs.
Throw it back to 2018 for first collegiate meeting between Orndorff and Andrews: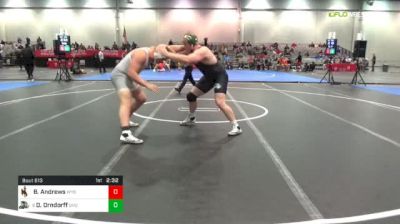 Unlock this video, live events, and more with a subscription!
Get Started
Already a subscriber? Log In
Other Contenders
Christian Lance decided to come back for a seventh year of college wrestling and one more crack at making the podium in March. Lance qualified for the D1 National Championship in 2021 as well as the DII Tournament in 2017 while at Fort Hays State before he transferred to Lincoln.
Making his way back to the mat after an Ivy League enforced hiatus is a Harvard man by way of Belarus, Yaraslau Slavikouski, who qualified for the canceled 2020 NCAA Championship.
Additionally, a bulked up Lucas Davison could be the most dangerous wrestler in the bracket. And you'd be wise to not write off Josh Heindselman or the Cassioppi slayer, Jack DelGarbino.
And, of course, you would be an absolute fool to overlook Gas Tank Gary. This heavyweight bracket is replete with memorable characters, and we've still got one more section of copy to go!
Sleepers and Landmines
With all the talk of six and seven-year graduate seniors, folks are overlooking Dr. Michael Woulfe, a chemical engineer who competed at the Naval Academy between 2012 and 2016 and then served in the Navy until 2021. Woulfe qualified for the 2016 NCAA tournament at 197-pounds, losing to Kyle Conel in the first round and then Rider's Ryan Wolf in the consolation, reminding us all of the famous 'two wolf proverb'. Classic proverb, that one.
Current Midshipmen Riley Smith, who is in his final year at the Naval Academy, a mere seven years after Woulfe graduated, is also one not to be overlooked in the heavyweight division, having already racked up double-digit wins this season.
Every Entrant
#8 Brian Andrews, Wyoming
#13 Christian Lance, Nebraska
#14 Yaraslau Slavikouski, Harvard
#15 Lucas Davison, Northwestern
#18 Josh Heindselman, Oklahoma
#20 Jack DelGarbino, Princeton
#21 Gary Traub, Oregon State
#HM AJ Nevills, South Dakota State
Blake Querio, Michigan
Chris Island, California Baptist
Daniel Conley, Columbia
Drew Flynn, Cornell
Jacob Cover, Kent State
Jake Andrews, CSU-Bakersfield
Jayden Woodruff, Utah Valley
Lee Herrington, Nebraska-Kearney
Michael McAleavey, The Citadel
Michael Woulfe, Purdue
Nick Copley, Sacred Heart
Peter Ming, Stanford
Riley Smith, Navy
Robert Winters, Northern Colorado
Sam Aguilar, Cal Poly
Spey's Spredictions
1) Orndorff, Ohio State; 2) Andrews, Wyoming; 3) Davison, Northwestern; 4) Heindselman, Oklahoma