2021 Clarion Open
What 2 Watch 4 At The Clarion Open
What 2 Watch 4 At The Clarion Open
Intrigue abounds in the East as one of the toughest early-season collegiate tournaments kicks off the season.
Nov 5, 2021
by Andrew Spey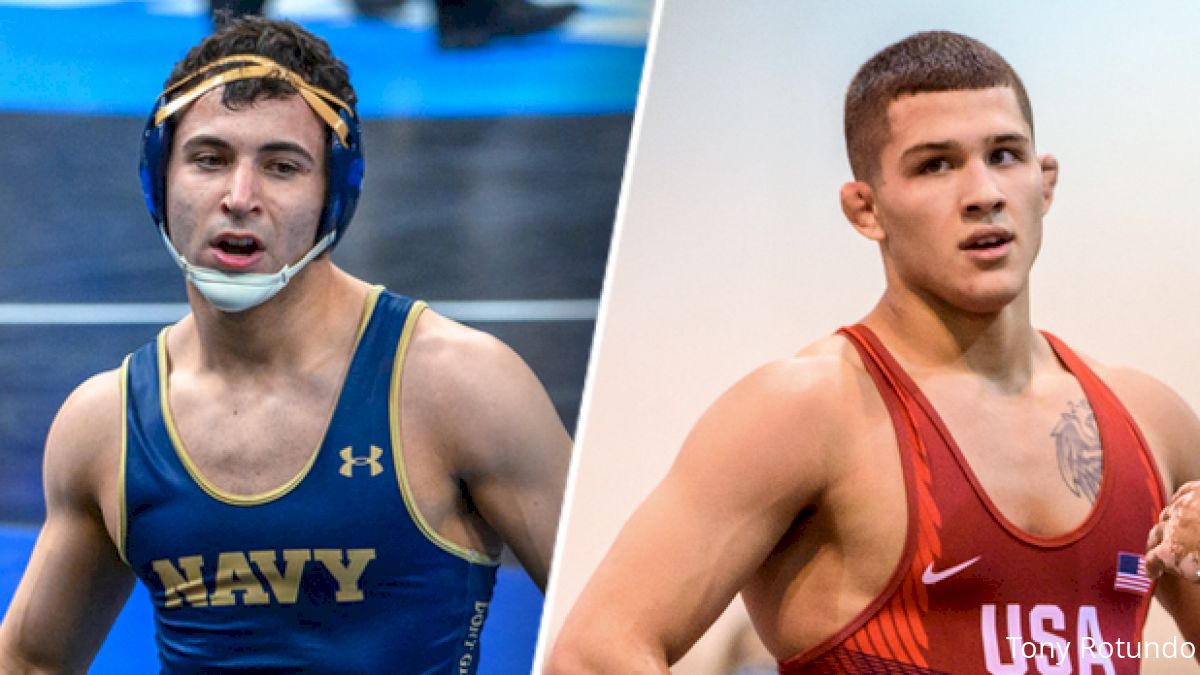 We've got a magnificent schedule of wrestling in store for you this weekend. Just how magnificent? Check out this watch guide and see for yourself!
One of the most magnificent events of them all will be Clarion Open, which starts at 9am ET on Sunday and continues until it's over. It will feature an intriguing mix of college contenders and high school hammers, including D1 wrestlers from Bloomsburg, Buffalo, Clarion, Hofstra, Kent State, Lock Haven, Maryland, Navy, Penn State, Pittsburgh, Slippery Rock, and West Virginia
Exactly how intriguing will these weights be? We will tell you!
125 Pounds
Notable entries
#22 (133) Jacob Allen, Navy
HM Anthony, Noto Lock Haven (unattached)
HM Colton Camacho, Pittsburgh
Luke Werner, Lock Haven
Gage Curry, Pittsburgh
Gary Steen, Penn State (unattached)
Carter Bailey Lehigh (unattached)
Braxton Brown, Maryland (unattached)
Joey Fischer, Clarion (unattached)
One of the deepest weights at the Clarion Open is also the lightest. Incidentally, the Open has over 300 registrants, so the brackets should have around 25-40 wrestlers each. About the same size as an NCAA Championship but completed all in one day!
Jacob Allen will be moving down from 133 where he qualified for the 2021 NCAA Championships. He's the only nationally ranked wrestler in the bracket, but there are a couple of honorable mentions (so top 25-33) in the bracket as well in Anthony Noto and Colton Camacho.
Both Noto and Camacho recently won wrestle-off against teammates who were previously in the rankings, namely Werner and Curry. The fact that Noto is wrestling unattached for the Bald Eagles makes us think we still may see Werner in the starting lineup, at least for the first half of the season.
Bailey, Brown and Fischer were all top 100 recruits of their class, and appear to be starting the season in a redshirt. This will be a good gauge for where they will fit into the college 125-pound landscape.
Perhaps the most intriguing entry of the weight class (and remember, this preview is all about intrigue!) is Penn State's Gary Steen. The Reynolds High School grad was 29th in his recruiting class, and while wrestling unattached, there's a good chance he'll be the Nittany Lions' starter when the postseason rolls around, as 2021 National Qualifier Robbie Howard is slated for a medical redshirt this season.
Watch Steen win a 2021 PIAA title: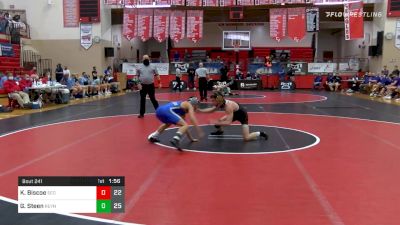 Unlock this video, live events, and more with a subscription!
Get Started
Already a subscriber? Log In
Penn State registered a half dozen unattached wrestlers as well as another half dozen attached wrestlers who's names have yet to be revealed. The fact that this event does not show up on the PSU wrestling schedule has us assuming those TBD entries will not be starters but you never know. That mystery only adds to the intrigue!
---
133 Pounds
Notable entries
Jordan Titus, West Virginia
Joshua Koderhandt, Navy
Not nearly as deep but 133 provides some solid intrigue as West Virginia and Navy roll out two of their biggest recent recruits from last season. Titus was ranked 25 on the Class of 2021 Big Board while Koderhandt was #49.
It's literally the first collegiate tournament of both these wrestlers' young NCAA careers but you can bet coaches Flynn of the Mountaineers and Kolat of the Midshipmen are going to expect deep runs from their young lightweights this Sunday.
---
141 Pounds
Notable entries
Josh Mason, Bloomsburg
Ethen Miller, Maryland (unattached)
Drew Munch, Lehigh
Ryan Crookham, Lehigh (Commit)
Mason has started the last two years for the Huskies and fell just short of qualifying for NCAAs both seasons. The fourth-year redshirt sophomore will be one of the most experienced wrestlers in the bracket, but he'll be challenged but some highly regarded young talent.
Mountain Hawk fans will want to pay particular attention to this weight, as Class of 2020 Big Boarder Drew Munch will be in the bracket alongside future teammate and #9 in the Class of 2022 Big Board, Ryan Crookham. We haven't seen much of Lehigh Valley native Crookham lately due to injuries, so it's encouraging to see that he's feeling healthy enough to not only get back on the mat, but to do so against D1 college competition.
Check out Crookham's last high school match in the finals of the PIAA championships against future Penn State commit Levi Haines: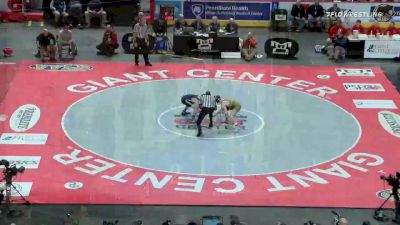 Unlock this video, live events, and more with a subscription!
Get Started
Already a subscriber? Log In
This bracket will also be of keen interest for Terrapin fans, as one of the biggest recruits of the Clemsen era, Ethen Miller, gets his first big test. Miller was #41 on the 2021 Big Board.
---
149 Pounds
Notable entries
Shayne Van Ness, Penn State
Brayden Roberts, West Virginia
Speaking of big time Penn State recruits, it doesn't get much bigger than #4 on the 2021 Big Board, Shayne Van Ness. The New Jersey native should be an immediate contender for the starting job at 149 despite being a true freshman, as evidenced by his wins at the Olympic Team Trials Last Chance Qualifier over Sean Fausz and Brock Zacherl, two very accomplished wrestlers who qualified for a combined EIGHT NCAA tourneys. EIGHT!
Van Ness' match with Zacherl was a wild one, and worth a watch in the video below: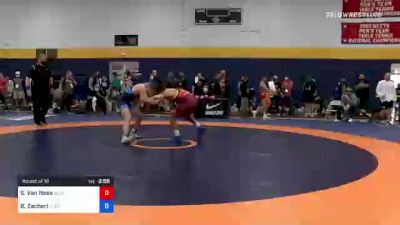 Unlock this video, live events, and more with a subscription!
Get Started
Already a subscriber? Log In
West Virginia's blue-chip recruit Brayden Roberts stayed in his home state for college and looks to be one of SVN's toughest competition in this bracket. He was #48 on the 2020 Big Board.
---
157 Pounds
Notable entries
HM Michael Petite, Buffalo (unattached)
HM Andrew Cerniglia, Navy
Alex Carida, Bloomsburg
Enrique Munguia, Kent State
Caleb Dowling, West Virginia
This weight class will feature two wrestlers receiving honorable mention in the national rankings in Petite and Cerniglia. Another quality contender, Carida, is just outside the top 33 bubble.
West Virginia enters another of their recruits they snagged from the Big Boards in Dowling, and Kent State registered their prize recruit from the class of 2021. Enrique Munguia, a northeast Ohio native, was #15 in the class of 2021. He repped Ohio and the Golden Flashes in the 2021 Pittsburgh Wrestling Classic where he was victorious over AJ Corrado of Pennsylvania.
---
165 Pounds
Notable entries
#14 Peyton Hall, West Virginia
Ricky Stamm, Hofstra HM
Alex Facundo, Penn State (unattached)
John Martin Best, Maryland (unattached)
Holden Heller, Hofstra (unattached)
The wrestler with the highest preseason ranking registered for the Clarion Open in none other than West Virginia's Peyton Hall. The Mountaineer made it to the round of 12 in St. Louis last March. His most intriguing opponent in the bracket? None other than Penn State superstar true frosh Alex Facundo (who technically may be the biggest PSU recruit in the tournament).
A native of Michigan, Facundo won two UWW cadet world bronze medals, in 2018 and 2019, and just missed out on going to the 2021 Junior World Championships, falling to eventual junior world gold medalist Keegan O'Toole in the semifinals.
You can watch Facundo and Wisconsin starter Dean Hamiti in stunning HD from that same Junior World Team Trials back in May.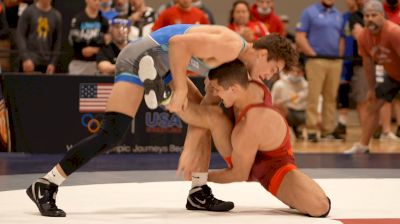 Unlock this video, live events, and more with a subscription!
Get Started
Already a subscriber? Log In
Hofstra has a pair of 2021 national qualifiers entered in this bracket. Stamm has honorable mention status in the ranking and will look to qualify again in 2022. Heller is redshirting this season but made the Big Dance last year down at 157 pounds.
Also worth keeping an eye on John Martin Best, a Maryland Terrapin by way of West Virginia. Best was #59 on the 2020 Big Board.
---
174 Pounds
Notable entries
Tyler Stoltzfus, Lock Haven
Luca Augustine, Pitt (unattached)
Sage Serbenta, Lock Haven
John Worthing, Clarion
Not as deep as some of the other brackets but two PA natives who were a grade apart in graduating classes look to headline this division. Stoltzfus was #25 in the Class of 2020 while Augustine was #30 in the class of 2021.
---
184 Pounds
Notable entries
#17 David Key, Navy
#22 Charles Small, Hofstra
Adrien Cramer, Maryland (unattached)
Anthony D'Alesio, West Virginia
Two ranked wrestlers from the east coast are the marquee names of this bracket. Both Key and Small qualified for the 2021 NCAA tournament, with Small going 1-2 while Key was victorious in two matches and advanced to the round of 16.
Maryland also trots out another of their top 100 recruits in Adrien Cramer, as does West Virginia with Anthony D'Alesio. D'Alesio was #82 in the Class of 2020 while Cramer was #74 in the Class of 2021.
---
197 Pounds
Notable entries
#23 Jacob Koser, Navy
Trey Rogers, Hofstra
Martin Cosgrove, Penn (commit)
Caden Rogers, Lehigh (commit)
Navy's 2021 national qualifier Jacob Koser is the favorite and only nationally ranked wrestler registered for the 197-pound bracket. That doesn't mean the Midshipmen junior won't be challenged, especially by a pair of high schoolers looking to get some collegiate mat time.
Caden Rogers is part of a small but highly regarded contingent of Malvern Prep wrestlers slated to take part in this event. Rogers is committed to wrestle at nearby Lehigh University. Martin Cosgrove attends Camden Catholic, across the Delaware in New Jersey, but is committed to furthering his academic and athletic career at UPenn, back on the PA side of the river. Two pretty smart, large dudes who are good at wrestling, I'm our humble opinion.
---
285 Pounds
Notable entries
#22 Zachary Knighton-Ward, Hofstra
HM Michael Wolfgram, West Virginia
Nick Feldman, Ohio State (commit)
Garrett Kappes, Maryland (unattached) 101 BB
Colby Whitehill, Lock Haven 81 BB
ZKW and Wolfgram are both nationally ranked, which means the top recruit in this year's class of high school seniors will have his work cut out for him. Future Buckeye and current #1 on the 2022 Big Board Nick Feldman is in the midst of bulking up to get ready for the full-sized heavies of the Big Ten that he'll be mixing it up with on a regular basis.
The Malvern Prep senior has won just about everything you can win at his age, including one of the most exciting matches at Who's Number One, against fellow big man blue chipper, Christian Carroll.
Watch that awesome match in the video below: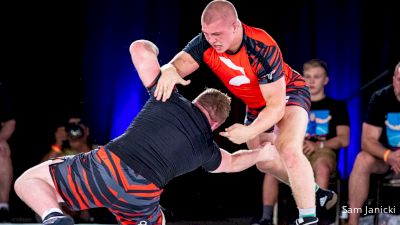 Unlock this video, live events, and more with a subscription!
Get Started
Already a subscriber? Log In
A couple of other young former top recruits will populate the bracket in Coby Whitehill and Garrett Kappes.
A great mix of established national qualifier caliber wrestlers and up-and-coming stars. Intrigue abounds in Clarion this Sunday. See you there!