Big Ten
Match Notes: Wisconsin Wins Big Over Buffalo In Season Opener
Match Notes: Wisconsin Wins Big Over Buffalo In Season Opener
Follow the action in real-time as the #24 ranked Badgers of Wisconsin host the Bulls of Buffalo.
Nov 1, 2021
by Andrew Spey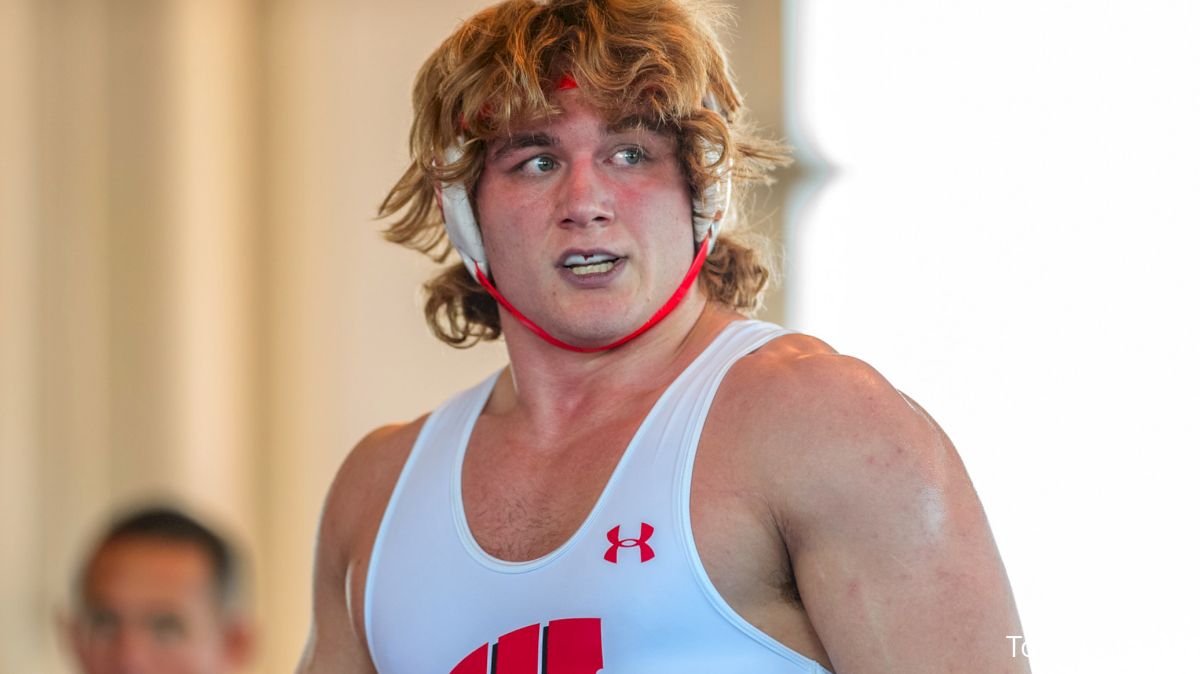 Unlock this article, live events, and more with a subscription!
Get Started
Already a subscriber? Log In
The season is finally upon us! Let us celebrate with a live blog.
Preseason Content: Rankings | Redshirt Report | Wrestle-off Box Scores
Will this be the long-awaited debut of Braxton Amos in a Badger singlet? We shall see!
Here is dual preview from our friends at the University of Wisconsin. It is a very nice preview!
Probable matchups:
125: #11 Eric Barnett, WISC vs Tristan Daugherty, BUFF
133: #24 Kyle Burwick or Ethan Rotondo, WISC vs HM Derek Spann, BUFF
141: Joe Zargo or Dominic Dentino vs Ben Freeman
149: #13 Austin Gomez, WISC vs John Arceri
157: Garrett Model vs HM Michael Petite or Ty Raines, BUFF
165: Dean Hamiti or Josh Otto, WISC vs Jay Nivison or Noah Grover, BUFF
174: #9 Andrew McNally, WISC vs Giuseppe Hoose, BUFF
184: #18 Christopher Weiler, WISC vs Pete Acciardi, BUFF
197: Braxton Amos, WISC vs Eli Sherran or Sam Mitchell, BUff
285: #6 Trent Hillger, WISC vs Toby Cahill, BUFF
The Bulls are in the building!
Almost time.#UBhornsUP pic.twitter.com/Zk2SFdk7Oh

— UB BULLS Wrestling (@UB_Wrestling) November 1, 2021
Coach Bono kicks off the dual by leading the gym in a stirring rendition of Jump Around! So nice to see fans back in the stands.
125: #11 Eric Barnett, WISC vs Tristan Daugherty, BUFF
1st period: Barnett wastes no time getting a snap-down go-behind for the first takedown of the season for the Badgers. All-American Eric Barnett now with over one minute of riding time. Two-on-one ride, rolls through looking for a tilt. Comes close but just a one count. Daugherty keeps working up to his base and then a quad pod but Barnet sticks to him and keeps him on the mat. Riding time now over 2 and half minutes.
Flo's rankings get a shout-out from the announcers, who are doing an excellent job I might add. Thanks, guys!
2nd period: Barnett starts on bottom and escapes in about 5 seconds. RT stuck at 2:40, Barnett leads 3-0. Daugherty backs away from Barnett's Russian ties and gets banged for stalling, the first warning of the match.A shot from Daugherty in short time but Barnett scrambles through and time runs out, still 3-0.
3rd period: Daughtery immediately says he wants to go neutral in the third. Sounds like there's a good number of local high schools at this match. Great idea for college marketing teams. One minute to go. Shot by Barnett. Daugherty stuffs him but he'll need more than a takedown to gain the lead. Daugherty gets the go-behind to make it 3-2 but there's just a few seconds left. 4-2 with riding time and Barnett takes it!
Barnett dec. Daugherty, 4-2
Wisconsin 3, Buffalo 0
---
133: Ethan Rotondo, WISC vs HM Derek Spann, BUFF
1st period: Rotondo gets the nod, who is right there with the ranked Burwick. Spann also in the rankings as an honorable mention. This should be a nice match. Spann drops down on a single, Rotondo breaks his grip and frees his leg. Now Rotondo shoots in. Spann draped over the back. Rotondo trying to come out the back. Stalemate. 1:07, still 0-0. Spann shoots off the restart, low single, and he converts with 20 seconds left in the period. Spann gets the rideout, leads 2-0.
2nd period: Rotondo underneath to start. Spann gets 1:10 of riding time before Rotondo escapes to cut the lead down to 1. Rotondo reaches in but its a spiffy slide-by for Spann to make it 4-2. Rotondo out again to make it 4-2. Rotondo on the attack, he finishes clean to tie it up. 4-4, 15 seconds left in the period. Spann stuck on the mat, its 4-4, RT at 1:00 exactly.
3rd period: Rotondo rides for six seconds to erase riding time then releases Spann. Double leg for Spann and Rotondo walks into it. Spann extends the leads 7-4 and gets RT back over a minute. Rotondo stands, pivots in and could get a reversal. Instead, it's a stalemate, which works in Spann's favor. Under a minute, Spann still on top. Rotondo was on the comeback trail but Spann knocks him off course with that last takedown. RT locked up and Spann looking for the rideout and the win. He'll get it and the team score is tied up.
Spann dec. Rotundo, 8-4
Wisconsin 3, Buffalo 3
---
141: Joe Zargo, WISC vs Ben Freeman, BUFF
1st period: And it's the freshman Zargo who gets the nod. The New Jersey native takes the mat for the first time in his varsity career. They go round and round and exchange some heavy hands but no scores yet. Freeman's got the experience, having transferred in from Michigan where he saw a good amount of varsity action. Zargo snags a single leg with 30 seconds left in the period and converts for the first points of the match. Freeman escapes quickly and its 2-1, Zargo leads at the break.
2nd period: Freeman underneath, he gets out in 10 to put RT at 21 seconds for Zargo. Score knotted up 2-2. Freeman dinged for stalling. Tries a slide-by but Zargo fights him off. Zargo with a half shot, Freeman counters, and they scramble three way through the rest of the period.
3rd period: Still 2-2, riding time not a factor. Zargo chooses down, escapes quickly, leads 3-2. A minute to go now. Down to 30 seconds. Shot by Freeman. Stuffed. Another shot. 10 seconds. And Zargo wins in his varsity debut! Nice win for the young man from Bergan Catholic.
Zargo dec. Freeman, 3-2
Wisconsin 6, Buffalo 3
---
149: #13 Austin Gomez, WISC vs John Arceri, BUFF
1st period: How nice it is to see Gomez back on the mat. It's been too long. Gomez chases down Arceri for his first collegiate points in over two years. Cuts Arceri, shoots a single and its 4-1, now 4-2 after Gomez releases him again. Gomez looks sharp so far. Misdirection low single and Gomez collects two more. That was slick. Gomez countershot gets him a leg, and he muscles Arceri to the mat. It's 8-3, RT at 0:54. Gomez was all over Arceri that period.
2nd period: Arceri takes down. Gets the escape as riding time ticks over to 1:00 exactly. Gomez gesticulating to the ref. I believe he is saying his head gear is getting pulled by Arceri. We restart. Gomez trying to get another takedown before time expires in the period. He comes close but it's still 8-4.
3rd period: Gomez tries the bottom position for the first time this season. Riding time goes back under a minute. Arceri will need to figure out a turn if he wants to get back in this match and doesn't want to do it from neutral. Gomez gets the escape to render that decision moot. 9-4 with a minute to go. Front headlock for Gomez, goes mixer but they roll all the way through and it's no points for Gomez. Nice move though and worth points in freestyle! 20 seconds left. High crotch attempt by Arceri and Gomez gets to practice his defense. He scrambles out of danger and that's it. Gomez wins thanks to a hellacious first period.
Gomez dec. Arceri, 9-4
Wisconsin 9, Buffalo 3
---
157: Garrett Model vs HM Michael Petite, BUFF
1st period: Both these guys are national qualifier caliber guys just outside the top 24. Nice flurry to get things going but it's Petite that gets behind Model for the first score. Model out to make it 2-1 early. Model in on a double but can't convert. We'll stop for blood time for Model. Petite in on a single, he goes headhunting, has the bottom leg and a head. Looking for more than a takedown. But Petite fights off his back before Petite could get control and takes the points for himself! Gutsy display from Model. Petit still leads 4-3, about a minute to go in the first. 30 seconds left in the period. Model being stingy on top. But Petite gets the escape with just a few ticks left in the period. Big short time exchange. 5-3 Petite leads.
2nd period: Petite escapes almost immediately but then Model is back in on an attack. No, it's a reversal. And back points! Model with a tilt. He'll get two more to take the lead 8-5. Riding time now over a minute for Model as well. Petite gets dinged for stalling. Must have been the second time as a point goes on the board for Model. 9-5 Model leads with 2 minutes of RT.
3rd period: The final stanza will start in neutral. Riding time not officially locked up but looking good for Model. And there's another takedown for Model. He's looking at major decision territory now. Or not, double leg takedown for Petite! 12-8 Model after an escape. RT locked up for Model. Less than a minute to go. Model on a single, he's good just eating clock here. He'll convert to make it 14-8, 14-9 after an escape. Model pushing for a major, Petite stops that idea with a final takedown but it's still Model's match! 15-11 the final. 26 points on the board, not bad!
Model dec. Petite 15-11
Wisconsin 12, Buffalo 3
---
165: Dean Hamiti, WISC vs Jay Nivison, BUFF
1st period: True freshman Dean Hamiti makes his varsity debut, why not? No reason to sit these youngsters with the way they come to college as prepared as they are. scramble in the first, they go out of bounds, no score. In the next exchange, it's Hamiti that scores his first collegiate takedown. Hamitit puts a solid ride on, gets 54 seconds of RT before Nivison gets the escape. Hamiti back on a low single and it's another takedown for Hamiti. He leads 4-1 and will get the rideout to take that lead and 1:21 of RT in the second.
2nd period: Nivison takes down, is up quickly and its Hamiti immediately back down on a single. He levers up Nivison's leg and trips him to bring him thunderously down to the mat. 6-2 Hamiti. Nivison cut loose on the restart and add another takedown for Hamiti. 8-4 now, Hamiti keeping his foot on the gas. Blogging becoming difficult with this pace! 10-4. Nivison banged for his second stall call. 11-4, RT all but locked up, we go to the third.
3rd period: Hamiti on bottom, escapes, and we could get our first bonus win of the day. It was hidden by the refs but we got a good description for our friendly announcers, another slick low level takedown by Hamiti. 14-5 in neutral with a minute to go. Hamiti is too quick and has too many finishes for Nivison. 16-5. Make it 17-5 after another stall. The match mercifully ends for Nivision and true freshman Dean Hamiti wins 18-5 with the RT point. Hamiti fires up the crowd. He's got a lot of matches left to wrestle in Madison but he is already making a lot of new fans.
Hamiti maj dec. Nivison, 18-5
Wisconsin 16, Buffalo 3
---
174: #9 Andrew McNally, WISC vs Giuseppe Hoose, BUFF
1st period: Kent State transfer McNally goes right in on the attack and converts after about 10 seconds. McNally went to three NCAAs with the Golden Flashes but has yet to find the podium. McNally keeping Hoose stuck to the mat. Hoose finally escapes after 89 seconds. McNally in on a shot but Hoose fights him off this time. Period ends, no more scores.
2nd period: McNally underneath, earns the escapes quickly. 3-1 McNally. Still in neutral after a minute. McNally reaches in, has a single, switches to a double, good defense from Hoose but McNally fights through to get the takedown in the closing seconds of the period. Good adjustments from McNally.
3rd period: We start in neutral, McNally another high crotch, stall on Hoose, McNally stays on the shot and finishes to make it 7-1. An escape a little later to make it 7-2. Shot by Hoose, reshot by McNally and it's 9-2. McNally had a leg turked and was trying to run the half but Hoose fought off his back and didn't give up any back points. It's still 9-2, riding time long since locked up. Restart with 13 seconds to go, still 9-2, McNally can get the major with a rideout. There's the buzzer and McNally gets it!
McNally maj dec. Hoose, 10-2
Wisconsin 20, Buffalo 3
---
184: #18 Christopher Weiler, WISC vs Pete Acciardi, BUFF
1st period: Not quite official but Badgers have all but sealed the deal on this dual. Weiler another transfer for Wisconsin, coming to Madison by way of Lehigh in eastern Pennsylvania. Heavy hands from Acciardi has Weiler looking at the ref but wrestling continues. Weiler slips by Acciardi's defenses and gets the first takedown. Weiler controlling wrists. Riding time clicks over the minute mark. Acciardi dinged for stalling. Weiler rides out the period and will take his 2-0 lead and 1:53 of RT into the second.
2nd period: Acciardi chooses down so Weiler will go back to collecting riding time. Acciardi broken down flat. Weiler not staying parallel either, he's working for turns. Another stall for Acciardi to make it 3-0 for Weiler. Riding time locked up with 30 seconds left in the second period. Weiler hitfor stalling. Not sure about that but he hasn't gotten any turns so maybe, I dunno. Weiler tries a spladle in the closing seconds but he doesn't have locked up so nearly gives up a reversal. In the end, no scores.
3rd period: Weiler underneath, and it's a reversal to make it 5-0 and riding time ticks up even more. Finally Acciardi escapes to break the goose egg off the board. 5-1. Acciardi in on a shot, Weiler counters and converts to make it 7-1. 30 seconds to go. We get a break for blood on Acciardi and Weiler will opt for neutral. Quick TD for Weiler and he gets the rideout for another 10-2 win and major decision for the Badgers.
Weiler maj dec Acciardi, 10-2
Wisconsin 24, Buffalo 3
---
197: Braxton Amos, WISC vs Sam Mitchell, BUff
1st period: Wisconsin faithful have been waiting a year to see Amos on the mat. He's a junior freestyle world gold medalist AND a Greco-Roman junior world bronze medalist, all at the same event in Russia this summer. Now he begins his quest for folkstyle glory. First takedown goes to Amos. Cradle locked up for Amos but Mitchell break the grip. Now an escape to make it 2-1. Amos with a body lock, comes so close to a takedown and perhaps more but they go out of bounds, still 2-1. Amos trying to pick up some more points in short time but is stymied by Mitchell. Penalty point for Mitchell, hands to the face or something of that nature I believe.
2nd period: Amos goes underneath. Amos stands and gets returned to the mat. Locked hands called on Mitchell but it will be challenged by Coach Stutzman, the skipper for the Bulls. Call is upheld so it's still 4-1 and I believe Stutzman doesn't get anymore challenges. Or maybe he does, need to look those rules up to be honest. Amos escapes to make it 5-1. In on a single, Amos powers Mitchell down to the mat to make it 7-1. 30 seconds left in the period. Amos has a half nelson in, looking for a turn but he'll just run the clock out, which is not a bad result.
3rd period: Amos has a 7-1 lead, trying to keep his ride going but Mitchell stands and gets the escape to make it 7-2. Riding time close to being locked. Less than a minute left in regulation. Mitchell fights off a double from Amos but picks up a stall warning. Still 7-2 but RT will make it at least 8 for Amos. 20 seconds. Amos trying for the major but will tell for an 8-2 win. Got a little chippy at the end too but looks like everyone is okay. Amos does a little crowd work and leaves the mat victorious in his first collegiate match of his young career.
Amos dec. Mitchell 8-2
Wisconsin 27, Buffalo 3
---
285: #6 Trent Hillger, WISC vs Toby Cahill, BUFF
1st period: The Badgers' second All-American takes the mat 8 matches after their first. Hillger runs a knee pick on Cahill for the first takedown. Cahill gets the escape after 1:03 of RT. Single leg for Hillger and he converts for two more. Escape makes it 4-2. Same score at the end of the period.
2nd period: Cahill underneath. Crab ride for Hillger and he'll try and suck Cahill back for points. He'll get swipes but that's a precarious position for a heavyweight. Cahill hip heists for the reversal and they'll trade two-point maneuvers. Hillger escapes to make it 7-4 and come out ahead of that whole deal by a point. We go to the third.
3rd period: Hillger looks for a switch from bottom but they run out of real estate (as often happens with the big fellas) and we go back to the center, still in referee's position. Cahill with a nice ride and even gets a mat return but then cuts Hillger as there's less than a minute to go and he needs to figure out how to score a bunch of points. Hillger drives Cahill out of bounds to induce a stall call to make it 9-4 with 30 seconds to go. Hillger shoots and gets in a scramble. Almost gets backpoints but will settle for two more and the rideout to win 11-4 in the final bout of the day!
Hillger dec. Cahill 11-4
Wisconsin 30, Buffalo 3
---
And that's all she wrote! So nice to be back for another season of NCAA wrestling. Great fights from the Bulls but it was (nearly) all Badgers. And how about the debuts of freshman Zargo, Hamiti and Amos and transfers Gomez and McNally?
It's what you love to see if you're a Badger fan. And the season starting is what you love to see if your a college wrestling fan. And of course we love to see it all as well! Thanks for reading along, sorry for the typos, see you next time!