2021 Super 32
Super 32 Preseeds Are Here!
Super 32 Preseeds Are Here!
Scroll through Super 32 preseeds and take a look at some of the potential matchups we could see in Greensboro.
Oct 20, 2021
by David Bray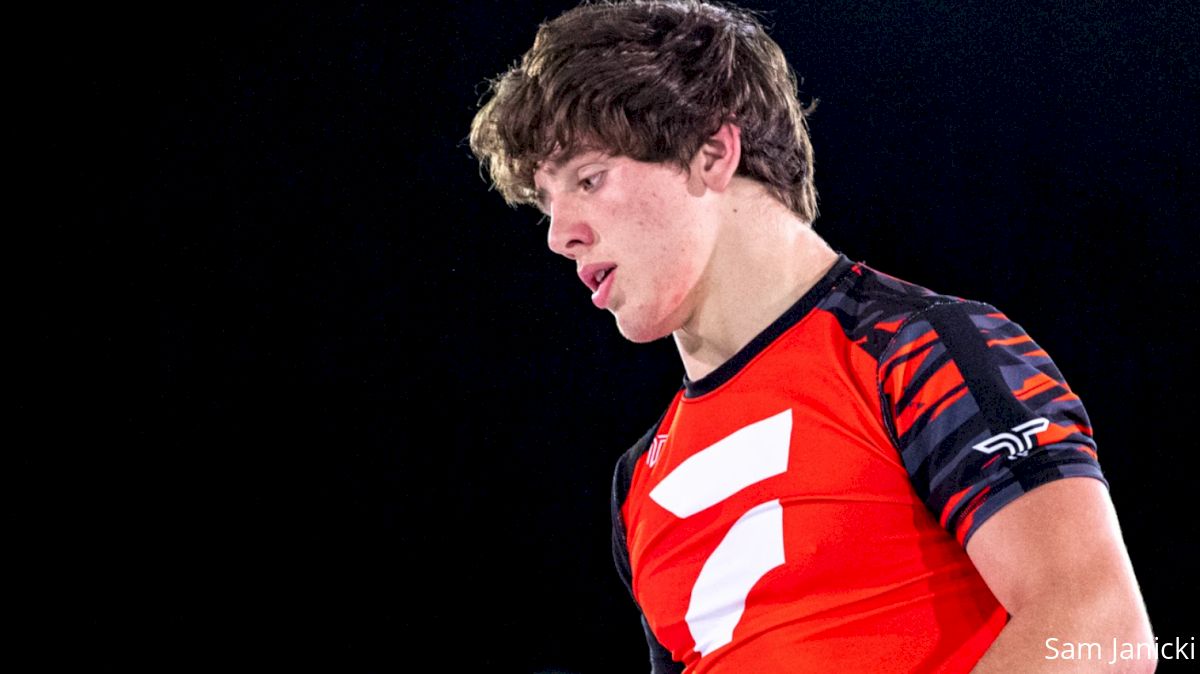 Super 32 preseeds have been released, and while there is the potential for some significant shakeups, we now have a good idea of some of the potential matchup we could see at the nation's toughest high school folkstyle tournament.
Super 32 posted links to seeds on their website. Seeds were created by Willie Saylor.
106 lbs
1 - Beric Jordan, Graham High School, OH
2 - Bo Bassett, Bishop McCort, PA
3 - Nathan Desmond, Bethlehem Catholic, PA
4 - Cooper Hilton, Wyoming Seminary, PA
5 - Seth Mendoza, Mount Carmel, IL
6 - Christian Castillo, Valiant College Prep, AZ
7 - Louie Gill, hickory, PA
8 - Canon Acklin, Collinsville High School, OK
9 - Adrian DeJesus, St Peter's Prep, NJ
10 - Dru Ayala, Fort Dodge Senior High School, IA
11 - Blake Beissel, Hastings High School, MN
12 - Edwin Sierra, Poway, CA
13 - Matt Dolan, Spring Mills High School, WV
14 - Colin Martin, Staunton river high school, VA
15 - Luke Sirianni, Abington Heights, PA
16 - Aaron Seidel, Northern Lebanon, PA
17 - Brodie Christmas, Mortimer Jordan, AL
18 - Chase Van Hoven, Brooke Point High School, VA
19 - Eren Sement, Council Rock North, PA
20 - Davis Motyka, Wyoming Seminary, PA
21 - J'veon Clinton, Elyria, OH
22 - Brandon Morvari, Simley, MN
23 - Sebastian Degennaro, Jensen Beach High School, FL
24 - Jason Goodin, Edmond North, OK
25 - Parker Lyden, Forest Lake, MN
26 - Patrick OKeefe, SJV, NJ
27 - Michael Olson, Albert Lea, MN
28 - Tahir Parkins, Nazareth, PA
29 - Shane McFillin, Bethlehem Catholic, PA
30 - Aydan Thomas, Stillwater High School, OK
113 lbs
1 - Vinny Kilkeary, Greater Latrobe, PA
2 - Anthony Knox, Saint John Vianney High School, NJ
3 - Cole Hunt, Cass, GA
4 - Luke Lilledahl, Christian Brothers College, MO
5 - Tyler Knox, St. John's Prep, MA
6 - Dominic Mendez, Righetti, CA
7 - Jax Forrest, Bishop McCort, PA
8 - Draegen Orine, Seckman, MO
9 - Gauge Botero, Faith Christian Academy, PA
10 - Alan Koehler, Prior Lake, MN
11 - Jake Crapps, Cass High School, GA
12 - Marcello Milani, St. Marys, MI
13 - Drew Heethuis, Detroit Catholic Central, MI
14 - Sam Herring, Bishop McCort, PA
15 - Logan Swensen, Wayzata High School, MN
16 - Brady Roark, Seneca High School, MO
17 - Marcus Blaze, Perrysburg High School, OH
18 - Kale Petersen, Greene county, IA
19 - Jackson Blum, Lowell, MI
20 - Dan Jones, Delbarton, NJ
21 - Noah Nininger, Staunton River High School, VA
22 - Carter Nogle, Mount Saint Joseph, MD
23 - Ethan Rivera, Lake Highland Prep, FL
24 - Carson Wagner, Northampton Area, PA
25 - Daniel Guanajuato, Valiant college prepatory, AZ
26 - Gabe Giampietro, Smyrna HS, DE
27 - Isiac Paulino, MontyTech, MA
28 - Emmitt Sherlock, Gilman, MD
29 - Scott Moore, Gilroy, CA
30 - Austin McBurney, Massillon Perry, OH
31 - Cael Nasdeo, Williamsport, PA
32 - Jason Torres, Malvern Prep, PA
120 lbs
1 - Nathanael Jesuroga, Southeast Polk, IA
2 - Joey Cruz, Bullard, CA
3 - Caden Horwath, Davison HS, MI
4 - Brock Mantanona, Palm Desert High School, CA
5 - Aden Valencia, Ann Sobrato High School, CA
6 - Kael Lauridsen, Bennington HS, NE
7 - Dillon Campbell, Legacy Christian Academy, OH
8 - Kyle Montaperto, Central Academy of Technology and Arts, NC
9 - Matthew Lopes, Blair Academy, CT
10 - Maddox Shaw, Thomas Jefferson, PA
11 - Paul Kelly, Poway, CA
12 - Dalton Perry, Central mountain, PA
13 - Benjamin Davino, St Charles East, IL
14 - Alessandro Nini, Christian Beothers Academy, NJ
15 - Caleb Thoennes, STMA, MN
16 - Tyler Ferrara, Chenango Forks, NY
17 - Jaxon Joy, Wadsworth, OH
18 - Zan Fugitt, Nixa, MO
19 - Mason Leiphart, Dover, PA
20 - Luke Stanich, Roxbury High School, NJ
21 - Jaden Pepe, Wyoming Area, PA
22 - Conor Collins, Southern Regional, NJ
23 - Dawson Johnson, Cumberland, WI
24 - Amantee Mills, Brookwood High School, GA
25 - Drew Gorman, Buford High School, GA
26 - Kade Davidheiser, The Hill School, PA
27 - Brady Pruett, Archbishop Spalding, MD
28 - Troy Hohman, Penn Trafford, PA
29 - Jacob Joyce, Ponaganset, RI
30 - Jackson Baglio, Central Cabarrus High, NC
31 - Ian Radintz, Glenwood City High School, WI
32 - Hunter Hollingsworth, Edmond North, OK
126 lbs
1 - Cory Land, Moody High School, AL
2 - Sergio Lemley, Mount Carmel, IN
3 - Gabe Whisenhunt, Crescent Valley High School, OR
4 - Vincent Robinson, Homewood Flossmoor, IL
5 - Kannon Webster, Washington, IL
6 - PJ Duke, Minisink Valley, NY
7 - Adrian Meza, Valiant College Prep, AZ
8 - Kyler Larkin, Valiant College Preparatory, AZ
9 - Evan Mougalian, Kinnelon High School, NJ
10 - Fernando Barreto, Walnut high school, CA
11 - Luke Poore, Caravel Academy, DE
12 - Kai Owen, Wyoming Seminary, FL
13 - Landon Robideau, STMA, MN
14 - Nikolaus O'Neill, Malvern Prep, PA
15 - Grigor Cholakyan, St John Bosco, CA
16 - Evan Frost, Dowling Catholic, LA
17 - William Baysingar, Prospect High School, IL
18 - Brennen Cernus, Wyoming Seminary, OH
19 - Max Gallagher, Bayport Blue Point High School, NY
20 - Keyveon Roller, Lakeway Christian Academy, TN
21 - Kollin Rath, Bethlehem Catholic, PA
22 - Cooper Haase, Kissimmee Osceola, FL
23 - Jacob Myers, Ponderosa High School, CO
24 - Gable Porter, Underwood, IA
25 - DJ Gillett, Crescent Valley HS, OR
26 - Santino Robinson, Mascoutah H. S., IL
27 - Christopher Vargo, Charleroi Area/ co op Bentworth, PA
28 - Brady Conlin, Lake Highland Prep, NJ
29 - Ryan Ford, Bergen Catholic, NJ
30 - Logan Frazier, Crown Point High School, IN
31 - Jacob Macatangay, Plainfield North High School, IL
32 - Tyson Charmoli, St. Francis High School, MN
132 lbs
1 - Nic Bouzakis, Wyoming Seminary, PA
2 - Brock Bobzien, Poway High School, CA
3 - Emilio Ysaguirre, Valiant college prep, AZ
4 - Zeke Seltzer, Indianapolis Cathedral High School, IN
5 - Danny Nini, Lake Highland Prep, FL
6 - Braden Basile, Jesuit- Tampa, FL
7 - Greyson Clark, Kaukauna High School, WI
8 - Ryder Block, Waverly Shell Rock, IA
9 - Jake Niffenegger, Cincinnati Lasalle, OH
10 - Chase Deblaere, Simley, MN
11 - Tyler Vazquez, Delbarton, NJ
12 - Dario Lemus, Clovis High School, CA
13 - Camron Lacure, Legacy Christian, OH
14 - Mac Church, Waynesburg, PA
15 - Koy Buesgens, New Prague, MN
16 - Jordan Soriano, W. Tresper Clarke High School, NY
17 - Sam Cartella, Western Reserve Academy, OH
18 - Cameron Catrabone, Williamsville North, NY
19 - Jacob Frost, Dowling Catholic, LA
20 - Spencer Barnhart, Malvern Prep, PA
21 - Eligh Rivera, Lake Highland Prep, FL
22 - Collin Guffey, Granite Hills High School, CA
23 - Ty Wilson, Dublin Scioto, OH
24 - Cheaney Schoeff, Avon High School, IN
25 - Jeremy Ginter, Whitmer, OH
26 - Colton Stoneking, Waynesburg, PA
27 - Logan Rozynski, Wyoming Seminary, NJ
28 - Cole Thomas, Ryle High School, KY
29 - Cash Raymond, Simley High School, MN
30 - Dominic Hargrove, Discovery Canyon Campus, CO
31 - David McClelland, St. Francis DeSales High School, OH
32 - George Rosas, Clovis High School, CA
138 lbs
1 - Richard Fedalen, McDonogh School, MD
2 - Beau Mantanona, Palm Desert High School, CA
3 - Joel Adams, Millard South High School, NE
4 - Tyler Kasak, Bethlehem Catholic High School, PA
5 - Michael Gioffre, Buchanan High School, CA
6 - Tom Crook, Tampa Jesuit, FL
7 - Dylan Gilcher, Detroit Catholic Central, MI
8 - Kole Brower, Moline, IL
9 - Alex Almeyda, Saint Joseph Regional, NJ
10 - Maxwell Petersen, Byron, MN
11 - Cross Wasilewski, Delbarton, NJ
12 - Carter McCallister, Rock Bridge High School, MO
13 - Gavin Drexler, Stratford High School, WI
14 - Matthew Repos, Central Dauphin High School, PA
15 - Zach Hanson, Lakeville North, MN
16 - Jackson Polo, Cold Spring Harbor High School, NY
17 - Brayden Ivy, Lakeway Chrisitian Academy, TN
18 - Joseph Cangro, Bergen Catholic High School, NJ
19 - Weston Dalton, Pueblo East, CO
20 - Cameron Steed, Collinsville High School, OK
21 - Joe Davi, Delbarton, NJ
22 - Evan Holloway, New Kent High School, VA
23 - Drayden Morton, Sibley East, MN
24 - Daniel Sheen, Wyoming Seminary, IL
24 - Dominic Findora, Downingtown West High School, PA
25 - Luke Simcox, Central Mountain, PA
26 - Jaydon Robinson, Homewood Flossmoor, IL
27 - ZACHARY PARKER, FOUNTAIN VALLEY HIGH SCHOOL, CA
28 - Joe Fongaro, Boonton High School, NJ
29 - Trevor Reinke, Beatrice High school, NE
30 - Yannis Charles, Clover, SC
31 - Cade Siebrecht, Lisbon High School, IA
32 - DONTE LOPEZ, GILROY HIGH SCHOOL, CA
145 lbs
1 - Cody Chittum, APEX homeschool, TN
2 - Jackson Arrington, Forest HIlls, PA
3 - Ty Whalen, Clearview Regional High School, NJ
4 - Kaleb Larkin, Valiant College Preparatory, AZ
5 - Jude Swisher, Bellefonte, PA
6 - Pierson Manville, State College Area High School, PA
7 - Kelvin Griffin, The Hill School, ME
8 - Dylan Evans, Chartiers Valley, PA
9 - Gavin Brown, Legacy Christian Academy, OH
10 - Noah Tolentino, Poway, CA
11 - Joel Jesuroga, Southeast Polk, IA
12 - Kyler Lake, Buchanan High School, CA
13 - Joey Blaze, Perrysburg High School, OH
14 - Fin Nadeau, Flathead High School, MT
15 - Reese Davis, Tuttle High School, OK
16 - William Henckel, Blair Academy, CT
17 - Tommy Curran, Dekalb HS, IL
18 - Kael Voinovich, Stillwater HS, OK
19 - Kal Miller, Park Hill, MO
20 - KJ Evans, Heritiage Hall, OK
21 - ETHAN MOJENA, LAKE HIGHLAND PREP, FL
22 - Ethan Stiles, Conant High School, IL
23 - Caleb Meunier, Winneconne, WI
25 - Cael Erickson, Cedar Grove-Belgium, WI
26 - Brock Woodcock, St. Clair Highschool, MO
27 - Koa Ruiz, Calvary Chapel High School, CA
28 - Aiden Davis, Dundee High School, MI
29 - Hayden Watson, Center Grove High School, IN
30 - Killian Foy, MacArthur HS, NY
31 - James Chance, Western Reserve Academy, OH
32 - Clayton Gabrielson, St. Mary's Ryken, MD
152 lbs
1 - Michael Kilic, Woodward Academy, GA
2 - Mitchell Mesenbrink, Arrowhead High School, WI
3 - Erik Gibson, Bishop McCort, PA
4 - Nicco Ruiz, St John Bosco, CA
5 - Zack Ryder, Minisink Valley, NY
6 - Joseph Sealey, Wyoming Seminary, NC
7 - Alex Poore, Caravel Academy, DE
8 - Mark Takara, Temecula High School, CA
9 - Derek Raike, Point Pleasant High School, WV
10 - Jeremy Paradice, Colquitt County High School, GA
11 - Thor Michaelson, Bremerton High School, WA
12 - Andrew Troczynski, Delbarton, NJ
13 - Nicholas Vafiadis, New Kent High School, VA
14 - Chris Moore, Mchenry, IL
15 - Michael Bobola, Xaverian Brothers, MA
16 - Delaney Ruhlman, Bloomington High School South, IN
17 - Carter Schubert, Wyoming Seminary, NY
18 - Braden Stauffenberg, Aurora Christian, IL
19 - Benjamin Shvartsman, Deerfield High School, IL
20 - Jason Smith, Boonton high school, NJ
21 - Braxton Strick, Ozark High School, MO
22 - Timothy Bova, Arlington High School, LaGrangeville, ny, NY
23 - Wyatt Reisz, Logan-Magnolia High Schiol, IA
24 - Moses Espinoza-Owens, Viewmont High School, UT
25 - Bam West, MUSTANG HIGH SCHOOL, OK
26 - Sam Goin, Crown Point High school, IN
27 - Abel Nava, Toppenish High School, WA
28 - Koufax Christensen, Waukee Northwest, IA
29 - Joseph Fisk, Archbishop Spalding, MD
30 - Sloan Swan, Buchanan, CA
31 - Aaron Sheffield, Central High School, GA
32 - Michael Duggan, Boiling Springs High School, PA
160 lbs
1 - Levi Haines, Biglerville High School, PA
2 - Landen Johnson, Owatonna, MN
3 - M.J. Gaitan, Temecula Valley HS, CA
4 - Ceasar Garza, Oakdale, CA
5 - Sergio Desiante, Jesuit High School, FL
6 - Jared Keslar, Connellsville, PA
7 - Hunter Mays, Howell, NJ
8 - Jonathan Ley, Lake Highland Prep, FL
9 - Gunner Filipowicz, Woodward Academy, GA
10 - Domonic Baker, New Kent High School, VA
11 - J Conway, Floyd Central High School, IN
12 - Cole Cochran, Woodland, GA
13 - Dakota Morris, Kingsway, NJ
14 - Nick Fea, Bergen catholic HS, NY
15 - Daschle Lamer, Crescent Valley, OR
16 - Angelo Ferrari, Stillwater Oklahoma High School, OK
17 - Drake Acklin, Collinsville High School, OK
18 - Luke Gayer, Calvary Chappel Santa Ana, CA
19 - Colby Isabelle, The Hill School, NH
20 - Murphy Menke, Ponderosa High School, CO
21 - Marcus Espinoza-Owens, Viewmount, UT
22 - Jake Swink, Holy Innocents Episcopal, GA
23 - Aydin Rix McElhinney, Springs studio for academic excellence, CO
24 - Micah Porter, Gilroy High School, CA
25 - Mateo De La Pena, Kennedy Catholic High School, WA
26 - Dominic Federici, Wyoming Seminary, PA
27 - Peyton Westpfahl, Liberty High School, MO
28 - Rafael Hipolito, Independence high school, VA
29 - Thomas Potter, Union, VA
30 - Kaden Renner, Bismarck High School, ND
31 - BRODY HALLIN, MCHENRY, IL
32 - Cooper Willis, Union Grove High School, WI
170 lbs
1 - Matthew Singleton, Woodward Academy, GA
2 - Rocco Welsh, Waynesburg Central High School, PA
3 - Brayden Thompson, Lockport High School, IL
4 - Tate Naaktgeboren, Linn-Mar High School, IA
5 - Rune Lawrence, Frazier, PA
6 - Cody Merrill, Gilroy High School, CA
7 - Markell Rivera - Cain, Ironwood High School, AZ
8 - Louie Cerchio, Delbarton, NJ
9 - Jonathan Conrad, Carrollwood Day School, FL
10 - Justin Rademacher, West Linn, OR
11 - Abraham Wojcikiewicz, Civic Memorial High School, IL
13 - Nolan Lear, Benton, PA
14 - Justin Onello, Bergen Catholic, NJ
15 - Orlando Cruz, Crown Point High School, IN
16 - Tre Wilfong, Charlotte Christian School, NC
17 - Bryce Phillips, Mount Saint Joseph, MD
18 - Daniel Williams, Lake Highland Prep School, FL
19 - Toby Schoffstall, Liberty Christian Academy, VA
20 - Shadrick Slone, Willard, OH
21 - Brock Zurawski, Lower Cape May Regional, NJ
22 - Lorenzo Norman, Blair Academy, NJ
23 - Harvey Ludington IV, Brick Memorial HS, NJ
24 - Will Ebert, Fairfield Warde HS, CT
25 - Cole Han-Lindemyer, Farmington High School, MN
26 - Zane Cox, Benedictine College Prep, VA
27 - Trevor Wilson, Hannibal High School, MO
28 - Domenic DAgostino, Interboro high school, PA
29 - Brody Hemauer, Deforest High School, WI
30 - Cole Glazier, Kasson-Mantorville, MN
31 - Aiden Poe, Indian River High School, NY
182 lbs
1 - Brian Soldano, High Point, NJ
2 - Hayden Walters, Crescent Valley High School, OR
3 - Clayton Whiting, Oconto Falls, WI
4 - Ryder Rogotzke, Stillwater, MN
5 - Kole Mulhauser, Central Square HS, NY
6 - Joseph Martin, Buchanan High School, CA
7 - Andrew Donahue, Liberty, OH
8 - Mickey Griffith, Des Moines Lincoln High School, IA
9 - Dominic Thebeau, Belleville East HS, IL
10 - Jude Correa, Wyoming Seminary, NH
11 - Ian Bush, Cameron, WV
12 - Nate Taylor, Greens Farms Academy, CT
13 - Drake Buchanan, Center Grove, IN
14 - Oscar Williams, Edmond North, OK
15 - Shay Addison, Rumson Fair Haven, NJ
16 - Matthew Furman, Canon McMillan, PA
17 - Damion Schunke, Brandon valley, SD
18 - Brian Burburija, Countryside, FL
19 - Remy Cotton, Davison, MI
20 - Dominic Joyce, North Port High School, FL
21 - Kingsley Menifee, Fauquier High School, VA
22 - Fernando Villaescusa, Gilbert, IA
23 - R.J. May, Maggie Walker, VA
24 - Joshua Cordio, Nashoba Regional High School, MA
25 - Caleb Uhlenhopp, Green Valley High School, NV
26 - Brian Finnerty, Thomas Jefferson, PA
27 - CJ Walrath, Burlington Notre Dame, IA
28 - Garrett Wells, Glenpool High School, OK
29 - Donnie Hidden, washington hs, IL
30 - Chase Cordia, School of the Osage, MO
31 - Devon Bell, Laney High School, NC
32 - Hunter Sonnenberg, Eatonville High School, WA
195 lbs
1 - Seth Shumate, Dublin Coffman, OH
2 - Rylan Rogers, Coeur D'Alene High School, ID
3 - Kolby Franklin, Wyoming Seminary, PA
4 - Martin Cosgrove, Camden Catholic, NJ
5 - Wyatt Voelker, West Delaware High School, IA
6 - Jacob Meissner, osseo, MN
7 - Max Ramberg, Baldwin-Woodville, WI
8 - Michael Tal-Shahar, American Heritage, FL
9 - Michael Bartush, Greens Farm Academy, CT
10 - Gabe Sollars, Mater Dei High School, IN
11 - Luke Cochran, Jefferson, GA
12 - Remy Brancato, Bergen Catholic High School, NJ
13 - Noah Wenzel, Dakota High School, IL
14 - Giovanni Martinez, Centennial Highschool, CA
15 - Mark Ayala, St. John Bosco, CA
16 - Gabriel Monroe, Windsor Central High School, NY
220 lbs
1 - Christian Carroll, New Prairie, IN
2 - Jack Darrah, Wyoming Seminary, MO
3 - Logan Shephard, Perry High School, OH
4 - Parker Ferrell, Christiansburg High School, VA
5 - Dylan Russo, Olentangy Liberty High School, OH
6 - Evan Anderson, Western Reserve Acadamy, OH
7 - Ronald Gunnar Garriques, Baylor, IL
8 - Caden Ferris, Delton Kellogg, MI
9 - Sam Sorenson, Homer, NY
10 - CALEB VANBUSKIRK, PALM DESERT, CA
11 - Nicholas Sahakian, Saint John Bosco High School, CA
12 - Riley Godek, Crescent Valley High School, OR
13 - Nathan Critchfield, Mater Dei High School, IN
14 - Dylan BravoPacker, Brighton High School, CO
15 - Hayden Linkerhof, Corry, PA
16 - Gabriel Garibaldi, Iona Prep, NY
285 lbs
1 - Chase Horne, West Laurens High School, GA
2 - Keith Miley, Whitfield School, MO
3 - Aidan Fockler, Massillon Perry High School, OH
4 - Jamier Ferere, Southern Guilford High School, NC
5 - Max Acciardi, Paramus Catholic, NJ
6 - Matthew Cruise, Easton Area High School, PA
7 - Matthew Moore, Mesa Ridge HS, CO
8 - Gage Cook, Granger Highschool, WA
9 - Ethan Vergara, Mater Lakes Academy, FL
10 - Aiden Lacoma, Christiansburg high school, VA
11 - Riley Ucker, Dublin Coffman, OH
12 - Matthew Jimenez, Somerset academy, FL
13 - Liam Akers, North Hunterdon High School, NJ
14 - Charlie Tibbitts, New Hartford/Sauquoit Valley, NY
15 - Adrian Sans, Miami Southwest High school, FL