2021 Super 32
Full Super 32 Registration List
Full Super 32 Registration List
Super 32 is the toughest folkstyle tournament on the high school calendar. Check out the full field for this year's loaded tournament.
Oct 11, 2021
by David Bray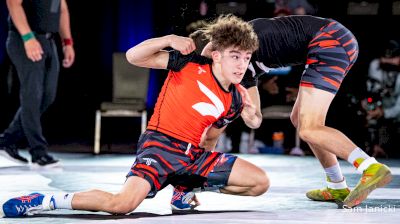 Unlock this video, live events, and more with a subscription!
Get Started
Already a subscriber? Log In
Every year, the nation's top high school wrestlers flock to Super 32, and it has become the number one stop on the folkstyle calendar. This year's field is especially deep. Check out the full registration list here with ranked wrestlers at the top of each weight class, and get ready for an unbelievably deep Who's Number One in two weeks.
106 - #3 Beric Jordan, Graham High School, OH
106 - #10 Nathan Desmond, Bethlehem Catholic, PA
106 - #13 Cooper Hilton, Wyoming Seminary, PA
106 - #14 Seth Mendoza, Mount Carmel, IL
106 - #15 Christian Castillo, Valiant College Prep, AZ
106 - #17 Canon Acklin, Collinsville High School, OK
106 - #19 Jamarcus Smith, Detroit Mumford, MI
106 - HM Dru Ayala, Fort Dodge Senior High School, IA
106 - HM Blake Beissel, Hastings High School, MN
106 - HM Louie Gill, hickory, PA
106 - HM Brandon Morvari, Simley, MN
106 - HM Davis Motyka, Wyoming Seminary, PA
106 - HM Josh Vasquez, Grandville, MI
106 - HM Carson Walsh, Pope John, NJ
106 - HM Logan Lau, Mid Pacific Institute, HI
106 - HM Bryson Terrell, Bradley Central High School, TN
106 - Robert Allcroft, Treasure Coast High School, FL
106 - Thiago Almeida, Los Fresnos High School, TX
106 - Kyle Baldonado, Temecula Valley High School, CA
106 - Bo Bassett, Bishop McCort, PA
106 - Aidan Baum, Milford High School, MA
106 - Gavin Boland, Elkins High School, WV
106 - Jacob Bond, Baylor, GA
106 - Cooper Brandt, Wilson Memorial High School, VA
106 - Logan Brzozowski, Seton Hall Prep, NJ
106 - Allen Calderon, Eagles Landing Christian Academy, GA
106 - Aidan Carmody, Livingston, NJ
106 - Lucas Chittum, APEX homeschool, TN
106 - Brodie Christmas, Mortimer Jordan, AL
106 - JayVeon Clinton, Elyria, OH
106 - Daniel Colgin, New Kent, VA
106 - Ryan Conlan, La Salle Academy, RI
106 - Colby Cook, Corbett, OR
106 - David de Armas, Doral Academy, FL
106 - Sebastian Degennaro, Jensen Beach High School, FL
106 - Adrian DeJesus, St Peter's Prep, NJ
106 - Logan Delos Santos, Palm Bay Magnet High School, FL
106 - Matthew Dolan, Spring Mills High School, WV
106 - Jack Dragoumanos, Tyngsboro, MA
106 - Anthony Escalera, Coconino High School, AZ
106 - Nico Fanella, Indiana Area, PA
106 - Jacob Fitzpatrick, LaCrosse Aquinas High School, MN
106 - Liam Flanagan, Central Dauphin, PA
106 - Tyler Garvin, Rising Sun, MD
106 - Cole Gentsch, Normal Community High School, IL
106 - Thomas Gernhart, Brandon High School, FL
106 - Zachary Gomer-Chrobocinski, Goose Creek High School, SC
106 - Jason Goodin, Edmond North, OK
106 - Matthew Griffin, Roselle Park High School, NJ
106 - bryson hand, choctaw, OK
106 - Andrew Haritos, Glenbrook South High School, IL
106 - Braaden Heinz, Bromley east, CO
106 - LJ Herburger, Pueblo East, CO
106 - Abe Hermes, Milan Edison, OH
106 - Jake Hockaday, Brownsburg, IN
106 - Jared Hood, Ponaganset High School, RI
106 - Dean Houser, Daniel Boone, PA
106 - Andrew Isek, St. Mary's High School (CSCS), CO
106 - William Jakeway, Hilton Head Island High School, CO
106 - Gavin Jendreas, Crown point, IN
106 - Luke Johannes, High Point Academy, SC
106 - Malachi Kapenga, Hamilton high school, MI
106 - Ty Kapusta, Franklin Regional, PA
106 - Jason Kennedy, Rosewood High School, NC
106 - Henry Kopf, Ravenscroft, NC
106 - Adonis Lattimore, Landstown High, VA
106 - Roman Lermer, Tampa Jesuit, FL
106 - Parker Lyden, Forest Lake, MN
106 - Parker Lyden, Forest Lake, MN
106 - Colin Martin, Staunton river high school, VA
106 - Chaz McDonald, Jefferson High School, GA
106 - Shane McFillin, Bethlehem Catholic, PA
106 - Forrest McMannes, Bolivar High School, MO
106 - Josh Miller, Seaforth HS, NC
106 - Braydon Mitchell, Social Circle high school, GA
106 - Mason Moody, Locust Grove High, GA
106 - Damian Moreno, Kofa High School, AZ
106 - Nathan Moser, Monroe, OH
106 - Marcus Najera, Carlsbad High School, NM
106 - Dale O'Blia, Mullen High School, CO
106 - Patrick OKeefe, SJV, NJ
106 - Logan Olsen, Airline High School, LA
106 - Michael Olson, Albert Lea, MN
106 - Tahir Parkins, Nazareth, PA
106 - Talan Parsons, Ovid-Elsie High School, MI
106 - Parker Pikor, Lake Catholic, OH
106 - Ronnie Ramirez, Walnut, CA
106 - Jayden Rinken, Nashua-Plainfield, IA
106 - Tyson Roach, Sam Houston High School, LA
106 - Samuel Rosales, Jefferson Saints, CO
106 - Jackson Rowling, Hough High School, NC
106 - Isaiah Schaefer, Mater Dei High School, IN
106 - Alex Schaeublin, St John's Prep, MA
106 - Aaron Seidel, Northern Lebanon, PA
106 - Eren Sement, Council Rock North, PA
106 - Aiden Serrano, Carlisle, IA
106 - Edwin Sierra, Poway, CA
106 - Luke Sirianni, Abington Heights, PA
106 - Jackson Slotnick, St Augustine Prep, NJ
106 - Dominick Spadaro, Fairfield Warde High School, CT
106 - Everest Sutton, Crescent Valley High School, OR
106 - Gabriel Tellez, Southwest Senior High, FL
106 - Aydan Thomas, Stillwater High School, OK
106 - Tanner Tishner, Western, IN
106 - Cale Tucker, Vestavia Hills High School, AL
106 - Chase Van Hoven, Brooke Point High School, VA
106 - Chase Walker, Cleveland High School, TN
106 - Jason Worthley, Fremont High School, UT
106 - Brad Yokum, Ragsdale, NC
106 - Stone Yuen, Albert Einstein HS, MD
106 - Tyler Washburn, Palmetto ridge high school, FL
113 - #1 (106) Anthony Knox, Saint John Vianney High School, NJ
113 - #2 Luke Lilledahl, Christian Brothers College, MO
113 - #4 Vinny Kilkeary, Greater Latrobe, PA
113 - #5 (106) Daniel Guanajuato, Valiant college prepatory, AZ
113 - #6 Alan Koehler, Prior Lake, MN
113 - #8 (106) Marcus Blaze, Perrysburg High School, OH
113 - #9 (106) Jackson Blum, Lowell, MI
113 - #11 (106) Ethan Rivera, Lake Highland Prep, FL
113 - #11 Dominic Mendez, Righetti, CA
113 - #12 (106) Brady Roark, Seneca High School, MO
113 - #13 Cole Hunt, Cass, GA
113 - #14 Jacob Joyce, Ponaganset, RI
113 - #15 Drew Heethuis, Detroit Catholic Central, MI
113 - #16 (113) Tyler Knox, St. John's Prep, MA
113 - #18 Draegen Orine, Seckman, MO
113 - #19 (120) Gauge Botero, Faith Christian Academy, PA
113 - HM Christian Guzman, Christopher Columbus HS, FL
113 - HM Sam Herring, Bishop McCort, PA
113 - HM Noah Nininger, Staunton River High School, VA
113 - HM Carter Nogle, Mount Saint Joseph, MD
113 - HM Isiac Paulino, MontyTech, MA
113 - HM Zachary Silvis, Park High School, MN
113 - HM Bryson Valdez, Aztec High School, NM
113 - HM Jax Forrest, Bishop McCort, PA
113 - HM Jameson Garcia, Marmion Academy, IL
113 - HM Gabe Giampietro, Smyrna HS, DE
113 - HM Max Hermes, Milan Edison, OH
113 - HM Ashton Jackson, Laporte high school, IN
113 - HM Dan Jones, Delbarton, NJ
113 - HM Marcello Milani, St. Marys, MI
113 - HM Cael Nasdeo, Williamsport, PA
113 - HM Logan Swensen, Wayzata High School, MN
113 - HM Carson Wagner, Northampton Area, PA
113 - Colden Dyer, Bixby High School, OK
113 - Oscar Jr Alvarez, Granger High School, WA
113 - Jimmie Ancira, Hutto High School, TX
113 - Will Anderson, Athens High School, AL
113 - Caio Aron, College Park, TX
113 - Landon Bainey, West Branch, PA
113 - Joseph Baisley, Charlotte Catholic, NC
113 - Brandon Baldonado, Temecula Valley High School, CA
113 - Kaiden Ballinger, Charlotte High School, FL
113 - Ben Bast, West Bend West High School, WI
113 - Jack Bastarrika, Mt. Olive, NJ
113 - Matthew Botello, Hingham High School, MA
113 - Carter Brickley, Lassiter, GA
113 - Antonio Campos, Centralia highschool, WA
113 - Tyler Tebo Chappell, Seneca Valley, PA
113 - Koufax Christensen, Waukee Northwest, IA
113 - Elijah Cramer, Cosby High School, VA
113 - Jonte' Crumpton, Carolina Forest High, SC
113 - Christian Davis, Valiant College Prep, AZ
113 - Clemente Delgado, Gila Ridge, AZ
113 - Evan Dickey, Cathedral High School Indianapolis, IN
113 - Matthew Dimen, Wyoming SEM, RI
113 - Nicolas Dimond, Stone Bridge, VA
113 - Cash Donnell, Piedmont High School, OK
113 - Bowen Downey, Indianola High School, IA
113 - Peyton Ellis, Coventry High School, RI
113 - Max Elton, Holy Spirit High School, NJ
113 - benjamin fanelli, Easton, PA
113 - Carson Farist, Gilmer High School, GA
113 - Christian Fretwell, Wyoming Seminary, PA
113 - Nathan Gates, Fort Dorchester HS, SC
113 - Lincoln Gregersen, Ralston Valley, CO
113 - Tristan Hale, South Davidson, NC
113 - Drew Hansen, Gladstone, MI
113 - Quentin Harding, Orting High School, WA
113 - Arontay Heningcamp, Gateway, PA
113 - Eric Henson, CCHS, GA
113 - Payton Hernandez, Columbia high school, ID
113 - Tyler Hisey, St Marys Memorial, OH
113 - Koda Holeman, Clovis High, CA
113 - Alex Hyman, Lovett, GA
113 - Anthony Isek, St. Mary's High School (CSCS), CO
113 - Jeffrey Jacome, South Plainfield, NJ
113 - Rayshun James, Reidsville high, NC
113 - Eamonn Jimenez, Ellison High School, TX
113 - kyle kuhlmey, great bridge, VA
113 - MICHAEL LONGO, St. Benedicts prep, CT
113 - Michael Manta, Hauppauge, NY
113 - Anthony Marino, The Woodlands College Park, TX
113 - Matthew Marlow, Northport High School, NY
113 - Maddox McArthur, Buford High School, GA
113 - Austin McBurney, Massillon Perry, OH
113 - Johnathan McDaniel, Columbus High School, GA
113 - Isaiah Kainoa Medina, Vacaville High, CA
113 - Ryan Meek, St Clair High School, MO
113 - Clarence Moore, Gilroy, CA
113 - Keith Moreno, Mater Dei Catholic High School, CA
113 - Jayden Morris, Belton-Honea Path High School, SC
113 - Jonathan Morrison, Washburn Rural High School, KS
113 - Aidan Munoz, Temecula Valley High School, CA
113 - Noah Murray, Lake norman, NC
113 - Kaden Naame, St Augustine prep, NJ
113 - Elias Navida, Poway High School, CA
113 - Jack Nelson, Mound Westonk, MN
113 - Christopher Nucifora, Bergen Catholic, NJ
113 - Xavier Ortega, Howell High School, NJ
113 - Noah Ortiz, Great Bridge, VA
113 - Jayce Paridon, Fleming Island, FL
113 - Jermaine Peace Jr, Cane Bay High School, SC
113 - Jordan Penick, Hillsboro High School, MO
113 - Ernie Perry III, Airline High School, LA
113 - Kale Petersen, Greene county, IA
113 - Andrew Pimental, Belmonth Hill, MA
113 - Kevin Placer, Southwest Miami, FL
113 - Daishun Powe, Gardendale high school, AL
113 - Saoul Prado, Slam Academy, NV
113 - Corbin Reisz, Logan Magnolia High School, IA
113 - Damian Resendez, Mount Carmel High School, IN
113 - Tyler Riley, Vacaville High School, CA
113 - Bryson Rios, Loudoun County High School, VA
113 - Hunter Robison, Saegertown, PA
113 - Jaxson Rosselli, Olentangy Liberty High School, OH
113 - Manuel Saldate, Slam Nevada, NV
113 - Logan Sallot, McDowell HighSchool, PA
113 - Zane Schreck, Corydon Central, IN
113 - Parker Sentipal, Burgettstown, PA
113 - Justin Shay, Iona Prep, NY
113 - Emmitt Sherlock, Gilman, MD
113 - Logan Sichelstiel, Paulsboro High School, NJ
113 - River Smith, Glenvar HS, VA
113 - Elijah Smoot, Eastern View High School, VA
113 - Preston Spray, Wisconsin Rapids Lincoln, WI
113 - Cameron Stinson, Mallard Creek High school, NC
113 - Teague Strobel, West-Oak High School, SC
113 - Andrij Szczesniuk, Bishop Shanahan, PA
113 - Ky Szewczyk, Waynesburg, PA
113 - Ty Tice, Eastside High School, SC
113 - Ethan Titus, Canton HS, CT
113 - NOAH TONSOR, SLINGER HIGH SCHOOL, WI
113 - Jason Torres, Malvern Prep, PA
113 - Ethan Vugman, Bartram Trail High Schoool, FL
113 - Jake Zaltsman, St John Vianny, NJ
120 - #1 Nathanael Jesuroga, Southeast Polk, IA
120 - #3 (113) Brock Mantanona, Palm Desert High School, CA
120 - #5 Kyle Montaperto, Central Academy of Technology and Arts, NC
120 - #7 (113) Caden Horwath, Davison HS, MI
120 - #8 (113) Conor Collins, Southern Regional, NJ
120 - #10 Aden Valencia, Ann Sobrato High School, CA
120 - #12 Dillon Campbell, Legacy Christian Academy, OH
120 - #12 Dillon Campbell, Legacy Christian, OH
120 - #14 Kael Lauridsen, Bennington HS, NE
120 - #16 Maddox Shaw, Thomas Jefferson, PA
120 - #17 (113) Caleb Thoennes, STMA, MN
120 - #18 Dalton Perry, Central Mountain, PA
120 - #20 (113) Drew Gorman, Buford High School, GA
120 - #20 Tyler Ferrara, Chenango Forks, NY
120 - HM Logan Graf, Rapid City Stevens, SD
120 - HM Ethan Perryman, Temecula Valley High School, CA
120 - HM Camron Phetxoumphone, Webster City High School, IA
120 - HM Brycen Arbogast, Benedictine Prep, VA
120 - HM Jackson Baglio, Central Cabarrus High, NC
120 - HM Jake Crapps, Cass High School, GA
120 - HM Peyton Fenton, Elyria high school, OH
120 - HM Kyison Garcia, Mountain Ridge, UT
120 - HM Billy Greenwood, Poudre High School, CO
120 - HM Jaxon Joy, Wadsworth, OH
120 - HM Paul Kelly, Poway, CA
120 - HM Coleman Nogle, Mount Saint Joseph, MD
120 - HM Anthony Walker, Detroit Catholic Central, MI
120 - HM Trever Anderson, Ankeny, IA
120 - HM Billy Dekraker, McDonogh School, VA
120 - HM Zan Fugitt, Nixa, MO
120 - HM Derek Guanajuato, Valiant college preparatory, AZ
120 - HM Mason Leiphart, Dover, PA
120 - HM Jaden Pepe, Wyoming Area, PA
120 - HM Brady Pruett, Archbishop Spalding, MD
120 - HM Luke Stanich, Roxbury High School, NJ
120 - HM Yanni Vines, Thompson High School, AL
120 - HM Kolby Warren, Christian Brothers College HS, MO
120 - HM Omar Ayoub, Dublin Coffman, OH
120 - Charleston Baglio, Central Cabarrus High, NC
120 - Toby Billerman, Perry Meridian, IN
120 - Steven Harris, Conwell Egan, PA
120 - Mikey Ziniti, Jerome High School, NH
120 - Raymond Adams, Calhoun, NY
120 - Donny Almeyda, Saint Joseph Regional, NJ
120 - Jahleel Armstrong, Grassifield High, VA
120 - Ethan Asher, Skyline high scho, VA
120 - Logan Attisano, Legacy Christian Academy, OH
120 - Coen Bainey, Bald Eagle Area High School, PA
120 - Hunter Bankes, Soddy Daisy High School, TN
120 - Lucas Barry, St Michaels, MO
120 - Zach Bellissimo, Perry -Lake County, OH
120 - Jake Bennett, Fort LeBoeuf High School, PA
120 - Brayden Boyd, Sprague High School, OR
120 - Gavin Bradley, Athens, PA
120 - Job Brown, AC Reynolds High School, NC
120 - Jared Brunner, Eastern Regional, NJ
120 - Rohan Bucknor, Jr., Bullis, MD
120 - Gavin Butler, Summerville HS, SC
120 - Nico Calello, St. Joes, NJ
120 - Jack Callahan, Tewksbury High School, MA
120 - Brendan Callahan, Kingsway, NJ
120 - Ashton Campbell, Bethlehem Catholic, PA
120 - Gavin Caprella, Lima Central Catholic, OH
120 - Liam Carlin, Burnt Hills-Ballston Lake High School, NY
120 - Connor Castillo, Social Circle, GA
120 - Tyson Charmoli, St. Francis High School, MN
120 - donovan chavis, saint peters prep, NJ
120 - donovan chavis, saint peters prep, NJ
120 - Shane Corrigan, De Pere, WI
120 - Chris Creason, Home School, VA
120 - Evan Cruz, Crown Point High School, IN
120 - Apollo Cruz, Orting High School, WA
120 - Hayden Cunningham, State High, PA
120 - kade davidheiser, The Hill School, PA
120 - Benjamin Davino, St Charles East, IL
120 - Glen Oran Decker, Jr., Harris County High School, GA
120 - dante distefano, Waltham High, MA
120 - Sefton Douglass, Lyman High School, WY
120 - Landen Duncan, Chalker High School, OH
120 - Easton Evans, Mt Crest High school, UT
120 - Brayden Fahrbach, Mount Sinai, NY
120 - Elijah Flores, Walnut Highschool, CA
120 - Lane Foard, Benedictine College Prep, VA
120 - Clay Gates, COLLINSVILLE HIGH SCHOOL, OK
120 - Kyle Gibson, New Kent High School, VA
120 - Derek Glenn, Cherokee Trail High School, CO
120 - Israel Gonzalez, Pleasant Grove, UT
120 - Troy Guerra, Johnson High School, TX
120 - Xavior Harrell, Cypress ranch high school, TX
120 - Ryan Hartung, New Milford High School, NJ
120 - Anderson Heap, Kissimmee Osceola, FL
120 - Kenneth Hendriksen, Creekview High School, TX
120 - Aldo Hernandez, Montgomery Central, NC
120 - Troy Hohman, Penn Trafford, PA
120 - Hunter Hollingsworth, Edmond North, OK
120 - Jonathan Hudson, Cardinal Gibbons, FL
120 - Dawson Johnson, Cumberland, WI
120 - Jacob Jones, Ranch Bernardo High School, CA
120 - Jak Keller, Rockford, MI
120 - Mason Kernan, Bethel Park, PA
120 - Eli Kirk, Guthrie HS, OK
120 - Shay Korhorn, Joliet Catholic Academy, IL
120 - Ethan Lebin, Hempfield Area, PA
120 - Jacob Levin, Tottenville HS, NY
120 - Adrian Limon, Northview High School, CA
120 - Jayden Loveranes, South Lakes High School, VA
120 - Noah Luna, Providence High School, NC
120 - JT Mankowich, Sachem North, NY
120 - Ryan Mansueto, Raritan, NJ
120 - Max Martin, Great Bridge High, VA
120 - Andrew Martin, Pewaukee High School, WI
120 - Brayden Mejia, Fred T. Foard, NC
120 - ryan mooney, jensen beach high school, FL
120 - Cameron Morgan, Pennsville High School, NJ
120 - Alessandro Nini, Christian Beothers Academy, NJ
120 - Samuel Oakes, Windham High School, NH
120 - Talan Olguin, Aztec High School, NM
120 - Sebastian Ortega, Howell High School, NJ
120 - Brayden Parke, Linn Mar High School, IA
120 - Luke Passarelli, Norwin, PA
120 - Jason Pattillo, The Woodlands College Park, TX
120 - Robert Pavlek, The Hill School, PA
120 - Lucas Peters, Kaukauna High School, WI
120 - Braden Potts, Tuttle High school, OK
120 - Isaiah Powe, Gardendale High school, AL
120 - Glenn Price, Archbishop Shaw High School, LA
120 - Vincent Principe, Christian Brothers Academy, NJ
120 - Ian Radintz, Glenwood City High School, WI
120 - Alexander (AJ) Rallo, Whitfield, MO
120 - Owen Rawls, Nansemond River High School, VA
120 - Brandon Rayack, Governor Livingston, NJ
120 - Logan Richey, Quaker Valley, PA
120 - Maximus Riggins, Bondurant Farrar, IA
120 - Garret Rinken, Nashua-Plainfield, IA
120 - Zachary Rios, Loudoun County High School, VA
120 - Jude Robson, Riverheads High School, VA
120 - Matthew Rowland, Pinecrest High School, NC
120 - Damion Ryan, Centerville, OH
120 - Ramon Salazar, Erie High School, CO
120 - Santino Sanchez, Esperanza Highschool, CA
120 - Hayden Santora, Woodland, GA
120 - John Schneider, Brien McMahon High School, CT
120 - Owen Segorski, Lowell, MI
120 - Gauge Shipp, Galesburg, IL
120 - Charlie Sly, Stuart Cramer, NC
120 - Tanner Spalding, Cincinnati La Salle, OH
120 - Jeramiah Steele, Pomona Senior High School, CO
120 - Reese Stephen, Barnesville, OH
120 - Chad Strickland, Wetumpka High School, AL
120 - Tyger Taam, Moanalua High School, HI
120 - Dylan Taylor, Parkhill South, MO
120 - Matthew Terrence, Clovis, CA
120 - Rider Trumble, Ryle High School, KY
120 - Alex Turley, Webster Groves High School, MO
120 - Clayton Utter, High Point, NJ
120 - logan Valledor, Vacaville high school, CA
120 - Hudson Waldrop, Mcadory High School, AL
120 - Gage Walker, Jay High School, OK
120 - Joshua Wayland, Denmark High School, GA
120 - Brock Weiss, Jersey Shore, PA
120 - Nolan Wertanen, St. Joseph High School, MI
120 - Marcus Wright, Westminster Christian Academy, AL
120 - Jake Yowell, Riverheads High School, VA
120 - Mason Ziegler, Quakertown Community High School, PA
120 - Thomas Zielinski, West Catholic, MI
120 - Mason Ketcham, Don Bosco Prep, NY
120 - Amantee Mills, Brookwood High School, GA
120 - Hunter Sloan, The Hill School, PA
126 - #1 Sergio Lemley, Mount Carmel, IN
126 - #4 (120) Kannon Webster, Washington, IL
126 - #4 Cory Land, Moody High School, AL
126 - #6 Gabe Whisenhunt, Crescent Valley High School, OR
126 - #7 (120) Evan Mougalian, Kinnelon High School, NJ
126 - #7 Vincent Robinson, Homewood Flossmoor, IL
126 - #8 Kyler Larkin, Valiant College Preparatory, AZ
126 - #9 (113) Ryan Ford, Bergen Catholic, NJ
126 - #9 (120) Adrian Meza, Valiant College Prep, AZ
126 - #10 PJ Duke, Minisink Valley, NY
126 - #11 (120) Grigor Cholakyan, St John Bosco, CA
126 - #13 Fernando Barreto, Walnut high school, CA
126 - #14 Landon Robideau, STMA, MN
126 - #17 (120) Jacob Myers, Ponderosa High School, CO
126 - #17 Vince Bouzakis, Wyoming Seminary, PA
126 - HM Luke Poore, Caravel Academy, DE
126 - HM McKinley Robbins, Greene County High School, IA
126 - HM Santino Robinson, Mascoutah H. S., IL
126 - HM Jackson Bond, Baylor, GA
126 - HM Cisco Cabrera, Buchanan, CA
126 - HM Colby Crouch, Civic Memorial, IL
126 - HM Dominic DiTomasso, Lowndes Highschool, GA
126 - HM Evan Frost, Dowling Catholic, LA
126 - HM Max Gallagher, Bayport Blue Point High School, NY
126 - HM MITCHELL NEINER, SOUTH KITSAP HIGH, WA
126 - HM Keyveon Roller, Lakeway Christian Academy, TN
126 - HM Zeth Romney, Chaminade College Preparatory High School, CA
126 - HM Brennen Cernus, Wyoming Seminary, OH
126 - HM Logan Frazier, Crown Point High School, IN
126 - HM Garrett Funk, Don Bosco High School, IA
126 - HM Marcel Lopez, New London High School, IA
126 - HM Gable Porter, Underwood, IA
126 - HM Ayson Rice, Canton High School, SD
126 - HM Ethan Sellers, Colquitt County High School, GA
126 - HM Kollin Rath, Bethlehem Catholic, PA
126 - HM Nathan Taylor, Kingsway, NJ
126 - Jaiden Moore, Benton Community, IA
126 - Jonah Paulino, MontyTech, MA
126 - Luke Acuna, Centerville High School, OH
126 - Aidan Agin, Lancaster HS, OH
126 - D'Amani Almodovar, St Augustine Prep, NJ
126 - PHOENIX ALYEA, SKLYLINE HIGH SCHOOL, VA
126 - Gunner Andrick, Point pleasant, WV
126 - Sebastian Armstrong, Coventry High School, RI
126 - chase arnestad, riverside, VA
126 - Andrew Austin, Charlotte High, FL
126 - Anthony Bahl, Crown Point High School, IN
126 - Braedon Bai;ley, Carolina Forest High, SC
126 - Markel Baker, Freeport, IL
126 - Anthony Basile, Xavier, CT
126 - William Baysingar, Prospect High School, IL
126 - Brian Beers, Barrington High School, IL
126 - Adan Benavidez, Bloomfield, NM
126 - Gunnar Betzold, Charlotte Christian, NC
126 - Ryu Brown, Summerville High School, SC
126 - Joel Brown, Landon School, MD
126 - Elijah Bunn, Rockford high school, MI
126 - Kaden Chinavare, Dundee, MI
126 - RONALD CHRISTOLIN, GREENS FARMS ACADEMY, CT
126 - Hunter Clark, Fred T. Foard High School, NC
126 - Gabe Conboy, Norwin Highschool, PA
126 - Brady Conlin, Lake Highland Prep, NJ
126 - Ashton Corson, Middleville, MI
126 - Nick Cottone, Shawnee, NJ
126 - Caleb Cox, RS Central high school, NC
126 - Trey Custodio, Norfolk Academy, VA
126 - Noah Danforth, West Forsyth High School, GA
126 - Hudson Danielson, Buford High School, GA
126 - Jack De Sena, Hingham High School, MA
126 - Steven Dindl, Bartlett High School, TN
126 - Jonny Dobbs, Jensen Beach High School, FL
126 - Cody Drummond, Laurel High School, DE
126 - daniel echeverria, st lucie west centennial, FL
126 - Sam Ewing, Pleasant Hill High School, MO
126 - Brandt Fajerman, Hough High School, NC
126 - Anthony Fernandez, Nashua South, NH
126 - Joseph Fernau, Aurora Christian High School, IL
126 - Anthony Ferraro, Pine-Richland, PA
126 - Michael Fister, Northridge, OH
126 - Michael Folch, Calvary Chapel high school, CA
126 - Lorenzo Frezza, Stevenson, IL
126 - Marco Frinzi, Bethlehem Catholic, PA
126 - Dante Frinzi, Bethlehem Catholic, PA
126 - Nolan Frye, Walsh Jesuit, OH
126 - Jayden Gaddy, Julis chamber, NC
126 - Cameron Gallivan, Miami palmetto, FL
126 - Josh Gallo, Springstead, FL
126 - Matthew Garcia, Edmond Memorial, OK
126 - DJ Gillett, Crescent Valley HS, OR
126 - Joe Giordano, Saint John Vianney High School, NJ
126 - Hudson Goebel, Findlay High School, OH
126 - Sean-Michael Gonzalez, North port, FL
126 - Simon Graeber, Columbia High School, ID
126 - Dylan Granahan, Benton, PA
126 - Laban Green, Monroe high school, OH
126 - Owen Greslick, Louisa County, VA
126 - Cooper Haase, Kissimmee Osceola, FL
126 - John Hildebrandt, Williamstown, NJ
126 - Marcus Jackson, Central Cabarrus High School, NC
126 - Anthony Jennings, Clear Lake Highschool, TX
126 - Brayton Killiri, Summerville High, SC
126 - Dakota King, Barnesville, OH
126 - Anders Kittelson, Osage High School, IA
126 - Ryan Klingensmith, Kiski Area, PA
126 - Luke Kunath, Cardinal Gibbons High school, NC
126 - Aaron Kurzer, Montville Township, NJ
126 - Luke Lagasse, Coventry High school, RI
126 - Jack Lage, Helias Catholic High School, MO
126 - damon landreth, west hendersonville high school, NC
126 - Beau Lewis, Nansemond River High School, VA
126 - Evan Lindner, New Milford, CT
126 - Ryan Lobato, Lakeside, CA
126 - Aaron Lucio, Lakeshore Highschool stevensville, MI
126 - Jacob Macatangay, Plainfield North High School, IL
126 - Danny Martinez, Lake Highland Prep, FL
126 - Matthew McAfee, St. Albans High School, WV
126 - William McArdle, Fort pierce central, FL
126 - David McEachern, Mt Pleasant High School, NC
126 - harris meekhof, allendale, MI
126 - Billy Meiszner, Providence Catholic HS, IL
126 - Ben Miller, McQueen High School, NV
126 - Trebor Moreno, Eastwood High School, TX
126 - Joseph Morris, Belton-Honea Path High School, SC
126 - Luke Murray, Peninsula Catholic, VA
126 - Jack Myers, Morristown, NJ
126 - Hayden Myers, Coventry High School, RI
126 - Gunnar Myers, Wallenpaupack, PA
126 - Caleb Neal, Great Bridge High, VA
126 - Joshua Neiwert, Gonzaga Prep, WA
126 - karter nolan, locust grove, GA
126 - Nikolaus O'Neill, Malvern Prep, PA
126 - Trason Oehme, Brandon Valley High School, SD
126 - Brandon Olsen, Mcdonough High School, GA
126 - Aidan Oshea, Bellefonte, PA
126 - Yuta Otero, Landstown High School, VA
126 - Robert Owens, Hanover High School, VA
126 - Dylan Pepin, Northwest guilford high school, NC
126 - Zander Phaturos, Waynesburg, PA
126 - Freddy Pimental, Belmonth Hill, MA
126 - Austin Pollard, Brooke Point High School, VA
126 - Jason Quirk, Livingston, NJ
126 - Ethan Qureshi, Portola High School, CA
126 - Russell Raabe, Fort Pierce Central, FL
126 - Trace Ragland, New Kent, VA
126 - Grant Reece, Avery County High School, NC
126 - Blake Reihner, Quest, PA
126 - Nolan Reiter, Big Lake High School, MN
126 - Charlie Robson, Conwell Egan, PA
126 - Justin Rodriguez, Fountain valley, CA
126 - Hunter Salomon, Skyline High School, VA
126 - Mark Samuel, Emsley A. Laney High School, NC
126 - Adam Schaeublin, St John's Prep, MA
126 - Colt Schrader, Eastside High School, SC
126 - Luke Schroeder, Mountain Crest High School, UT
126 - Tyson Sherlock, Gilman, MD
126 - Max Shore, Miami East High School, OH
126 - Joey Showalter, Elkhorn Area High school, WI
126 - Jacob silka, Cherokee HS, GA
126 - Joseph Simon, Waynesburg Central High School, PA
126 - Brayden Sonnentag, Cadott High School, WI
126 - Maxwell Stein, Faith Christian Academy, PA
126 - Gaven Suica, Burgettstown, PA
126 - Nicholas Ta, Westfield High School, VA
126 - Carter Tate, Bishop Manogue Catholic High School, NV
126 - Michael Tharpe, Center Grove HS, IN
126 - Austin Thiel, Perry High, GA
126 - Jack Thode, Milford senior high school, DE
126 - Isaac Thornton, Walton Verona High School, KY
126 - Logan Tortual, Rosewood High School, NC
126 - Michael Trujillo, Liberty high school, AZ
126 - Emilio Trujillo-Deen, Monarch HS, CO
126 - Jackson Tucker, Hillsboro High School, MO
126 - Matteo Vargo, Penn High School, IN
126 - Christopher Vargo, Charleroi Area/ co op Bentworth, PA
126 - Alex Walker, Lake Gibson HS, FL
126 - Lowden Ward, Hollins High School, FL
126 - Ben Weader, Chantilly, VA
126 - Hayden Whidden, Lake Gibson Hs, FL
126 - Tony Wood, Jay County High School, IN
126 - Nicholas Yancey, Cardinal Gibbons High School, FL
126 - Jakob Zawosky, Forest High School, FL
126 - Daniel Zepeda, Gilroy High, CA
126 - Joaquin Arroyo, Calvary Chapel High School, CA
126 - Raymond Sanchez, Floyd Kellam HIgh School, VA
126 - Severn Torres, Broken Arrow High, OK
132 - #1 Nic Bouzakis, Wyoming Seminary, PA
132 - #3 Emilio Ysaguirre, Valiant college prep, AZ
132 - #4 Zeke Seltzer, Indianapolis Cathedral High School, IN
132 - #5 Danny Nini, Lake Highland Prep, FL
132 - #9 Brock Bobzien, Poway High School, CA
132 - #10 Dylan Gilcher, Detroit Catholic Central, MI
132 - #11 (126) Braden Basile, Jesuit- Tampa, FL
132 - #12 (126) Dario Lemus, Clovis High School, CA
132 - #15 (120) Jakob Romero, Pomona, CO
132 - #15 Ryder Block, Waverly Shell Rock, IA
132 - #16 Jake Niffenegger, Cincinnati Lasalle, OH
132 - #16 (138) Chase Deblaere, Simley, MN
132 - #18 Greyson Clark, Kaukauna High School, WI
132 - #19 (126) Mac Church, Waynesburg, PA
132 - #19 Jordan Soriano, W. Tresper Clarke High School, NY
132 - #20 (126) Kai Owen, Wyoming Seminary, FL
132 - #20 Tyler Vazquez, Delbarton, NJ
132 - HM Collin Guffey, Granite Hills High School, CA
132 - HM Cash Raymond, Simley High School, MN
132 - HM Anthony Aniciete, Slam, NV
132 - HM Sam Cartella, Western Reserve Academy, OH
132 - HM Jacob Frost, Dowling Catholic, LA
132 - HM Brady Hankin, Woodland Park High School, CO
132 - HM Jace Rhodes, Mason City High School, IA
132 - HM Eligh Rivera, Lake Highland Prep, FL
132 - HM Spencer Barnhart, Malvern Prep, PA
132 - HM Camron Lacure, Legacy Christian, OH
132 - HM Jason Mara, Meridian High School, ID
132 - HM Colton Stoneking, Waynesburg, PA
132 - HM Cole Thomas, Ryle High School, KY
132 - HM Owen Uhls, Fulton High School, MO
132 - HM Koy Buesgens, New Prague, MN
132 - Joseph Airola, Nederland Middle Senior High School, CO
132 - Joseph Antonio, St John Bosco, CA
132 - Joey Asterino, The Hill School, PA
132 - Devin Avedissian, Temecula Valley High School, CA
132 - Judah Aybar, Loyola Blakefield, MD
132 - Enzo Bell, McDonogh, MD
132 - Hunter Bidelman, Caldwell Senior high school, ID
132 - Phoenix Blakely, Dakota, IL
132 - Mitchell Borynack, Edmond Memorial HS, Edmond, OK, TX
132 - Jordan Brown, Monroe Woodbury High School, NY
132 - Brayden Brown, Legacy Christian Academy, OH
132 - Brady Calderwood, Herndon High School, VA
132 - Corey Camden, The Woodlands College Park High School, TX
132 - Brock Carey, Foard, NC
132 - Tycho Carmichael, Bettendorf High School, IA
132 - Gavynn Carpenter, Hallsvilley, MO
132 - Helton Carraceo, Miami Palmetto Senior High, FL
132 - Cameron Catrabone, Williamsville North, NY
132 - Sean Conway, Saint Patrick HS Chicago, IL
132 - Tristan Corbin, Robinson, VA
132 - Jacob Cox, South Rowan HS, NC
132 - David Cross, Francis Howell Central High School, MO
132 - Danny Curran, Dekalb HS, IL
132 - Ty Daugherty, Avon High School, OH
132 - Cameron Deiter, Bowling Green High School, OH
132 - Andrew DeSola, American Heritage Boca/Delray, FL
132 - Troy Dolphin, Kenosha Christian Life, WI
132 - Eric Doran, Great Bridge High School, VA
132 - Connor Doran, Ledyard, CT
132 - Landon Drury, Springs Studio, WA
132 - Ryan Duguay, Jensen Beach High School, FL
132 - Dyson Dunham, Benedictine College Prep, VA
132 - Cael Edwards, River Bluff High School, SC
132 - Mason Elsensohn, Brother Martin High School, LA
132 - Matthew Englehardt, Owen J Roberts, PA
132 - Edmund Enright, Mount Carmel, IL
132 - Cooper Flowers, Eastside Catholic, WA
132 - Blaine Frazier, Burlington Notre Dame, IA
132 - Jonathan FULLER, ST Peter 's Prep, NJ
132 - Yoshiya Funakoshi, Calvary Chapel, CA
132 - Abel Gaitan, Temecula Valley, CA
132 - jack garrett, Blessed Trinity High School, GA
132 - William Gibson, Northwest Guilford, NC
132 - Jeremy Ginter, Whitmer, OH
132 - Coy Hammack, Tell City High School, IN
132 - Andrew Harger, Northwest Guilford, NC
132 - Dominic Hargrove, Discovery Canyon Campus, CO
132 - Mayson Harms, Roselle Park, NJ
132 - Jonathan Hernandez, Oakdale High School, CA
132 - Jason Hood, Ponaganset High School, RI
132 - Brac Hooper, Zionsville, IN
132 - George Hufnagel, Paramus Catholic, NJ
132 - Trevor Husick, Tussey Mountain, PA
132 - Joey Iamunno, Greens farms Academy, CT
132 - Kyshin Isringhausen, Branson, MO
132 - Collin Jack, Decatur High School, WA
132 - Parker Janssen, STMA, MN
132 - Reese Jones, Ola high, GA
132 - Nick Jones, West Allegheny High School, PA
132 - Hunter Jones, Hickory Ridge High School, NC
132 - Kole Katschor, Dundee High School, MI
132 - Conner Kimbrough, Ola High School, GA
132 - Ethan King, Goose Creek High School, SC
132 - Logan Klinge, Hopkins, MI
132 - Ethan Kolb, Benton, PA
132 - Konstantinos Koufalis, Iona Prep, NY
132 - Aaron lanster, Miami Beach, FL
132 - Noah Linares, Mullen Highschool, CO
132 - Gavin Linsman, Whitfield, MO
132 - Cannon Long, Clarke County, VA
132 - David McClelland, St. Francis DeSales High School, OH
132 - Brady McCourt, Jonathan Law, CT
132 - Jaeckez Mendez, East Hartford High School, CT
132 - Hayward Metcalf, St. Marks School of Texas, TX
132 - Royce Nilo, Nazar's Wrestling Club, WI
132 - JAYDEN NOWELL, Robbinsville High, NC
132 - Elijah Olguin, Pomona, CO
132 - Dorian Olivarez, Homeschooled, TX
132 - Gage Owen, South Carroll, MD
132 - Reef Pacot, Salt Fork, IL
132 - Matthew Palermo, Cardinal Gibbons High School, FL
132 - Logan Paradice, Colquitt County High School, GA
132 - Davis Park, Heritage Hall, OK
132 - Caden Prater, Social Circle High School, GA
132 - Gavin Qualls, Hanahan High School, SC
132 - Shaun Quirk, Livingston, NJ
132 - Scott Rayack, Berkeley heights, NJ
132 - Andrew Reall, Ponaganset, RI
132 - Owen Reinsel, Brookville High School, PA
132 - Caedyn Ricciardi, Saint Peter's Prep, NJ
132 - Aidan Robichaud, Coventry High School, RI
132 - Dillon Roman, Monarch HS, CO
132 - George Rosas, Clovis High School, CA
132 - Logan Rozynski, Wyoming Seminary, NJ
132 - Tate Rusher, Derby High School, KS
132 - Joshua Sanders, Sprayberry HS, GA
132 - Cheaney Schoeff, Avon High School, IN
132 - Joe Sentipal, Burgettstown, PA
132 - Ethan Shell, Avery County High School, NC
132 - Carter Shupert, Cox High School, VA
132 - Jackson Sichelstiel, Paulsboro High School, NJ
132 - Brock Smith, Riverdale Port Byron, IL
132 - Grayson Sonntag, Tonganoxie High School, KS
132 - Drew Stanfield, St. Michael the Archangel Catholic High School, MO
132 - Griffen Stephen, Barnesville, OH
132 - Mason Stewart, Detroit Catholic Central, MI
132 - Blue Stiffler, Spring Valley, SC
132 - Nathan Stone, Franklin Regional, PA
132 - Hunter Sturgill, Heritage, TN
132 - Sam Sutton, Homewood High School, AL
132 - Cody Tavoso, Hinsdale Central, IL
132 - Thomas Termini, Marist, GA
132 - Ronald Theilacker, Palm Bay High School, FL
132 - Dawson Thompson, North Hall High School, GA
132 - Dy'Vaire VanDyke, Walsh Jesuit, OH
132 - Jordan Villareal, John Champe High School, VA
132 - Charles Wahl, DHHS, CT
132 - Isiah Walker, Marinette High School, WI
132 - Blake Walker, Lake Gibson HS, FL
132 - Saige Walls, George Washington high school, WV
132 - Bryce Wanagat, Pelham High School, AL
132 - Ty Wilson, Dublin Scioto, OH
132 - Dylan Layton, Indian Land High School, SC
138 - #3 Michael Gioffre, Buchanan High School, CA
138 - #5 Joel Adams, Millard South High School, NE
138 - #5 (145) Richard Fedalen, McDonogh School, MD
138 - #6 (132) Hunter Mason, Greeneville, TN
138 - #6 Tyler Kasak, Bethlehem Catholic High School, PA
138 - #7 Kimo Leia, Selma HS, CA
138 - #8 (132) Beau Mantanona, Palm Desert High School, CA
138 - #10 Tom Crook, Tampa Jesuit, FL
138 - #12 (132) Zach Hanson, Lakeville North, MN
138 - #12 Kole Brower, Moline, IL
138 - #13 Daniel Sheen, Wyoming Seminary, IL
138 - #15 Alex Almeyda, Saint Joseph Regional, NJ
138 - #18 Maxwell Petersen, Byron, MN
138 - #20 Jaydon Robinson, Homewood Flossmoor, IL
138 - HM Jacob Bostelman, Ponderosa, CO
138 - HM Cael Robb, Owatonna High School, MN
138 - HM Mark Botello, Hingham High School, MA
138 - HM Nick Hart, Marysville, OH
138 - HM Matthew Repos, Central Dauphin High School, PA
138 - HM Ty Watters, West Allegheny High School, PA
138 - HM Ismael Ayoub, Dublin Coffman, OH
138 - HM Gabriel Bouyssou, Scituate, RI
138 - HM Weston Dalton, Pueblo East, CO
138 - HM Joe Fongaro, Boonton High School, NJ
138 - HM Carter McCallister, Rock Bridge High School, MO
138 - HM Smokey McClure, South Whidbey High School, WA
138 - HM Jackson Polo, Cold Spring Harbor High School, NY
138 - HM Luke Simcox, Central Mountain, PA
138 - HM Cameron Steed, Collinsville High School, OK
138 - HM Cross Wasilewski, Delbarton, NJ
138 - HM August Hibler, Bergen Catholic High School, NJ
138 - HM Evan Holloway, New Kent High School, VA
138 - HM Brayden Ivy, Lakeway Chrisitian Academy, TN
138 - HM David Panone, Lassiter High School, GA
138 - HM Alessio Perentin, Delbarton, NJ
138 - HM Gavin Drexler, Stratford High School, WI
138 - Anwar Alli, Marion Pleasant, OH
138 - Kellan Aure, Menomonie HS, WI
138 - carter ban, Anoka high, MN
138 - Sirr Bannister, Bishop McNamara, MD
138 - Ethan Barr, Hickman High School, MO
138 - Brandon Bauer, Seton Hall Prep, NJ
138 - Luke Belcher, Bradley Central, TN
138 - Bryson Bench, Bethel Park, PA
138 - Tyler Bierman, Wentzville Holt, MO
138 - Ambrose Boni III, Central Valley High School, PA
138 - Colton Bornholdt, New Prague High School, MN
138 - Braden Bower, Williamsport, PA
138 - Dylan Brooks, Powdersville High school, SC
138 - Jakob Brown, Grassfield High School, VA
138 - Samuel Budagher, Albuquerque Academy, NM
138 - Kent Burandt, Brother Martin High School, LA
138 - Jordan Butler, Bishop McCort, PA
138 - Vincent Cabral, Pomona High school, CO
138 - Boede Campbell, Legacy Christian, OH
138 - Joseph Cangro, Bergen Catholic High School, NJ
138 - Colin Carlin, Burnt Hills-Ballston Lake High School, NY
138 - Chase Casey, Camden Catholic High School, NJ
138 - Yannis Charles, Clover, SC
138 - Brecken Cieleski, Brookville, PA
138 - Jake Cline, Glenvar High School, VA
138 - Jackson Crawford, Richmond Hill, GA
138 - Lukas Crosby, High Point Academy, SC
138 - Ryan Datz, Seagull, NJ
138 - Joe Davi, Delbarton, NJ
138 - Landon Davis, Mount Anthony Union High School, VT
138 - Andrew Doehring, Lafayette High School (of Wildwood MO), MO
138 - Jason Dubrasky, PolyPrep- Brooklyn NY, NY
138 - Jack Erbe, Colonial Forge High School, VA
138 - Brandon Eusebio, Rancho Bernardo High School, CA
138 - Mitchell Faglioni, St. Christopher's School, VA
138 - Carter Fecht, Waverly-Shell Rock High School, IA
138 - Dominic Findora, Downingtown West High School, PA
138 - Jayson Flener, North Allegheny, PA
138 - Nathan Ford, Parkersburg South High School, WV
138 - Davis Freeze, Mooresville High School, NC
138 - Collin Gaj, Quakertown, PA
138 - Julian Garnica, James Bowie H.S., TX
138 - Julian George, Christian Brothrrs Academy, NJ
138 - Andrew Grabinski, Trumbull High School, CT
138 - Nicholas Grizales, Cheyenne Mountain High School, CO
138 - Dylan Gvillo, Edwardsville High School, IL
138 - Preston Harn, McQueen High School, NV
138 - Sam Harris, Ola, GA
138 - JAYDEN HARRISON, E.A. Laney, NC
138 - Arojae Hart, Murphysboro high school, IL
138 - Matthew Henrich, Southern Regional, NJ
138 - Tyler Hood, At Christopher's, VA
138 - Daxton Hruby, BrightonHigh School, CO
138 - Isaac Ibarra, Skyview High School, CO
138 - Keagan Judd, Sherando High School, VA
138 - Lucas Kapusta, Hempfield Area High School, PA
138 - Landon Kearns, St. Thomas Aquinas, NJ
138 - Joseph Kennedy, Kasson-Mantorville, MN
138 - Kody Ketchum, Park Hill, MO
138 - Conner Kleinberg, Springboro, OH
138 - Michael Kling, Caravel Academy, DE
138 - Bryce Kresho, Cass High School, GA
138 - Drew Lang, West, UT
138 - Felix Lettini, Saint Peters Prep, NJ
138 - Dylan Levesque, Xavier High School, CT
138 - Luke London, Sycamore, TN
138 - DONTE LOPEZ, GILROY HIGH SCHOOL, CA
138 - Ryan Luna, Saint Francis H.S. (Mt. View), CA
138 - Jaden Machado, Lancaster high school, TX
138 - David Makupson, Trinity high school, NC
138 - Kayleb Martin, Sackets Harbor Central School, NY
138 - Michael McGruder, Poway High School, CA
138 - Ethan Mitchell, Findlay High School, OH
138 - Ryan Money, Severn School, MD
138 - Drayden Morton, Sibley East, MN
138 - Elijah Murray, Lake Norman, NC
138 - Caleb Nadig, RTHS, IL
138 - Matthew Najera, Carlsbad High School, NM
138 - Emil Necula, Walton, GA
138 - Alex Noblin, Prince George, VA
138 - Kai O'dell, Danbury, CT
138 - Grant ODell, Iowa City West, IA
138 - Chad Ozias, Connellsville, PA
138 - Branden Palcko, Paul VI, NJ
138 - Brian Papcun, Ola High School, GA
138 - Cade Parent, Saint Francis High School, GA
138 - ZACHARY PARKER, FOUNTAIN VALLEY HIGH SCHOOL, CA
138 - Max Parnis, West Chester East, PA
138 - Sean Pitts, Christian Brothers High School, TN
138 - Q'veli Quintanilla, Gonzaga Prep High School, WA
138 - Dalton Redden, Gettysburg, PA
138 - Yainiel Reina, Miami southridge, FL
138 - Trevor Reinke, Beatrice High school, NE
138 - Cole Rhemrev, Stevenson High School, IL
138 - Jeffrey Richards, Lake Norman High School, NC
138 - Sam Richardson, Hillsboro, MO
138 - Na'kuise Riley, Miami Palmetto senior high, FL
138 - Luke Roberts, Loudoun County High School, VA
138 - Kenneth Rodgers, Esperanza, CA
138 - Cale Roggie, St. Christopher, VA
138 - Damarion Ross, Fort high school, IA
138 - Colby Ryan, Raymond S. Kellis, AZ
138 - Ghassan Saleh, Suffield High School, CT
138 - Connor Saylor, Hickory, PA
138 - Caleb Seyfried, Greens Farms Academy, CT
138 - Cade Siebrecht, Lisbon High School, IA
138 - Luke Sipes, Altoona Area High School, PA
138 - Nathaniel Slough, White House Heritage High School, TN
138 - Kaemen Smith, Cathedral Prep, PA
138 - Cole Stangle, Saint John Vianney High School, NJ
138 - Ty Stewart, Dracut high school, MA
138 - Thomas Stofka, First Colonial, VA
138 - Devin Stone, Thompson High School, AL
138 - JJ Suetos, Granite Hills High School, CA
138 - Tharun Svetanant, Blacksburg Highschool, VA
138 - Michael Thebarge 3rd, Tallwood High School, VA
138 - Cory Thomas, Detroit Catholic Central High School, MI
138 - Aubrey Thompson, Stone Memorial High School, TN
138 - Daniel Tierney, Concord HS, NC
138 - Daniel Tierney, Concord HS, NC
138 - Ahmed Toom, Treasure coast High school, FL
138 - TYler Tracy, Cardinal Gibbons High School, NC
138 - Zachary Turner, Riverbend High School, VA
138 - hunter vogus, monroeville, OH
138 - Spencer Von Savoye, Oakdale High School, CA
138 - Nikolas Voros, Smithfield High School, VA
138 - Joshua Walker, Marinette High School, WI
138 - Justin Wells, Lakeside High School, CA
138 - Jamar Wells jr, Smyrna high school, DE
138 - Wanderlei Whittington, Monache high school, CA
138 - Codey Wild, Timberlane High School, NH
138 - JEWELL WILLIAMS, JENSEN BEACH HIGH SCHOOL, FL
138 - Hassan Williams, Summerville highschool, SC
138 - Jacob Woodburn, Page Highschool, NC
138 - Owen Foster, Holland West Ottawa, MI
138 - Connor Pierce, Harbor Creek High School, PA
138 - Noah Tapia, Moline, IL
138 - Brandon Cody, The Master's Academy (Oviedo), FL
145 - #1 Jackson Arrington, Forest HIlls, PA
145 - #4 (138) Ty Whalen, Clearview Regional High School, NJ
145 - #9 (138) Jude Swisher, Bellefonte, PA
145 - #9 William Henckel, Blair Academy, CT
145 - #10 Pierson Manville, State College Area High School, PA
145 - #12 Kelvin Griffin, The Hill School, ME
145 - #13 Kal Miller, Park Hill, MO
145 - #13 (152) Kaleb Larkin, Valiant College Preparatory, AZ
145 - #15 Dylan Evans, Chartiers Valley, PA
145 - #17 (138) Joel Jesuroga, Southeast Polk, IA
145 - #19 (138) ETHAN MOJENA, LAKE HIGHLAND PREP, FL
145 - #19 Gavin Brown, Legacy Christian Academy, OH
145 - #20 (152) KJ Evans, Heritiage Hall, OK
145 - HM Miguel Estrada, Frontier HS, CA
145 - HM Clayton Gabrielson, St. Mary's Ryken, MD
145 - HM Francisco Ayala, Ellensburg High School, WA
145 - HM Joey Blaze, Perrysburg High School, OH
145 - HM James Chance, Western Reserve Academy, OH
145 - HM Nathan Jerore, Woodhaven High School, MI
145 - HM Hayden Watson, Center Grove High School, IN
145 - HM Nate Burnett, Elyria, OH
145 - HM Cody Chittum, APEX homeschool, TN
145 - HM Tommy Curran, Dekalb HS, IL
145 - HM Kyler Lake, Buchanan High School, CA
145 - HM Latrell Schafer, Veterans High School, GA
145 - HM Noah Tolentino, Poway, CA
145 - HM Kael Voinovich, Stillwater HS, OK
145 - HM Ethan Stiles, Conant High School, IL
145 - Calvin Lonnquist, Wayzata High School, MN
145 - Frank Volpe, Hauppauge, NY
145 - Eric Alderfer, Faith Christian Academy, PA
145 - Nolan allen, GBN, IL
145 - Jace Anderson, Ankeny, IA
145 - Logan Arnold, Staunton River High School, VA
145 - Kade Ayres, Fountain Valley High School, CA
145 - Christopher Bacchioni, Bergen Catholic High School, NJ
145 - roberto bautista, Klein High School, TX
145 - cole bennett, Carroll Highschool, TX
145 - Alexander Betancourt, Bunker Hill, NC
145 - ethan Birch, vacaville high, CA
145 - Noah Blough, Madison High, OH
145 - Joshua Boykin, Lake Highland Prep, FL
145 - Colin Bridges, Frank W. Cox, VA
145 - Cole Brooks, Collinsville, OK
145 - Nate Campbell, Norwin, PA
145 - Caleb Chandler, Great Bridge High School, VA
145 - Owen Cherry, Kellam High School, VA
145 - Perrin Clark, East Ridge High School, TN
145 - Owen Cline, Orting High School, WA
145 - Reese Davis, Tuttle High School, OK
145 - Carter Davis, Central York, PA
145 - Aiden Davis, Dundee High School, MI
145 - Sean Degl, Iona Prep, NY
145 - Bas Diaz, Waverly Shell Rock HS, IA
145 - Elijah Doolittle, Cass, GA
145 - Ryder Downey, Indianola High School, IA
145 - Colin Dupill, Greeneville High School, TN
145 - Christopher Earnest, Wadsworth, OH
145 - Cael Erickson, Cedar Grove-Belgium, WI
145 - Joshua Fahrenkrog, Metrolina, NC
145 - dominik fimbres, Valiant, AZ
145 - Riley Fort, Wilson Central High School, TN
145 - Killian Foy, MacArthur HS, NY
145 - Magnus Frable, Wyoming Seminary, PA
145 - Reece Frausto, Hutto High School, TX
145 - Nathan Furman, Palm Bay, FL
145 - cody goebel, mukwonago, WI
145 - Griffin Gonzalez, Lebanon High School, PA
145 - Hayden Goodluck, Shiprock High School, NM
145 - Kasius Graham, SLAM Academy, NV
145 - connor Gregory, Ballston Spa High School, NY
145 - Richard Grungo, St. Augustine Prep, NJ
145 - Tyler Haley, Frank W. Cox High School, VA
145 - Micah Hanau, Stevensville Lakeshore, MI
145 - Conner Harer, Montgomery, PA
145 - Andrew Harmon, Bethlehem Catholic, PA
145 - Nick Hejke, Mosley, FL
145 - Justin Hood, Ponaganset High School, RI
145 - Brendan Howes, Anoka High School, MN
145 - Kyle Hurley, Mount Anthony Union, VT
145 - Daniel Husain, Garnet Valley High School, PA
145 - Ethan Hylton, David Crockett High School, TN
145 - Rawson Iwanicki, St. John's Prep, MA
145 - Zachary Johns, Simsbury High School, CT
145 - Patrick Jordon, New Kent High School, VA
145 - Cullen Kane, Cambridge, GA
145 - Shane Kibler, Steller Trained, PA
145 - Dalen Kimble, Sycamore High School, TN
145 - Matthew Koontz, Perry Meridian, IN
145 - James Latona, Thompson High School, AL
145 - Noah Ledford, Zeeland east, MI
145 - Noah Ledford, Zeeland east, MI
145 - Nico Lopez, Cypress Ranch, TX
145 - Pablo Macias, Ironwood, AZ
145 - Kevin McBride, Saint John Vianney, NJ
145 - Tyler-Xavier McKnight, Cass High School, GA
145 - Charlie McKune, Marion C. Moore School, KY
145 - Gregory Merriman, Mooresville High School, NC
145 - Caleb Meunier, Winneconne, WI
145 - Cameron Milheim, Warrior run, PA
145 - Sander Miller, Edgemont Jr./Sr. High School, NY
145 - Maclain Morency, Anderson High School, OH
145 - Landon Muth, Bethlehem Catholic, PA
145 - Abel Nava, Toppenish High School, WA
145 - Eddie Neitenbach, Buckeye High School, OH
145 - JADEN NEW, ALEXANDRIA, AL
145 - Konrad Parker, Timberlane School, NH
145 - Konrad Parker, Timberlane School, NH
145 - josiah parsons, pomona, CO
145 - Anthony Pavlov-Ramirez, Los Gatos, CA
145 - Drew Pepin, Northwest guilford, NC
145 - Diego Peralta, Cardinal Gibbons High School, FL
145 - Alec Peralta, Temecula Valley High School, CA
145 - Dylan Pile, Los Gatos High School, CA
145 - Melton Powe 111, Gardendale high school, AL
145 - Boston Powell, Yukon High School, OK
145 - Jeremiah Price, Surry Central High School, NC
145 - Britton Proffitt, Powhatan High School, VA
145 - Jude Randall, Edmond North, OK
145 - Keith Ransom, Mexico High School, MO
145 - Logan Reaves, Hewitt-Trussville High School, AL
145 - Connor Reese, TC Roberson, NC
145 - Evan Reid, Cedarcrest High School, WA
145 - Daniel Rella, Paramus Catholic High School, NJ
145 - Jaime Rivera, Sunnyside High School, AZ
145 - Luke Robie, Christiansburg, VA
145 - Matt Rodriguez, Righetti, CA
145 - jack roszko, manhasset, NY
145 - santiago rueda, may river high school, SC
145 - Koa Ruiz, Calvary Chapel High School, CA
145 - Charlie Scanlan, Bethlehem Catholic, PA
145 - Ryan Schepers, School of the Osage, MO
145 - Cutter Sheets, Stilwell High School, OK
145 - Jakob Smith, The Woodlands College Park High School, TX
145 - Thomas Snipes, Hillcrest high school, SC
145 - Julian Solis, El Paso PebbleHills, TX
145 - Alexander Soto, Riverdale High School, FL
145 - Tyler Soule, Canon McMillan High School, PA
145 - Colton Spradling, Saint Albans High School, WV
145 - Andrew Supers, Medina, OH
145 - Jaxon Townsend, Gettysburg Area High School, PA
145 - Lonzy Vielma, Connellsville, PA
145 - Jacob Ward, Bay Port High School, WI
145 - Cade Wirnsberger, Meadowbrook Christian School, PA
145 - Kyler Wong, Wayzata, MN
145 - Garrett Wood, Harris County High School, GA
145 - Brock Woodcock, St. Clair Highschool, MO
145 - Darius Marines, DCC, MI
152 - #3 Mitchell Mesenbrink, Arrowhead High School, WI
152 - #4 (145) Nicco Ruiz, St John Bosco, CA
152 - #6 Erik Gibson, Bishop McCort, PA
152 - #7 Zack Ryder, Minisink Valley, NY
152 - #8 Joseph Sealey, Wyoming Seminary, NC
152 - #11 Nick Fea, Bergen catholic HS, NY
152 - #12 Michael Kilic, Woodward Academy, GA
152 - #18 (145) Fin Nadeau, Flathead High School, MT
152 - HM Braxton Strick, Ozark High School, MO
152 - HM Chris Moore, Mchenry, IL
152 - HM Murphy Menke, Ponderosa High School, CO
152 - HM Cole Becker, St. Michael-Albertville High School, MN
152 - HM Duncan Christensen, Malvern Prep, VA
152 - HM Isaias Jimenez, Valiant College Prep, AZ
152 - HM Jeremy Paradice, Colquitt County High School, GA
152 - HM Derek Raike, Point Pleasant High School, WV
152 - HM Dominic Bambinelli, Mill Creek High School, GA
152 - HM Thor Michaelson, Bremerton High School, WA
152 - HM Alex Poore, Caravel Academy, DE
152 - HM Braden Stauffenberg, Aurora Christian, IL
152 - HM Mark Takara, Temecula High School, CA
152 - HM Bam West, MUSTANG HIGH SCHOOL, OK
152 - Ethan Smith, Boonton high school, NJ
152 - Lawrence Rosario, Miami Southridge Senior High, FL
152 - Avant Stepherson, Marietta High School, GA
152 - Kaiden Wagner, Lewisburg, PA
152 - Toby Abbott, Cowan High School, IN
152 - Brendon Abdon, Lake Gibson HS, FL
152 - Tristan Adams, Avery High School, NC
152 - Alan Alexander, Pope John Paul II, PA
152 - Ethan Beloncik, Heritage Hall, OK
152 - Tyler Berish, Beth Center, PA
152 - Tyler Bienus, Mount Olive, NJ, NJ
152 - Michael Bobola, Xaverian Brothers, MA
152 - Timothy Bova, Arlington High School, LaGrangeville, ny, NY
152 - Aidan Brenot, Clarksville high school, TN
152 - Hayden Brown, Tuttle High School, OK
152 - Steve Caday, Fairmont Schools - SJC, CA
152 - declan casey, St. Paul's School, NH
152 - Devyn Che, Calvary Chapel High School - Santa Ana, CA
152 - Abraham Clinton, Rockwall Heath High School, TX
152 - Mathias Collins, Kennedy Catholic High School, WA
152 - Andrew Cory, Creekview, GA
152 - Sean Coughlin, West Springfield High School, VA
152 - Joseph Dishman, Statesville High School, NC
152 - Michael Duggan, Boiling Springs High School, PA
152 - Weston Eadie, Ashley Ridge, SC
152 - Moses Espinoza-Owens, Viewmont High School, UT
152 - Asher Fink, Byrnes High School, SC
152 - Joseph Fisk, Archbishop Spalding, MD
152 - Henry Forte, Delbarton, NJ
152 - Aidan Freeland, Fairmont San Juan Capistrano, CA
152 - Alex Frowert, Atlee High School, VA
152 - Dan Gibson, Wyoming Semnary, NH
152 - Sam Goin, Crown Point High school, IN
152 - Mark Gray, Kiski Area, PA
152 - Mathew Gummere, Chapin High School, SC
152 - Adrian Guzman, Ashland High School, MA
152 - Laith Hamdeh, Passaic County Technical Institute, NJ
152 - Greyson Harris, Enka High School, NC
152 - Jack Hawbaker, Great Bridge High School, VA
152 - Justin Hayes, Irmo High school, SC
152 - Kendrick Hodge, Somerset Academy, FL
152 - Dante Hutchings, Pomona HS, CO
152 - Peter Kane, Greens Farms Academy, CT
152 - Kalvin Khang, Freedom, NC
152 - maxwell kiel, jordan, NC
152 - Kelin Laffey, Pine Richland, PA
152 - Seth Larson, Flowery Branch HS, GA
152 - Zane Licht, Lodi High School, WI
152 - Kydyn Lima, Millikan High School, CA
152 - Niccolo Luftig, NCSSM, NC
152 - Javani Majoor, Falcon High School, CO
152 - Thomas Mancini, St Anthony's, NY
152 - Raife Manjarrez, Cheyenne Mountain, CO
152 - Carter Martinson, Southeast Polk, IA
152 - Caleb Mata, Clear Lake High School, TX
152 - Harris Mitchell, Vestavia Hills High School, AL
152 - Bodie Morgan, Trinity High School, PA
152 - Troy Moscatelli, Hollis Brookline High School, NH
152 - Max Nevlin, Saint Peter's Prep, NJ
152 - Adrian Ochoa, Southwest Miami, FL
152 - Gray Ortis, Mountain Brook High School, AL
152 - Ethan Osborne, Woodrow Wilson High School, WV
152 - Maclain Otting, East Hamilton High, TN
152 - Ty Parker, Airline High School, LA
152 - Dom Parker, University High School, WV
152 - Vincent Parry, Steilacoom High School, WA
152 - Brayden Peet, Sycamore High School, IL
152 - Dominick Polesovsky, Wando, SC
152 - Connor Powell, Hillgrove High School, GA
152 - Gavin Priest, Central Mountsin, PA
152 - Gavin Ramos, Montwood High School, TX
152 - John Noah Reho, Stephen Decatur High School, MD
152 - Wyatt Reisz, Logan-Magnolia High Schiol, IA
152 - Justin Richey, Quaker Valley, PA
152 - Justin Richey, Quaker Valley, PA
152 - Luke Rider, holly spring high school, NC
152 - Todd Ritter Jr, Archbishop Shaw, LA
152 - Rafael Romero, American Heritage - Delray Beach, FL
152 - Delaney Ruhlman, Bloomington High School South, IN
152 - Christian Rutherford, Coventry High School, RI
152 - Carter Schubert, Wyoming Seminary, NY
152 - Austin Scott, Mountain View, AZ
152 - Charles Severance, Redington High, AK
152 - Michael Shannon, Masters Academy, FL
152 - Aaron Sheffield, Central High School, GA
152 - Kj Sherman, Holy Spirit High School, NJ
152 - Benjamin Shvartsman, Deerfield High School, IL
152 - Jason Smith, Boonton high school, NJ
152 - Ethan Smith, Lake Catholic High School, OH
152 - kadin smoot, eastern view high school, VA
152 - Mason Stein, Central Bucks East High School, PA
152 - Sloan Swan, Buchanan, CA
152 - Sean Tansey, Collegiate, NY
152 - Shawn Taylor, West Allegheny, PA
152 - Ethan Teague, Tuttle High School, Oklahoma, OK
152 - Frankie Theroux, Saint Anthonys, NY
152 - CREED THOMAS, JEFFERSON HIGH SCHOOL, GA
152 - Carson Thomas, Lasalle, OH
152 - Andrew Troczynski, Delbarton, NJ
152 - Topher Tryon, unionville, PA
152 - Nicholas Vafiadis, New Kent High School, VA
152 - Cole Velardi, Southern Regional, NJ
152 - Robert Wattenbarger, Powdersville High School, SC
152 - Vandavian Way, Gouverneur high school, NY
152 - Quentin Whitehill, Medina HS, OH
152 - Ethan Wilson, Washington Township High School, NJ
152 - Hunter Worthen, La Porte City Union, IA
152 - Jake Zargo, Bergen Catholic, NJ
152 - Logan Berger, Hartsville High School, SC
160 - #1 Levi Haines, Biglerville High School, PA
160 - #9 (152) Jonathan Ley, Lake Highland Prep, FL
160 - #9 Domonic Baker, New Kent High School, VA
160 - #11 (170) Tyler Lillard, Aurora High School, OH
160 - #13 M.J. Gaitan, Temecula Valley HS, CA
160 - #15 Sergio Desiante, Jesuit High School, FL
160 - #15 (152) Grant MacKay, Laurel, PA
160 - #16 Kodiak Cannedy, Greeneville High School, TN
160 - #17 Gunner Filipowicz, Woodward Academy, GA
160 - #19 Daschle Lamer, Crescent Valley, OR
160 - HM Tyler Secoy, Columbus High School, GA
160 - HM Peyton Westpfahl, Liberty High School, MO
160 - HM Drake Acklin, Collinsville High School, OK
160 - HM Angelo Ferrari, Stillwater Oklahoma High School, OK
160 - HM Jared Keslar, Connellsville, PA
160 - HM Max Magayna, Columbus Catholic, IA
160 - HM Lars Michaelson, Bremerton High School, WA
160 - HM Dakota Morris, Kingsway, NJ
160 - HM Cole Cochran, Woodland, GA
160 - HM Roman Garcia, Palmetto ridge high school, FL
160 - HM Landen Johnson, Owatonna, MN
160 - HM Jed Wester, STMA, MN
160 - HM Travis Stipetich, North Allegheny, PA
160 - Mason Alley, Baylor school, TN
160 - Hunter Andel, James A. Garfield, Garrettsville, OH
160 - Michael Avelar, Sunnyside High School, AZ
160 - Sam Beckett, Souderton, PA
160 - Noah Bernstein, Edgemont NY, NY
160 - Simon Bishop, John Handley High School, VA
160 - Erik Borresen, Manatee High School, FL
160 - William Bradley, Paw Paw High School, MI
160 - Caden Brandenburg, Nation ford HS, SC
160 - Joe Buck, Clovis High, CA
160 - Ronald Butler, Miami palmetto senior high school, FL
160 - Allen Catour, Assumption High School, IL
160 - Felix Chang, Edison, VA
160 - Spencer Charlesworth, Lake Braddock, VA
160 - Jacob Cherry, Gettysburg Area High School, PA
160 - Ty Chittum, Great Bridge, VA
160 - Nick Cicciarelli, Brownsburg HS, IN
160 - Leif Clinton, Rockwall Heath High School, TX
160 - Tommy Cohenour, Southern Huntingdon, PA
160 - J Conway, Floyd Central High School, IN
160 - Ethan Cooper, Legacy Christian Academy, OH
160 - Timothy' Cowan, Livermore High School, CA
160 - Gunner Cramblett, Saint Paris Graham, OH
160 - Aaron Cramer, Grayslake Central HS, IL
160 - Aiden Curry, CATA, NC
160 - Mateo de la Pena, Kennedy Catholic High School, WA
160 - James DeLuise, Bethlehem Catholic High School, PA
160 - Danny Diaz, Somerset Academy, FL
160 - Will Ebert, Fairfield Warde HS, CT
160 - Marcus Espinoza-Owens, Viewmount, UT
160 - Dominic Federici, Wyoming Seminary, PA
160 - Steve Fisak, Wikson Central, TN
160 - nakoa fouret, Columbia High School, ID
160 - Michael Gabbard, South stanly high, NC
160 - M.J. Gaitan, Temecula Valley HS, CA
160 - Will Garrett, Thompson High School, AL
160 - Dezmonde Gartrell, Dublin Coffman High School, OH
160 - Luke Gayer, Calvary Chappel Santa Ana, CA
160 - carter gill, hickory, PA
160 - Brayden Guess, Bunker Hill High School, NC
160 - Amaan Gulacha, Hillfield Strathallen College, ON
160 - Dakota Hagedorn, University High School, WV
160 - Zyan Hall, Wheeler High School, GA
160 - BRODY HALLIN, MCHENRY, IL
160 - Logan Heckert, Sycamore High School, TN
160 - Rafael Hipolito, Independence high school, VA
160 - Koen Hoffman, Lemon Bay, FL
160 - David Hunsberger, James F Byrnes, SC
160 - Colby Isabelle, The Hill School, NH
160 - Patrick Jackson, Spring Mills High School, WV
160 - carson kammerer, cape henlopen, DE
160 - Rafael Knapp, Algonquin Regional HS, MA
160 - Matthew Kubas, Libertyville, IL
160 - Joseph Lashuay, Oakwood High School, IL
160 - Kyle Lee, Trinity Pawling, CT
160 - Braxton Lewis, Nansemond River High School, VA
160 - Jude Link, Dassel Cokato, MN
160 - Anthony Mannella, Mary Persons High School, GA
160 - Hunter Manning, Vidalia High School, GA
160 - Kole Marko, Saint Croix Falls, WI
160 - Tyler Martinez, Yorkville Christian HS, IL
160 - Carson Martinson, Southeast Polk, IA
160 - Hunter Mays, Howell, NJ
160 - Erik McCown, Palm Desert High School, CA
160 - Ian McGehee, Memphis University School, TN
160 - Frankie McNeary, Wyoming Seminary, NJ
160 - Aidyn Merchant, Macks Creek R-V High School, MO
160 - Carter Messerly, Ryle, KY
160 - Solo Mthethwa, Orange County High School, VA
160 - Michael Murphy, Westfield HS, NJ
160 - Christopher Neal, Tahoma HS, WA
160 - Nicholas Nettleton, Exeter Twp Senior High School, PA
160 - Stephen O'Neil, Jr., Seton Hall Prep, NJ
160 - Joseph Olalde, Lake Park High School, IL
160 - Lucien Perla, Nashoba Regional High School, MA
160 - Micah Porter, Gilroy High School, CA
160 - Thomas Potter, Union, VA
160 - Jeb Prechtel, Jasper High School, IN
160 - Xavier Preston, William Byrd High School, VA
160 - Kaden Renner, Bismarck High School, ND
160 - Aydin Rix McElhinney, Springs studio for academic excellence, CO
160 - Alec Robeson, Cypress Ranch High School, TX
160 - Dominic Rodriguez, Riverdale High School, FL
160 - Liam Scrivanich, Saucon valley, PA
160 - Brayden Shelton, Centraila, MO
160 - Jake Slotnick, St Augustine Prep, NJ
160 - Stephen Stallons, The Woodlands College Park High School, TX
160 - Cash Stewart, Poynette High School, WI
160 - jake swink, Holy Innocents Episcopal, GA
160 - Hayden Trezek, Francis Howell, MO
160 - Erich Trinski, Elyria High, OH
160 - Steel Walkwr, Summerville, SC
160 - Miles Watts, Rabun County High School, GA
160 - Cooper Willis, Union Grove High School, WI
160 - Gavin Wilmoth, Traverse City St. Francis High School, MI
160 - Keenan Wyatt, Gardendale Highschool, AL
170 - #2 Rocco Welsh, Waynesburg Central High School, PA
170 - #3 (182) Matthew Singleton, Woodward Academy, GA
170 - #5 Brayden Thompson, Lockport High School, IL
170 - #7 Hunter Lyden, Stillwater, MN
170 - #8 Cody Merrill, Gilroy High School, CA
170 - #9 Tate Naaktgeboren, Linn-Mar High School, IA
170 - #12 (160) Ceasar Garza, Oakdale, CA
170 - #12 Rune Lawrence, Frazier, PA
170 - #18 (160) Louie Cerchio, Delbarton, NJ
170 - #19 Justin Rademacher, West Linn, OR
170 - HM Noah Mulvaney, Arrowhead, WI
170 - HM Lorenzo Norman, Blair Academy, NJ
170 - HM Nolan Lear, Benton, PA
170 - HM Aeoden Sinclair, Milton, WI
170 - HM Noah Duke, Ryle High School, KY
170 - HM Toby Schoffstall, Liberty Christian Academy, VA
170 - Nicolas Alvarez, Legacy Christian, OH
170 - Zane Cox, Benedictine College Prep, VA
170 - Abraham Wojcikiewicz, Civic Memorial High School, IL
170 - Remington Bauer, Milan Edison, OH
170 - Dillon Bechtold, Owen J. Roberts, PA
170 - Nicky Bell, Northfield Mount Hermon, CT
170 - Nick Bernik, Bergen Catholic, NJ
170 - Seth Blackledge, Avery High School, NC
170 - Ryan Boyer, Rumson-Fair Haven, NJ
170 - Elijah Brown, AC Reynolds High School, NC
170 - Matthew Buck, Cherokee Trail High School, CO
170 - AJ Cashman, Warren central, IN
170 - Jude Childers, Parkersburg South High School, WV
170 - Jonathan Conrad, Carrollwood Day School, FL
170 - Orlando Cruz, Crown Point High School, IN
170 - Domenic DAgostino, Interboro high school, PA
170 - Aaron DeLuca, Montour, PA
170 - Aj Dickerson, Westoak, SC
170 - Caleb Duke, Ryle High School, KY
170 - Angelo Esposito, Northgate High School, CA
170 - Riley Finck, Saint Christopher's, VA
170 - Rene Fragoso, Sunnyside High School, AZ
170 - Dylan Galex, Northeast Metro Tech, MA
170 - Abraham Galicia, St. John Bosco HS, CA
170 - Evan Gilbert, Calvary Chapel High School, CA
170 - Cole Glazier, Kasson-Mantorville, MN
170 - Nicholas Goenner, First Colonial, VA
170 - Justin Griffith, Sanford, NJ
170 - Cole Han-Lindemyer, Farmington High School, MN
170 - Caius Harbridge, Bear Creek SS, ON
170 - Jackson Harms, Hillcrest High School, SC
170 - Jackson Hawker, Perrysburg High School, OH
170 - Brody Hemauer, Deforest High School, WI
170 - Alex Hopper, Laney, NC
170 - Rocco Horvath, Brother Martin High School, LA
170 - Aaron Johnson, Mt anthony, VT
170 - Gabriel Juarez, May River HS, SC
170 - Bryce Keckley, West Jefferson, OH
170 - Maxwell Kirby, Fairless High school, OH
170 - Lane Kiser, Trinity High School, KY
170 - Aiden Knight, McAdory High School, AL
170 - Danil Korochenskiy, Cardinal Gibbons High School, FL
170 - Calvin Lachman, Quakertown, PA
170 - Luke Lambeth, Asheboro High School, NC
170 - Noah Lawrence, Great Bridge, VA
170 - Harvey Ludington IV, Brick Memorial HS, NJ
170 - Nathan Mallery, Deep Creek high school, VA
170 - Jack Martin, Pingry, NJ
170 - Braylon Maurer, GlenOak, OH
170 - Aiden McCafferty, Union Pines High School, NC
170 - Zachary-Daniel McKnight, Cass High, GA
170 - ZAHIR MCLEAN-FELIX, GREENS FARMS ACADEMY, CT
170 - Benjamin Mower, Edmond Memorial, OK
170 - Savoy New, Cardinal Gibbons, NC
170 - Christopher Olah, Camden Catholic High School, NJ
170 - Kevin Olavarria, Manheim Township, PA
170 - Justin Onello, Bergen Catholic, NJ
170 - Riley Orr, Fort Pierce Central, FL
170 - Antonio Perez, Johnson High School, TX
170 - Bryce Phillips, Mount Saint Joseph, MD
170 - Kyler Pickard, Mount Pleasant High School, NC
170 - Aiden Poe, Indian River High School, NY
170 - Anthony Pyron, Mt. Juliet High School, TN
170 - Jaxon Randall, Edmond North, OK
170 - Adrien Reyes, Clovis high, CA
170 - Markell Rivera - Cain, Ironwood High School, AZ
170 - Josh Seaton, Gloucester High School, VA
170 - Jokiah Sewell, Mexico Senior Highschool, MO
170 - Jake Shepard, West Lauren's high school, GA
170 - Eddie Simes, Amery, Wi, WI
170 - Brent Slade, Southeast Polk, IA
170 - Shadrick Slone, Willard, OH
170 - Calan Staub, Cape Fear H.S., NC
170 - Sam Szerlip, Nyack High School, NY
170 - Nate Taylor, Greens Farms Academy, CT
170 - Cortilius Vann, Frisco heritage, TX
170 - Matt Walsh, Acton Boxborough High School, MA
170 - Cooper Wettig, Loyola Academy, IL
170 - Tre Wilfong, Charlotte Christian School, NC
170 - Daniel Williams, Lake Highland Prep School, FL
170 - Zalen Wilson, Archbishop Shaw High School, LA
170 - Trevor Wilson, Hannibal High School, MO
170 - Tylers Withers, Gettysburg High School, PA
170 - Aidan Zarrella, North Kingstown High School, RI
170 - Brock Zurawski, Lower Cape May Regional, NJ
182 - #2 Brian Soldano, High Point, NJ
182 - #5 Hayden Walters, Crescent Valley High School, OR
182 - #6 Clayton Whiting, Oconto Falls, WI
182 - #7 Kole Mulhauser, Central Square HS, NY
182 - #8 Joseph Martin, Buchanan High School, CA
182 - #10 (170) Ryder Rogotzke, Stillwater, MN
182 - #12 Remy Cotton, Davison, MI
182 - #15 Andrew Donahue, Liberty, OH
182 - #16 Dominic Thebeau, Belleville East HS, IL
182 - #16 (195) AJ Heeg, Edmond Memorial, OK
182 - HM Brian Burburija, Countryside, FL
182 - HM Mickey Griffith, Des Moines Lincoln High School, IA
182 - HM Drake Buchanan, Center Grove, IN
182 - HM Tucker Hogan, Daniel Boone, PA
182 - HM Damion Schunke, Brandon valley, SD
182 - HM Caleb Uhlenhopp, Green Valley High School, NV
182 - HM Donnie Hidden, washington hs, IL
182 - Hunter Adams, North Hall High school, GA
182 - Shay Addison, Rumson Fair Haven, NJ
182 - Gannon Allen, Heritage Hall, OK
182 - Mark Ayala, St. John Bosco, CA
182 - Devon Bell, Laney High School, NC
182 - Alex Berisha, Fox Lane, NY
182 - Tomas Brooker, Hickory Ridge High School, NC
182 - Ian Bush, Cameron, WV
182 - Landon Caldwell, Saegertown High School, PA
182 - Reese Callahan, Whitfield, MO
182 - Will Conlon, Spain Park High School, AL
182 - Ranson Coons, Lakewood Ranch, FL
182 - Chase Cordia, School of the Osage, MO
182 - Joshua Cordio, Nashoba Regional High School, MA
182 - Eli Cordy, Edmond Memorial High School, OK
182 - Jude Correa, Wyoming Seminary, NH
182 - Ronald Dimmerling, Glenoak high school, OH
182 - Aydan Edwards, Parkersburg South High School, WV
182 - KYLE FINK, Robbinsville High, NC
182 - Brian Finnerty, Thomas Jefferson, PA
182 - Jacob Fuentes, Carlsbad High School, NM
182 - Matthew Furman, Canon McMillan, PA
182 - Jacob Gerish, DePaul Catholic High School, NJ
182 - Gervacio Gonzalez, Christian Brothers High School, TN
182 - Jagger Gray, Trinity High School, PA
182 - Gavin Hardister, Trinity High School, NC
182 - Gavin Harper, Sonoraville High School, GA
182 - Jonathan Harwood, Haverford high school, PA
182 - Dominic Iaquinto, Danbury, CT
182 - Jacob Jimenez, Dominion High School, VA
182 - Kalob Johnstone, Chelsea High School, AL
182 - Dominic Joyce, North Port High School, FL
182 - Stratos Kantanas, Livingston High School, NJ
182 - Charles King, Richmond Hill High School, GA
182 - Joshua Knudten, Libertyville, IL
182 - Logan Lambeth, Asheboro High School, NC
182 - Vincent Lee, Delbarton, NJ
182 - R.J. May, Maggie Walker, VA
182 - Camden Meeks, Blair Oaks High School, MO
182 - Kingsley Menifee, Fauquier High School, VA
182 - Carson Miller, Granville, OH
182 - Jude Monaco, Archbishop Shaw High School, LA
182 - Joseph Nicolosi, American Heritage Boca/ Delray, FL
182 - Vincenzo Oliva, Allen High School, TX
182 - Remington Peterson, Rye High School, CO
182 - Nolan Pozzobon, Marist High School, GA
182 - Anton Puhach, Ashland High School, MA
182 - George Rhodes, Absegami, NJ
182 - Brady Ross, Central Academy of Technology and Arts, NC
182 - jordan ruedi, voyager academy, NC
182 - Samuel Schmidt, Tuttle High School, OK
182 - Samuel Schwabe, Random Lake, WI
182 - Landen Shurtleff, Payson High school, UT
182 - Hunter Sonnenberg, Eatonville High School, WA
182 - Brian Thorpe, St John Bosco, CA
182 - Pantaleo Varga, Bergen Catholic, NJ
182 - Fernando Villaescusa, Gilbert, IA
182 - CJ Walrath, Burlington Notre Dame, IA
182 - Eric Washington Jr., Springbrook HS, MD
182 - Devin Wasley, St. Croix Central High School, WI
182 - Garrett Wells, Glenpool High School, OK
182 - Oscar Williams, Edmond North, OK
182 - Wesley Wilson, Morro Bay, CA
182 - Jacob Wright, Riverbend High School, VA
195 - #4 Seth Shumate, Dublin Coffman, OH
195 - #5 Rylan Rogers, Coeur D'Alene High School, ID
195 - #5 (220) Martin Cosgrove, Camden Catholic, NJ
195 - #6 Kolby Franklin, Wyoming Seminary, PA
195 - #9 Wyatt Voelker, West Delaware High School, IA
195 - #11 (220) Max Ramberg, Baldwin-Woodville, WI
195 - #15 Jacob Meissner, osseo, MN
195 - HM Soren Herzog, Simley High School, Inver Grove Hts, MN, MN
195 - Christian Anderson, Jones county high school, GA
195 - Michael Bartush, Greens Farm Academy, CT
195 - Caleb Beaty, Wake Firest, NC
195 - Parker Bentley, Musselman high school, WV
195 - Cayden Bevis, Lincoln Highschool, FL
195 - Remy Brancato, Bergen Catholic High School, NJ
195 - Patrick Brophy, Chapin, SC
195 - Owen Clark, Newton-Conover, NC
195 - Luke Cochran, Jefferson, GA
195 - Quinn Collins, Central Bucks East High school, PA
195 - Thomas Davanzo, Lake Highland Prep, FL
195 - Brigham DeVore, McLean High School, VA
195 - Zackory Evans, Bandy's High School, NC
195 - Dylan Greenstein, St. John's Prep, MA
195 - Christopher Greil, Palm Harbor University High School, FL
195 - William Hash, River valley high school, OH
195 - Jason Heming II, James Madison, VA
195 - Gunner Henry, Brownsburg High School, IN
195 - Aiden Hight, Chambersburg Area, PA
195 - Janyd Houghton, Weddington, NC
195 - Charlie Lopez, Forest park high school, VA
195 - Giovanni Martinez, Centennial Highschool, CA
195 - Ronan Melani, Ridgeline High School, UT
195 - Johnny Miller, ExeterTWP, PA
195 - Gabriel Monroe, Windsor Central High School, NY
195 - Chris Murphy, Guilford High School, CT
195 - Nick Olivieri, Delbarton, NJ
195 - Louden Peters, Northern Guilford, NC
195 - Jetro Preciado, Calvary Chapel, CA
195 - Luke Rasmusen, Brookings, SD
195 - Blake Sain, Swain County, NC
195 - Gabe Sollars, Mater Dei High School, IN
195 - Mikey Talshahar, American Heritage, FL
195 - Gabriel Thomas, Palmetto High School, FL
195 - Cole Tolley, Sickles HS, FL
195 - Noah Wenzel, Dakota High School, IL
195 - Kail Wynia, Kasson-Mantorville, MN
195 - Alex Zavala, Heritage High School, TX
220 - #1 Christian Carroll, New Prairie, IN
220 - #9 Logan Shephard, Perry High School, OH
220 - #10 Jack Darrah, Wyoming Seminary, MO
220 - #14 Parker Ferrell, Christiansburg High School, VA
220 - #19 Dylan Russo, Olentangy Liberty High School, OH
220 - HM Evan Anderson, Western Reserve Acadamy, OH
220 - HM Chase Crayton, Mount Pleasant High School, NC
220 - HM Nicholas Sahakian, Saint John Bosco High School, CA
220 - Gus Bachner, Greens Farms Academy, CT
220 - Dylan BravoPacker, Brighton High School, CO
220 - Jairo Caceres, Lindenhurst High School, NY
220 - Robert Canterino, Christian Brothers Academy, NJ
220 - Nathan Carnes, Porter Ridge High School, NC
220 - Achilles Clarke, Pitman, CA
220 - Thomas Crawford, Richmond Hill, GA
220 - Nathan Critchfield, Mater Dei High School, IN
220 - JACOB EPPERLY, HANOVER, VA
220 - Caden Ferris, Delton Kellogg, MI
220 - Kyler Flowers, Warrenton High School, MO
220 - Carson Floyd, Lake Norman High School, NC
220 - Bryce Gadson, Cox Mill, NC
220 - Dylan Galloway, Gilmer High School, GA
220 - Gabriel Garibaldi, Iona Prep, NY
220 - Ronald Gunnar Garriques, Baylor, IL
220 - Nathan Glass, Fernley High School, NV
220 - Riley Godek, Crescent Valley High School, OR
220 - Elijah Gonzalez, Colgan Highschool, VA
220 - Beau Higginbotham, Dunbar, FL
220 - Myles Johnson, Springboro, OH
220 - Devin Kendrex, Mount Vernon high school, IN
220 - Hayden Linkerhof, Corry, PA
220 - Eli Makel, Waynesburg, PA
220 - Joshua McCain, Valiant college preparatory, AZ
220 - Quinton Nash, Great Bridge High School, VA
220 - Nicholas Pavlechko, State College, PA
220 - Dominic Petracci, Washington Township High School, NJ
220 - Nehemias Pettway, Fairfield Warde High School, CT
220 - David Pierson, Phillipsburg, NJ
220 - Bryce Rafferty, Brookville, PA
220 - Tyler Redfield, Calvary chapel high school, CA
220 - Samuel Rodriguez, Gettysburg Area High School, PA
220 - Ralph Sanchez, Apopka, FL
220 - Sam Sorenson, Homer, NY
220 - Chase Thompson, American Heritage- Delray Beach, FL
220 - CALEB VANBUSKIRK, PALM DESERT, CA
220 - Logan Webster, Sequoyah High School, GA
285 - #3 Chase Horne, West Laurens High School, GA
285 - #10 Keith Miley, Whitfield School, MO
285 - #15 Gage Cook, Granger Highschool, WA
285 - #19 Ethan Vergara, Mater Lakes Academy, FL
285 - HM Zachary Evans, Chambersburg, PA
285 - HM Jamier Ferere, Southern Guilford High School, NC
285 - HM Aidan Fockler, Massillon Perry High School, OH
285 - HM Matthew Moore, Mesa Ridge HS, CO
285 - HM Riley Ucker, Dublin Coffman, OH
285 - Max Acciardi, Paramus Catholic, NJ
285 - Liam Akers, North Hunterdon High School, NJ
285 - Marc Berisha, Fox Lane, NY
285 - Faustino Chaydez, Valiant College Preparatory, AZ
285 - Luke Cox, Lancaster, OH
285 - Matthew Cruise, Easton Area High School, PA
285 - John Domencic, Green Hope High School, NC
285 - Cane Fernandez, Forest high, FL
285 - Aaron Garcia, Mill Creek High School, GA
285 - Cameron Groncki, Mohonasen, NY
285 - Matthew Jimenez, Somerset academy, FL
285 - Ben Kohler, Plain Local, OH
285 - Aiden Lacoma, Christiansburg high school, VA
285 - Joshua Mancia, Woodbridge Senior High School, VA
285 - Leonardo Muzika, Faith Christian Academy, PA
285 - Miguel Perez, Caldwell High School, ID
285 - Adrian Sans, Miami Southwest High school, FL
285 - Jarek Stewart-Karolewics, Brevard High School, NC
285 - Gavin Thompson, Brockway, PA
285 - Charlie Tibbitts, New Hartford/Sauquoit Valley, NY