2021 FloWrestling Who's Number One
Who's Number One Women's Card Match Notes
Who's Number One Women's Card Match Notes
All the action for the Dallas Hyatt Regency coming to you LIVE in REAL TIME as the best high school wrestlers in the nation compete!
Sep 17, 2021
by Andrew Spey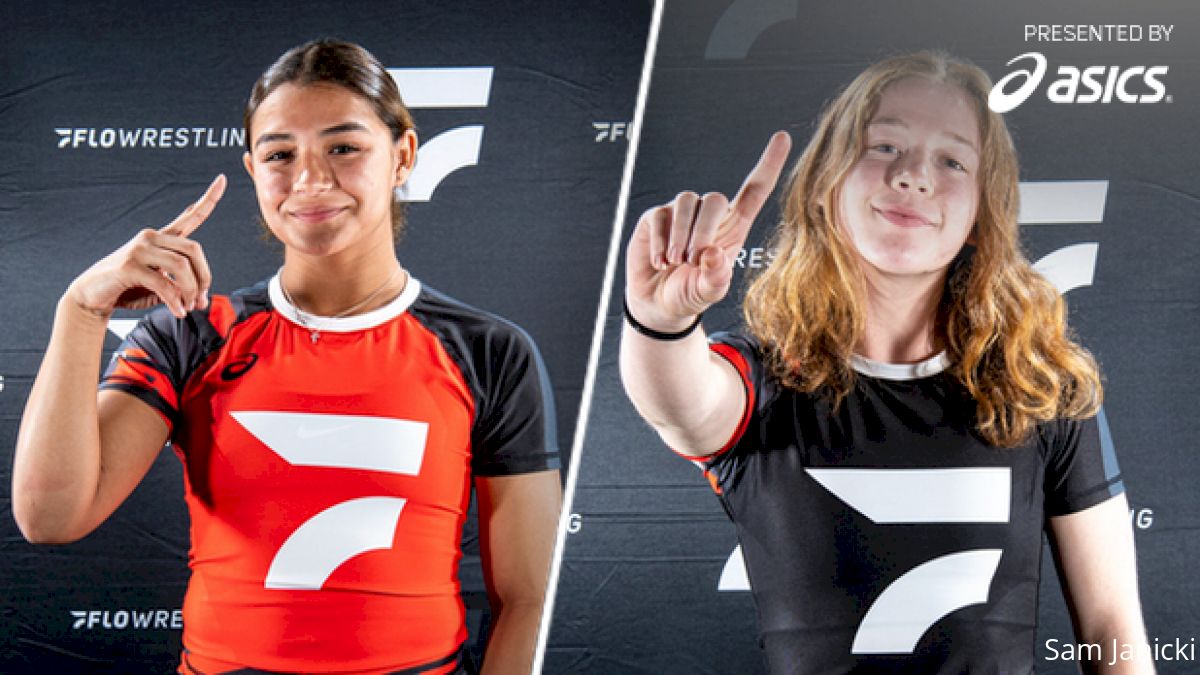 Who's Number One returns, now with an all-women's card for the first time ever! We're in the world-famous Dallas Hyatt Regency to watch ten matches featuring 20 of the sports brightest rising stars.
We're a couple of hours away from first whistle. The stage is set, here's a short tweet thread how it all came together:
We're getting there. Who's Number One set up is humming along! pic.twitter.com/afH9oLAeal

— Dom Kunitsy (@SpeyWrestle) September 16, 2021
Match order
First bout is scheduled to start at 7:00AM ET
127: Alexis Janiak vs SaVannah Cosme
132: Janida Garcia vs Hanna Errthum
112: Jenavi Alejandro vs Cecilia Williams
117: Zao Estrada vs Cadence Diduch
152: Destiny Rodriguez vs Jasmine Robinson
94: Valarie Solorio vs Erica Pastoriza
100: Brianna Gonzalez vs Ava Ward
138: Savannah Gomez vs Korina Blades
164: Lillian Freitas vs Rose Cassioppi
106: Paige Morales vs Audrey Jimenez
122: Shelby Moore vs Katie Gomez
And if you are reading this before 7PM ET, you are encouraged, nah, implored, to play this pick em game for a chance to win a free Flo subscription for a year!
It's nearly time!
1) blogging perch 2) backstage 3) mainstage pic.twitter.com/hKQBEKsf1i

— Dom Kunitsy (@SpeyWrestle) September 17, 2021
All the women's matches will be standard UWW freestyle rules by the way. No variations from the rulebook.
127: Alexis Janiak vs SaVannah Cosme
1st period: And were' off! Snatch single attempt from Janiak but Cosme breaks free. Cosme shoots in but Janiak parries her attack. Cosme goes on the clock first. Shot clock expires and Janiak scores the first point. Janiak now in deep. Cosme fights out of the scramble back to neutral. Now a shot by Cosme, she finishes for two to take the lead! Short time left in the period. We go to the break, Cosme up 2-1.
2nd period: These are two top 15 P4P wrestlers. Cosme was the last two meetings between them. Janiak trying to build off her Fargo title and flip the script. There's a single from Janiak, and she finishes. Can't get the lace but she gets the lead with a little over two minutes to go. Cosme goes for a headlock, they're in a 50/50 position. They hit the mat, the call is two Cosme. She stays on top. No par-terre turns and Cosme goes up 4-3. Back to neutral. Step out for Cosme to extend the lead, 5-3. Another step out, caution and one this time, big point for Cosme. 6-3 with 45 seconds to go. Janiak on the attack. Cosme flattens her out and gets the go behind. Cosme growing stronger as the match gets later. 8-3, short time left. Cosme gets the first win of 2021's Who's Number One!
Great start to the evening! Cosme defends her #1 rankings!
FINAL: Savannah Cosme (Colorado) VPO1 Alexis Janiak (Illinois), 8-3
---
132: Janida Garcia vs Hanna Errthum
1st period: Now it's Errthum's turn to defend her ranking. This weight class is up for grabs and Hanna will try to lock it down. Garcia though stricks first, pressuring in with an underhook and getting the first two points of the match with a takedown. Knee pick attempt for Errthum denied by Garcia. Next pick attempt is countered by a slick throw-by from Garcia to take the lead to four. Headlock attempt is next for Errthum but Garcia has the answer once again, counters and makes it 6-0. Garcia continues to pour it on, countering again for two more, almost flipping Errthum to her back but she bellies out. 8-0 in short time of the first. Errthum rips a much-needed double with a clean finish for her first point with just seconds left in the period. 8-2.
2nd period: Garcia keeps the pressure back on with two, but Errthum picks up a leg on a gut wrench attempt and brings the deficit back down to 6. 10-4. Garcia trying a go behind but Errthum counters this time and drives Garcia to the mat. 10-6. Throw-by attempt by Garcia and its 12-6. Action-packed bout. Errthum reaches for a leg, Gracia snaps and goes behind for two. No counters on Errthum's next shot, 14-8. 30 seconds to go. More pressure from Errthum, counter by Garcia, score after a long scramble. That's been the store of the bout. Garcia will take it 16-8! Garcia with the upset at 132 and you're NEW number one!
FINAL: Janida Garcia (California) VPO1 Hanna Errthum (Wisconsin), 16-8
---
112: Jenavi Alejandro vs Cecilia Williams
1st period: It's youth vs experience as 8th grade Williams takes on senior Alejandro. Williams dominated her 16U bracket at Fargo, Alejandro placed 3rd, only losing to Sage Mortimer. Williams has the #1 ranking, Alejandro is here to claim it. Early score off a snap down go-behind from the quarter nelson gives Williams a 2-0 lead in the first minute. Alejandro shoots in again. Williams sprawls and locks in the power half again, breaks Alejandro down and spins behind for two more. Another flurry as time expires, we go to the break, 4-0 Williams leads.
2nd period: Williams pressuring in, now its a vicious snap-down by Alejandro to get on the board. It's a 4-2 an anyone's match. 90 seconds to go. Alejandro shoots Williams to the edge. She'll get a step out. 4-3 slim lead for Williams. Double leg from Williams, she finishes for two. Gets time to work on top but its back to neutral. Williams holds on, 6-3 win for the youngster! Another great bout and another defense of the #1 ranking.
FINAL: Cecilia Williams (Michigan) VPO1 Jenavi Alejandro (Nevada), 6-3
---
117: Zao Estrada vs Cadence Diduch
1st period: Two underclassmen who made lots of noise in Fargo. Estrada, who walked out to the theme song to Rocky, scores first. Diduch answers by driving Estrada to her back after a scramble. Estrada fights off her back and its 2-2. We go back into a scramble for the next 30 seconds but no score. Switch positions, Estrada underneath when it was vice versa before, but no score again. Final minute of the first. Estrada gets a go behind for a score, but Diduch answers right back with a single leg, then gets a lace turn just as the period expires to take the lead.
2nd period: Back and forth bout so far. Diduch taking ground, she's underneath with two legs but Estrada gives up just the single step out. 7-4 point lead for Diduch. Estrada trying to go behind, Diduch catches her and whips her to her back. Looking for the fall. Diduch gets it done! Pinfall for Diduch!
It remains to be seen how this weight class will shake out with Katie Gomez potentially coming back down. Estrada has been at both 112 and 117 and was #2 at 112. In any case, Diduch makes a statement.
FINAL: Cadence Diduch (Illinois) VFA Zao Estrada (Colorado), 9-4 3:32
---
152: Destiny Rodriguez vs Jasmine Robinson
1st period: Rodriguez the Fargo champ at 144, bumps up to take on the Fargo champ from 152, local Dallas metro wrestler Robinson. There's a blast double attempt from Robinson (who says she learned that move from AJ Ferrari) but Rodriguez pulls up her arms and defends back to neutral. Now Rodriguez attacks and gets a go behind for the first two points of the match. There's a scramble, and Rodriguez gets another go behind. One minute left in the period. And Robinson is going to need a minute. Injury clock, nothing serious I don't think. And we're back in action no worse for the wear. Still 4-0 lead for Rodriguez. Short time, and that's the period.
2nd period: Tactical start to the first period. And a pretty lat drop for Robinson! That was slick. And she'll need another minute of injury time, again, nothing serious, more messy than anything, plus she has the lead via criteria! Robinson is back, so is Rodriguez. Front head by Robinson, Rodriguez arm drags out and around for two more. Runs a bar but can get the turn in par-terre and we're back to neutral, Rodriguez leading 6-4. A scramble, and Rodriguez pushes Robinson out for another step out and the 7-4 lead. One minute to go. Blast double from Robinson but Rodriguez is there to catch and counter and pancake Robinson for four. Robinson fights off her back but we'll end in par-terre and Rodriguez bumps up for the big win! Destiny reps Oregon and takes out the double Fargo champ in the weight class above her.
FINAL: Destiny Rodriguez (Oregon) VPO1 Jasmine Robinson (Texas), 11-4
---
94: Valarie Solorio vs Erica Pastoriza
1st period: It's not a high school weight but Solorio is a Fargo champ at 94 and Pastoriza is a cadet world gold at an even lower weight so we couldn't not make this match. Solorio gets on the board first with a takedown. Pastoriza back on the attack, big scramble, and Pastoriza comes out on top for her first two points. The scramble continues and Pastoriza picks up an exposure. They stay on the mat, Pastoriza with an armbar. Soloario turns, time running out in the first, but Pastoriza sticks her before the clock runs down! Another pin and Erica Pastoriza adds a Fargo champ to her hit list!
Solorio and her Wyoming Sem teammates had all sorts of travel problems and slept on gym mats the night before weigh-ins so it showed tremendous grit for Solorio to even make it to the mat. Still, credit to Pastoriza for putting her foot on the gas and keeping the pressure on until she secured the fall.
FINAL: Erica Pastoriza (Arizona) VFA Valarie Solorio (Florida), 8-3 2:57
---
100: Brianna Gonzalez vs Ava Ward
1st period: Classic battle of number one versus number two at one of the consistently deepest weights in women's high school wrestling. Ward tricks first with a takedown. She stays on the attack but Gonzalez counters with a feet to back pancake for four. 90 seconds to go int he first. There's another exchange, Ward looks for a headlock, a slip is called, back to neutral, 4-2 Gonzales. 1 minute to go. Short time, Ward lunges in with an inside trip, Gonzales nearly completely defends but step out of bounds before countering with a go-behind. 4-3 Gonzales leads at the break.
2nd period: More action from the start but no scores after 30 seconds. Another scramble but still no points. Slick hi-c from Gonzales and she'll finish cleanly to extend her lead to 6-3. Back in neutral Ward shoots in. Gonzales defends and chews up a lot of previous clock. 40 seconds to go, 3pt lead for Gonzalez. Ward stays attacking but Gonzalez doesn't relent and she takes it 6-3! Mild upset as number two takes out number one and 2021 cadet world bronze medalist and #9 P4P wrestler in the nation. Brianna Gonzalez with a very impressive win!
FINAL: Brianna Gonzalez (California) VPO1 Ava Ward (Missouri), 6-3
---
164: Lillian Freitas vs Rose Cassioppi
1st period: Freitas is a cadet world bronze and Cassioppi is a cadet PanAm gold medalist. There's a scramble at the edge, and Rose comes away with the step out point. Lily digs an underhook and scores a step out of her own. Lily again attacks using an underhook, goes for a knee pick looking for two or more but settles for another step out. One minute to go, 2-1 lead for Freitas. It's all Freitas in the first, who adds a takedown to her tally, but Cassioppi makes her fight for each point. 4-1 at the break.
2nd period: More pressure from Freitas, she's playing the edge very well. A little snap and change of direction and she limp arms out of a whizzer for two after 30 seconds. 5 point lead, 2 minutes to go. Perfectly timed snap by Cassioppi to cut into that deficit. It's 6-3 with 1:40 on the clock. Freitas positioning is rock solid, and Cassioppi can't find an angle. She gives up a step out, then a snap go behind. It's 7-3 now in Freitas' favor with 30 seconds to go. Another snap go behind and its 9-3. In short time, and Freitas will take it. The cadet world bronze medalist from California takes it!
FINAL: Lillian Freitas (California) VPO1 Rose Cassioppi (Illinois), 9-3
Women's upper weights have such great depth right now, from Olympic medalists Adeleine and Tamyra to junior gold medalists Kylie, Kennedy, and Amit, to our two competitors here. It's something you do love to see.
---
106: Paige Morales vs Audrey Jimenez
1st period: Morales with a quick sweep single and we're off to the races. Just a step out but fast pace is established out of the gates. Jimenez shooting in and she'll peick up a step out. Jimenez shoots in, crotch lock from Morales, scramble, Jimenez tips Morales over, then gets flipped but it's just ruled two for Jimenez. Now a step out for Jimenez, action is coming fastly and furiously! Shot by Jimenez, this time Morales scores with the crotch lock counter exposure. Another roll-through attempt is stopped and Jimenez gets one point for the several. Short time, Jimenez snaps Morales down and gets two in the final seconds. Morales looks hurt, but she shakes it off.
2nd period: Jimenez pressuring in, lat drop from Morales! This is a match! Tied up 7-7 but Morales with criteria. Jimenez answers with a step out. Still over 2 minutes to go. Misdirection from Jimenez and she's in deep, another roll through by Morales to make it 9-8. A reveal point by Jimenez and it's 9-9 but Morales holds criteria. Another late drop attempt! This time Jimenez stops her! And the fall! Outstanding action! Jimenez had more left in the tank when it counted most!
AND STILL! Audrey defends her #1 ranking. Match of the night contender with just one more to go!
FINAL: Audrey Jimenez (Arizona) VFA Paige Morales (California), 11-9 5:06
---
122: Shelby Moore vs Katie Gomez
1st period: Cadet world champ and #5 P4P Katie Gomez wanted this match so we let her bump up and take on the #1 ranked 122-pounder and the #8 P4P women's high school wrestler in America. It's your main event! Gomez grabs a leg, gets Moore hopping and trips on the edge for the two. Back to neutral. Another single by Gomez, switches sides for the finish, Moore counters and she'll get the go behind for two. Low single by Gomez, she explodes up and gets credit for feet-to-back and a 6-2 lead. Moore fighting back, gets a single leg and drive Gomez out of bounds. 6-3. Period ends.
2nd period: Both wrestlers keep the high pace going. Moore in on a shot, Gomez defends, quick go behind to make it 8-3. Two minutes to go. We'll see if stamina is a factor. Moore shoots Gomez out to make it 8-4. Gomez fires off a shot, she's in deep, Moore hips into her. Whip over for two, then one on the several for Gomez. Nope, the just give Gomez two for the takedown. We'll get a review. I think the first of the whole night so far. Wow. It's 8-4, but Moore wins the review so its 9-6 now. Great challenge. 3 point match, 1 minute to go. Down to 30. Moore shoots. Gomez defends. Another shot by Moore, go behind by Gomez makes it 11-6. Headlock by Moore in the final seconds. Could've been four by it's not a pin so Gomez will take it! Superb wrestling. Tons of fun.
11-10 is the final. Not bad! Gomez shows she is the real deal. Tremendous effort by Moore but its Gomez bumping up and getting the dub.
FINAL: Katie Gomez (California) VPO1 Shelby Moore (Washington), 11-10
Now the question is does Gomez drop back down or stay at 122? Either way, all sorts of great storylines to build off of from this event.
So many great performances. Destiny Rodriguez bumping up and beating a double Fargo champ. Pastoriza and Diduch get pins. Brianna Gonzalez gets the upset win of the night, taking out number one Ava Ward. Audrey Jimenez and Katie Gomez both had Match of the Night performances. Might have to give the nod to Gomez though ultimately.
Super 32 is the next big women's tournament, tune in to see what happens next!
Big thanks to every participant and their families. It's not easy stepping up and performing under the bright lights. Very glad we got to do this. Apologies for the typos, see you tomorrow for the second half of the ninth Who's Number One!