Olympic Games Watch Party
Live From Tokyo: Day 5 Olympic Updates
Live From Tokyo: Day 5 Olympic Updates
World champs Kyle Dake and Jacarra Winchester and phenom Gable Steveson take the mat today in Tokyo, while David Taylor wrestles for Olympic gold.
Aug 5, 2021
by Andy Hamilton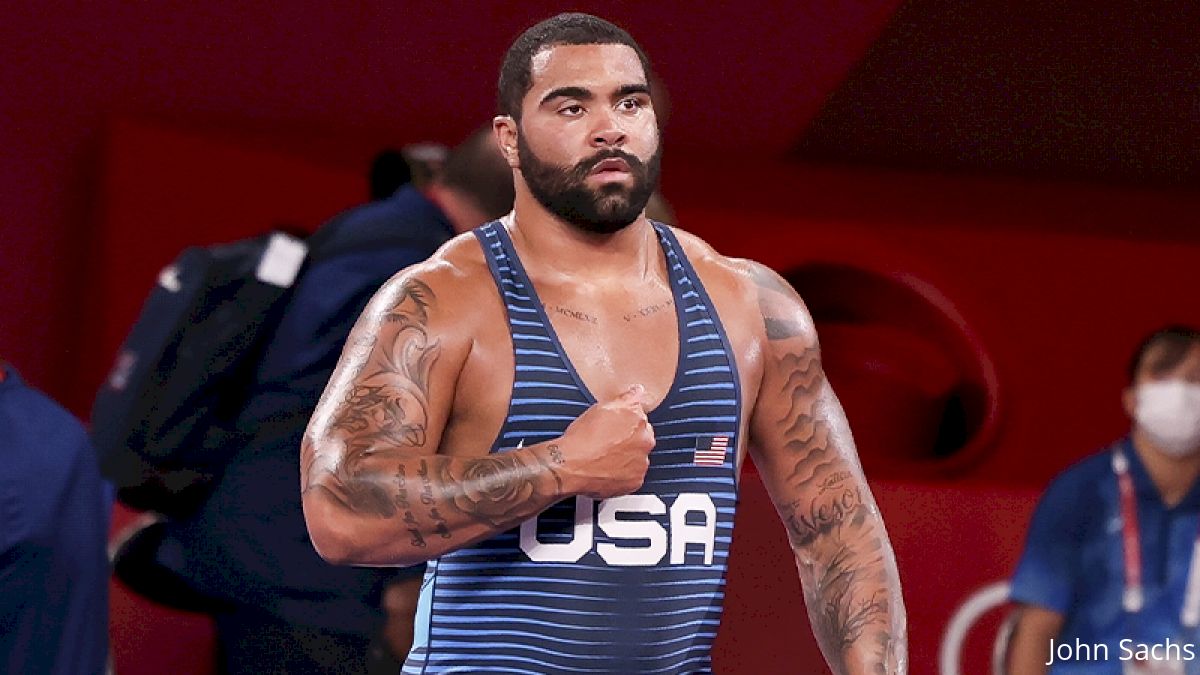 Our home this week is the APA Hotel & Resort Tokyo Bay Makuhari. The rooms are tiny, but the hotel itself is gigantic and it towers over the Chiba skyline next to the Tokyo Bay. It has five restaurants, a couple spas, a small shopping center and a pair of convenience stores.
The convenience for us, though, is the location. The hotel is right across the street from Makuhari Messe Event Hall, so while other members of the Olympic press are making multiple-hour shuttle trips around Tokyo each day, we're a five-minute walk from door to door.
For the first few days of the trip, however, we were perplexed by this thing next to the elevator — the trousers press.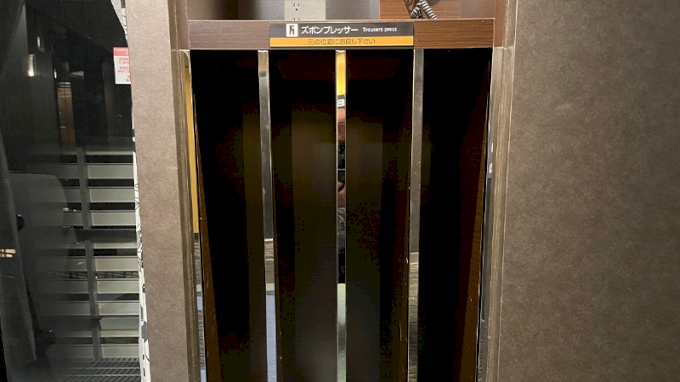 The trousers press was a mystery until one day two of those slots were filled with actual trousers presses — contraptions that plug in, fold in half and flatten the wrinkles out of your trousers.
This is all frivolous information, but this story has to start somewhere. And speaking of flattening things, David Taylor was pressing trousers Wednesday. There were no wrinkles in the 2018 World champ's game as he cruised into the finals with three technical superiority wins to set up an 86-kilogram gold medal showdown tonight with Iran's Hassan Yazdanicharati.
More good news for the USA: World champions Kyle Dake and Jacarra Winchester and heavyweight phenom Gable Steveson take the mat today, Thomas Gilman wrestles in the repechage and Helen Maroulis competes tonight for bronze.
Tune into NBC for all the action and follow along here and we'll keep you updated on all the key developments from Tokyo.
David Bray has the bracket breakdown here.
Here are your mat assignments.
KONNICHIWA WRESTLING FANS! BIG HUGE DAY COMING YOU BETTER BELIEVE IT 🇺🇸!!!

Here's the match order:
Mat A - Thomas Gilman 2nd, Kyle Dake 6th
Mat B - Jacarra Winchester 5th
Mat C - Myles Amine 2nd, Gable Steveson 8th pic.twitter.com/iXflBBtk6Z

— Christian Pyles (@CPyles8) August 5, 2021
Gilman Rolls Up Abdullaev To Reach Bronze Medal Bout
Thomas Gilman made quick work of Uzbekistan's Gulomjon Abdullaev, scoring a pair of takedowns and three turns on his way to an 11-1 tech that puts the 2017 World silver medalist in tonight's bronze medal match at 57 kilograms. Gilman established the tone early, controlling center and driving Abdullaev out 19 seconds in to go up 1-0. Gilman blew the match open about a minute later when he transitioned from a sweep single into a lace and turned Abdullaev three times to extend his lead to 9-1. He ended it with another takedown with 53 seconds left in the first period.
Gilman will get Iran's Reza Atrinagharchi in tonight's medal round. They've had at least two previous meetings. Gilman defeated Atrinagharchi 4-4 at the 2014 Junior World Championships and won a 3-0 decision in their second-round bout at the 2017 World Championships.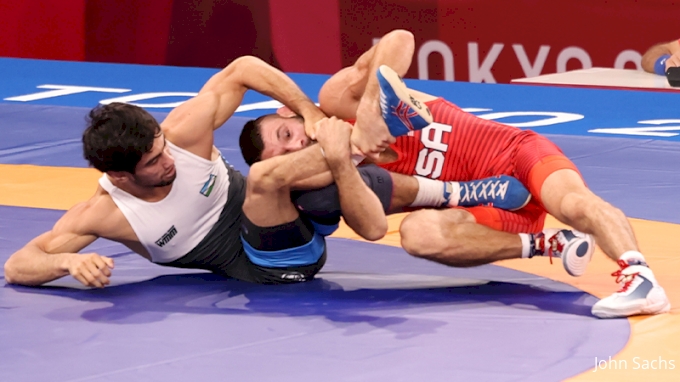 Amine Advances To Medal Round
Michigan's Myles Amine is one win away from taking home a medal for San Marino. Amine defeated four-time World bronze medalist Ali Shabanau of Belarus 2-0 on activity clock points in the 86-kilogram repechage. Amine will take on 2019 World silver medalist Deepak Punia in tonight's bronze medal bout.
Jacarra Moves On
Jacarra Winchester landed in the hammer-heavy top side of the 53-kilogram bracket, which is essentially devoid of easy outs. Winchester passed her first test, rallying back from an early three-point deficit to beat World bronze medalist Olga Khoroshavtseva 7-4.
Winchester got in on an attack early but rushed the finish and had to settle for a step-out point. The Russian came back with a takedown and locked up a trap-arm gut and took Jacarra over for two more. Fortunately for Winchester, she limited the damage there and began clawing back. Jacarra ran around the corner for a takedown late in the first period, added two more on a low-single right after the break and hung on, though the final seconds were dicey. Leading 5-4 and on the edge, Winchester circled in and dropped in on a low-single for two more just before time expired.
Dake Blanks Hosseinkhani
Kyle Dake scored a pair of first-period step-out points, tacked on a takedown in the second and locked down Iran's Mostafa Hosseinkhani in a 4-0 opening-round win at 74 kilograms. Dake fired off a shot in the opening minute and came up to double-unders, threatening the Iranian, who backed out for a caution and one. Dake drove Hosseinkhani out again with six seconds left in the period. He gave himself some breathing room midway through the second period when he got to a leg and worked hard to finish to make it 4-0 with 1:15 left.
Dake will take on Mahamedkhabib Kadzimahamedau of Belarus in the quarterfinals.
Gable Puts On Clinic
Gable Steveson trouser pressed Kyrgyzstan's Aiaal Lazarev, scoring five takedowns with drill-session ease in a 10-0 opening-round win. Gable snapped Larazev down and ran around him twice in the first 30 seconds and spun the Kyrgyzstan heavyweight silly on another score before ending it after 102 seconds of work.
Russia Drops One
Russia's lineup is loaded with champions — four of them who have combined to win 10 World and Olympic golds — but heavyweight has been the relative soft spot for the Russians in recent years. China's Zhiwei Deng took down Russia's Sergei Kozyrev 4-1 in the opening round at 125 kilograms. Kozyrev was eliminted when Deng lost in the quarters to Georgia's Geno Petriashvili.
Early Sequence Sinks Jacarra
China's Qianyu Pang scored on a quick go-behind and hit Jacarra Winchester with a trap-arm to score all of her points in the opening minute on her way to a 6-2 win against Jacarra Winchester. Jacarra's medal hopes now rest in the hands of Pang, who needs to beat 2017 World champ Vanesa Kaladzinskaya of Belarus in the semifinals for Winchester to get pulled into the repechage.
Gable Handles Taha
Taha Akgul has been one of the co-emperors of the 125-kilogram kingdom since 2014, but the three-time World and Olympic champ had no answers for Gable Steveson.
Gable ran around Akgul for two a little more than a minute in, blasted through Taha on a double in the opening seconds of the second period, scored on a reattack off an Akgul shot and then ran around the corner for another takedown in an 8-0 shelling.
"He's probably one of the best heavyweight wrestlers to ever step foot (on a mat)," Steveson said. "But his time is up. I came here for business. I came here to win. Respect to him, he is the top dog, but the young cat came to play today."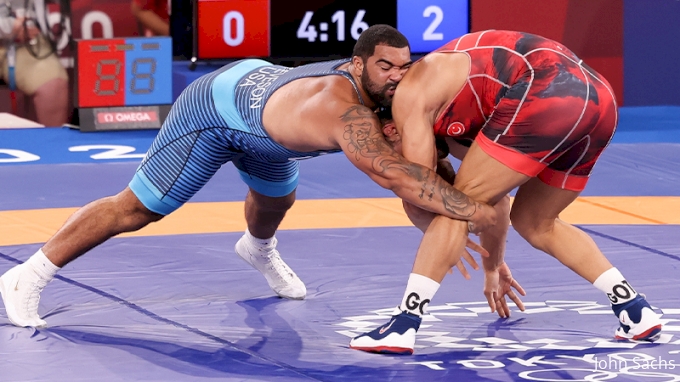 Kadzimahamedau Stuns Dake
Three World champions dominated the 74-kilogram gold medal talk leading up to the Olympics, but Mahamedkhabib Kadzimahamedau of Belarus declared himself part of the race with a stunning 11-0 quarterfinal victory against Kyle Dake.
Where Dake is typically great, Kadzimahamedau was better Thursday. The 27-year-old Russian transfer tossed Dake for four out of an early upper-body exchange. The flurry continued and Kadzimahamedau exposed Dake for two more. The 6-0 hole only got deeper for Dake. An exchange on the edge produced two more for Kadzimahamedau, who ended it on a takedown early in the second period.
Kadzimahamedau didn't get here with a run-of-the-mill resume. He won Russian Nationals in 2017, where he beat two-time World champ Zaubek Sidakov and captured a European gold last year at 79 kilograms.
Dake's medal hopes are now tied to Kadzimahamedau, who must beat Frank Chamizo in tonight's semis to pull Dake back in.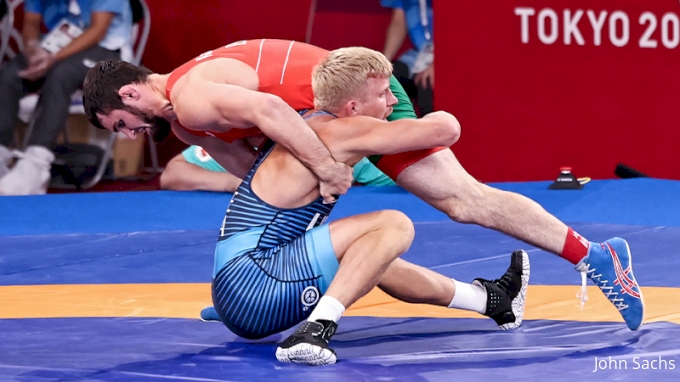 Kadzimahamedau Topples Chamizo; Dake Back In
Mahamedkhabib Kadzimahamedau's red-hot run continues. The 27-year-old from Belarus via Russia knocked off two-time World champ Frank Chamizo 9-7 in a highly entertaining 74-kilogram semifinal. Kadzimahamedau scored a borderline takedown early in the second period when he spun behind Chamizo just far enough and for just long enough. The call on the mat was upheld after a Chamizo challenge, putting Kadzimahamedau ahead 5-1. Chamizo cranked up the pace and answered with a quick takedown.
But each time Chamizo scored, Kadzimahamedau rallied with two of his own.
The Kadzimahamedau win pulls Kyle Dake into Friday's repechage. Dake will take on 37-year-old Cuban Geandry Garzon, a four-time World medalist. The winner will get Chamizo in Friday night's bronze medal bout.
Kadzimahamedau will take on two-time World champ Zaurbek Sidakov of Russia in the gold medal match.
Geno Rallies Back To Reach Finals
Georgia's Geno Petriashvili won every World heavyweight title during this cycle and his hardware was often earned the hard way with gritty comebacks and cool composure in tough situations. Those characteristics were on display again Thursday during his 6-3 comeback win against Iran's Amir Zare in the 125-kilogram semifinals.
Zare herded Petriashvili around the mat throughout the first period, picking up a pair of step-out points and nearly a third while building a 3-0 that he took into the break. But turned up the offense in the second period and began firing off shots. He built up from his belly for the first score and went ahead on a takedown with 1:22 left. Petriashvili kept shooting with the lead and once again came up from his belly after getting a lock on Zare's legs and finished late to seal it.
Gable Going For Gold
Gable Steveson took out one of the heavyweight titans earlier in the day. He'll get a shot tomorrow night at the other.
After blanking three-time World and Olympic champ Taha Akgul 8-0 in the quarterfinals, Steveson defeated Mongolia's Lkhagvagerel Munkhtur 5-0 in the semis to set up a date Friday night against three-time World champ Geno Petriashvili of Georgia.
Steveson cashed in on a first-period single to take a 2-0 lead into the break. He kicked out of a shot by the Mongolian after Munkhtur went on the clock and added two more on a double with 10 seconds left.
"Semifinal opponent, he did what he needed to do," Steveson said. "He came out here, he made it this far. He didn't want to push the pace. I was pushing it very hard. I got one caution call and I expected more, but that's how the game goes overseas."
What's it going to take for Gable to win gold?
"Wrestle six minutes, push him hard, take good shots, force him into bad positions," Steveson said. "I think it's a perfect matchup for me — long guy, lanky, gonna take a lot of shots. Re-attack city is gonna come. If it doesn't, I'm on my feet, handling business."
Pang Pulls Jacarra Back In
China's Qianyu Pang damaged Jacarra Winchester's medal hopes with a fast start earlier today. Pang revived those hopes Thursday night with a dramatic finish. Pang scored a takedown with six seconds left to beat two-time World champion Vanesa Kaladzinskaya 2-2 on criteria in the 53-kilogram semis. The Pang win pulls Winchester back into the repechage.
Winchester will face Cuba's Laura Herin Avila in Friday's repechage.
Gilman Grabs Bronze
Thomas Gilman is headed home with an Olympic bronze after a razor-sharp performance Thursday. After dismantling Uzbekistan's Gulomjon Abdullaev 11-1 in this morning's repechage, Gilman throttled Iran's Reza Atrinagharchi 9-1 in the 57-kilogram bronze medal bout. Gilman peppered the Iranian with shots that he finished with surgical precision.
"When I was out there I was just worried about getting to my shots and pushing and pulling and doing the things I do best," Gilman said. "Obviously, it worked out. There's a lot of changes I've made in the last year and a quarter — not just physically getting up and moving, but just mentally and emotionally and spiritually that have allowed me to be here. It hasn't been an easy road. I've taken my bumps and bruises along the way and kind of was down in a little ditch, but now we're back up out of it. It's an amazing experience to be here and really, the best wrestling of my life has come through at the most amazing time, and that's right now. Are there things that could've went better? Could I have wrestled a little bit better through some of these positions in the last 45 seconds of one match? Yeah, of course. But I'm just so ecstatic about the way I wrestled really. But there's always work to be done and we'll go back to the drawing board and fix what needs to be fixed."
Uguev Wins Another Gold
After dodging defeat with last-second heroics in the first two rounds, Zavur Uguev rose to the top of the podium once again, continuing his global reign over the 57-kilogram class. Uguev downed India's Ravi Kumar 7-4 in the gold medal match to add an Olympic gold to go with his two World titles.
Late Score Lifts Amine To Bronze
Everything Myles Amine accomplished on the trek to Tokyo was historic for the microstate of San Marino. The Michigan star accomplished one more piece of history Thursday night when he became San Marino's first Olympic medalist in wrestling.
Amine stayed persistent on a shot in the closing seconds and his effort was rewarded with a bronze. The Michigan All-American scored a takedown with 10 seconds to go to beat 2019 World silver medalist Deepak Punia of India 3-2 in the bronze medal match at 86 kilograms.
Taylor Is Golden
David Taylor's singlet was shredded and his patience was tested, but the Magic Man dipped into his bag of tricks in the closing seconds Thursday night and pulled out a gold medal.
Taylor scored on a double-leg shot with 18 seconds remaining to beat three-time World and Olympic champ Hassan Yazdanicharati in the 86-kilogram gold medal bout.
"I like winning 10-0," Taylor said. "But finding a way to get it done in the last 10 seconds feels pretty good, too."
Yazdanicharati controlled the center and took ground without taking shots — a wise strategy after Taylor carved him up in scrambles during their 2018 meeting in the opening round of the World Championships. And the match plan nearly paid off for the Iranian icon.
"You could tell that he didn't want to get in scrambles, he didn't want to shoot," Taylor said. "He wanted to make it a push-out, shot-clock match. And he did a good job of doing that. When I came over at the break, coach Casey (Cunningham) was like, 'You're going to have to put some stuff together. He wants to make it a one-point match, he's not going to do anything, you're going to have to find a way to go get it.'"
Yazdanicharati took a 1-0 lead into the break after scoring an activity clock point. He added a step-out point with 2:31 to go when Taylor was hit with a caution. Seconds later, Taylor got in on a high-crotch and finished to go up 2-2 on criteria. He held the lead for nearly a minute, but Yazdanicharati went back ahead when he drove Taylor out again.
The Iranian ripped a massive hole in the back of Taylor's singlet in the final minute and a stoppage with 23 seconds left gave Taylor time for one more good attack.
"It was just putting a couple setups together and finding a way to get it done," Taylor said. "I think that's one thing when I did hurt my knee, spending that year, I definitely developed a lot more strength in my lower body with my rehab process. This year and this tournament specifically, I've always had endurance, but I think I now have that explosion I've never had before, so I kind of have both of those things in my favor, and that's really what it was. I could sense him getting tired, but he wanted to win as bad as I did. I just had to find a way to get it done."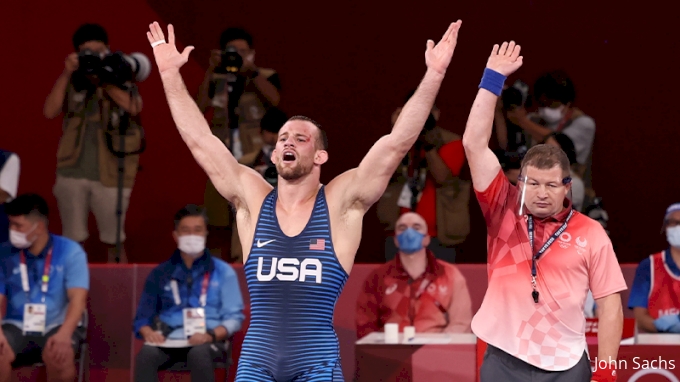 Another Medal For Maroulis
Helen Maroulis put on a go-behind clinic, scoring on four of them in an 11-0 tech against Monglia's Khongorzul Boldsaikhan in the 57-kilogram bronze medal bout. Helen is the first American to win two women's freestyle Olympic medals. She's the third medalist of the tournament for the USA women's freestyle squad, a new record for Terry Steiner's program.
"I have such a peace beyond all understanding," Maroulis said "I was thinking about it and I was like, 'Why am I not more sad?' I was like, 'I spent four years trying to get my wrestling back to the way it felt and just not have fear and fire off and be healthy and that is the biggest gift.' Honestly, if I won the gold medal and I wrestled the way I was before — just sloppy — I don't think I would've enjoyed it as much. I'd rather take the bronze medal and wrestle the way I did."