Olympic Games Watch Party
Dake, Steveson, & Winchester Receive Olympic Draws
Dake, Steveson, & Winchester Receive Olympic Draws
Team USA has its brackets for Jacarra Winchester, Gable Steveson, and Kyle Dake. Check out their paths to Olympic medals.
Aug 4, 2021
by David Bray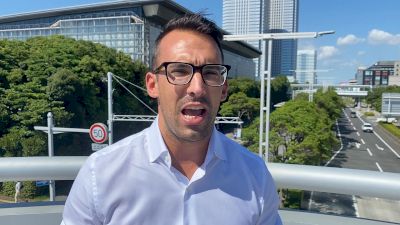 There are no easy draws for Team USA on day 5 of Olympic wrestling in Tokyo, but World champs Kyle Dake and Jacarra Winchester and multiple time age level World champ Gable Steveson are certainly capable of adding to the US medal count. Here's what they'll be up against tomorrow.
Dake's 74kg Path
Kyle Dake will see Iran's Mostafa Hosseinkhani in the first round at the Olympics. Hosseinkhani is a 2016 world bronze medalist and will be a formidable opponent for Dake. Hosseinkhani's last match against an American was at the 2018 world championships. There, Jordan Burrough's defeated Hosseinkhani in a tight, 4-3 match. Despite the world accolades and close match with Burroughs, Kyle Dake will be the favorite to win and should move on to the quarters.
Dake's most likely second round opponent will be Magomedkhabib Kadimagomedov. He is a former Russian now wrestling for Belarus and will present challenges to Dake. Though he's never medaled at worlds, he was a 2020 European gold medalist and is the only Olympian in the bracket to have a win over Zaurbek Sidakov. Kadimagomedov defeated Sidakov at 2017 Russian Nationals. Though Kadimagomedov will be a tough out, Dake once again will be favored to win and move on to the semis.
Most likely waiting for Dake in the semi-finals will be the winner of the opening round match between Frank Chamizo (ITA) and Avtandil Kentchadze (GEO). Dake defeated Chamizo at FloWrestling's event last summer in a close, 4-3 match but has never wrestled Kentchadze. Chamizo will be the favorite in the Kentchadze match as he's defeated the Georgian in two close bouts in the past - 9-4 (2021 Euros) and 4-4 (2015 Euros).
Sidakov's Road To Dake
Two-time defending world champion Zaurbek Sidakov (RUS) is on the other side of the bracket and should be unchallenged to potentially meet Kyle Dake in the finals. The Dake-Sidakov match is widely considered to be the most anticipated match of the Olympics. Sidakov has been granted a more favorable draw than Dake and his toughest match may be in the second round against the winner of the Abdurakhmonov - Gomez match. Sidakov hasn't wrestled either but will be a huge favorite against any competitor he meets on his way to the finals.
Kyle Dake's draw at 74kg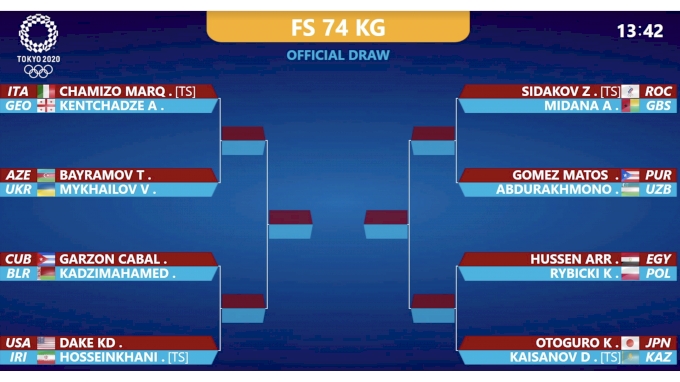 Winchester's Tough Side At 53kg
Like most Olympians, Jacarra Winchester will have to earn gold the hard way. She'll start out with World bronze medalist Olga Khoroshavtseva of Russia in the first round. Given Winchester's accomplishments, she'll be favored in this bout, but Khoroshavtseva should not be overlooked as she has a win over Sweden's Olympic bronze medalist and World champion Sofia Mattson.
Should Jacarra win that bout, she would see either Laura Herin of Cuba or Qianyu Pang of China. Pang is a two time World bronze medalist, and she'll be the favorite over the 20 year old Cuban Junior Pan Am champ.
In all likelihood, Winchester's semifinals opponent will be the winner of the first match in this bracket between the aforementioned Sofia Mattsson and World bronze medalist Vinesh of India. Mattsson is more credentialed, but Vinesh dominated her in 2019.
While Winchester has yet to face Vinesh, Mattsson has had her number historically although Jacarra was within a point with just seconds to go in their most recent meeting at the Henri Deglane in January.
The other side of the bracket has its share of tough wrestlers, but Mayu Mukaida is the odds on favorite to make the finals. She has been in the World finals for four straight years. She won gold in 2016 and 2018 and silver in 2017 and 2019. Jacarra will have her work cut out for her, but her 2019 World title is reason for optimism.
Jacarra Winchester's 53kg bracket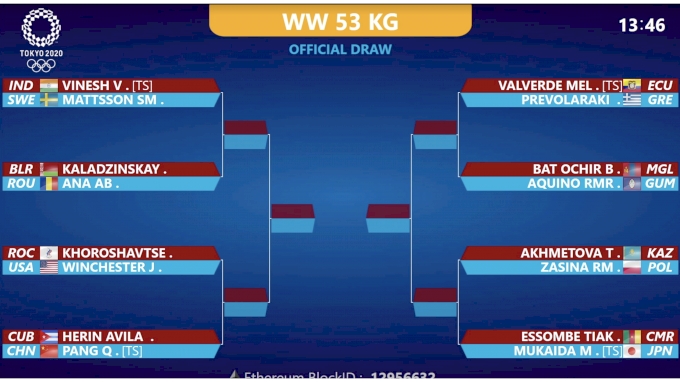 Gable's Good, Not Great, Draw At 125kg
Gable Steveson's draw could be better, but it could be worse as well. He's on the better side of the bracket, but the worse quarter. Gable will have Aiaal Lazarev from Kyrgyzstan in the first round. Gable will be a heavy favorite, especially in Americans' minds. Lazarev took silver at the Asian Championships this year, but Kozak has him ranked #11 out of the 16 Olympic qualifiers.
After his opener, we'll really find out just how good Gable is as he'll have reigning Olympic champion and 2X World champion Taha Akgul of Turkey. If he makes it past Akgul, he'll most likely have Dzianis Khramiankou of Belarus in the semis. Khramiankou is currently ranked #4 in the world, but up until this point has for sure been a tier below the top three.
On the other side of the bracket, Geno Petriashvili and Amir Zare are on a semifinal collision course. Geno is a 3X World champion on won bronze in Rio, but the young Iranian, Zare, actually beat him in the one time they met. Zare is a real threat to win gold in Tokyo.
Also on the opposite side of Gable is an intriguing match between China's Deng, a 2018 silver and 2019 bronze world medalist, against Russia's young and talented but thus far unproven Kozyrev. Winner gets three-time world gold medalist Petriashvili for a spot in the semifinals.
The 125kg Olympic bracket