Olympic Games Watch Party
Taylor, Gilman, & Maroulis Receive Olympic Draws
Taylor, Gilman, & Maroulis Receive Olympic Draws
David Taylor, Thomas Gilman, and Helen Maroulis have received their Olympic brackets. Take a look at what it will take for each to bring home hardware.
Aug 3, 2021
by David Bray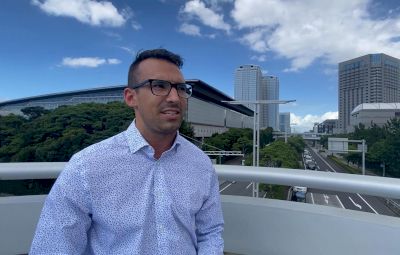 Draws are out for both men's and women's freestyle at 57kg and men's freestyle at 86kg. The three Americans have mixed prospects. Here's what it could take for each to medal.
Taylor Opposite Yazdani And Naifonov At 86kg
The story here is that David Taylor ended up opposite both Hassan Yazdani of Iran and Artur Naifonov of Russia. Yazdani is a 2016 Olympic gold medalist, a two-time World champ, and a five-time medalist. Naifonov is a World bronze medalist, and while he has World silver medalists Sohsuke Takatani and Boris Makoev in his quad, he'll be the favorite to see Yazdani in the semis. If that happens, Yazdani, who pinned Naifonov at 2019 Worlds, will be the favorite.
David Taylor's first-round opponent is World #7 Ali Shabanau of Belarus, a four-time World bronze medalist who has a win over Yazdani. Despite Sabanau's impressive resume, Taylor will be a big favorite here.
Should Taylor advance to the quarterfinals, he'll see either Michigan's Myles Amine who represents San Marino, or Colombia's Carlos Izquierdo. The two have not met, but World 5th place finisher Amine will be favored. While Amine has proven to be a game opponent on the international stage, he doesn't have the kinds of wins that suggest he can beat Taylor.
The other quarter on Taylor's side features Zushen Lin of China, Pool Ambrocio of Peru, Ekerekeme Agiomor of Nigeria, and Deepak Punia of India. Of this group, Taylor has only ever seen Ambrocio, and that was a technical superiority win for DT.
In all likelihood, that quarter will come down to a bout between Lin and Punia, a match that Punia won 3-3 on criteria at the 2019 Asian Championships. Punia is the #2 seed, a World silver medalist, and the most likely semifinal opponent for Taylor.
All of this means that we could very well see round three in the David Taylor vs Hassan Yazdani series, a match fitting of an Olympic finals stage. Taylor has won both of their previous meetings but not before Yazdani stormed out to leads in both bouts. Here's hoping we get to see two of the highest paced wrestlers in the world throw down on the big stage for Olympic gold.
David Taylor's 86kg bracket in Tokyo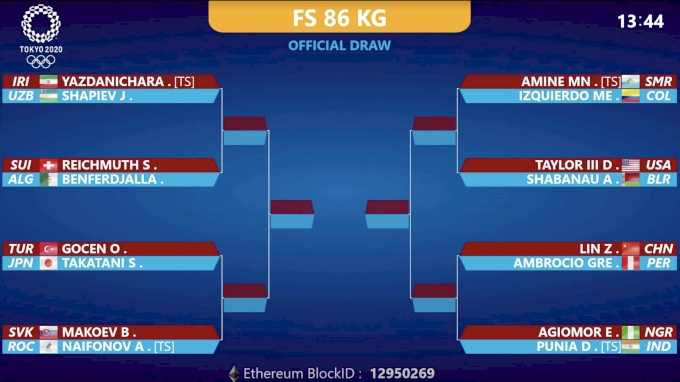 Helen Has Tough Tests At 57kg
With 16 person brackets, your chances of seeing a top 4 seed in the first or second round is 100%. It's also the Olympics, as such, there is no such thing as an easy draw.
That said, Maroulis' draw presents several unique challenges. She gets China's Ningning Rong in round one. Rong is a 2018 world champ and a 2019 runner-up.
Helen won't get much of a breather in the quarters if she defeats Rong in her first match. Likely waiting for her is Ukraine's Tatyana Kit, who defeated Maroulis last June at the Poland Open.
Sitting in the number one seed and thus Helen's potential semifinal opponent, is Rong's vanquisher in the 2019 finals, defending Olympic champ Risako Kawai. Kawai is the favorite according to the oddsmakers and also swept the three intervening world championships between Rio and Tokyo.
Should Maroulis run that gauntlet, she'll probably get another shot at revenge from the Poland Open, as Nigeria's Adekuoroye is favored to make it to the finals from the opposite side of the bracket. Adekuoroye teched Helen 13-0 in Poland.
Other Matches To Watch
Also in the bracket is Doctor Jane Valencia, representing Mexico and the Nittany Lion Wrestling Club (her husband is 2012 Olympic silver medalist Jamie Espinal). Her first opponent is decorated Russian veteran, Valeria Koblova.
Keep an eye out for that match on the opposite side of the bracket from Maroulis.
Helen Maroulis' 57kg Olympic bracket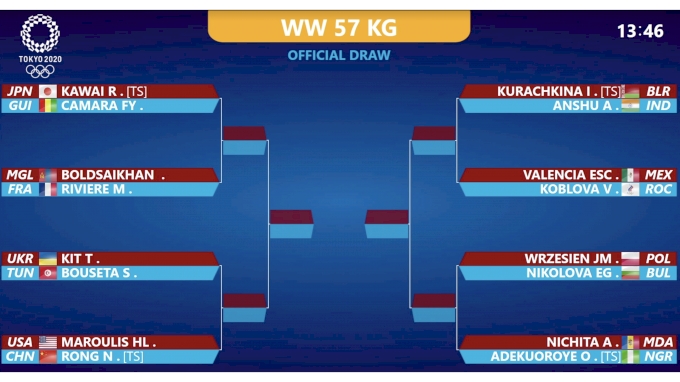 Gilman's Brutal 57kg Path
Thomas Gilman received one of the toughest draws imaginable with two-time defending world champion #1 Zaur Uguev first round. The two have never met in competition but Uguev should be considered a huge favorite in the opening round match. Uguev has only lost 3 times in the last 3 years and hasn't suffered defeat since June of 2019. Should he win, Gilman would have the winner of #5 Abdullaev (UZB) and Liu (CHN). Abdullaev has been on an incredible run in the past few months and has recent wins over #9 Sanayev (KAZ), #6 Kumar (IND), and #10 Atri (IRI).
The top quarter that will produce Gilman's potential quarter-final opponent is filled with talent. 2019 world silver #2 Suleyman Atli is the favorite but will be challenged by #9 Atri opening round. The winner of that bout will face either # 11 Harutyunyan or #13 Erdenebat. Gilman will have to wrestle the tournament of his life just to make the finals.
Other Matches To Watch
Number 1 seed Stevan Micic was not done any favors with the random draw and will see 2017 World Champion #7 Yuki Takahashi in the first round. The winner of that bout will most likely face two-time world bronze medalist, #9 Nurislam Sanayev. Takahashi and Sanayev have not wrestled in the past but Sanayev and Micic have split their two head to head matches. Sanayev most recently won in the bronze medal match at 2019 Worlds.
Thomas Gilman's Olympic draw