Olympic Games Watch Party
Tamyra's Golden For USA On Olympics Day 3
Tamyra's Golden For USA On Olympics Day 3
The women's team race is heating up with the USA out front, while Greco-Roman is winding down at the Olympics.
Aug 3, 2021
by Andy Hamilton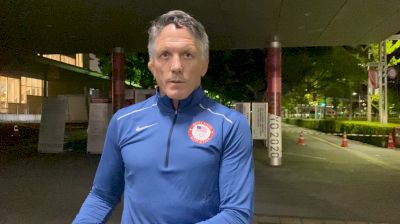 Terry Steiner stood Monday night on a sidewalk outside Makuhari Messe Hall as diesel-powered buses hummed past and the cicadas chirped in the trees by his side, and he began taking inventory of an American women's freestyle program that's beginning to make some serious noise.
After two days of Olympic wrestling, Steiner's squad is leading the pack in the mythical team race. The first two hammers in the American order — World champions Adeline Gray and Tamyra Mensah-Stock — have secured medals with Gray taking silver and Mensah-Stock wrestling Tuesday night here for gold.
At the onset of the tournament, the USA women's freestyle squad had two Olympic finalists in program history. The Americans doubled that total during the past two days, and there's an expectation that this is just the beginning of a huge haul for the Americans.
"We're capable of winning a lot of medals here," Steiner said. "We're here to win medals. We're here to make a statement and to change this guard a little bit. We have the team and the program to do it and we have the backing of a country to do it, and it's time. It's time that we step forward and take on the challenge. Japan has been great leaders in this sport for a long time, but we're hoping we can bring that to an end. We want to be the team that everyone's chasing, the program that everyone's chasing."
In order for that to happen, though, the Americans need to keep their foot on the pedal beginning today with Kayla Miracle at 62 kilograms. The four-time age-group World medalist is looking to make a podium breakthrough at the Senior level.
In addition to Miracle this morning in Tokyo and Mensah-Stock later tonight, the last two representatives of the USA Greco-Roman squad will take the mat today as well with Alex Sancho at 67 kilograms and John Stefanowicz at 87 kg. Here's David Bray's breakdown of the American draws.
You can watch all of the NBC coverage of the Olympics here and follow along as we provide updates from inside Makuhari Messe Hall.
Dosho Moves On
Global superpower Japan was sixth in the unofficial women's freestyle team standings at the conclusion of competition Monday night. Most of the top Japanese hammers are still to come later in the week, of course. Japan picked up some more points Tuesday morning with Sara Dosho's win in the 68-kilogram repechage. The two-time World and Olympic champ downed China's Feng Zhou 7-2, icing the match with a four-pointer on the edge in the final minute.
Borrero Upset In Round 1
Georgia's Ramaz Zoidze had to go to the last-chance Olympic Qualifying Tournament just to get into the Games. On Tuesday, he pulled off the tournament's biggest upset to this point, defeating three-time World and Olympic champ Ismael Borrero Molina of Cuba in the opening round at 67 kilograms. Zoidze went ahead 1-1 on a second-period passivity call and extended his lead when he came out of a flurry with a takedown. Borrero cut into the deficit with a step-out point in the closing seconds, but the Cuban couldn't get closer.
It was a rare loss for Borrero, who won a World title in 2015, an Olympic gold in 2016 and ran the gauntlet in 2019, emerging as the king of a loaded 67-kilogram class in Nur-Sultan.
Miracle Falls
Kayla Miracle had her chances in a tightly contested opening-round bout, but she couldn't quite capitalize against China's Jia Long in a 3-2 defeat at 62 kilograms. Miracle fought off a deep shot by Long early and got in on one of her own, driving Long out, but the action was grounded and no points were awarded. Miracle went on the clock later in the opening period and couldn't score, giving Long a 1-0 advantage. Miracle went ahead just before the break, scoring two on a flurry late in the period.
Long came out on top of a lengthy exchange in the second period to go ahead. Long nearly had a go-behind takedown before Miracle cut her off and built up and appeared in position to add to her lead, but Long lifted and exposed Miracle for two with a little less than two minutes remaining.
In the final minute, Miracle got in on a shot, but Long squashed her and the final 40 seconds melted away and Long emerged with a 3-2 win.
Surkov Downs Sancho
There's no easy path through the Greco bracket at 67 kilograms, but Alex Sancho certainly didn't get a first-round draw when he ran into 2018 World champ Artem Surkov. The four-time World medalist from Russia raced out to a 5-0 lead before Sancho rallied back to pull within one. Surkov pulled away in the second period with a pair of guts to break open a one-point match on his way to a 10-4 win.
Stefanowicz Comes Up Short
The morning session has come to an end for American athletes. Croatia's Ivan Huklek turned John Stefanowicz twice after a first-period passivity, Stefanowicz turned Huklek once when he got his turn on top and Huklek emerged with a 5-3 victory in the opening round at 87 kilograms.
Repechage Updates
Kayla Miracle and Alex Sancho have been eliminated after their opponents lost quarterfinal matches and John Stefanowicz was eliminated after Huklek lost to two-time World champ Zhan Beleniuk of Ukraine in the semis, ending the tournament for the USA Greco squad.
Kawai Secures Japan's First Women's Freestyle Medal
Japan finished the tournament's second day in sixth place in the unofficial women's team standings with 10 points, but the Olympic schedule sets up for a Japanese crescendo later in the week. Japan made a surge Tuesday thanks to Yukako Kawai, who secured the first women's freestyle medal for the host country by defeating Bulgaria's Taybe Mustafa Yusein 3-2 in the 62-kilogram semis.
Kawai will tangle with reigning World champ Ainsuluu Tynybekova of Kyrgyzstan in the gold medal bout. Tynybekova defeated Kawai 3-3 on criteria in the round of 16 at the 2019 World Championships.
Lorincz Adds To Late-Career Gold Haul
Hungary's Tamas Lorincz debuted on the Senior level in 2006 as a 20-year-old. He's been collecting international medals at a steady rate ever since, winning seven at the European Championships, four at the World Championships and a 2012 Olympic silver.
Lorincz finally broke through and reached the World summit in 2019, and he backed it up Tuesday by winning Olympic gold at the age of 34, defeating Kyrgyzstan's Akzhol Makhmudov 2-1 in the 77-kilogram final.
Evloev Adds Another
Nobody's had a better quad in Greco-Roman than Russia's Musa Evloev, who reached the finals in Paris in 2017 and has been stacking up golds ever since. Evloev defeated 2016 Olympic champ Artur Aleksanyan 5-1 on Tuesday to seize the 97-kilogram Olympic title. Evloev is 19-1 in World and Olympic competition since the beginning of 2017.
Tamyra Takes Gold
The United States has its second women's freestyle Olympic champion. Tamyra Mensah-Stock scored a pair of first-period takedowns and shut down Nigeria's Blessing Oborududu to post a 4-1 victory in the 68-kilogram gold medal bout.
Tamyra took the toughest path through the bracket and outscored her opponents by a combined 34-5 count.
Opponents were reluctant to take shots against Mensah-Stock during the two-day tournament and for good reason. Oborududu's best attack resulted in a go-behind takedown for Tamyra a little more than a minute in. She also scored off her own shot later in the first period, and that's all the offense she needed.