Olympic Games Watch Party
Women's Team Title Race - USA In First, Japan Chasing
Women's Team Title Race - USA In First, Japan Chasing
Take a look at the Olympic Team race update in Women's Wrestling after day 2 of the Olympics.
Aug 2, 2021
by Jon Kozak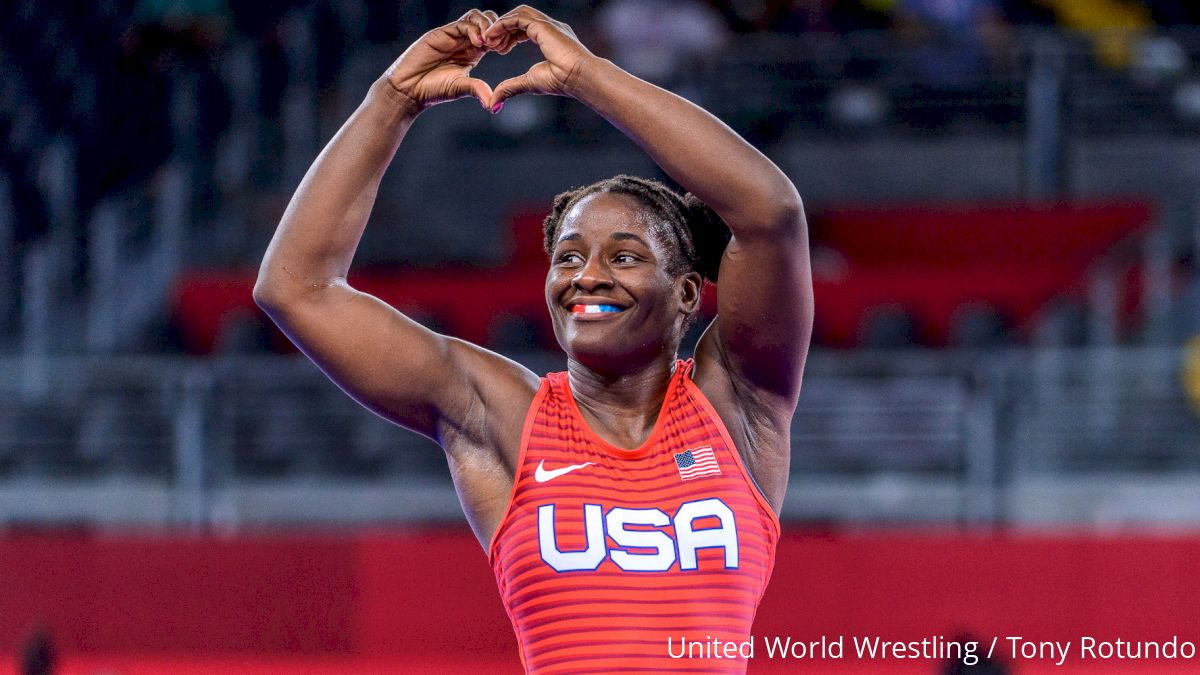 After 2 days of competition in Tokyo, USA's Women are out performing every country in the field. Although the Olympics doesn't officially give a "team trophy", we'll be tracking the team competition and crown the team champs at the end of the Games. There are still four weights remaining, but take a look below to see how the women's team race looks up to this point.
Adeline and Tamyra Leading The Way - USA In First
Since there has been Women's wrestling in the Olympics, Team USA has never had two finalists - until now. Both Adeline Gray and Tamyra Mensah-Stock reached the finals in the first two weights in competition - 76kg and 68kg. Gray opened up her Olympics with a dominant tech fall before winning two close matches to reach the finals. Unfortunately, Gray fell in the gold medal match to Germany's Aline Rotter Focken, 7-3. For her silver performance, Adeline Gray still earned 20 points toward Team USA's effort.
Tamyra Mensah-Stock will wrestle her gold medal match against Nigeria's Blessing Oborududu on Tuesday morning. Mensah-Stock looked dominant in her first two matches winning by tech fall in each bout. She was tested by Alla Cherkasova (UKR) in her semi-final match. Mensah-Stock got out to an early 2-0 lead before Cherkasova responded with a takedown and turn on top to go up 4-2. However, Mensah-Stock responded quickly and emphatically - she stepped over on a gut wrench attempt then got her offense going. She continued to separate herself from Cherkasova as the match progressed and won 10-4. Just reaching the finals, Mensah-Stock earned 20 points for Team USA and has the potential to earn another 5 should she win gold.
Take a look at the current standing of the Top 10 after the first day of Medal Matches:
| | |
| --- | --- |
| Team | Points |
| United States | 40 |
| Germany | 25 |
| Nigeria | 20 |
| China | 15 |
| Turkey | 15 |
| Japan | 10 |
| Mongolia | 10 |
| Ukraine | 10 |
| Kyrgyzstan | 10 |
| Russia | 8 |
Japan's Heavy Hitters Looming
There's still a lot of wrestling to happen in Tokyo and the team race is far from over. Japan is the powerhouse in women's wrestling and will be the favorite or a strong contender at all of the remaining weights. Of the 4 remaining weights, 3 of Japan's wrestlers are world champions and the other is a world silver medalist. USA is strong in their own right with world champion Jacarra Winchester, world/Olympic champion Helen Maroulis, world silver Sarah Hildebrandt and junior world bronze Kayla Miracle still to wrestle.
Team USA is looking to upend Japan's dominance in Women's Wrestling. Japan has won the last 7 world/Olympic team titles and 10 out of the last 11. USA's women have never won a team title and are looking to make history in Tokyo. We'll continue to keep you informed on every update in the team standings.