Olympic Games Watch Party
Day 3 Draws For Miracle, Sancho, & Stefanowicz
Day 3 Draws For Miracle, Sancho, & Stefanowicz
Team USA has is brackets for day 3 in Tokyo. Here's what to expect for Miracle, Sancho, and Stefanowicz.
Aug 2, 2021
by David Bray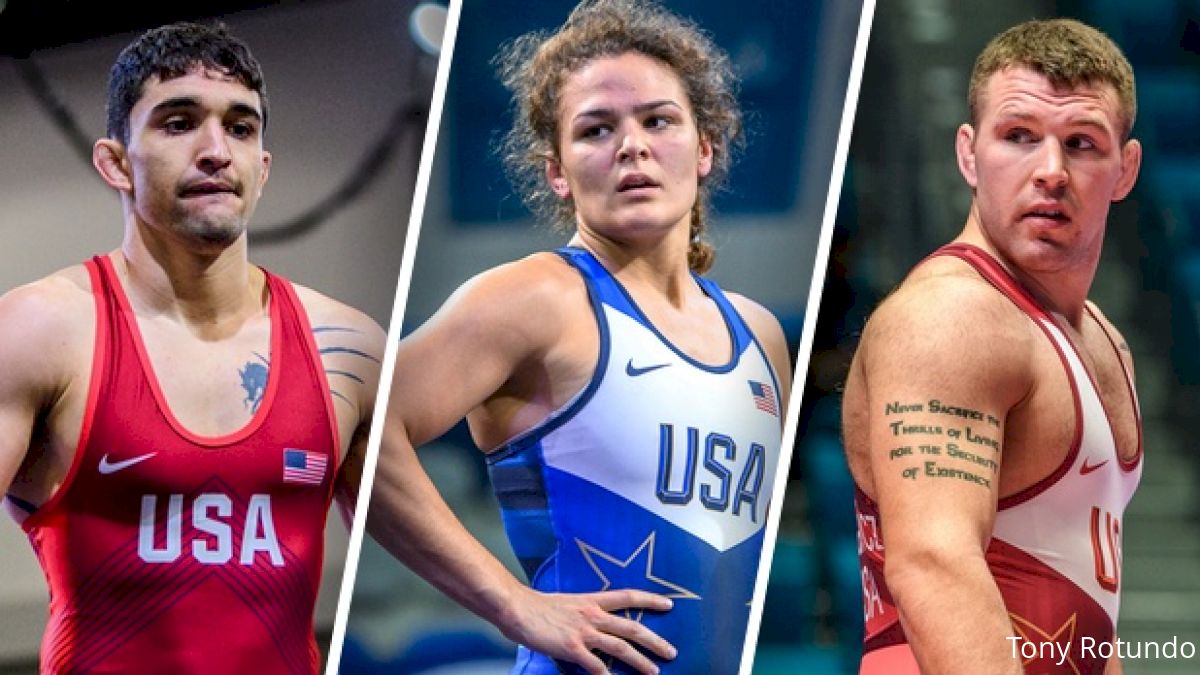 Unlock this article, live events, and more with a subscription!
Get Started
Already a subscriber? Log In
USA's women have Adeline Gray in the finals and Tamyra Mensah-Stock in the semifinals, and Kayla Miracle will look to build on that strong opening performance. Alejandro Sancho and John Stefanowicz will take the mat as the final two Greco-Roman competitors for the Red, White, and Blue as well. Here are their draws.
Kayla Miracle ended up with the #4 seed due to a lineup change for Ukraine. Her first round opponent will be Jia Long of China. Long actually beat Miracle in a bronze medal bout at the Matteo Pellicone in January. Miracle led that match early, but Long controlled the second period.
Kayla Miracle's Matteo Pellicone Bronze match against Jia Long.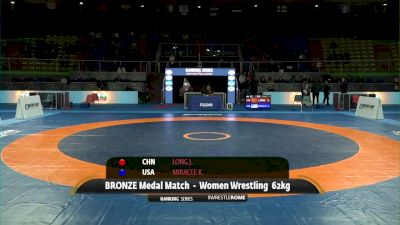 Unlock this video, live events, and more with a subscription!
Get Started
Already a subscriber? Log In
Kayla Miracle's 62kg bracket in Tokyo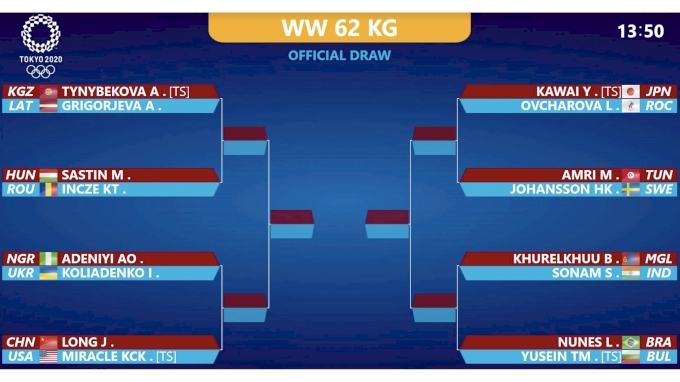 If Miracle can get past Long, she'll see either two-time Olympian Aminat Adeniyi of Nigeria or 65kg World silver medalist Iryna Koliadenko of Ukraine. Koliandenko is Miracle's more likely opponent in quarterfinals should she make it that far, and she has victories over Forrest Molinari and Malory Velte.
The top quarter of the bracket features top seeded Aisuluu Tynybekova, a 2019 World champ and the favorite to make it into that semifinal.
Other matches to watch
Aisuluu Tynybekova (KGZ) vs Anastasija Grigorjeva (LAT)
Tynybekova is the cofavorite with Japan's Kawai. She beat Grigorjeva in the finals of the individual World Cup 14-0. So an opportunity for revenge for Latvia and an opportunity to make a statement to the rest of the bracket by number one seed from Kyrgyzstan.
Yukako Kawai (JPN) vs Liubov Ovcharova (ROC)
Kawai has one a U23 and a Asian gold medal but is looking for her first World or Olympic title. Winning in her home country would be that much sweeter, but Ovcharova is going to be a tough first bout. She took 3rd at 2020 Euros and won the World Olympic Games qualifier.
---
Alejandro Sancho's 67kg Olympic bracket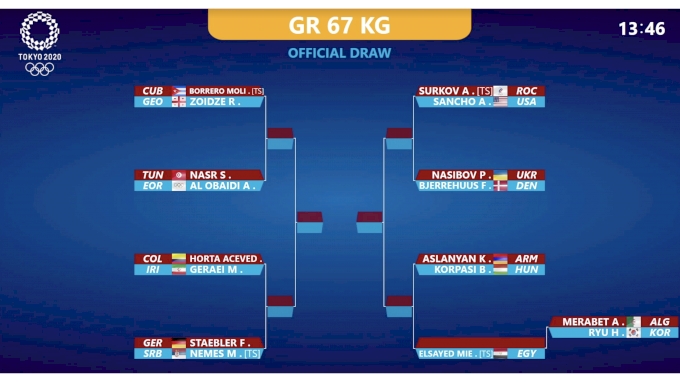 The first round will be tough for Alejandro Sancho as he drew 2018 World champion and four-time World medalist Artem Surkov of Russia. A win over Surkov would be huge for Sancho, but even a loss likely wouldn't be the end of Sancho's tournament as Surkov will be expected to reach the final on the bottom half of the bracket.
Perhaps Surkov's biggest test on the bottom half of the bracket will be Hungarian veteran and World champion Balint Korpasi although a young crop of challengers would love to unseat the more accomplished Balint Korpasi.
Other matches to watch
Hansu Ryu (KOR) vs Abdelmalek Merabet (ALG)
Already the deepest Greco-Roman bracket, 67kg has a pigtail, featuring 2017 World champ and four-time Asian champ Hansu Ryu. The South Korean should handle the Algerian, but it just goes to show that there are no easy draws in the Olympics.
That pigtail and only uneven bracket at the Games, comes as a result of Aker Al-Obaidi, an Iraqi living in Austria and wrestling's lone rep on the Refugee Olympic Team, a most excellent project inaugurated by the IOC. He'll wrestle 2019 African runner up Souleymen Nasr.
Frank Staebler (GER) vs Mate Nemes (SRB)
Mate hasn't won a world championship yet like his brother Viktor did in 2017, but he did win the 2021 Euro title. Though Staebler is a 2017 & 2018 World Champ, he also placed 10th at the European Championships that Nemes just won, and would be foolish to sleep on Mate.
Luckily for Germany Greco fans (of which there are many), Frank is no fool.
---
The 87kg draw for John Stefanowicz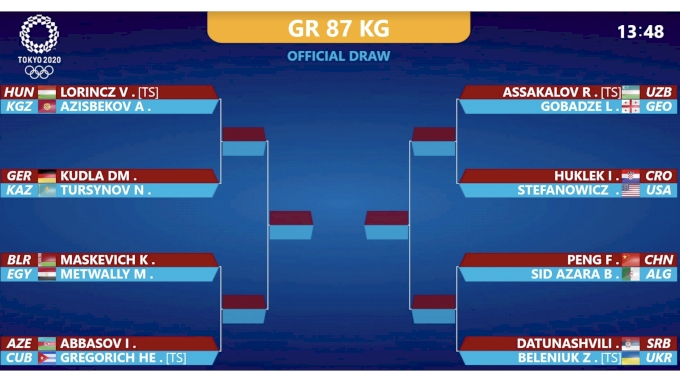 John Stefanowicz will see U23 World silver medalist Ivan Huklek of Croatia in the first round and could see two-time World medalist Rustam Assakalov of Uzbekistan in the quarterfinals.
Should Stefanowicz advance to the semifinals, he would expect to see the #2 seed Zhan Beleniuk of Ukraine. Beleneiuk is a two-time World champ, a World silver medalist, and a 2016 Olympic bronze medalist.
Another match to watch
Zhan Beleniuk (UKR) vs Zurabi Datunashvili
Beleniuk burst onto the scene with a world championship in Vegas in 2015, followed up with a silver in Rio. He's ready to resume his position as one of the brightest stars of Greco with a tough first round revenge bout against Serbian by way of Georgia, Zurabi Datunashvili, who upended Zhan in the quarterfinals of the 2021 Euros in a 1-1 criteria victory.