2021 Cadet World Championships
USA Sends Four To Finals On Near-Perfect Day At Cadet World Championships
USA Sends Four To Finals On Near-Perfect Day At Cadet World Championships
The United States punctuated a near-perfect opening day at the Cadet World Championships by sweeping its four semifinal bouts Monday in Budapest.
Jul 19, 2021
by Andy Hamilton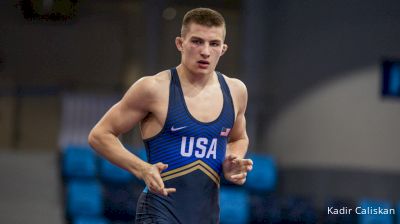 Unlock this video, live events, and more with a subscription!
Get Started
Already a subscriber? Log In
Unlock this article, live events, and more with a subscription!
Get Started
Already a subscriber? Log In
The United States punctuated a near-perfect opening day at the Cadet World Championships by sweeping its four semifinal bouts Monday in Budapest.
The Americans went 12-1 on the day, demonstrating comeback grit and knockout dominance as Luke Lilledahl, Meyer Shapiro, James Rowley and Jimmy Mullen set themselves up to wrestle Tuesday for gold and put the United States out front in the team race.
Lilledahl dug himself out of a 3-0 hole with two takedowns in the final minute to beat Kazakhstan's Nurdanat Aitanov 4-3 in the 48-kilogram semifinals. Shapiro made quick work of Azerbaijan's Aghanazar Novruzov, scoring three takedowns and a pair of turns in a 10-0 first-period technical superiority win at 65 kg. Rowley rolled up Italy's Gabriele Niccolini 12-2 at 80 kg, pulling away with 10 points after the break to score another tech for the Americans. Mullen capped the day with a 7-1 win at 110 kg against Kazakhstan's Alikhan Kussainov, putting the match away with a pair of takedowns in the final 20 seconds.
The four finalists racked up 80 team points for the Americans. India, with a pair of semifinal winners, was the only other country with multiple finalists.
Below is Kyle Klingman's account of what transpired Monday in Budapest:
Lilledahl Won A Shootout
It wasn't a promising start for Lilledahl (48 kg) and the United States at the 2021 Cadet World Championships in Budapest. Lilledahl was the first match out of the gate and he was taken down and gutted by Akhmad Musakhadzhiev of Russia to go down 4-0 after 16 seconds of wrestling. The St. Louis, Missouri, product came out firing at the beginning of the second period to cut the lead in half.
Then things got wild.
Lilledahl scored on a two-point exposure to take a 4-4 criteria lead with 49 seconds remaining in the match.
Lilledahl scored on a gut wrench with 33 seconds left to take a 6-4 lead.
Musakhadzhiev reversed him immediately to cut the lead to 6-5 then scored on back-to-back leg laces to take a 9-6 lead with 12 seconds left.
Lilledahl scored on a step out with 10 seconds left to cut the lead to 9-7.
Then, with five seconds remaining, Lilledahl scored on a two-point exposure to win on criteria, 9-9.
However, the score was tabulated wrong during the exchange, a challenge was thrown by the American corner, officials reviewed the final sequence for nearly five minutes, and the rightful winner had his hand raised.
Luke Lilledahl won the opening match for the Americans and moved on to the quarterfinals where he won 8-1 over Azim Abdykalykov (KGZ) to move into the semifinals.
My Oh Meyer
Shapiro came out swinging in his opening match at 65 kg. Shapiro scored off two points on a front headlock against Tymur Yusov of Ukraine — then Shapiro showed the referee his arm. Yusov clearly bit him during the exchange and the official called for a one-point penalty but neither of the mat chairs confirmed it.
The remainder of the match looked like a classic high school match. Shapiro locked up a cradle and secured a fall with 23 seconds remaining in the first period.
Shapiro carried that momentum into the quarterfinals where he defeated Russia's Khabib Zavurbekov in an 8-6 slugfest.
Big Jim Survives A Big Scare
Mullen (110 kg) came out of the gates hot in his first match of the tournament against Sahil Sahil of India but then he had to hold on for dear life at the end of the match. Mullen went up 8-1 after the first period thanks to a takedown, a turn, and a four-point takedown.
Things unraveled quickly after that.
Mullen gave up a step out and a four-point throw to narrow the lead to 8-6. Sahil scored on back-to-back step outs to tie the score 8-8 but Mullen led on criteria to eke out a win. He breezed to a 6-1 quarterfinal win over Milan Gellen of Hungary.
Comeback Kid
Rowley went down 6-0 within a minute of his opening match against Mustafagadzhi of Russia but Rowely scored the next 10 for a 10-6 win. His quarterfinal match was the opposite. He went up 8-2 and held on for an 8-6 win over Oleksandr Mamrosh of Ukraine.
Day 2 medal matchups
48 kg: Luke Lilledahl vs. Aman Aman (India)
65 kg: Meyer Shapiro vs. Giorgi Gogritchiani (Georgia)
80 kg: James Rowley vs. Sagar Jaglan (India)
110 kg: Jimmy Mullen vs. Amirreza Fardin Masoumi Valadi (Iran)
Day 2 First-round match-ups
45 kg: Bo Bassett vs. Malkhazi Khelaia (Georgia)
51 kg: Nathanael Jesuroga vs. Resul Dogan (Turkey)
60 kg: Beau Mantanona vs. Abdulrahman Ibrahimov (Azerbaijan)
71 kg: Levi Haines vs. Asadbek Karimov (Uzbekistan)
92 kg: Gavin Nelson vs. Khaleifah Mohamed Rashed Alhefeiti (United Arab Emirates)
Day 1 Results
48 kg — Luke Lilledahl
Round of 16: Lilledahl dec. Akhmad Musakhadzhiev (Russia) 9-9
Quarterfinals: Lilledahl dec. Azim Abdykalykov (Kyrgyzstan) 8-1
Semifinals: Lilledahl dec. Nurdanat Aitanov (Kazakhstan) 4-3
55 kg — Spencer Moore
Round of 16: Andranik Avetisyan (Armenia) dec. Moore 6-0

Spencer Moore was eliminated from the tournament.
65 kg — Meyer Shapiro
Round of 16: Shapiro pinned Tymur Yusov (Ukraine) 1:37
Quarterfinals: Shapiro dec. Khabib Zavurbekov (Russia) 8-6
Semifinals: Shapiro TF Aghanazar Novruzov (Azerbaijan) 10-0
80 kg — James Rowley
Round of 16: Rowley dec. Mustafagadzhi Malachdibirov (Russia), 10-6
Quarterfinals: Rowley dec. Oleksandr Mamrosh (Ukraine) 8-6
Semifinals: Rowley TF Gabriele Niccolini (Italy) 12-2
110 kg — Jimmy Mullen
Round of 16: Mullen dec. Sahil Sahil (India), 8-8
Quarterfinals: Mullen dec. Milan Gellen (Hungary) 6-1
Semifinals: Mullen dec. Alikhan Kussainov (Kazakhstan) 7-1