2021 Cadet World Championships
Cadet Worlds = NCAA Champs And Olympians
Cadet Worlds = NCAA Champs And Olympians
An in depth look at Cadet Worlds since 2011. See what years USA performed best and how Tokyo Olympians fared at Cadet Worlds.
Jul 14, 2021
by Jon Kozak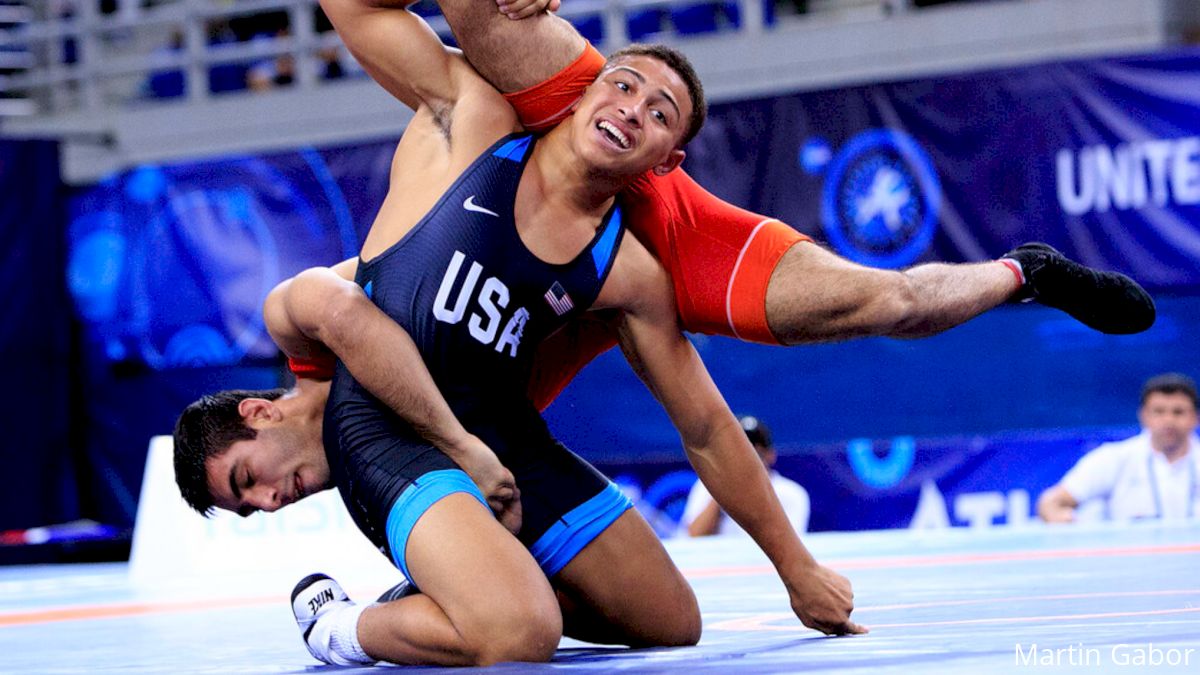 Unlock this article, live events, and more with a subscription!
Get Started
Already a subscriber? Log In
The 2021 Cadet World Championships will go down in Budapest, Hungary July 19-25. Team USA has sent a team to Cadet Worlds every year since 2011. In this article, we'll take a look back at Cadet Worlds since 2011 to see USA's best performances. We'll also explore how the best countries fared at Cadet Worlds during this time and highlight this year's Tokyo Olympians performances.
Watch the 2021 Cadet World Championships LIVE on FloWrestling
Monday, July 19th - Sunday, July 25th - Wrestling starts at 5:30AM (ET)
Team USA At Cadet Worlds
Since 2011, team USA has won 34 medals in the 9 years of Cadet World Championships. In total, they've won 18 golds, 4 silvers, and 12 bronze medals. Take a look at the graph below to see how those medals were divided up by year: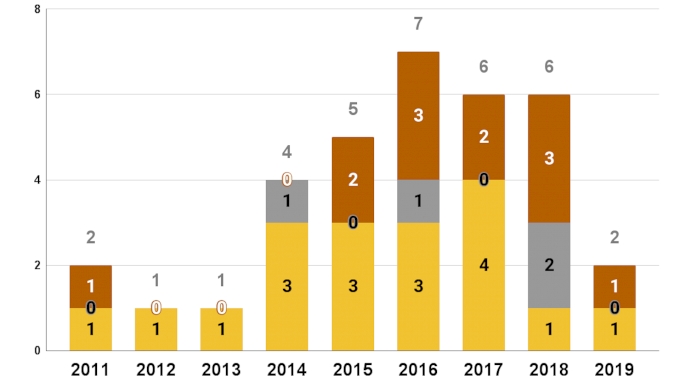 Team USA performed the best in 2016 with seven total medals - 3 golds, 1 silver, and 3 bronze. That 2016 team won the Cadet World Team title by beating out the likes of Russia, Iran, and Azerbaijan. They also had 4 wrestlers go on to win NCAA titles, 7 total All-Americans, and 1 Tokyo Olympian. Take a look at the best Cadet World Team for USA since 2011:
2016 Cadet World Team:
In addition to the legendary 2016 Cadet World team, there have been 11 different NCAA champs who participated in cadet worlds since 2011 and 17 others who earned All-American honors at NCAA's (just out of the freestyle members). This article dives deep into those numbers but take a look at the nationals champs and how they fared at Cadet Worlds:
11 Different National Champions:
Tokyo Olympians At Cadet Worlds
Not only does Cadet Worlds give a preview of future NCAA stars, it also allows us to get to know young international stars for the first time. Since 2011, 24 of the 96 Tokyo Olympians competed at Cadet Worlds (in men's freestyle). This includes some of the best pound for pound wrestlers who first found success at Cadet Worlds. For instance, a year before Abdulrashid Sadulaev won SENIOR WORLDS in 2014 he was showing out at cadets - in 2012 and 2013 Abdulrashid Sadulaev dominated his way to 2 Cadet World titles. There's no guarantee the next Sadulaev will compete in this years Cadet Worlds, but this years field will certainly include future senior wrestlers who will challenge for world titles and medals.
Take a look below at all this year's Olympians who competed at Cadet Worlds:
57kg
65kg
74kg
86kg
97kg
125kg
Those Guys Wrestled?!
Looking back through the years at Cadet Worlds results also brings to light some of the remarkable match-ups. In the 2011 finals, now NFL lineman and 3X All-American for Michigan, Adam Coon wrestled 3X world champion Geno Petriashvili (GEO). That same year, Russia's Gadzhimurad Rashidov faced off against Iran's Hassan Yazdani in the finals! Not only are both Rashidov and Yazdani world champions, the match took place at 50kg-about 80lbs lighter than Yazdani is currently competing! Take a look below to see those matches and Sadulaev's first cadet world title in 2012.
Rashidov vs Yazdani - 50kg Cadet World Final
Petriashvili vs Coon - 100kg Cadet World Final
Sadulaev's 2012 Cadet World Final
Best Country At Cadets = Best At Seniors?
Another facet of Cadet Worlds is its revelation of how various countries are developing their athletes and how that translates to senior level success. The two graphs below show the top 10 countries who medaled at Cadet Worlds and then Senior Worlds since 2011.
Cadet World Medals By Country Since 2011: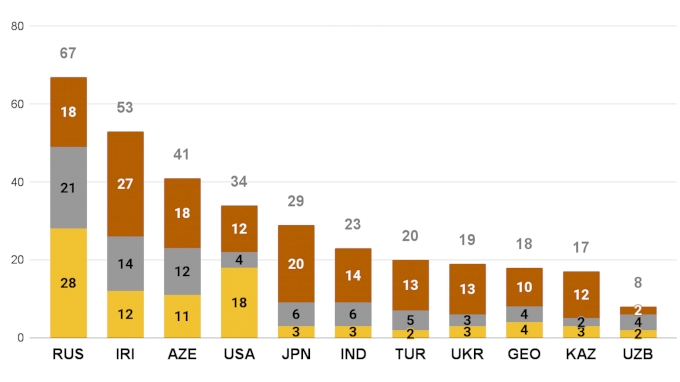 Senior World Medals By Country Since 2011: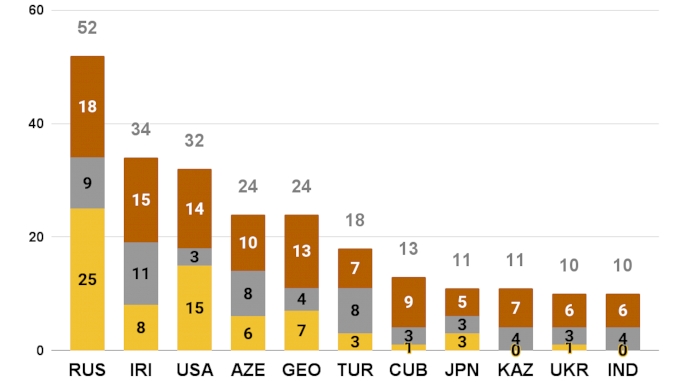 A few notable takeaways can be drawn from these numbers. Obviously Russia dominates, but the top 4 countries at cadets and seniors are the same. The major difference is that team USA passed Azerbaijan for third place and almost reached Iran for second at the senior level. It's clear the best wrestlers in the world are developed at an early age and Russia, Iran, USA and Azerbaijan have the best systems for developing and maintaining that talent.
After the top four, the variance in top countries from Cadet Worlds to Senior Worlds is notable. Turkey, Cuba, and Georgia took noticeable leaps forward from Cadets to Seniors compared to Japan and India decent after age-level competitions. There are at least two reasons for this variance. First, Japan and India might be future contenders in challenging the top 5 countries at senior worlds and enough time has not yet passed for their young talent to develop. The other option is that Japan and India are developing their talent faster and younger than other countries. Combine that quick development with Georgia, Turkey and others having a more long term approach.
Time will continue to prove how each country is developing their talent and how that translates to the senior level. One things for sure, this year's Cadet Worlds will be a testing ground for the best young wrestlers in the world and will allow us to see who's ready to perform at the next level.