2021 US Marine Corps Junior and 16U National Championships
Can This Ohio Roster Finish Top 3 Like They Did Last Fargo?
Can This Ohio Roster Finish Top 3 Like They Did Last Fargo?
Ohio is bringing 6 nationally ranked guys to Fargo, including 2019 double champ Seth Shumate, but their teams will be have depth with unranked guys as well.
Jul 6, 2021
by JD Rader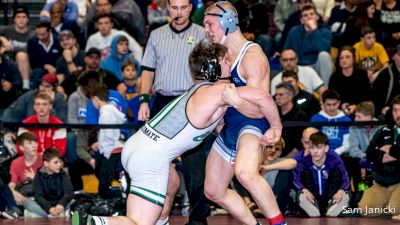 Unlock this video, live events, and more with a subscription!
Get Started
Already a subscriber? Log In
In 2019, Ohio finished 3rd in 16U freestyle and 2nd in Junior freestyle. While Ohio is bringing a decent roster with six nationally ranked guys, a couple of their best will be missing. Most notably, #1 at 106 Beric Jordan as well as graduated seniors Paddy Gallagher, Victor Voinovich, Alek Martin, and Logan Messer. Their Junior squad is adding depth with guys just on the outside looking in of the national rankings, but it would be pretty shocking if Ohio is able to repeat their success from last Fargo.
You can view the USA Wrestling roster release HERE.
Junior Seth Shumate is no stranger to success in Fargo. The Ohio State commit dominated his way to a title in both freestyle and Greco in 2019. Shumate will get a chance at redemption over #4 Martin Cosgrove as he was listed on New Jersey's roster that was released late last week. Cosgrove pinned Shumate at Super 32 in the fall.
Watch Seth Shumate win the 2019 16U 195 lb Fargo title below.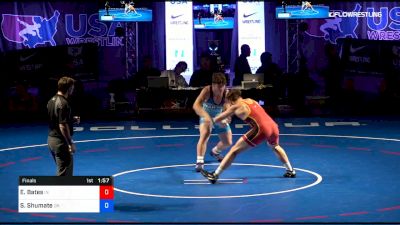 Dylan Fishback is another top-10 nationally ranked 195-pounder from the Buckeye State. While Shumate was the D1 Ohio state champion at 195, Fishback was the D2 Ohio state champion at 195. Freestyle might be his best style. At the 2019 Cadet World Team Trials the Aurora native picked up wins over Cael Valencia, Manny Rojas, John Martin Best, and Elise Brown Ton. He will be attending NC State in the fall of 2022.
Watch Dylan Fishback take out Cael Valencia below.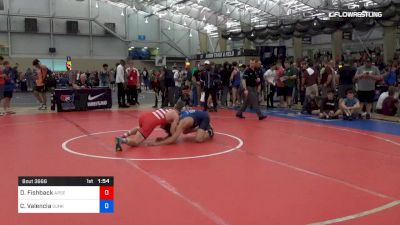 220 pounder Ben Vanadia has already been on Purdue's campus and training with his Boilermaker teammates for a month. He was the favorite to win Ohio state titles in both 2020 and 2021 before COVID and an injury forced him out of both tournaments.
Ranked Guys
#5 at 195 Seth Shumate
#6 at 220 Ben Vanadia
#8 at 195 Dylan Fishback
#10 at 106 Jaxon Joy
#18 at 120 Omar Ayoub
#19 at 132 Richard Delsannter
Others To Watch
Junior 120 - Dillon Campbell
Junior 126 - Samuel Cartella
Junior 132 - Jake Niffenegger
Junior 138 - Ismael Ayoub
Junior 170 - Luke Geog
Junior 182 - Jake Evans
Junior 220 - Logan Shepard
16U 145 - Joseph Blaze
16U 195 - Carter Neeves
Carter Neeves is definitely a name to circle. Just a freshman, he fell in the state finals this year, but was a Super 32 placer in the fall and had a great performance at 16U National Duals going 7-0 with wins over Sonny Sasso and McCrae Hagarty.
Dillion Campbell and Joseph Blaze were Ohio state champions this year as freshman and sophomore, respectively.
Jake Niffenegger and Luke Geog were both state finalists and NHSCA finalists. Geog actually won NHSCAs while Niffenegger finished in 2nd place.
Men's - Junior Freestyle
100 Nicholas Lawrensen
106 Lacy Harvey
113 Austin McBurney, Codie Cuerbo, Tyler Hisey, Connor Drummond, Trevor Hisey, Leo Riley
120 Anthony Perez, Dillon Campbell, Marlon Yarbrough, Matthew Ellis, Sean Seefeldt, Vinnie D'Alessandro, Gavin Caprella, Ty Daugherty, William Zaborski
126 Zane Van Voorhis, Brennen Cernus, Dominic Hoffarth, Kaden Jett, Samuel Cartella, William Davidson, Corey Haney
132 Jeremy Ginter, Max Shore, Garett Lautzenheiser, Jack Sparent, Jake Niffenegger, Kenneth Lambert, Kyren Butler, Richard Delsanter
138 Ismael Ayoub, Ethan Mitchell, Mason Fitch, Davin Rhoads, Andrew Magness, Gavin Owens, Jeremiah Mckee
145 Nick Abounader, Colin Roberts, Conner Burrus, Gavin Brown, Kael Voinovich, Landen Hacker, Nathan Burnett, Nolan Gessler, Troy Kennedy, Wyatt Abele, Zander Graham
152 Maclain Morency, Samuel Wegesin, Kody Goffin, Christopher Earnest, Connor Euton, Erich Trinski, Logan Ours
160 David Davis, Gunner Endicott, Dez'monde Gartrell, Maxwell Kirby, Tim Smith, James Scavuzzo
170 Aidan McStay, Dylan Newsome, Jackson Hawker, Luke Geog, Sam Rhodes, Seth Kroeger
182 Khamil Abdul, Mitchell Broskie, Brentan Simmerman, Lincoln Splete, Cole Hivnor, Jake Evans
195 Brennon Braud, Zackery Burroughs, Nicholas Hickman, Seth Shumate, Dillonn Davidson, Blake Schaffer, Dylan Fishback, Shawn Earle
220 Austin Kohlhofer, Gary Powell, Joey Scally, Logan Shephard, Lucas Coomer, Mason Cover, Ben Vanadia, ylan Russo
285 Brodie Stevens, Ryan Elrod
Men's 16U Freestyle
88 Javaan Yarbrough
94 Rocco Czarnecki
100 Jared Johnston, Joseph Curry, Colyn Limbert, Parker Pikor, Mason Rohr, Riley Rowan
106 Adam Butler, Anthony Rocco, Johnny Green
113 Connor Novosel, Jack Deboe, Adam Gelman, Adam Makour, Kolten Barker, Marcus Blaze, Jaxon Joy, Joseph Romano
120 Ruben Lorenzana, Ryan Avalos, Kade Brown, Phoenix Contos, Landen Duncan, Braden Hahlen
126 Omar Ayoub, Nicholas Blackburn, Nathan Dulcie, Kaden Mellon, Lucan O'Brien, Chase Pluhar, Trenton Sigler
132 Anwar Alli, Jared Goldberg, Dylan Rhoads, David Backus, Brock Herman, Connor Holm, Lance Overmyer
138 Antonio Shelley, James Simms, Jake Taylor
145 James Chance, Brodie Dominique, Jace Margraf, Tyrel Miller, Jake Wood, Cameron Mink, Joseph Blaze, Chase Crutchley, Elhaji Niang, Adam Ramsey
152 Joshua Greenwood, Flint Guerra, Hunter Martin, Jarrel Miller Jr, Nathan Rebman, Hunter Andel, Wynton Denkins, Nick Humphrys, Luke James, Andrew Parish
160 Oliver Byerly, Hayden Randolph, Omarion Carter, Tommy Freeman, Arthur Oravec
170 Vaughn Nguyen, Isaiah Schlegel, John Moyer, Demei Brown, Oliver Deardorff, Carson Mize, Keegan Sell, Connor Havill
182 Ben DiMarco, Riley McPherson, Luke Vanadia
195 Zachary Delsanter, Camden McDanel, Carter Neves, Calvin Crawford, Julien Griffith
220 Max Vanadia, Davian Greenlee, Lukas Stiles
285 Aidan Fockler, Will Greenberg, Edward Powers, Mustafa Woodi
---
The Ohio women are bringing a similar squad as their male counterparts with five top-10 and nine total nationally ranked girls. Kendall Bostelman, Chloe Dearwester, Jose Davis, Taryn Martin, Riley Banyas, and Allysa Pirro will all be up in weight from where they competed earlier this year. Whereas Savanah Isaac will actually be down in weight.
Watch Chloe Dearwester win 2021 Folkstyle Nationals below.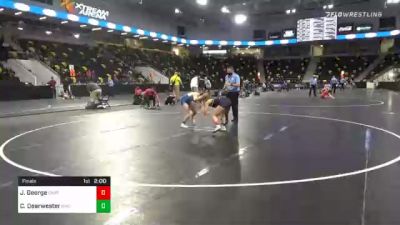 Unlock this video, live events, and more with a subscription!
Get Started
Already a subscriber? Log In
Ranked Girls
#5 at 138 Kendall Bostelman
#8 at 106 Chloe Dearwester
#8 at 122 Jose Davis
#9 at 200 Savannah Isaac
#10 at 164 Taryn Martin
#15 at 100 Riley Banyas
#25 at 100 Makayla Young
#25 at 138 Allysa Pirro
Women's Junior
100 Vita Rose Savage, Makayla Young
106 Riley Banyas, Emma Swart
112 Chloe Dearwester, Raegan Briggs, Lucy Scheibeck, Cali Leng
117 Dakota Propeck, Lexi Simmons
122 Lydia Gould, Cerenity Bergeron
127 Josie Davis, Grace Jones, Melania Szawranskyj, Cadence Wallace
132 Carmela Castaneda
138 Lacie Reese, Alexus Shaneyfelt
144 Lilly Kinsel, Kendall Bostelman, Allyssa Pirro
152 Katelyn Palmer, Lyndsee Young
164 Emily Jirousek, Sol Yudely Franco Moreno
180 Francesca Lanese, Savannah Isaac, Taryn Martin
225 Madeleine Wadesisi
Women's 16U
100 Vita Rose Savage
106 Scotlyn Adams
112 Raegan Briggs, Chloe Dearwester, Addison Rudolph, Lucy Scheibeck
117 Cali Leng, Gennaveve Matt
122 Lydia Gould, Gwenivere Matt, Leena Blanton
127 Kelcey Dew, Madeline Meyers
132 Cassia Zammit, Meredith Milligan
144 Lilly Kinsel, Karlie Stith
152 Isabell Carrington
164 Emily Jirousek, Aubrey Reese
180 Savannah Isaac
---
Junior Greco-Roman
100 Nicholas Lawrensen
106 Lacy Harvey
113 Connor Drummond, Leo Riley, Trevor Hisey
120 Gavin Caprella, Ty Daugherty, William Zaborski
126 Corey Haney, Zane Van Voorhis, Brandon Sauter, Caleb Edwards
132 Jeremy Ginter, Max Shore, Corbyn Cunningham, David Gelman, Griffin Burkle
138 Ethan Mitchell, Ismael Ayoub, Nathan Kulbe, Jared Counts
145 Christian Giltz, Colin Roberts, Nick Abounader, Fernando Riselli, Josiah Kennedy
152 Maclain Morency, Samuel Wegesin, London Settles, Kody Goffin, Teagan Hendricks, Zavier Campsey
160 Dez'monde Gartrell, Gunner Endicott, Maxwell Kirby, Tim Smith, Raymond Greene, Brad Hornback
170 David Davis, Braylon Gartrell, Camren Foster, Haden Offenberger, Mason Stanley, Ryan Healy
182 Mathis Webb, Brentan Simmerman, Khamil Abdul, Conner Rogers, Hayden Berry
195 Brennon Braud, Nicholas Hickman, Seth Shumate, Zackery Burroughs, Brayden Easton, Rashawn Turner
220 Austin Kohlhofer, Gabriel Maxwell, Gary Powell, Joey Scally, Logan Shephard, Lucas Coomer, Mason Cover
285 Brodie Stevens, Chris Reber, Gage Gibson, Riley Ucker, Chance Robinson, Colin Shelton
Men's - 16U Greco-Roman
88 Javaan Yarbrough
94 Rocco Czarnecki
100 Jared Johnston
106 Adam Butler, Anthony Rocco
113 Jack Deboe, Adam Gelman, Cameron Kuba, Connor Novosel, Rahul Raghuram, Samson St.germain
120 Adam Makour, Jack Oster, Garran Leffel, Ruben Lorenzana,Phoenix Contos
126 Omar Ayoub, Nicholas Blackburn, Jackson Bartels, Logan Besecker, Jackson Collins, Evan Metzger
132 Anwar Alli, Jared Goldberg, Dylan Rhoads, William Bein, Cameron Mink
138 Antonio Shelley, Authur Croom
145 James Chance, Brodie Dominique, Jace Margraf, Tyrel Miller, Maxwell Cooper
152 Flint Guerra, Hunter Martin, Jarrel Miller Jr, Nathan Rebman, Joshua Greenwood
160 Oliver Byerly, Hayden Randolph, Demei Brown
170 Oliver Deardorff, Carson Mize, Keegan Sell, Connor Duvall, Hunter Randall
195 Julien Griffith, Calvin Crawford
220 Davian Greenlee, Lukas Stiles
285 Aidan Fockler, Will Greenberg, Edward Powers, Mustafa Woodi