Olympic Games Watch Party
86kg U - What Colleges Have Produced The Best At 86kg For Team USA
86kg U - What Colleges Have Produced The Best At 86kg For Team USA
An outline of the colleges that have produced the best 86kg wrestlers for Team USA since 1990.
Jul 3, 2021
by Jon Kozak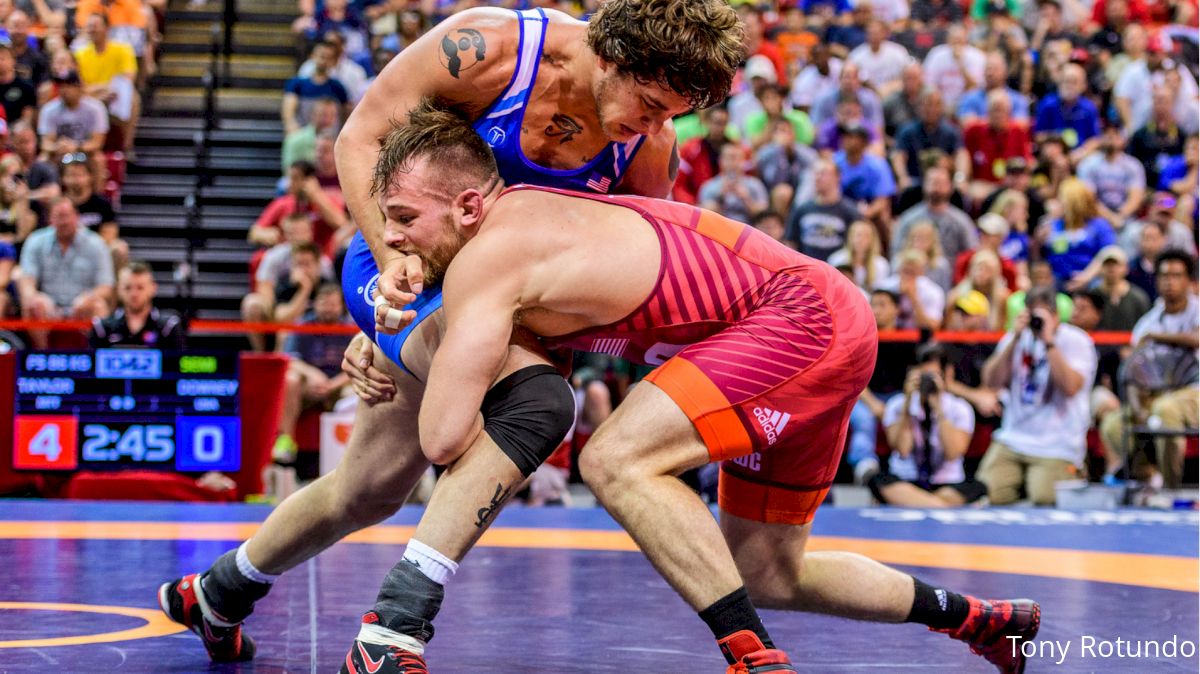 Unlock this article, live events, and more with a subscription!
Get Started
Already a subscriber? Log In
David Taylor will represent the United States at the Olympics at the 86kg weight class this August in Tokyo. Leading up to the Olympic Games, we'll be exploring what colleges contribute the most World/Olympic team members and medals by weight class. In this article, we'll analyze the last 30 years of results at 86kg from worlds and Olympics to see what college produces the best 86kg wrestlers.
Iowa State Leads The Way At 86kg
Over the past 30 years, Iowa State graduates have accounted for one third of the World/Olympic Team representatives at 86kg for Team USA. Those 10 teams are divided between 3 individuals - Kevin Jackson (1991-1995), Cael Sanderson (2002, 2003, 2004, & 2011), and Pat Downey (2019). Of the schools that had representatives at 86kg from 1990-2021, only Iowa and Penn State had various reps. Iowa had Royce Alger back in 1990 and Joe Williams in 2006. Penn State has come on stronger in the last 10 years with Ed Ruth (2014) and David Taylor (2018 and 2021).
Take a look at a complete breakdown of 86kg reps by college since 1990: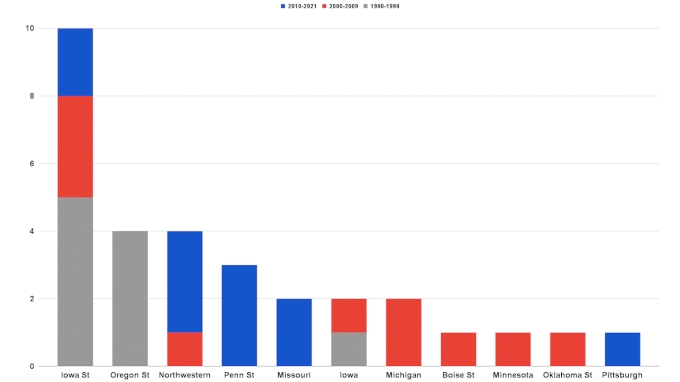 While Northwestern and Oregon St. are tied for second, their reps came from one individual each. Les Gutches (Oregon St.) dominated the second half of the 1990s and was the rep from 1996-1999. Jake Herbert (Northwestern) took a different route and made his 4 teams over a period of 7 years (2009, 2010, 2012, and 2015). Take a look at the rest of the representatives for Team USA at 86kg:
Charles Burton (Boise State) - 2000
Brandon Eggum (Minnesota) - 2001
Mo Lawal (Oklahoma State) - 2005
Andy Hrovat (Michigan) - 2007-2008
Keith Gavin (Pittsburgh) - 2013
J'den Cox (Missouri) - 2016-2017
Medals At 86kg
Thanks to the performances of Kevin Jackson and Cael Sanderson, Iowa State once again leads the way in medals won at 86kg. Jackson's 3 golds and Sanderson's 1 gold and 1 silver put Iowa State's total at 5. Les Gutches (1 gold and 1 bronze) and J'den Cox (2 bronze) put Oregon State and Missouri in second place. Take a look below to get a visual of the colleges and individuals who brought home medals for Team USA at 86kg: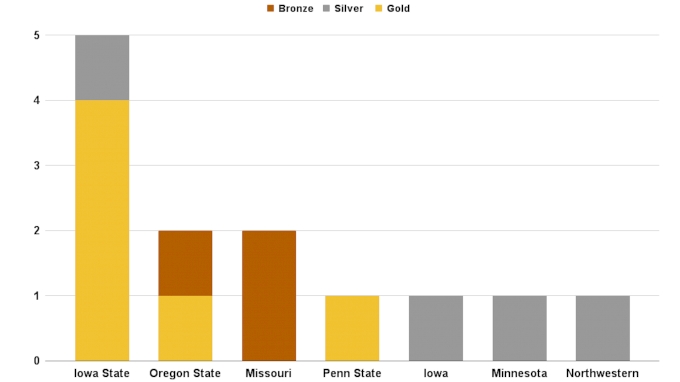 Most of the medals won at 86kg for each university come from one individual. Once again, only Iowa state and 2 medalists across the 3 decades at 86kg. The graph below breaks down the medals won for Team USA at 86kg by individual rather than school.
Individual Medalists At 86kg: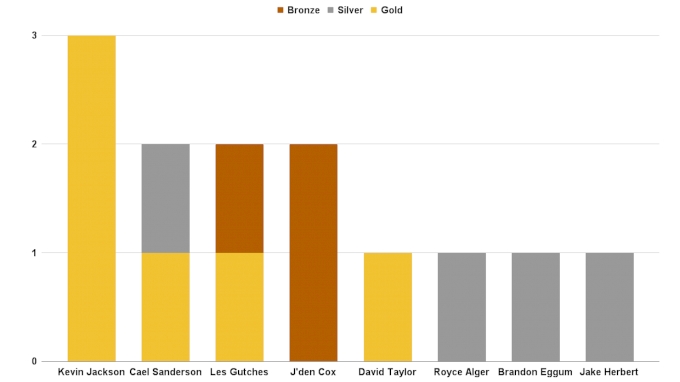 86kg Medalists for Team USA Since 1990:
Kevin Jackson (Iowa State) - 3 Golds
Cael Sanderson (Iowa State) - 1 Gold, 1 Silver
Les Gutches (Oregon State) - 1 Gold, 1 Bronze
J'den Cox (Missouri) - 2 Bronze
David Taylor (Penn State) - 1 Gold
Jake Herbert (Northwestern) - 1 Silver
Brandon Eggum (Minnesota) - 1 Silver
Royce Alger (Iowa) - 1 Silver
David Taylor In Tokyo
Should David Taylor bring home Olympic gold from Tokyo, he would move himself above his coach, Cael Sanderson, into second at 86kg for Team USA in the last 30 years. A gold medal would also move Penn State into second for total medals at 86kg behind Iowa State. Taylor will be considered the favorite at the Olympics but will be challenged primarily by defending 86kg World Champion, Hassan Yazdani (IRI).
Also of note, David Taylor is only the 4th Penn State alum to make Team USA's Olympic Team. He follows in the footsteps of Ken Chertow (1988), Kerry McCoy (2000 and 2004) and Frank Molinaro (2016). If Taylor medals, he'll be the first Penn State wrestling grad to win a medal for Team USA. Penn State has also had two wrestlers compete for Japan's Olympic team - Sanshiro Abe (1996) and Katsutoshi Naito (1924). Naito won a bronze medal at the 1924 Olympics in Paris while Abe failed to place at the '96 Games in Atlanta.
Check out a full preview of 86kg at this year's Olympics here.
See where David Taylor stacks up in our Olympian Rankings here.
*86kg has been a weight at Worlds/Olympics since 2014. Since 1990, the weight similar to 86kg has changed numerous times - 82kg from 1990-1996, 85kg from 1997-2001, and 84kg from 2002-2013. For consistency, we referred only to 86kg but used data from the aforementioned weights.