Olympic Games Watch Party
57kg U - What Colleges Have Been The Best At 57kg?
57kg U - What Colleges Have Been The Best At 57kg?
An outline of the colleges that have produced the best 57kg wrestlers for Team USA since 1990.
Jun 22, 2021
by Jon Kozak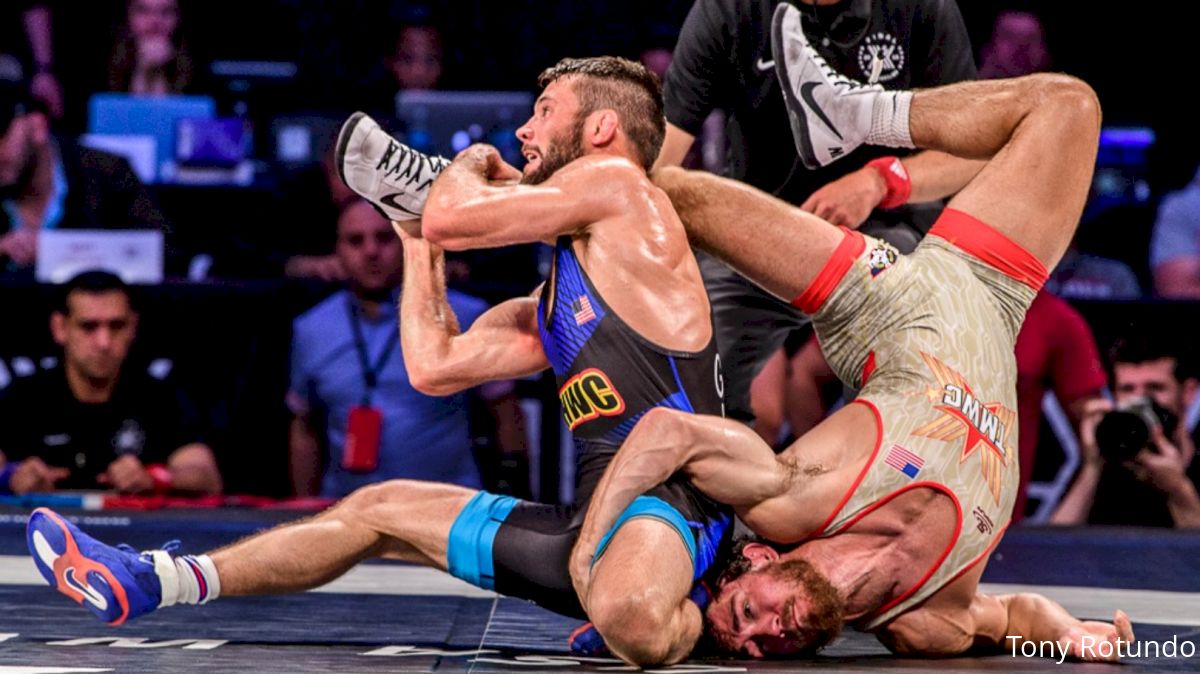 Unlock this article, live events, and more with a subscription!
Get Started
Already a subscriber? Log In
Thomas Gilman will represent the United States at the Olympics at the 57kg weight class this August in Tokyo. The Iowa graduate is continuing the trend of Hawkeyes representing Team USA at 57kg. In this article, we'll explore the last 30 years of world and Olympic team members at this weight class to see what college produces the best 57kg wrestlers.
Iowa Is Back On Top
Since 1990, the University of Iowa has consistently produced the best wrestlers in the United States at the 57kg weight class. There have been 35 world team opportunities at or around 57kg (weight classes in the 1990s/2000s were slightly different). A University of Iowa graduate was the representative for Iowa at 57kg 12 out of the 35 times. When looking at the data below, Iowa clearly dominated the 1990s and 2010s. However, they experienced a dip and only had 1 representative at 57kg from 2000-2009 - Terry Brands (2000). Take a look at the data outlining the colleges with world team representatives at 57kg since 1990: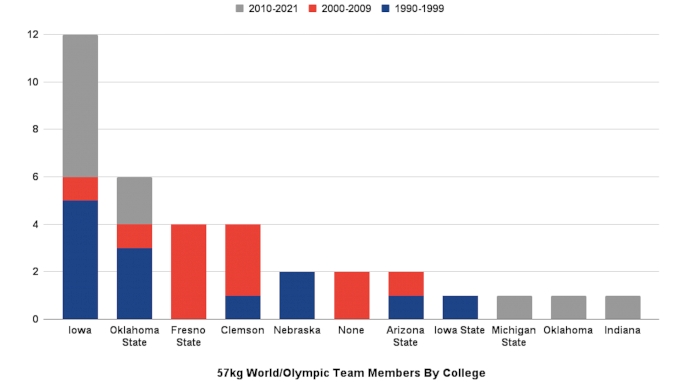 The Wrestlers Behind The Numbers
Equally as impressive for Iowa at this weight class are the various wrestlers behind the 12 teams. In the 30 year period, 6 different Iowa graduates rose to the top of Team USA at 57kg to wrestle at worlds/Olympics. Those six wrestlers are Joe Melchiore (1990), Brad Penrith (1991), Terry Brands (1993, 1994, 1995, 2000), Tony Ramos (2014, 2015) , Daniel Dennis (2016), and Thomas Gilman (2017, 2018, 2021). Oklahoma State is the only college to come close to Iowa with the variety of representatives during this time period at 4 - Kendall Cross (1992, 1996), Eric Guerrero (1999, 2001), Obe Blanc (2010), and Daton Fix (2019).
While Clemson and Fresno State are tied for 3rd, their representatives come from 1 wrestler each - Sammie Henson (Clemson-1998, 2000, 2005, 2006) and Stephen Abas (Fresno State - 2001, 2002, 2003, 2004). In fact, Arizona State is the only other university to have multiple reps at this weight - Zeke Jones (1997) and Danny Felix (2009). Take a look below at the remaining wrestlers who competed for Team USA at 57kg during this time period:
Tony Purler (Nebraska - 1997, 1998)
Eric Akin (Iowa State - 1999)
Henry Cejudo (No College - 2007, 2008)
Nick Simmons (Michigan State - 2011)
Sam Hazewinkel (Oklahoma - 2012)
Angel Escobedo (Indiana - 2013)
Medals At 57kg
Along with the number of representatives, Iowa also leads the way with medals won for Team USA at 57kg since 1990. The six different reps from Iowa at 57kg took home 5 total medals in their 12 opportunities. However because of the 3 world medals won by Sammie Henson, this race is a bit closer. This data also illustrates the challenge Team USA has faced in medaling at 57kg at worlds/Olympics. Thomas Gilman's silver medal at the World Championships in 2017 was the first at the weight since Henry Cejudo's gold in 2008 and the first for Iowa at the weight since Terry Brands' bronze in 2000. Take a look below to see the amount of medals represented by college...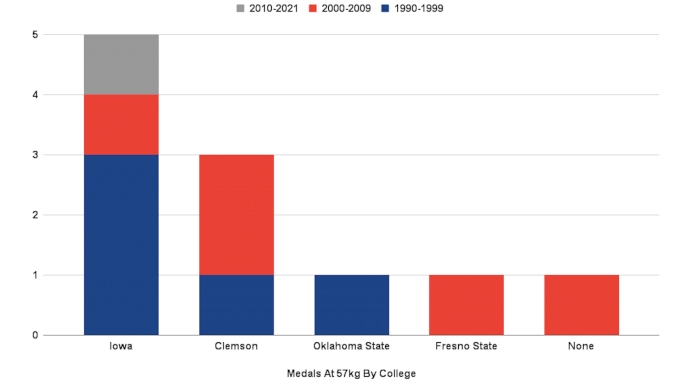 All the wrestlers who have won medals for Team USA at 57kg since 1990:
Terry Brands (Iowa) - 2 Golds, 1 Bronze
Sammie Henson (Clemson) - 1 Gold, 1 Silver, 1 Bronze
Kendall Cross (Oklahoma St.) - 1 Gold
Henry Cejudo - 1 Gold
Brad Penrith (Iowa) - 1 Silver
Stephen Abas (Fresno St.) - 1 Silver
Thomas Gilman (Iowa) - 1 Silver
You can see a full preview of this year's 57kg Olympic field here. Thomas Gilman will once again face a deep field in Tokyo with 2 past world champions and 5 other world medalists. Should Gilman medal, he'll cement himself as one of the top 5 57kg wrestlers in the last 30 years.
*57kg was a weight from 1990-1996 and 2014-present. For this article, we referenced the present weight class, 57kg, but used data from past similar weight classes - 54kg (1997-2001), 55kg (2003-2013) and 58kg (1997-2001).