Olympic Games Watch Party
74kg U - What Colleges Have Been The Best At 74kg?
74kg U - What Colleges Have Been The Best At 74kg?
An outline of the colleges that have produced the best 74kg wrestlers for Team USA since 1990.
Jun 28, 2021
by Jon Kozak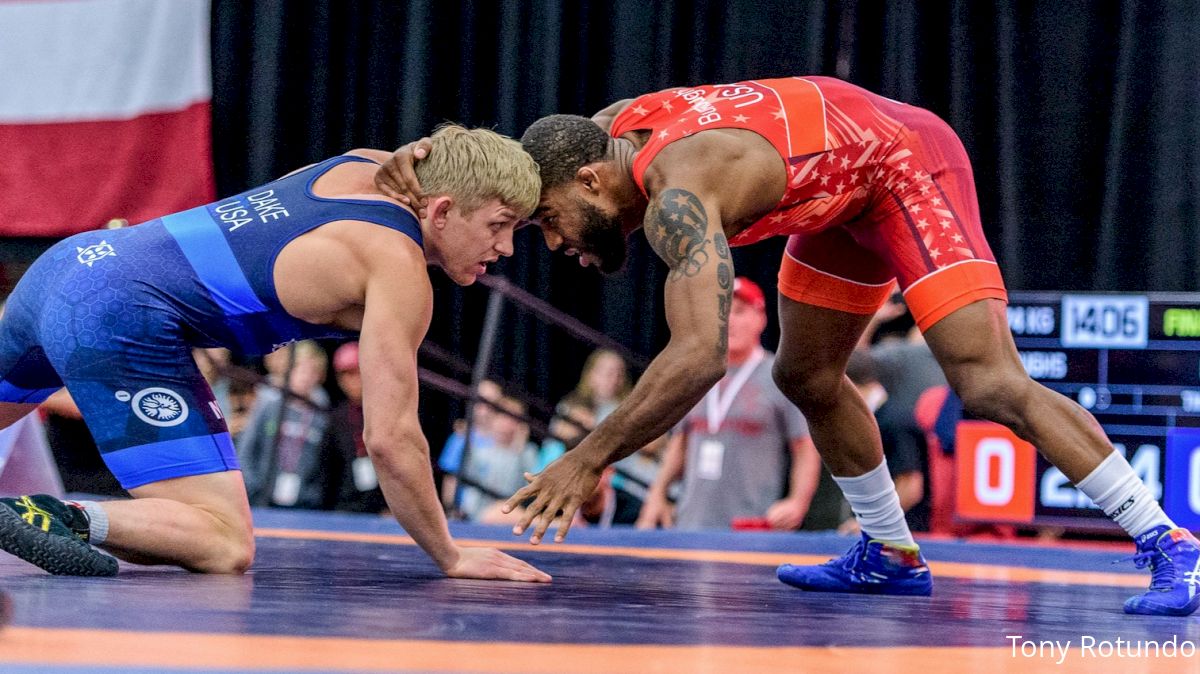 Unlock this article, live events, and more with a subscription!
Get Started
Already a subscriber? Log In
Kyle Dake will represent the United States at the Olympics at the 74kg weight class this August in Tokyo. Leading up to the Olympic Games, we'll be exploring what colleges contribute the most World/Olympic team members and medals by weight class. In this article, we'll analyze the last 30 years of results at 74kg from worlds and Olympics to see what college produces the best 74kg wrestlers.
The Jordan Burroughs Factor
Thanks to Jordan Burroughs making 9 straight world teams from 2011-2019, Nebraska has been on top at 74kg since 1990. It's remarkable 1 wrestler can make the difference when for 30 years worth of results, but that's how dominant Jordan Burroughs has been at 74kg. Going into 2010, Iowa was in a clear lead with 6 team members at 74kg. Oklahoma and Oklahoma State were tied for second at three teams each. What's also notable in the data below is only Iowa and Iowa State had world team members across various decades.
Take a look at every college that had a 74kg World/Olympic Team Member since 1990:
The Wrestlers Behind The Numbers
As already mentioned, Jordan Burroughs made 9 straight teams from 2011-2019 at 74kg. Burroughs alone put Nebraska in the top spot. Also, Iowa, Oklahoma St. and Oklahoma all received their world/Olympic team members from one wrestler. Joe Williams (Iowa) made 5 straight teams from 2001-2005, and 1 team in 1999. Going back further, Kenny Monday (Oklahoma St.) and Dave Schultz (Oklahoma) traded spots on the world team from 1991-1996. Iowa State is the only university that had multiple representatives at 74kg in the 30 year span with Joe Heskett (2007) and Travis Paulson (2010).
Take a look at the rest of the wrestlers to represent Team USA at 74kg:
Rob Koll (North Carolina) - 1990
Dan St. John (Arizona St.) - 1997
Steve Marianetti (Illinois) - 1998
Brandon Slay (Penn) - 2000
Donny Prittzlaff (Wisconsin) - 2006
Ben Askren (Missouri) - 2008
Dustin Schlatter (Minnesota) - 2009
Medals
Since 1990 Team USA has brought home 15 medals from the 74kg weight class. Of those 15, they won 6 golds, 3 silvers and 6 bronze medals. Once again, Jordan Burroughs is the difference maker here with his 8 total medals - 5 golds and 3 bronze. The graphs below show how much Jordan Burroughs set Nebraska apart from the rest of the group and how that brought unparalleled success from the last decade compared to the first two.
Medals by College at 74kg since 1990: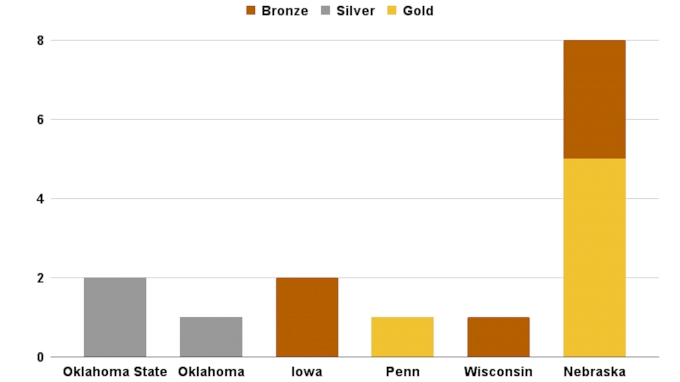 Medals by decade at 74kg since 1990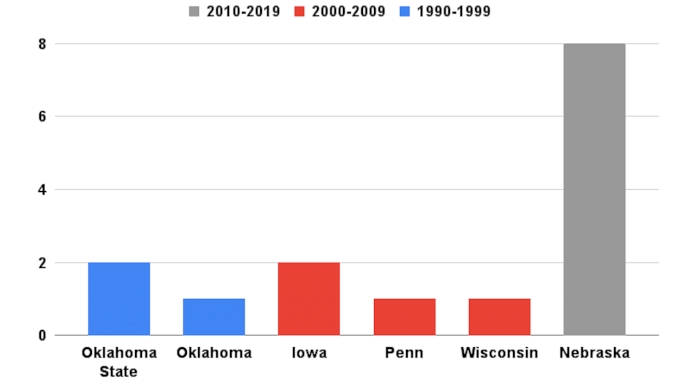 After Burroughs, Team USA had 5 other wrestlers take home medals from the World Championships and Olympic Games.
All medalists for Team USA at 74kg from 1990-2021:
Jordan Burroughs (Nebraska) - 5 Golds, 3 Bronze
Brandon Slay (Penn) - 1 Gold
Kenny Monday (Oklahoma St.) - 2 Silvers
Dave Schultz (Oklahoma) - 1 Silver
Joe Williams (Iowa) - 2 Bronze
Donny Pritzlaff (Wisconsin) - 1 bronze
Kyle Dake In Tokyo
Kyle Dake will look to continue the success Team USA has experienced at 74kg. Dake is also Cornell's first Olympic wrestler since David Auble at the 1964 Olympics (coincidentally also held in Tokyo). Should Dake medal, he'll be the first Cornell wrestler to do so in over 100 years. Charles Ackerly is the only former Cornell wrestler to medal at the Olympics when he won gold at the 1920 games!
Check out where Kyle Dake stacks up in the Olympian Rankings at 74kg here and see a full preview of this year's 74kg Olympic field here.
*74kg was a weight from 1990-1996 and 2002-present. For this article, we referenced the present weight class, 74kg, but used data from past similar weight class - 76kg (1997-2001).