NCAA Preseason Coverage
Way Too Early Lineup Look: 2021-2022 Oklahoma State Cowboys
Way Too Early Lineup Look: 2021-2022 Oklahoma State Cowboys
Bratke breaks down what Oklahoma State's lineup could look like next season.
May 3, 2021
by Kyle Bratke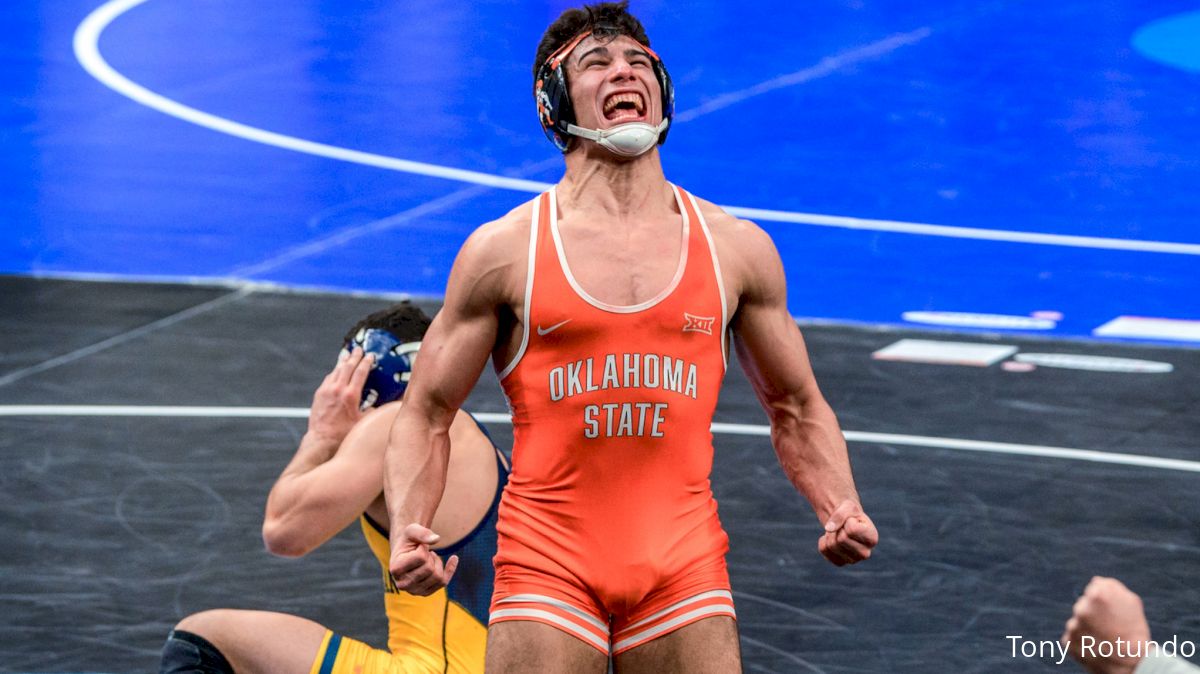 Unlock this article, live events, and more with a subscription!
Get Started
Already a subscriber? Log In
After finishing tied with rival Oklahoma at the Big 12 Championship, Oklahoma State more than exceeded expectations at the NCAA Championships as they crowned six All-Americans on their way to a third-place finish. Five of those six All-Americans will likely return along with two freshmen who won matches at the NCAA Championships, and a wrestler who fell in the bloodround. Couple all of that with a potential big-name transfer, and the Cowboys should once again be in contention for a team trophy.
2021-22 Oklahoma State Projected Lineup
125: Trevor Mastrogiovanni
133: Daton Fix
141: Dusty Hone
149: Kaden Gfeller/Victor Voinovich
157: Wyatt Sheets
165: Travis Wittlake
174: Dustin Plott
184: Dakota Geer/Anthony Montalvo
197: AJ Ferrari
285: Austin Harris
Other Lineup Looks: Iowa | Penn State | Cornell | NC State | Arizona State
125: Trevor Mastrogiovanni, SO
Most true freshmen who crack the starting lineup have ups and downs throughout the season, but the Blair product put together a consistent 15-6 season. All six losses came to either All-Americans or wrestlers who finished the season ranked in the top 22. Mastrogiovanni was 2-2 in his first trip to the NCAA Championships and picked up a big win over fellow true freshman stud Dylan Ragusin. The Cowboy finished the season ranked #16 and could potentially start next season inside the top 15 if wrestlers ranked ahead of him redshirt or move up to 133. With this year not counting towards athlete's eligibility, Mastrogiovanni will have another four cracks at the NCAA Championships.
133: Daton Fix, JR
Two trips to the NCAA Championships, two trips to the NCAA finals, two runner-up finishes for Daton Fix. After returning from suspension on Valentine's Day, Fix was 13-0 with 11 bonus point wins on the way to his second NCAA finals appearance. However, he suffered his lone setback of the year on the big stage when Roman Bravo-Young secured a takedown in sudden victory. Fix will once again be a title contender next season, and if he chooses so, could compete for three more seasons.
Not the outcome he wanted, but still an amazing sophomore season for Daton Fix.

13-1 record with 11 bonus-point wins
Won his 2⃣nd Big 12 championship
Earned All-America honors for the 2⃣nd time
National Runner Up#DynastyDefined I #GoPokes pic.twitter.com/iBHiBKen3E

— OSU Cowboy Wrestling (@CowboyWrestling) March 21, 2021
141: Dusty Hone, SR/Potential Transfer
While Hone qualified for the NCAA Championships in 2019 and has wins over All-Americans Tariq Wilson, Kyle Shoop, and Clay Carlson, the Cowboys want more at the weight. John Smith and company are heavily involved in the Real Woods sweepstakes and, from what I understand, feel confident about landing the Stanford transfer. However, he likely wouldn't suit up in the orange and black until January while he works to finish his degree out in Palo Alto.
149: Kaden Gfeller, SR/Victor Voinovich, FR
After going a combined 50-10 his first two years in Stillwater, Gfeller appeared to be blossoming into the star he was in high school. Since then, he is just 10-4 and has struggled to get and stay in the lineup. A year ago, he wrestled 141, 149, and 157 before finally getting the start at the Big 12 Championship at 141 after Kaid Brock's season was ended early due to injury.
After the past two seasons, I'm hesitant to think Gfeller will be the man for the Cowboys from wire to wire. Oklahoma State has had plenty of success wrestling true freshmen right out of the gates. Could Victor Voinovich be the next one? He won an Ohio state title this season at 152 and will likely finish his high school career as a top 10 prospect in the class of 2021.
157: Wyatt Sheets, SR
From not qualifying for the NCAA Championships to earning All-American honors from the #33 seed. Wyatt Sheets' remarkable run was one of the best stories from St. Louis. If you don't know the story, Sheets battled a knee injury all season and failed to qualify for the NCAA Championships. Sheets was set to have surgery two days after the Big 12 Championship but then received news that Justin Ruffin would not be able to compete in St. Louis due to injury and that he was being pulled into the field. Sheets made the most of his opportunity and finished in eighth place. A Sheets at 100% percent is a threat to climb higher on the podium. If Sheets is not ready for the season or doesn't compete, another true freshman could see mat time. Travis Mastrogiovanni and Teague Travis both signed in the class of 2021 and could be potential replacements.
Wyatt Sheets.

From late addition to the tournament to All-American.

Congratulations, Cowboy.#DynastyDefined I #GoPokes pic.twitter.com/t8u923JQzE

— OSU Cowboy Wrestling (@CowboyWrestling) March 20, 2021
165: Travis Wittlake, JR
Outside of an uncharacteristic loss to Luke Weber in the Big 12 Championship semifinal, it was another fantastic season for the young Cowboy star. Wittlake finished with a 22-3 record and a fourth-place finish at the NCAA Championships. In his first two year's in the lineup, Wittlake is now a combined 50-5. With NCAA champions Shane Griffith and Mekhi Lewis potentially moving up to 174, Wittlake is a finalist contender next season.
174: Dustin Plott, SO
After missing his senior year of high school to injury, Dustin Plott stepped in right away for the Cowboys and had a solid true freshman season but was once again hampered by a shoulder injury. On multiple occasions, Plott's shoulder came out of socket mid-match and he was often wearing KT tape or a brace. Earlier this offseason, Oklahoma State was in the mix to land Kent State transfer Andrew McNally which lead me to believe they would like to redshirt Plott if possible. However, last week McNally announced that he would be transferring to Wisconsin. A full offseason to get healthy, and more time in the Cowboy wrestling room, and I expect Plott to be an All-American threat next year. If Oklahoma State does want to redshirt Plott next season, Anthony Montalvo did wrestle two matches at the weight last year.
184: Dakota Geer, SR/Anthony Montalvo, JR
It's my understanding that Oklahoma State expects All-American Dakota Geer back next season. The Pennsylvania native has been 7th and 5th at the NCAA Championships as this weight but will need to take a big jump if he wants to become a title contender and climb the podium. If Geer elects not to use his extra year of eligibility, the Cowboys have Montalvo waiting in the wings. During his time in Stillwater, Montalvo qualified for the NCAA Championships in 2019 when Geer was up at 197 and has wins over Nino Bonacorrsi, Chris Weiler, Nelson Brands, Tate Samuelson, Alan Clothier, Marcus Coleman,
197: AJ Ferrari, SO
It's safe to say the Cowboys are set up pretty nicely here. Ferrari was as advertised as a true freshman, only dropping one match all season and winning a national title by outscoring his opponents 35-7 along the way. Ferrari is now on pace to be a five-time NCAA champion. He's not running away from the field but is definitely the favorite heading into next season.
The quickest, slickest and fastest Ferrari ever built... and he's just getting started 😏 @mrfasttwitch #DynastyDefined I #GoPokes pic.twitter.com/cByKaQkyxg

— OSU Cowboy Wrestling (@CowboyWrestling) March 23, 2021
285: Austin Harris, SR
After going just 5-12 as an undersized sophomore, Harris was remarkably improved as a junior making the bloodround at the NCAA Championships and picking up wins over Matt Stencel, Zach Elam, Wyatt Hendrickson, and Quinn Miller. Harris will begin the season ranked inside the top 12 and will once again be an All-American threat next season.