2021-2022 NCAA Campus Visits
Way Too Early Lineup Look: 2021-2022 Iowa Hawkeyes
Way Too Early Lineup Look: 2021-2022 Iowa Hawkeyes
Taking a look at who should be the starter at all 10 weight classes for the Iowa Hawkeyes during the 2021-2022 season.
Apr 8, 2021
by JD Rader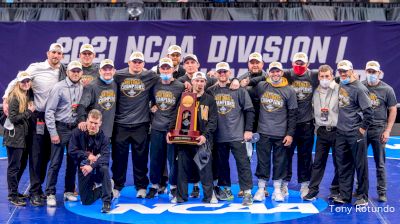 Unlock this article, live events, and more with a subscription!
Get Started
Already a subscriber? Log In
The 2021 NCAA Champion Iowa Hawkeyes aren't going anywhere next season. All six seniors from the team have confirmed they'll be using their extra year of eligibility and returning. Meaning, Iowa will most likely have the exact same lineup that won them a team title.
2021-22 Iowa Projected Lineup
125: Spencer Lee
133: Austin Desanto
141: Jaydin Eierman
149: Max Murin
157: Kaleb Young
165: Alex Marinelli
174: Michael Kemerer
184: Nelson Brands
197: Jacob Warner
285: Anthony Cassioppi
125: Spencer Lee, SR
Luckily for everyone not competing against the Hawkeyes next year, Spencer Lee will be returning to try and become just the fifth 4X champion in NCAA wrestling history, the second 3X Dan Hodge Trophy Award winner, the greatest Hawkeye wrestler of all time, and one of the greatest collegiate wrestlers of all time.
Spencer is undefeated since his 2019 Big Ten finals loss to Sebastian Rivera. In those 34 matches, the closest was a 5-0 win over Jack Mueller in the 2019 NCAA finals.
Watch Spencer Lee win the 2020 NCAA title with no ACLs below.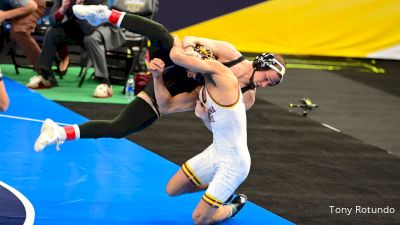 Unlock this video, live events, and more with a subscription!
Get Started
Already a subscriber? Log In
133: Austin Desanto, SR
Austin Desanto got on the podium for the second time in his career with his third-place finish in St. Louis. While 133 might not have been what it was two or three years ago, that is still an impressive result. Finalists Roman Bravo-Young and Daton Fix gave Desanto his only two losses of the season, but with both of those guys still with years of eligibility, Desanto is going to have to make some improvements if he wants to get to the top of the podium in Detroit.
141: Jaydin Eierman, SR
A lot has been made of Michael Kemerer coming back for a seventh year, but I feel as though not much has been made of Jaydin Eierman using a seventh year as well. Because Eierman took an Olympic redshirt in 2020, he could become one of the five-time All-Americans we will be seeing over the next handful of years. I know the overtime loss in the NCAA finals to Nick Lee isn't sitting well with him and will be motivating him all summer.
149: Max Murin, SR
The first true senior (not a second-year senior) in the Iowa lineup will be Max Murin. After opening strong with four wins last season, Murin lost five of his last seven including going 0-2 at Big Tens. Now, he did redeem one of those two losses at NCAAs and made it to the bloodround. However, the fact still remains that entering his fifth year at Iowa, the Pennsylvania native has never made the podium. Although he did finish 8th in the final NCAA 149 lbs rankings.
157: Kaleb Young, SR
Kaleb Young spent all of last season in the top eight and fought his way to a seventh-place finish at NCAAs. If Young can hold 157 well again, he could likely end up back on the podium. Jesse Dellavecchia has already made it public that he is not coming back, we're not sure on Ryan Deakin yet, Hayden Hidlay is bumping up to 174, and it wouldn't be shocking to see David Carr move up in weight either.
165: Alex Marinelli, SR
It's crazy to think that a guy with just four college losses in the past three seasons has only one All-American finish and it's 7th, but that's the situation Alex Marinelli is in. I'm guessing The Bull isn't satisfied with how last season ended or how his career has played out up to this point. An individual title and another team title would change that.
174: Michael Kemerer, SR
Kemdawg ain't going nowhere.
If you don't know, now ya know....@Hawks_Wrestling pic.twitter.com/FDRcMOaNjv

— Michael Kemerer (@Kem_Daughg65) April 8, 2021
Now a seventh-year senior, Kemerer is almost a lock to pick up his fourth All-American finish. The Murrysville, PA, native has never finished worse than fourth at the national tournament. Penn State's Carter Starocci will be the favorite to repeat next season at 174 lbs as he beat Kemerer in the finals, but don't count Kemerer out. After all, he did beat Starocci 7-2 at Big Tens.
Watch Mike Mal break down Michael Kemerer's outside step in 'Behind The Dirt' below.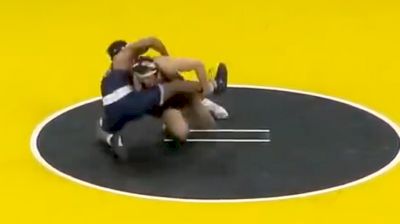 Unlock this video, live events, and more with a subscription!
Get Started
Already a subscriber? Log In
184: Nelson Brands, JR
If you're looking for a whole in the lineup compared to the rest, it's probably 184. That's a stretch however as Nelson Brands finished the season ranked #11 in the country. The sophomore went 8-6 last season in his first year as a full-time starter. There's also the possibility we see Patrick Kennedy at 184. Kennedy only wrestled three matches as a redshirt last season and they all came at 174, but Kemerer returning could force his hand. Kennedy was the #3 overall recruit in the class of 2020 and expectations are very high.
197: Jacob Warner, SR
Jacob Warner has shown steady improvement throughout his career and finished last season 4th at NCAAs and 3rd in the final rankings. The return of AJ Ferrari, Ben Darmstadt, Myles Amine/Patrick Brucki, Rocky Elam, and Jake Woodley will make a title and repeat 4th place finish tough, but Warner proved this year he is more than game.
Watch highlights from Jacob Warner's NCAA consolation semifinal win over Jake Woodley below.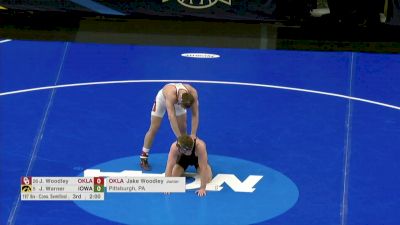 Unlock this video, live events, and more with a subscription!
Get Started
Already a subscriber? Log In
285: Anthony Cassioppi, JR
There are four tiers at heavyweight. Gable Steveson, Mason Parris, Anthony Cassioppi, everyone else. Gable and Mason are the only two people to defeat Big Tone the past two seasons. A 100% Greg Kerkvliet could make things interesting, but barring retirement or injury, Cassioppi is a safe bet for 3rd place as well in 2022.