2021 UWW Junior and Senior Nationals
Anything Can Happen At 79kg
Anything Can Happen At 79kg
79kg is unpredicatable at Senior Nationals for a variety of reasons. See why and check out the list of contenders looking to challenge Isaiah Martinez.
Apr 30, 2021
by Jon Kozak
Unlock this article, live events, and more with a subscription!
Get Started
Already a subscriber? Log In
There are sure to be many upsets this weekend at Senior Nationals. The very nature of an upset is that no one sees it coming. However, there's one weight with all the right conditions for chaos - 79kg.
Watch Junior & Senior Nationals LIVE on FloWrestling
Friday-Sunday, April 30-May 2, 2021
How Will Isaiah Martinez Look?
Under normal circumstances, Isaiah Martinez would be a heavy favorite to win 79kg. The 4-time NCAA Finalist and 2-Time National Champion isn't just the most credentialed folkstyle wrestler in the field, he has also established himself as a threat on the Freestyle scene. Prior to his injury, Isaiah Martinez became just the eighth person on the planet to defeat Jordan Burroughs in freestyle. Martinez isn't a "one-hit wonder" either. Between 2018 and 2019 he compiled a 30-7 record on the senior level and was ranked as high as #13 in the world at 74kg.
Isaiah Martinez techs Jason Nolf: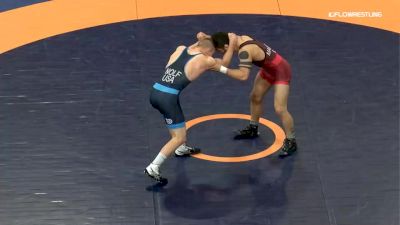 Unlock this video, live events, and more with a subscription!
Get Started
Already a subscriber? Log In
With that in mind, it has been over 18 months since Isaiah Martinez last competed. Martinez underwent shoulder surgery about a year ago and has been off the mat ever since. This could leave him vulnerable and raises a number of questions. What will he look like up at 79? What kind of shape is he in? How does he match-up against a new competition field? Imar will have to answer these questions this weekend against a number of worthy contenders.
Guys In The Streets
While Isaiah Martinez was recovering from injury, David McFadden, Taylor Lujan and Chance Marsteller were competing. These guys weren't just wrestling JV tournaments, they all wrestled some of the best in the country/world...and won. Taylor Lujan took out 2-time NCAA Champ Gabe Dean. Chance Marsteller beat the guy who beat IMar - Vincenzo Joseph (2 times)! McFadden was one of the most active over the past year. Like Masrsteller, McFadden beat Joseph and also traveled on an international tour to compete against some of the best in the world in Ukraine. And while he wasn't successful, McFadden also got to take the mat against both Kyle Dake and Jason Nolf.
The point is obvious - competition makes you better and these three were putting it on the line against high-level competition. Have they improved enough to challenge Isaiah Martinez? If Martinez is taken out this weekend, my bet would be on one of Lujan, Marsteller or McFadden to be the man to do it.
Chance Marsteller beats Vincenzo Joseph: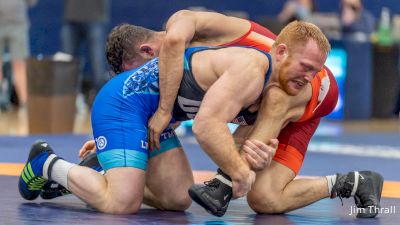 Unlock this video, live events, and more with a subscription!
Get Started
Already a subscriber? Log In
The Wild Cards
Travis Wittlake, Dylan Lydy, Mason Manville, and Muhamed McBryde are the wild cards at 79kg. I don't know what to expect from those 4-because we haven't seen them wrestle much freestyle on the senior level. Travis Wittlake and Dylan Lydy are both great folkstyle wrestlers-what will they look like in freestyle? Mason Manville won a cadet World Title in freestyle back in 2014! He also made a senior greco world team in 2017...why freestyle and why now for Manville? Muhamed McBryde didn't have an outstanding collegiate career but made a U23 world team by taking out guys like Ben Harvey, Kaleb Romero, and Anthony Mantanona. McBryde would then go on to take 5th in the world at the 2019 U23 World Championships.
McBryde, Manville, Wittlake and Lydy are the definition of wild cards. I'm not predicting them to win the whole tournament this weekend, but it wouldn't surprise me if one of them broke through to place top 4 or even make the finals.
Watch McBryde take out Anthony Mantanona: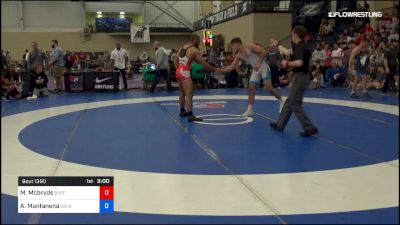 Unlock this video, live events, and more with a subscription!
Get Started
Already a subscriber? Log In
Prediction
Though I said anything can happen, I'm staying safe in my prediction (and consistent with my picks in the MEGA PREVIEW). I'm picking Isaiah Martinez to win over David McFadden in the finals. I don't feel Martinez would enter the tournament unless he was at or near 100%. I also love the way McFadden has been competing lately and think he'll reach the finals (if he's opposite Imar). For third, I have Taylor Lujan over Chance Marsteller. Whatever happens at 79kg, I probably won't be right but it will absolutely be fun to watch!