2021 UWW Junior and Senior Nationals
Junior & Senior Nationals Super King Kong Mega Preview
Junior & Senior Nationals Super King Kong Mega Preview
A thorough accounting of all the action you should expect to see at the UWW Junior World Team Trials and Senior Nationals.
Apr 29, 2021
by Andrew Spey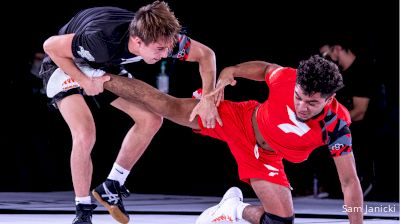 Coralville, Iowa is hosting Junior and Senior Nationals. Below, we preview the senior men's freestyle weight classes and the junior men's freestyle weight classes. The latter also serves as the team trials for the UWW Junior World Championships.
Watch Junior and Senior Nationals LIVE on FloWrestling
Friday through Sunday, April 30-May 2 | Wrestling starts at 11:00AM ET each day
Senior Men's Freestyle Preview
57 Kilograms
Top Contenders
Jakob Camacho, Wolfpack Wrestling Club
It's surprising to see how thin and weak this weight is. As of the early registration deadline, only ten wrestlers will be in the bracket. NC State hammer, Jakob Camacho, is really the only notable entry. Camacho was 7th at 57kg at the 2020 Senior Nationals last October. Ethan Rotundo has a winning record on the collegiate level but has yet to qualify for the NCAA Championship, and has been behind Eric Barnett the past few seasons.
The most interesting entry in the bracket is Troy Dolan. Dolan was a three-time Pennsylvania state champion from 2005-07 before wrestling for two years at Missouri. It didn't work out in Columbia, and after eight years away from the sport, Dolan made a return to the mat for the 2015-16 season at Pitt-Johnstown. It should be interesting to see how he fares this weekend in Coralville.
Bratke's Predictions
Jakob Camacho
Ethan Rotundo
Austin Macias
Troy Dolan
61 Kilograms
Top Contenders
Nahshon Garrett, Titan Mercury Wrestling Club
Daniel DeShazer, Gopher Wrestling Club
Shelton Mack, New York City RTC
Ethan Lizak, New York Athletic Club
Micky Phillippi, Pittsburgh Wrestling Club
Chris Cannon, Wildcat Wrestling Club
Michael McGee, Sunkist Kids
Nahshon Garrett will make his return to the weight he made a world team at for the first time since 2018. Unfortunately, Garrett didn't get a chance to compete at the World Championships that year after suffering a shoulder injury.
Two 133-pound All-Americans from the 2021 NCAA Championships, Chris Cannon and Michael McGee, could make some serious noise. Another current NCAA wrestler that will be a factor is Pitt wrestler Micky Phillippi who has been in the bloodround the past two NCAA Championships.
Ethan Lizak has been competing up at 65kg so it will be interesting to see how he competes at a weight that is nearly 9 pounds lighter. Shelton Mack is also coming down from 65kg where he took fourth-place at the Last Chance Olympic Trials Qualifier.
High School senior and Iowa signee, Wyatt Henson, is also very intriguing. I'm anxious to see how he stacks up against NCAA All-Americans and Senior level foes.
Bratke's Predictions
Nahshon Garrett
Daniel DeShazer
Chris Cannon
Shelton Mack
65 Kilograms
Top Contenders
Luke Pletcher, Pittsburgh Wrestling Club
Pat Lugo, Hawkeye Wrestling Club
Jaydin Eierman, Hawkeye Wrestling Club
Dom Demas, Oklahoma RTC
While all of my top contenders at this weight didn't qualify for the Olympic Trials, they are all still green behind the ears on the Senior level and I expect all of them to be serious factors for the next four years and possibly beyond.
Outside of these four, keep an eye out for former three-time NCAA qualifier for South Dakota State, Henry Pohlmeyer. College wrestling fans will also recognize former NCAA qualifiers Dylan Droegemueller, Parker Filius, Drew Marten, Marcos Polanco, and Graham Rooks.
Bratke's Predictions
Jaydin Eierman
Pat Lugo
Luke Pletcher
Dom Demas
70 Kilograms
Top Contenders
Tyler Berger, Sunkist Kids Wrestling Club - 3x AA
Alec Pantaleo, Titan Mercury Wrestling Club - Junior/U23 WT
James Green, Titan Mercury Wrestling Club - 3x world medalist
Yahya Thomas, Wildcat Wrestling Club - Junior WT
Brayton Lee, Gopher Wrestling Club - Junior WT
Jacori Teemer, Sunkist Kids Wrestling Club - Cadet world medalist
In my opinion, this is the toughest men's freestyle weight, and without a doubt, the most credentialed headlined by James Green returning to the weight where he won two world medals and where he made five straight world teams.
Yahya Thomas and Brayton Lee are coming off All-American finishes at the NCAA Championships and have international experience as well as they have both been on Junior world teams. Former Cadet World bronze medalist, Jacori Teemer, will look to build off his outstanding performance at the NCAA Championships where he picked up a massive win over Hayden Hidlay on his way to a fourth-place finish.
Tyler Berger may not have made a world team before, but he's a three-time NCAA All-American and national finalist. The former Nebraska standout was third at the Olympics Last Chance Qualifier picking up notable wins over Ryan Deakin, Alec Pantaleo, and Joey Lavallee.
Bratke's Predictions
James Green
Alec Pantaleo
Tyler Berger
Yahya Thomas
74 Kilograms
Top Contenders
Hayden Hidlay, Wolfpack Wrestling Club
Joshua Shields, Sunkist Kids Wrestling Club
Joey Lavallee, Titan Mercury Wrestling Club
Branson Ashworth, Wyoming RTC
Three-time All-American and NCAA finalist, Hayden Hidlay, is the most credentialed wrestler in the bracket on the Senior level. In 2018, he made the US Open finals and also made a U23 world team that same year. Hidlay was also third at the 2020 Senior Nationals beating David Carr, Evan Wick, and Joey Lavallee.
Speaking of Lavallee, the former Missouri Tiger was fourth at the Last Chance Olympic Trials Qualifier and had a win over Branson Ashworth. At the same tournament, Ashworth picked up a massive win over Ryan Deakin.
Bratke's Predictions
Hayden Hidlay
Joey Lavallee
Branson Ashworth
Josh Shields
79 Kilograms
Top Contenders
Isaiah Martinez
Chance Marsteller
David McFadden
Taylor Lujan
Devin Skatzka
Dylan Lydy
Isaiah Martinez is making his return after being off the mat for over a year and a half. The last time Martinez competed, he took silver at the Intercontinental Cup in Russia (October 2019). Before that, he won a match against Jordan Burroughs at the 2019 Final X. Martinez will be challenged by competitors who have been active on the freestyle scene of late at either 86kg or 74kg. Coming down from 86 are McFadden and Lujan. Being undersized at the Olympic weight, they'll be looking to challenge for a 2021 World Team spot at 79kg. Marsteller will be a threat to Martinez and the other competitors at 79kg. He experienced some success at 74kg by qualifying for the Olympic Trials and defeated Vincenzo Joseph there.
Kozak's Picks
Isaiah Martinez
David McFadden
Taylor Lujan
Chance Marsteller
86 Kilograms
Top Contenders
Mark Hall
Trent Hidlay
Drew Foster
Nick Reenan
Max Lyon
Mark Hall is sticking to his word and committing to 86kg. Being a 2-time Junior World Champ, Hall is the most credentialed competitor in this field. However he'll be challenged by a host of other athletes who have either defeated Hall or are more experienced at 86kg. First, Trent Hidlay, a junior world bronze medalist, may have been the most Outstanding wrestler at the RTC Cup back in December 2020. He went undefeated and even took out Olympian, Myles Amine there. Drew Foster and Nick Reenan should also challenge to win the US Open. Foster took third at the Last Chance Olympic Trials qualifier, beating Mark Hall in the third place match, 6-1. Reenan has wrestled infrequently on the senior level but should he return to the wrestler he was in 2018 when he made Final X, he will be a challenge to every competitor in the bracket.
Kozak's Picks
Mark Hall
Trent Hidlay
Drew Foster
Max Lyon
92 Kilograms
Top Contenders
Kyven Gadson
Nate Jackson
Scottie Boykin
Cameron Caffey
Willie Miklus
Tim Dudley
Nate Jackson and Kyven Gadson's entrance into 92kg is the story of this weight. Jackson competed primarily at 86kg over the past 2 years and Kyven Gadson has been second on USA's national team in 2017, 2018 and 2019. Gadson and Jackson have shown to be a step above the other entrants at this weight but it will be interesting to see how Caffey and Miklus perform this weekend. Both have experienced success in folkstyle but haven't seen the same results yet in freestyle.
Kozak's Picks
Nate Jackson
Kyven Gadson
Cam Caffey
Tim Dudley
97 Kilograms
Top Contenders
Austin Schafer
Nate Rotert
Isaac Trumble
97kg is relatively down this weekend in terms of both total entrants and accomplished wrestlers. Austin Schafer is the most credentialed based on his performance at the 2018 US Open. He won gold there and in the process defeated both Kyven Gadson and Ty Walz. Look for Schafer to be challenged by Nate Rotert and Isaac Trumble. Rotert doesn't have many results on the senior level but he was a 4-time national qualifier for South Dakota State. Trumble, despite not starting the entire year for NC State, did have a win over National Finalist-Nino Bonaccorsi.
Kozak's Picks
Austin Schafer
Isaac Trumble
Nate Rotert
Joseph Reimers
125 Kilograms
Top Contenders
Nick Gwiazdowski
Dom Bradley
Tony Cassioppi
Ty Walz
Derek White
Lucas Davison
Nick Gwiazdowski was a surprise late entrant for the US Open and it will be even more surprising should anyone but the 2-time world bronze medalist win this weekend. Looking to challenge Gwiz will be some established big men and those who are either new to the weight or new to the senior level. Dom Bradley has been a staple at the top half of 125kg in the USA for over 10 years! Bradley and Gwiz last met at the 2021 America's Cup where Gwiz won 3-0. On the other end of the spectrum, Tony Cassioppi is entering his first senior level tournament and looking to upset the experienced vets. To win this weekend, he'll have to reverse his first senior level match - a 10-0 loss to Gwiz from the Hawkeye Showdown Open back in November 2020. It will also be worth watching Ty Walz and Lucas Davison - they are moving up to 125kg after competing exclusively at 97kg over the past few years.
Kozak's Picks
Nick Gwiazdowski
Dom Bradley
Tony Cassioppi
Ty Walz
JUNIOR MEN'S FREESTYLE PREVIEW
57 kg
Top Contenders
Noah Surtin
Richard Figueroa II
Jesse Ybarra
For my money, this is the toughest weight class in Coralville. I wrote an article and published a video about how crazy it was and that was before several more hammers entered. The thing I will be most interested in observing is how much some of these guys have improved after being in college for a year or two. Greg Diakomihalis was the #15 recruit coming out of the class of 2020, but we haven't seen him since he won his fifth New York state title in early 2020. You have to imagine a year of working out with Vito Arujua and the rest of the lightweight guys in Ithaca has had a significant impact. Will it be enough to reverse the result of Super 32 in 2019 when Richard Figueroa beat him?
How about Jesse Ybarra? He took 6th at UWW Juniors back in November, but add about five months of training with Spencer Lee and he could absolutely compete for the spot here. We could be looking at a future roster battle between Ybarra and the #1 ranked high schooler at 126 lbs, Drake Ayala. Ayala beat Richard Figueroa at Who's #1 back in October, but that was in folkstyle and went into overtime. A Cadet World silver medalist, Figueroa is no stranger to success in freestyle.
Can't forget about Minnesota's Cadet World champion Matt Ramos. In the past 12 months, Ramos has freestyle wins over Darian Cruz, Frank Perrelli, Brandon Courtney, Jacob Moran, Pat McCormick, and more.
Watch JD discuss some of the top contenders at 57 kg below.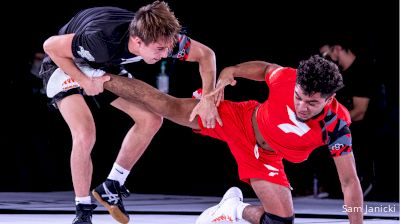 This weight is too deep not to mention a few more guys.
Sleepers/Landmines/Guys To Watch
Jore Volk
Gabe Whisenhunt
Cael Hughes
Joziah Fry
Rader's Picks
Greg Diakomihalis

Jesse Ybarra

Drake Ayala

Richard Figueroa
61 kg
Top Contenders
Nic Bouzakis - Jesse Mendez is my most anticipated match of the entire event. The two are currently #1 and #2 on the Junior Big Board and #3 and #4 in the pound-for-pound high school rankings. Bouzakis is known for his physicality and Mendez isn't afraid to mix it up with anybody. In fact, Mendez once threw Dom Serrano for five points. Serrano battled back, but still lost on criteria, 7-7. You can watch that match HERE.
Rader's Picks
Nic Bouzakis

Jesse Mendez

Dom Serrano

Jesse Vasquez
65 kg
Top Contenders
Joshua Edmond
I think Beau Bartlett and the Joshs will have an advantage here. Missouri's Josh Edmond had a phenomenal 2020 UWW Junior Nationals beating Bryce Andonian, Julian Chlebove, and Jesse Vasquez en route to the title at 65 kg. Josh Saunders had a down performance at the same tournament, but Saunders is susceptible to up and down performances. One month after getting teched by Shayne Van Ness, Saunders tech falled him at the Last Chance Qualifier. I'm sure Bartlett wasn't satisfied with how his freshman year at Penn State ended and will be hungry to prove what he's truly capable of.
Joey Zargo, Ryan Jack, Daniel Cardenas, Caleb Rathjen, and Patrick Noonan are a couple more names to keep an eye on.
Rader's Picks
Beau Bartlett

Josh Edmond

Josh Saunders

Cole Handlovic
70 kg
Top Contenders
Caleb Henson
Cael Swenson
John Wiley
Bryce Andonian had a solid sophomore campaign for Virginia Tech this year and I expect him to keep that momentum rolling this weekend. He had two wins over conference rival Ed Scott, 9-5 and 11-6. Another potential future roster battle at this weight as one of the nation's top high school wrestlers regardless of weight, Caleb Henson announced his commitment to Virginia Tech just within the past week. Henson is currently #3 at 152 and #8 on the Junior Big Board.
Rader's Picks
Bryce Andonian

Ed Scott

Caleb Henson

Anthony Ferrari
74 kg
Top Contenders
Chase Saldate
Dean Hamiti Jr
Clayton Ulrey
AJ Kovacs
Another very deep weight class, but this one with a clear favorite. Although he's never made a World Team, Keegan O'Toole had a fantastic freshman year at Mizzou going 19-1 and finishing 3rd in the country. He also breezed through 2020 UWW Junior Nationals without giving up a point and pinning Clayton Ulrey in the finals.
Alex Facundo hasn't just made two World Teams, he's won two bronze medals. He's currently #1 in the country at 170 and #3 on the Senior Big Board and going to Penn State next year. However, Chase Saldate, Cade DeVos, Julian Rameriz, and Clayton Ulrey all have the advantage of training at least one year in a college room.
Rader's Picks
Keegan O'Toole

Alex Facundo

Cade DeVos

DJ Hamiti
79 Kilograms
Top Contenders
Carter Starocci, Nittany Lion Wrestling Club (PA)
Donnell Washington, Indiana RTC (IN)
Peyton Craft, Blair Wrestling Club (OH)
Manuel Rojas (MI)
Gerrit Nijenhuis, Boilermaker RTC (PA)
Matthew Singleton, Compound Wrestling (GA)
Tyler Stoltzfus, Mat Town USA (PA)
Trey Munoz (CA)
Trey Kibe (PA)
Clayton Whiting, Askren Wrestling Academy (WI)
NCAA champ Carter Starocci was one of the later entries into Junior Nationals, but he immediately jumped to the top of the contender list. He could see Indiana's Donnell Washington here, one of only two guys to beat him this year.
NCAA Qualifiers Gerrit Nijenhuis and Trey Munoz add significant depth to this weight as do high school standouts Peyton Craft, Manny Rojas, Trey Kibe, and Clayton Whiting. This will be a great opportunity to see how ready a new generation of recruits is to join some seasoned college guys.
Bray's Picks
Carter Starocci
Matthew Singleton
Donnell Washington
Trey Munoz
86 Kilograms
Top Contenders
Kyle Haas, Kansas City Wrestling Club (KS)
Christopher Foca, Spartan Combat RTC (NJ)
Deanthony Parker, Moline Wrestling Club (IL)
Dylan Fishback, Arsenal Wrestling Club (OH)
Jaxon Smith (GA)
While Cornell didn't get to compete during the NCAA season, Chris Foca has made good use of his year by getting even better at freestyle. He even had a win over NCAA finalist Max Dean at the Last Chance Olympic Trials Qualifier.
Oklahoma State commit Kyle Haas is down at 86 kg after spending his recent time at 220 lbs. NC State commit Dylan Fishback, Maryland commit Dylan Fishback, and high school stud DeAnthony Parker are all serious threats here as well.
Bray's Picks
Chris Foca
Kyle Haas
Dylan Fishback
Jaxon Smith
92 Kilograms
Top Contenders
Rocky Elam, Tiger Style Wrestling Club (MO)
Isaac Trumble, Wolfpack Wrestling Club (NC)
Christian Carroll, Midwest Regional Training Center (IN)
Zach Glazier, Hawkeye Wrestling Club (MN)
Jack Darrah, Xtreme Training (MO)
Missouri All-American Rocky Elam is at the top of the contender list. He had a great first college season, but freestyle might be his best style. Isaac Trumble and Zach Glazier have also developed a lot without having college post season opportunities thus far. Trumble jumped on a lot of people's radars when he beat NCAA finalist Nino Bonaccorsi in a dual this season.
Super 32 champ Christian Carroll and Cornell commit Jack Darrah are high level high schoolers who compete just about everywhere and could do damage here.
Bray's Picks
Rocky Elam
Isaac Trumble
Christian Carroll
Zach Glazier
97 Kilograms
Top Contenders
Braxton Amos, Wisconsin Regional Training Center (WV)
Cade Lautt, Tar Heel Wrestling Club (NC)
This field isn't as deep as some other weights. The guys with the best chance of making the finals are Wisconsin's Braxton Amos, who qualified for both the Freestyle and Greco Olympic Trials this year, and North Carolina freshman Cade Laut.
Beyond that, a number of guys will compete for the remaing spots on the podium, but it would take a pretty big upset to take out either Amos or Lautt.
Bray's Picks
Braxton Amos
Cade Lautt
Dzhabrail Khurshidov
Kaleb Runyon
125 Kilograms
Top Contenders
Luke Luffman, Greco-Roman Development (IL)
Lewis Fernandes, Spartan Combat RTC (NJ)
Peter Christensen, Wisconsin Regional Training Center (IL)
Chase Horne, The Storm Wrestling Center (GA)
Wyatt Hendrickson, Air Force Regional Training Center (CO)
Apollo Gothard, Izzy Style Wrestling (IL)
Colby Whitehill, Mat Town USA (PA)
Josh Heindselman, Oklahoma Regional Training Center (OK)
NCAA qualifiers Luke Luffman of Illinois and Wyatt Hendrickson of Air Force are the most credentialed guys in the field. Hendrickson actually pinned Luffman at NCAAs this year.
They're joined by newly announced Lock Haven transfer Colby Whitehill and Cornell freshman Lewis Fernandes, two guys who are eager to make an impact at the next level.
High school #1 and NC State Commit Chase Horne and Little Rock commit Apollo Gothard will try to make a name for themselves among the college guys this weekend as well.
Bray's Picks
Lewis Fernandes
Wyatt Hendrickson
Luke Luffman
Chase Horne