2021 USA Wrestling Olympic Team Trials Watch Party
2021 Olympic Team Trials: Instant Recaps - Day II Session I
2021 Olympic Team Trials: Instant Recaps - Day II Session I
A blog about the USA Wrestling Olympic Team Trials. This one is about the consolation rounds of Day 2.
Apr 3, 2021
by Andrew Spey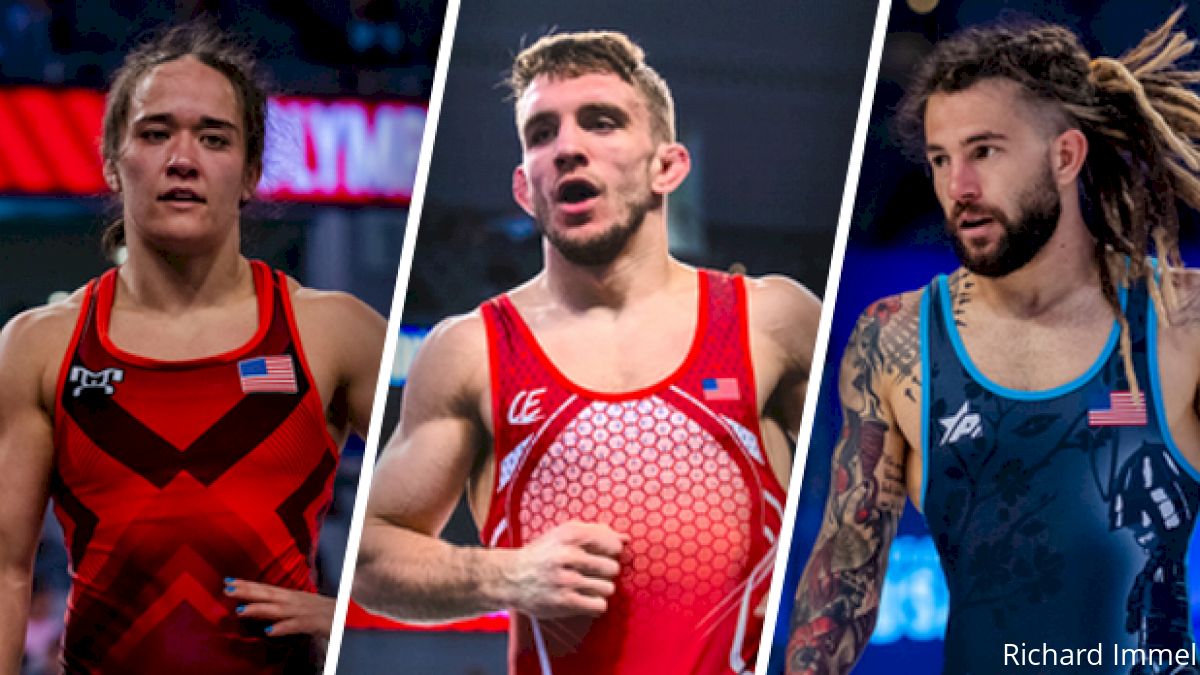 Unlock this article, live events, and more with a subscription!
Get Started
Already a subscriber? Log In
We're wrestling back for third place. This may not seem like a big deal because the number one goal by a large (perhaps the largest) margin is making the Olympic Team but guess what? It is!
Placing third means making the National Team, which provides higher visibility, more training opportunities, and a monetary stipend. It matters. a great deal to the wrestlers on the mat.
Watch the 2021 USA Wrestling Olympic Team Trials Watch Party
LIVE on FloWrestling | Friday & Saturday, April 2-3
Sleep on this round at your own peril!
Very exciting to be blogging for you fine wrestling fans today.
The perch from which I will blog.

We call this the Saucing Session because all the bars are open and the finals don't start for over 6 hours. pic.twitter.com/p0liuYzKPB

— Andrew Spey (@SpeyWrestle) April 3, 2021
The DJ is spinning Thunderstruck, which warms my heart and gets the blood sluicing to my extremities. As we wait for the matches to start, you may enjoy persuing the brackets here, and checking out results here.
The blogs from yesterday? Yes, I have links for them as well. Session I and Session II, all for you.
Hey did y'all see that Dake bomb from yesterday? Probably, but if not, here it is!
42 SECONDS 🤯@kyledake444 advanced to the best-of-3 finals real quick.@USAWrestling x #WrestlingTrials21 pic.twitter.com/pwIA9I5rKw

— Team USA (@TeamUSA) April 3, 2021
Do you think that has ever happened to three-time NCAA champ and four-time NCAA finalist Jason Nolf before? I very much doubt it. Pretty insane.
Gabe Dean and Seth Gross did not weight in on the men's freestyle side. Alli Ragan and Katherine Shai opted out of today's matches on the women's freestyle side. Don't want to hazard a guess as to what that portends as to the future of their careers but all four are superb competitors that should be incredibly proud of their careers as they stand.
Notable Results i.e. Results That I Note
NaTo beat Sean Russell 13-6. Because of forfeits it will be Tomasello and Zane Richards in the third-place bout for the national team spot at 57kg in men's freestyle.
Nick Lee over Nahshon Garrett and Mitch McKee over Evan Henderson, both entertaining about at 65kg. They each have consi semi matches next.
Emily Shilson won 10-0 over Aleeah Gould to make the consi semis. Shilson continues to advance up the senior ladder at 50kg.
Utah Valley's Taylor LaMont is still alive for a national team spot at 60kg in Greco.
Pat Downey just 11-0 teched Aaron Brooks. So that happened. A step out, a takedown, three guts and then one ore takedown was precisely how that happened. Since Dean didn't weigh-in, the Lizard King will get a bye to the third-place match. He'll get the winner of a Zahid vs Nate Jackson consi semi bout.
Dickies is a Pro-Ferrari arena, so Ben Honis was working against both the 197lb NCAA champ and the crowd in his match with AJ. It was what you'd expect. Ferrari was full stallion mode, picked up a four early. Action went back and forth, much to the delight and consternation of the arena. A late and perspicacious challenge from coach Slay gave Honis a 2 point lead with 8 seconds to go which he would not relinquish. Great effort for the true freshman Cowboy but he will not make a national team. At least not until the 2021 World Team Trials takes place later this summer.
Honis wrestles Walz next, then Gadson in the third-place bout if he advances.
Conder ended Shilson's run at 50kg. Conder has Lampe for third. The women will all have the potential for true-second matches. Fearnside beat Conder on the championship side, then lost to Anthony in the challenge tourney finals. Anthony and Hildebrandt wrestle for the Olympic team spot tonight and are guaranteed top 2 on the USA ladder. If Conder beat Lampe for third, she'll be fourth on the ladder because Fearnside already beat her and there will be no match for true-second. If Lampe wins she'll get an opportunity to wrestle Fearnside to win true-second and get third on the ladder and the final US National Team Spot.
Sorry if this is confusing to you, to me it is very simple and clear, no matter WHAT Kyle Bratke would have you believe.
.@SpeyWrestle vs trying to figure out if there's a true second match is the rivalry I didn't know I needed.

— Kyle Bratke (@KBratke) March 27, 2021
Back at 60kg, Wild Man Sam Jones will wrestle Max Nowry for third. Neither Nowry nor Jones wrestles Leslie Fuenffinger, who is sitting int he true-second bout, so that will be wrestled no matter and Jones and Nowry are both still alive for a world team spot.
See Bratke? So easy for me.
In Nittany Lion on Nittany Lion crime action, Nick Lee scored a major upset with a 10-4 win over Zain Retherford. Lee will wrestle Yianni for third. No true-third bouts because no one was sitting in the best-of-three series. Oliver and McKenna will be in the top two spots and either Yianni or Lee will take the third National Team Spot. Now I am laughing because Bratke once thought I had a hard time understanding all of this. Yes, a hearty guffaw at Kyle's folly.
Cenzo did not enter the wrestleback round, so we were denied Joseph vs Gantt. Gantt advances via forfeit and then beat David Carr 7-1. Wick then beat Gantt to set up a third-place bout with Massa, who defeated Marsteller in the consi semis. Nolf is in the true-second bout and he didn't wrestle either Massa or Wick, so we will be treated to another Nolf match today.
Mason Parris shook off his 4-4 criteria loss to Kerkvliet on the championship side to beat Dom Bradley in the consi semis to make the third-place bout. He'll have Tony Nelson, who eliminated Kerkvliet from national team contention in his consi semi bout.
Third Place Bouts, Of Which I Will Make Note
NaTo beat Zane Richards to place third and secure his spot on the national team. Good win for the Duke assistant coach to battle back in a deep bracket.
Nick Lee had himself a day! He beat Zain and Yianni, the #1 and #2 of 2019, in back to back matches, to earn a spot on the national team. He got his over under feat to back trips (a Polish throw, I'm told) going early and held his own in scrambles. Nick Lee has another eligibility left but he's only allowed to wrestle one month of folkstyle for the entire year. That's my rule I just made up but it's also officially the law now.
Credit to Pat Downey for wrestling back to the third-place bout. He ran into a motivated Zahid Valencia, who hit a series of nasty duck unders to take the national team spot with a 11-1 win.
Evan Wick has won 4 matches this weekend and has only been stopped by Dake. He'll wrestle Nolf for true-second and the National Team spot.
Up at 97kg, Kyven Gadson avenged a championship side loss to Ty Walz to advance to the true-second bout against Macchiavello. Walz advances to the windows.
And at heavy, Mason Parris wins again, placing third, where he was seeded, by defeating Tony Nelson.
Lets' do some women's results now. Lampe pinned Conder, she'll wrestle Fearnside for true-second at 50kg. Parrish defeated Hedrick and wins the national team spot by dint of Shai's forfeit. Alli Ragan also did not weigh in so no true-second at 57kg. As a result, Abby Nette claims the national team spot after defeating Cam Guerin for third.
Jen Page beat Emma Bruntil for third, but Maya Nelson earns the national team spot due to beating Page in semifinals on the championship side. 62kg is becoming one of the USA's deepest distaff weights. Glaude and Molinari will wrestle for the national team spot at 68kg. Dymong Guilford takes third and will wrestle Francis for the national team.
Okay, Greco time! Wild Man Sam took care of business and will wrestle Fienfinger for the Natty team spot. Benji Peak trying to get it down vs Xaiver Johnson at 67kg as I type. RaVaughn Perkins over 2019 World Team Member Pat Smith at 77kg for national team spot.
Update, Benji wins 9-1! He needed to place second at the Last Chance Qualifier tournament last week just to make it to this event!
Spencer Woods and Pat Martinez will battle for the final spot on the national team at 87kg. Lucas Sheridan beat Daniel Miller and will wrestle Nic Boykin for the national team spot at light heavy. And at 130kg, Jacob Mitchell takes third for the Army.
More true second results! Already mentioned Benji peak doing the thing. Lampe stopped Fearnside at 50kg women's. Fuenffinger ends Wild Man Sam's party at 60kg. Nolf shook off the shellshock from Dake's bombing and 10-0'd Wick. P-Mart over Woods at 87kg.
Kyven Gadson goes ham on Macchiavello. Two feat-to-backs and the pinfall. Then a barbaric yawp, much to the delight of Dickies.
Sheridan takes out Boykin at 97kg Greco, Francis pins Guilford at 76kg women's, and Molinari blanks Glaude in the 68kg women's true-second to claim her spot on the national team.
That will do it for day 2 sesh 1. Apologies for the typos. See you back here tonight for session 2, in which we find out who are 18 new Olympic team members are!