2021 USA Wrestling Olympic Team Trials Watch Party
2021 Olympic Team Trials: Instant Recaps - Day I Session I
2021 Olympic Team Trials: Instant Recaps - Day I Session I
Very rapidly recapping session 1 of day 1 of the 2021 USA Wrestling Olympic Team Trials.
Apr 2, 2021
by Andrew Spey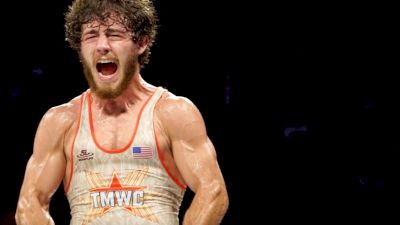 Unlock this video, live events, and more with a subscription!
Get Started
Already a subscriber? Log In
Unlock this article, live events, and more with a subscription!
Get Started
Already a subscriber? Log In
We're really doing it now.
Hello friends. You're humble wrestling journo Spey here, to bring you all the haps from Fort Worth in this instant recap that is not quite a blog but will have a bunch of words from me from inside Dickies' arena where the Team Trials is taking place and okay yes it's basically a blog.
Watch the 2021 USA Wrestling Olympic Team Trials Watch Party
LIVE on FloWrestling | Friday & Saturday, April 2-3
There's also a watch party going on with your friends back down I-35 in FloHQ in Austin, if you want more sounds and pictures than I, your dedicated blogger, can provide.
The people of Forth Worth and the Dickie's Corporation built themselves a very fine arena to host this august event.
Dickies built a nice arena. Real nice. Almost... too nice. pic.twitter.com/ODlJXW6fv3

— Andrew Spey (@SpeyWrestle) April 2, 2021
Kinda makes you wonder what their hiding behind this marvelous architecture, unobstructed sightlines and state-of-the-art sound system. No but for real this place is nice.
And before any wrestling takes place we have some terrible news that I take absolutely no pleasure in reporting. One of the favorite to earn the 97kg team spot, J'den Cox, did not make weight and will not wrestle at the Trials. That is a bummer beyond which I cannot imagine.
First Suriano, now Cox. Rough way to begin this 12 months-delayed event.
But there is still wrestling! And so we must blog.
Some notable men's freestyle results from the round of 16:
At 65kg, 149lb NCAA champ Anthony Ashanult defeats 133lb NCAA champ Nahshon Garrett. Anthony only needed one shot but got the takedown while trailing and then poured it on par-terre. 2021 NCAA champ Nick Lee dominated Mitch McKee, and 2012 NCAA champ Frank Molinaro unretired to soundly beat Evan Henderson. Hendo was electric a week ago at the Last Chance qualifier but Molinaro controlled the hand fight.
The 65kg quarterfinals are going to be insane. From top to bottom: Zain vs Ashnault, McKenna vs Green, JO vs Nick Lee, and Molinaro vs Yianni. Sounds fun!
At 86kg, Brett Pfarr beat the lone Hawkeye Wrestling Club member in the field, Sammy Brooks. Pfarr will get Taylor next. Three-time NCAA champ Bo Nickal took out potential five-time NCAA champ Carter Starocci to set up a match with the Lizard King Pat Downey next. Aaron Brooks defeated Nate Jackson 3-0. Brooks will now get another crack at Zahid Valencia.
Things got chippy in the last bout between Zahid and Brooks at 2019 Senior Nationals. Let's watch that match again and relive the fun.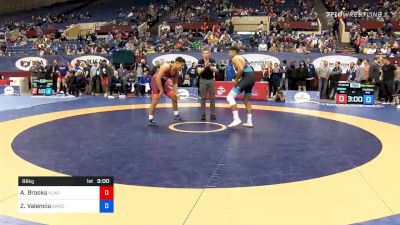 Unlock this video, live events, and more with a subscription!
Get Started
Already a subscriber? Log In
The other 86kg quarterfinal is between Myles Martin and Gabe Dean, which is the classic Rat Pack matchup we were all looking forward to seeing.
The quarterfinals are underway:
This tournament is going to fly by.
Very few people will read this in time for it to be of any use but for the sake fo posterity, here is the quarterfinal bout board.
The quarterfinals are starting now!

Here's a look at the mat schedules for the quarters, subject to change. #WrestlingTrials21 pic.twitter.com/KfICYl6gb4

— USA Wrestling (@USAWrestling) April 2, 2021
We expected a fire match from Gross vs Colon and it delivered. Many points? Yes, it was 9-8. Was there controversy at the end? Yeah, a little. Gross was up 8-4 in the second period when Colon tripped Gross to his back by the boundary. Four went on the board for Colon. Gross challenged, a believe saying he had already stepped out, but lost. With a little over a minute to go, Gross, trailing 9-8, got in on a shot. Looked like it couldn't been two for Gross but time expired with no call. Gross asked for a brick but there was none to be thrown. Very tough way to go out.
57 semifinals are Gilman vs Colon and Arujau vs Fix. Those are some mouth-watering style clashes.
Yianni was too much for Molinaro. Very cool moment in the arena as Frank un-unretires.
Frank Molinaro earned this moment. pic.twitter.com/2QEHQDBml1

— Andrew Spey (@SpeyWrestle) April 2, 2021
Wild match in the 57kg quarters of the women's 57kg bracket. Xochitl Mota-Pettis hit a four with three seconds left in her match Bridgette Duty to win by three.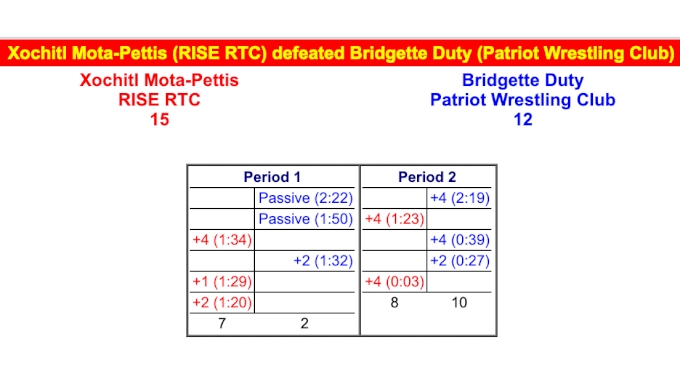 Would also recommend going back and checking out Wild Man Sam Jones's quarterfinal win over Max Nowry at 60kg in Greco-Roman when you get a chance. The five-point move by Jones for the win was exquisite.
Here's the latest on the J'den Cox saga, by the way. Not a ton of news but it includes an update from Kevin Jackson.
Man, this blog is all over the map. Maybe I'll go back and add some subject headers and keep it organized. Or maybe not, got a lot going on right now!
Here's a cool Greco shot from Tony Rotundo. Decided I needed to break up all the text with a cool pic.
Back to men's freestyle, Chance Marsteller avoided losing to Vincenzo Joseph after just recently beating him at the Last Chance Qualifier. It was close though, 3-3 on criteria and Chance needed a second-period activity clock point.
All eyes in the arena were on Bo Nickal as he techfalled Pat Downey. Both are all but guaranteed to transition to MAA after Tokyo so perhaps this will be used in the promo to a cage fight in 2022.
While Bo and PDIII drew the attention of most of the fans in attendance, two-time NCAA gabe Dean defeated Myles Martin in a ho-hum 2-1 victory. That's the kind of thing that happens at freaking Olympic Trials.
Another quarterfinal bout, which was excellent, was Zahid vs Brooks. Zahid raced out to a 6-0 lead but Brooks gave him hell in the third. Zahid held off to win 6-3 but Brooks' time is coming sooner than later!
Here's quickie pickie of that match from the geat Tony Rotundo.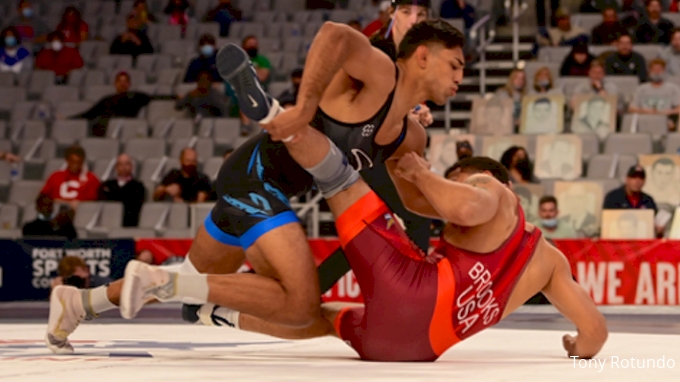 Quarterfinals are wrapping up now. Will be back for more blogging one I finish updating the results page and stuffing this cheesesteak into my stomach.
Okay, now that I've had my sandwich, I'm ready to talk quarterfinals.
Semis and finals are tonight's sessions, which is going to rule. Here's what we got in men's freestyle.
57: Gilman v Colon & Vito vs Fix
These are fire. Pretty much ever match we're gonna see this evening is going to kick ass but good to know 57kg is going to start us off strong nonetheless. Gilman and Fix are on pace for a rematch of 2019 Final X but Gilman's got a 61kg senior bronze medalist and Fix has a junior silver medalist in their path.
65: Zain vs McKenna & JO vs Yianni
An all eastern semifinal at 65. PA vs NJ and PA vs NY. 65 is just like this the world over. Insanely deep. All four of these guys are medal threats in Tokyo and you can't convince me otherwise.
74: Nolf vs Carr & Dake vs Wick
Looking very much like it will be Nolf vs Dake for a crack at Burroughs in the best-of-three series but the way Carr ran through Massa in the quarters gives me pause about the outcome of the top side of the bracket.
86: DT vs Dean & Bo vs Zahid
We saw Dean wrestle Taylor extremely close at a recent NLWC event. Gabe is looking as beastly as ever so far in this tourney. Nickal vs Valencia is incredibly juicey but how is Bo's knee and Zahid's gas tank? Neither were flawless in the quarters.
97: KMo vs Walz & Macch vs Zillmer
The lack of J'den Cox in these semifinals is heartbreaking. I guess it won't be final-final until the matches take place but I doubt we see J'den wrestle today. But we still get two rad 97kg matchups, for whatever that's worth.
125: Gwiz vs Bradley & Gable vs Parris
Huge fan of both Dom and Kerk as people and wrestlers but I can't imagine this will yield anything but a Gwiz vs Gable wrestle-off.
It's break time until next session, so I'm going to stretch the legs, so here are the brackets on Trackwrestling if you want to also kill some time.
Session II is going to be blogged here. See you there!