2021 NCAA Wrestling Championship Watch Party
Over The Edge: Is College Wrestling Ready For A Step-Out Point?
Over The Edge: Is College Wrestling Ready For A Step-Out Point?
The NCAA Championships stirred up another round of debate about whether college wrestling should ditch its edge rules and adopt a step-out point.
Mar 29, 2021
by Andy Hamilton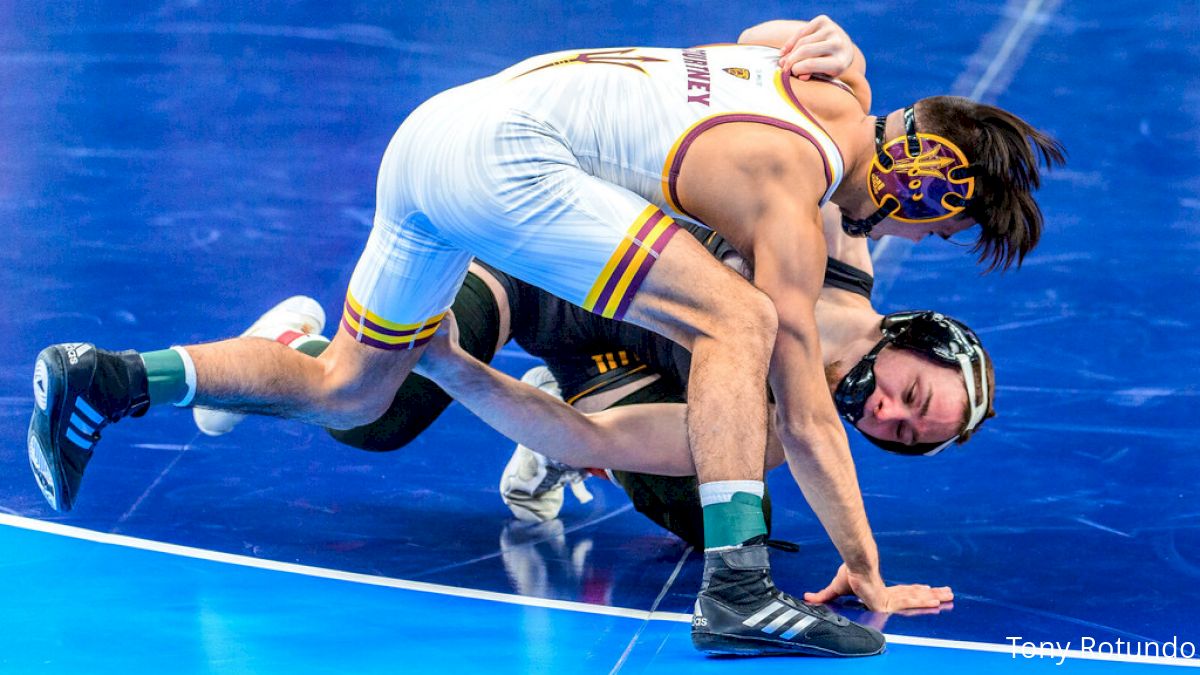 From his chair in the Arizona State corner, Zeke Jones saw an aggressive wrestler working to get to his attacks against a backpedaling opponent.
On the Wyoming side, Mark Branch viewed it as a guy getting shoved out of bounds by an adept pummeler whose primary intention was to plow through his adversary for stalling calls.
Jones and Branch, of course, both had a stake in the outcome of the NCAA second-round heavyweight bout between Arizona State's Cohlton Schultz and Wyoming's Brian Andrews, so they're not exactly impartial observers in this instance. But their highly-trained wrestling eyes saw the same action and arrived at different conclusions, which is one of the main issues with the sport's polarizing edge-of-the-mat, neutral-position stalling rules.
The NCAA Championships stirred up another round of debate about whether college wrestling should ditch its edge rules and follow the Olympic disciplines by adopting a pure step-out point.
Step-out advocates argue that the current rules are too subjective and there's little consistency from one call to the next, let alone from one official to another. Opponents contend that some of college wrestling's best entertainment occurs when action spills outside the boundary line and that folkstyle has too many nuances to easily adopt a step-out.
"I can see benefits and drawbacks on all sides," said Penn associate athletic director Matt Valenti, a two-time NCAA champion whose term as the chair of the NCAA wrestling rules committee ended last year. "Even watching the NCAA tournament this year, I think you can make arguments on both sides. Having experienced it, I don't envy the committee on this one because it is a major, major decision and there's going to be fallout no matter what the decision is on this one. They're up a creek. It's a tricky one."
The NCAA wrestling rules committee sent out a survey last week to coaches, officials and administrators, seeking feedback on 18 possible rule changes. One of the proposals is to award a wrestler with a point each time his opponent steps both feet out of bounds.
Valenti said coaches were split down the middle on the step-out debate when surveys like this came back during his time on the rules committee. If any kind of consensus is forming now, it might be a disgruntled crowd that's on edge about the edge calls, a group looking for anything but the status quo.
Ohio State's Tom Ryan: "It's a mess."
Cornell's Rob Koll: "I watched the NCAAs and I was disgusted with it."
Missouri's Brian Smith: "I just don't understand the rules and I've been around coaching for 31 years. If I don't get it, how are the fans going to get it?"
THE EVOLUTION OF THE EDGE RULE
The current edge rules came into play six years ago. In an effort to keep the clock moving and the action in the center of the mat, the rules committee took a long look at adopting a step-out point in 2015.
"We spent probably 90 percent of our entire (rules committee) session that week on the subject," Branch said. "I remember Kevin Jackson was on the committee at that time and we were clearing tables and pulling chairs back in a conference room and using the pattern in the carpet to do demonstrations and talking through it."
Branch said the step-out momentum was ultimately slowed by a popular rule change that came into play two years earlier when the committee opened the boundary line, allowing wrestlers to continue action and score points and pins while having as little as a toe in bounds.
"That really made wrestling more exciting and created more scoring and we didn't want to take that back off the table," Branch said.
The committee instead went in another direction, drafting a set of edge rules that forced officials to make a call on every neutral-position boundary-line stoppage. They were required to levy a stall warning if they deemed a wrestler was intentionally backing out of bounds. They could issue a warning to a wrestler who pushed an opponent out. Or they could rule sufficient action was occurring and no stall was necessary.
"I feel in my heart — and I think most people would agree — that it's made wrestling better," Branch said. "That doesn't mean we can't make it better from here, but I worry about unintended consequences down the road making it worse. We have a great product right now. It's not a perfect product."
But while coaches have noticed fewer boundary stoppages in the past six years, many have also grown frustrated by how the edge rules have altered the enforcement of stalling.
"My feeling on it is they've stopped calling stalling and they're worrying more about everything on the edge being stalling," Smith said. "I had a match where a kid got shoved off the mat three times. Basically, the kid put his head down and shoved him off the mat three times and we got hit for stalling three times and lost the match. Then we had a match where Keegan O'Toole shot like eight times — legit shots — in the first period and not one stall call. And I'm thinking to myself, 'I just had a guy get barreled over.' That's the frustrating part. Why is just the edge being called stalling? It seems like that's the only time they call stalling."
IS IT THE RULE OR THE APPLICATION?
The NCAA Championships put the edge calls under a microscope and shined a light on the inconsistencies of how action is called around the perimeter.
North Carolina State's Hayden Hidlay drove Iowa State's David Carr off the mat twice in carbon-copy sequences during the first 45 seconds of their 157-pound semifinal match. Carr was warned for stalling on the first occasion and Hidlay received a warning the second.
Arizona State's Brandon Courtney repeatedly backed toward the edge in the 125-pound championship match against Iowa's Spencer Lee, leading to 10 boundary stoppages but just one stall warning. Roughly 30 percent of the bout was wrestled with one competitor outside the circle, including 82 seconds of the first period.
"Remember the old days when you took a step backward and you got hit for stalling?" Smith said. "If you're shooting on a guy and he's going to the edge, then it's stalling. That's regular stalling."
Shots were in short supply during the heavyweight battle between Schultz and Andrews, but the bout brought edge-rule interpretations to the forefront. Schultz drove Andrews out seven times in less than four minutes and was rewarded with five stall calls. The Cadet Greco-Roman World champion raised his arms in the air after in celebration of his second-period disqualification victory.
"They called the rule right," Jones said. "Bottom line, Cohlton was pushing him out. But the guy never made an effort to stay on. That's how the rule is (written). But was Cohlton trying to score a takedown? No, he was trying to get a push-out because he knew the rule and the kid didn't circle."
One of the thoughts that ran through Branch's mind as he watched the bout play out: "This isn't wrestling."
"Pushing a guy out of bounds and getting stall warnings is not wrestling — and I wouldn't feel any different if it was a step-out," he said "The guy was just trying to push us out of bounds.
"To me, if the ref hits the other guy for pushing — and I'm not saying he necessarily should have — but he also could've recognized (Schultz) was just pushing us out of bounds. If the ref at any time hits him for pushing, then maybe it becomes a wrestling match instead of a pushing match. … To me, it wasn't the rule, it was the application by the officials."
'IT'S TIME TO EVOLVE AGAIN'
How will college wrestling's boundary line be governed next season? That's one of the offseason's most compelling questions.
Twenty-one Division I head coaches offered their opinions last week for this story. A dozen support a switch to a step-out point.
"I think the current edge of the mat rules were a huge improvement over where we were 10 years ago, but it's time to evolve again," Army coach Kevin Ward wrote in a text message.
Others expressed concern that a switch to a step-out could signal the beginning of a movement toward implementing other freestyle elements at the college level.
"Maybe I'm off on this, but I think, in general, a lot of people are worried about it moving too close to freestyle," Ryan said. "Their basis of rule changes is 'We're not freestyle.' So you bunker in against anything that is freestyle, even though it's incredibly logical. It's like, 'This isn't freestyle, it's folkstyle.' I know that, but it doesn't mean we can't take things from freestyle and implement them in college wrestling. I think some of the pushback on this is that anything that has a freestyle tint to it, we run from and don't truly examine it."
Several coaches believe the current rule — or a variation of it — can work if it's enforced correctly and called consistently.
Smith isn't ready for a step-out point, but he wants to see changes with how stalling is called on the edge.
"They've got to really tighten it down if they're going to keep the rule, which I hope they don't make drastic changes again," Smith said. "In talking with fans, they're confused by the call. Coaches are confused by the call. There isn't consistency in the call. I just think for the good of our sport we have to address things like this to take that confusion out for the fans. And for the referees."
That's part of the problem, Ryan said. He thinks the referees have too many elements to weigh when the action spills outside the circle.
"When you have a scenario where there are too many options for the human mind to consider, you've got a problem," he said. "It's too complicated for the fan, it's too complicated for the athlete, it's too complicated for the official. He pushed him out. He didn't push him out. He pushed him too hard. He pushed him out too easy. He shot him out. There was action on the way out. It's way too subjective, and it's a problem. So it either goes away or you simplify it. … Right now it's a mess."