Big Ten
Ohio State Wrestling Riding High After Win At VT | Buckeye Insider
Ohio State Wrestling Riding High After Win At VT | Buckeye Insider
Ohio State wrestling needed some upsets to knock off Virginia Tech. The Buckeyes put together a string of them in a big dual win on the road.
Nov 17, 2023
by Nick Corey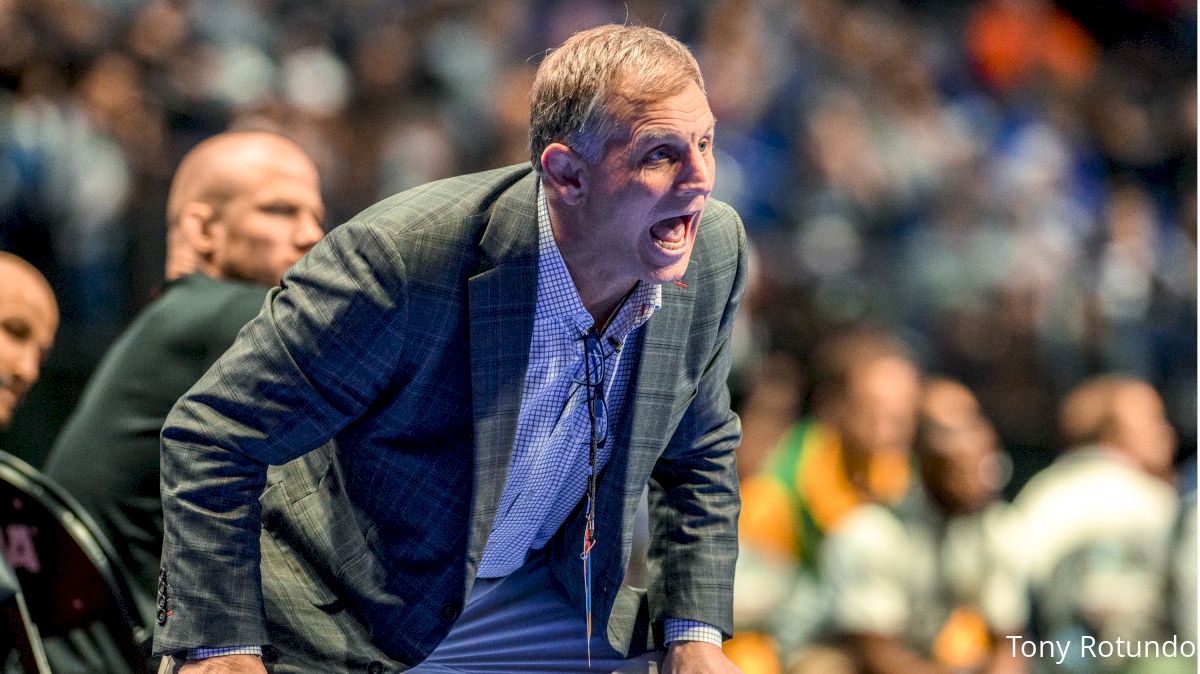 Tom Ryan and the Ohio State Buckeyes knew what they were up against Friday night at Virginia Tech.
"They were favored in a lot of weight classes," the Ohio State coach said, "so we needed to win two or three matches we weren't favored to win."
The Buckeyes pulled off five upsets and picked up a technical fall from heavily favored 141-pounder Jesse Mendez and left Blacksburg with a momentum-building 24-12 win against the Hokies.
Ohio State freshman Brendan McCrone set the tone for the dual when he put returning All-American Eddie Ventresca on his back and went on to post an 11-3 major decision against the then-#4 Hokie 125-pounder.
"There are certain matches that can provide fire to your team," Ryan said. "McCrone's win did that. (Ryder) Rogotzke's pin (at 184) did that. But even matches that didn't end in wins for us, where you have guys putting out effort, just everything they have, I can reflect on guys who entered matches and it's not about whether they won or lost but about the effort and level of fight they gave, and that stuff teaches everybody on the team. It shows the team that there's a level of fight — regardless of whether you're a five-star recruit or a one-star recruit — there's a level of fight that everyone is capable of. Hard-fought losses in individual bouts can still contribute to an overall team win."
Ryan said the Buckeyes "needed a spark" to create an opportunity to take down a Virginia Tech lineup with five returning All-Americans. The fuse was lit by an unlikely source.
McCrone arrived at Ohio State as an unheralded piece to Ohio State's decorated 2022 recruiting class that included Mendez, heavyweight Nick Feldman and 133-pounder Nic Bouzakis, three of the most-coveted prospects in the country.
"He wasn't a huge recruit," Ryan said. "But, he doesn't view himself as a walk-on. In every season, we have a moment where we can say, 'Wow, that was a galvanizing point in our season.' That opening match gave us one of those moments.
"Add the fact that he's fighting for a starting spot — the weight class isn't settled for us — and that he was wrestling a tough, highly ranked opponent. There was a lot at stake, and he answered and stepped up. He wanted to lead the team, and he did."
After Virginia Tech tied the dual 9-9 when All-American Bryce Andonian defeated Paddy Gallagher in a 157-pounder battle of St. Edward High School teammates, the Buckeyes put together a string of upperweight upsets.
Isaac Wilcox, unranked at the time, used a third-period takedown to pull out a 6-5 win at 165 against #22 Connor Brady.
Rogotzke built a 7-0 lead at 184 before pinning #15 Sam Fisher.
Freshman Luke Geog used three takedowns to defeat #17 Andy Smith 11-7 at 197.
After getting ridden out in the second period, Feldman scored a takedown in the closing seconds to clip #20 Hunter Catka 3-2 at heavyweight.
Four Buckeyes Win Clarion Open Titles
The win at Virginia Tech came on the heels of a strong showing for Ohio State at the Clarion Open, where four Buckeyes won individual titles — Dylan D'Emilio (149), Gallagher (157), Rocco Welsh (174) and Feldman (285)
Brandon Cannon and Mendez both advanced to the finals at 141, but as happens frequently when teammates meet in college open tournaments — teams are allowed to have multiple entries in the open tourney format — both agreed not to wrestle. Wilcox placed second at 165.
"A couple guys stood out," Ryan said. "Jesse (Mendez) always brings super high effort, and his teammate he met in the finals, Brandon Cannon, really stepped up. His deep love for the sport showed at Clarion.
"Rocco Welsh wasn't overwhelmed, and as a true freshman, that's something you look for. He dominated his matches. It was good to watch Feldman wrestle the way he did, all things considered. Keep in mind the guy is coming off neck surgery, pretty much on his back for six months. I think he was able to lift a carton of milk during that time, and that was about it.
"Really, across the board we did well; I was happy with our effort. Definitely (we) have areas to improve, but overall we were pleased."
No Letdown After VT
Ohio State put to rest any notion of a potential letdown after the big win in Blacksburg with a 53-0 demolition of Edinboro two days later.
The Buckeyes registered four first-period pins and five technical falls. The only match that went the distance was Seth Shumate's 18-4 major decision at 184.
"We'd had a big match Friday night, then we drive through the night, got home at 4 in the morning, and they had practice at 10," Ryan said. "Obviously, they had to make weight the next morning, then wrestle another dual, and I think what we saw was some resilience. So often it's easy to wrestle to the level of your competition, especially after the grind of the previous 48 hours.
"We didn't. We maintained the high level we had at Virginia Tech and wrestled at a high level."
Grandpa Tom
Tom Ryan added a new title almost two years ago — grandfather.
Former Buckeye, Jake Ryan, who wrestled for his dad at OSU, and his wife, Abbie, welcomed their son, Rhett, into the world. Five months ago, Rhett gained a sister, Emmie.
What kind of grandpa is the head coach of the Buckeyes?
"Dad's an amazing grandfather," Jake said. "Like so many parents, we have a lot going on, always busy with different things. Anytime we need help, he's over here or he brings them to his house. Any chance he can get to watch them, he does. He actually calls or texts us and offers.
"The word I think of is 'servant.' He's always done whatever for us, whatever we need. He's no different as a grandfather. He'll drive in the middle of the work day if he has 30 minutes or so, just to be with them for a bit. Rhett loves tractors, so dad bought him one and rides him around.
"He's amazing with them."
Said Tom: "It's amazing. Hard to describe. One of the coolest things in life is to see your kids in parenting roles. Jake has made a lot of good, important choices. He made a great choice in his wife; Abbie is amazing. I'm proud of him. I'm proud of both of them.
"Rhett and Emmie are incredible gifts. Nobody can describe the love, the deep love, a grandparent feels for their grandchildren.
"We're blessed. We really are."
On The Horizon
Nov. 19 — at Columbia (11 a.m.)
Nov. 19 — at Hofstra (4 p.m.)
Dec. 1 — at Cliff Keen Invitational
Dec. 2 — at Cliff Keen Invitational