Destruction Of A Dynasty: A Title Locked Up And A Team Locked Out
Destruction Of A Dynasty: A Title Locked Up And A Team Locked Out
Check out part 2 of Trackwrestling's 3 part series on the cancelation of UNO Wrestling, one of the strongest wrestling dynasties in college wrestling.
Mar 12, 2021
by Andy Hamilton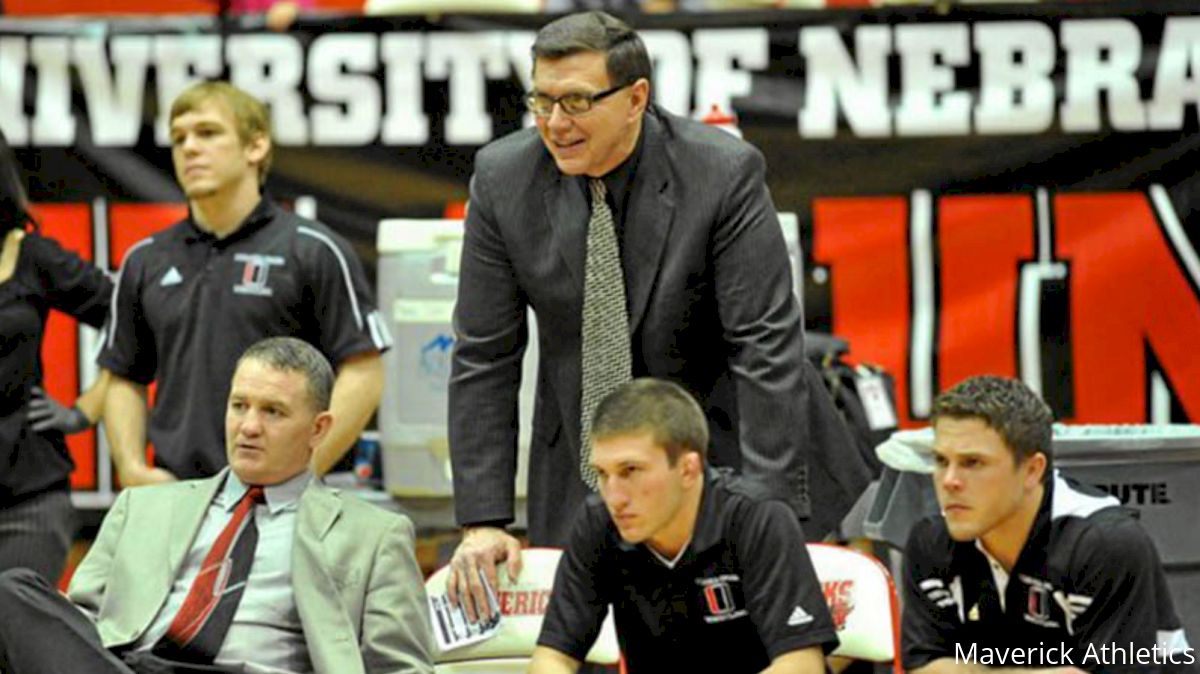 The shockwaves were still rippling through the wrestling world on the second Sunday morning in March of 2011 as news of Nebraska-Omaha's stunning decision to drop its most successful athletic program spread across the country.
Fresh off their sixth Division II national title in eight seasons, the Mavericks were an hour into their championship celebration when athletic director Trev Alberts broke up the party with a bombshell phone call to longtime coach Mike Denney.
Alberts informed Denney of the school's decision to cut wrestling — an almost inconceivable fate for the sport's top college empire at the time.
To this day, wrestling is the only men's sport to win an NCAA title at Nebraska-Omaha. The Mavericks won their first national championship under Denney in 1991. It took them 13 years to get back to the D2 pinnacle, but once they got there, they purchased property at the top, reeling off three straight titles on two occasions.
Denney and company thought they were set up for long-term dominance when the Mavericks pulled away in the 2011 championship round to capture their seventh title. UNO's post-tournament festivities came to an abrupt end after Alberts informed Denney of the decision.
This is the second of a three-part oral history series by Andy Hamilton and Kyle Klingman chronicling the stunning elimination of a powerhouse program at the peak of its dynasty and the aftermath as told by Denney, his former wrestlers and others connected to the decision.
Part I: Destruction Of A Dynasty
It wasn't just the decision to drop wrestling that enraged the program's staunchest supporters. The timing and delivery raised anger levels even higher. Why did Alberts inform Denney of the decision via a phone call an hour after the Mavericks won a national title rather than a face-to-face conversation after the team came home from the tournament? That remains unclear.
One possible explanation: The Omaha World-Herald reported the news in its Sunday edition, and multiple people connected to UNO wrestling wondered if Alberts may have been trying to get in front of the story.
Trackwrestling made an attempt to speak to Alberts for this series, but an interview request made through the UNO sports information department was declined.
ST. CLOUD STATE COACH STEVE COSTANZO, A THREE-TIME ALL-AMERICAN AT UNO: I'll never forget walking out of the hotel and there's a newspaper vending machine. I was walking to the lobby and right in front of that paper vending machine were big, bold, black letters: UNO drops football and wrestling. That was the front page. I was walking through the lobby and it hit me. You hear everything, then you see it in writing and it changes the reality of things real quickly. It goes from this can't be true to it is true. This is really happening.
It was the main topic as we drove home. It wasn't our second-place finish, it wasn't how our guys performed, it wasn't celebrating our national champion at the tournament. We had a lot to be proud of and thankful for, we had a great season, we were the last team to beat Omaha in a dual. There were a lot of emotions that went into it on the way home.
MINNESOTA STATE-MANKATO COACH JIM MAKOVSKY: There are certain moments in life when you remember exactly where you were. I remember where I was when the Challenger exploded. I remember where I was when Reagan was shot. And I remember where I was when UNO dropped wrestling. I was a half hour past Omaha, coming home from nationals in Kearney. We almost turned around because we heard there might be a rally.
NEBRASKA COACH MARK MANNING, A TWO-TIME NCAA CHAMPION AT UNO: I got a call from one of my former teammates. I was at home. I was down in the basement. I was shocked. It was devastating for Mike and Bonnie Denney, who had built a tremendous family atmosphere, a tremendous culture for UNO wrestling, not just by winning but by their development of young men and how many coaches he produced and how he did it.
It was devastating how people who are decision makers, the higher-ups in the administration really let him down. Here's a guy who dedicated his life to UNO and not just UNO wrestling, but to UNO. I know how close he was to all the coaches and how embedded he was into the community but also other people's programs. He wanted UNO to do well. It wasn't just wrestling for Mike Denney, it was community. To have people who are supposed to be supporting you let you down and pull the rug out from underneath you, there was a lot of deception.
Instead of a jubilant 190-mile drive on Interstate 80 that Sunday morning, the Mavericks boarded an RV for quite possibly the most somber championship homecoming in NCAA history. Little did they know a surprise awaited them in Omaha.
ALL-AMERICAN GEORGI IVANOV: It was like a funeral. Nobody said a word.
NCAA CHAMPION MARIO MORGAN: It was like you were driving home to a funeral. We're all in this together and we're all riding in an RV back home and no one is really talking and it's a state of shock.
UNO ASSOCIATE HEAD COACH RON HIGDON: I was on the phone a lot. A lot of texts. People were wondering if it was true. You'd kind of answer, but you were kind of in disbelief and a fog. You're not sure what to think or do or what the next step is.
The man driving the RV was the guy who steered UNO to the top of Division II wrestling. Denney became an almost larger-than-life persona at the school, a Johnny Cash-like figure in the corner with his jet black hair, dark-rimmed glasses and all-black dress suits.
Denney grew up on a ranch in rural Nebraska and attended Dakota Wesleyan, where he was a four-year starter in football and wrestling. He played semi-pro football for seven years with the Omaha Mustangs and won a National Masters judo title in 1982. But he's best known for his work as a college wrestling coach.
DENNEY: You create a wrestling family. Cooperative effort. Shared vision. Everybody is a vital part of it. You surround yourself with people that are a band of brothers. Surround yourself with good women, too. They give you a different perspective. My wife is a part of that. She's given up so much. Consistency. This is who you are.
COSTANZO: It was a consistent culture that was formulated by coach Denney over the years. He was able to bring us together as a family. We were willing to fight and wrestle for each other. When you combine the culture you combine the tradition over the years. After a while, when you put the Maverick singlet on you expected to win. You got to a point where you were so confident and because of the culture that was created, because of the tradition and the guys you had to work out with on a daily basis, when you stepped out there, you had all the confidence in the world you needed to win.
MORGAN: One thing coach talks a lot about is team power. Team power is huge. We did just about everything together from living together to eating together to community service together. Everything we did was with the team and I think that fostered that mindset that we were going to struggle together, but we were going to succeed together.
Denney took over at UNO in 1980 and coached 181 All-Americans and 33 national champions with the Mavericks. UNO finished fourth or better seven times before breaking through to win the 1991 D2 title. The Mavericks wound up second or third nine more times before winning their second championship in 2004.
Then the title floodgates opened. The Mavericks won three straight championships beginning in 2004 and put together another three-year run that started in 2009.
HIGDON: I was there for a total of 24 years and coached with coach Denney for 19. I think part of that is the continuity that we had because we had been together for so long. We had other coaches that had been with us for years and we'd all been together for a long time. When you're not spending your time training other coaches and trying to get them on the same page as you, then that frees up some time to spend on the detail stuff that you need to work on with your guys, fundraising, and all the other stuff that goes into it.
It took us a long time to get there. We were always right there. Sometimes, when you're right there you almost want it too much. Our training philosophy evolved and changed and at the end of the year we were doing a much better job of having our guys fresh.
The Mavericks demolished the competition at the national tournament in 2009 and 2010, winning by 59 and 66 point-margins. The 2011 tournament was a different story. UNO had to scrap from start to finish to hold off Costanzo's St. Cloud State squad.
Denney's squad endured first-round turbulence when top-ranked 157-pounder George Ivanov got knocked off. But Ivanov's work in the consolations proved to be critical. He won five consecutive matches on the back side to place third, helping UNO take a four-point lead into the finals. Seniors Mario Morgan, Ryan Pankoke and Aaron Denson each won championship matches and the Mavericks captured their seventh national title.
IVANOV: For me, the whole weekend was crappy. I was ranked No. 1 the whole year and I came out flat the first match and lost to a kid that went 1-2 in the tournament. I was quite honestly ready to just go 0-2. I was thinking, if not first, whatever. I took second the year before that. I was going to come back the next year. I still had a year after that and I was going to be a two-time champ.
Assistant coach Todd Meneely came into the locker room and just let me have it. He ripped into me and said, "You're being extremely selfish at this point. OK, you had a bad performance, you lost, but the team still needs you." I understood what he meant. I put my headphones in and I don't think I spoke to anyone the rest of the tournament. I just went on the mat, took care of business and won five matches on the back side and took third. I beat a lot of ranked guys. Here I am feeling better because I knew I helped the team, I took third, we just won a national title and I enjoyed watching the seniors finish on top, and an hour later here it goes again. Back down to negativity. It was a negative experience all the way around, except for the one hour after we won.
A confluence of thoughts filled Ivanov's mind during the three-hour ride back to Omaha after the tournament. He dealt with anguish and disbelief over the decision but also remained optimistic that the Mavericks' community connections could help save wrestling at UNO.
His optimism shifted to anger shortly after the team arrived back on campus.
IVANOV: We drove back from Kearney and we got on campus and the doors were locked and all the door locks were changed and we couldn't get into the wrestling room. We couldn't even get into Sapp Fieldhouse. We were locked out of campus, basically, and we were sitting there outside the RV with a trophy on a Sunday morning with no one there. It was like a ghost town.
HIGDON: When we got back to the facility, they had changed the locks on our doors. They were concerned that they were going to go in there and just trash the whole place or something. In order for us to get in the facility, we had to have security there.
That shows you how much he didn't know us. We had a great reputation on campus. We had outstanding community service. Every year we did different stuff and added to it every year. We did community service all the time at our campus, around the community, all around Omaha. For him to say they're going to trash the place, that just shows you how much he didn't know who we were and the kind of kids we had.
DENNEY: Finally, I knew the security guard for 30 years so I said, "Open the dang door. Come on." He did let us in. We didn't know what to do with our trophy. We had a trophy case with a whole bunch of wrestling trophies in it. We didn't know what to do with it. Once we got the door opened, people started showing up. All of a sudden there was a huge crowd there in the Fieldhouse.
I got up and spoke and said "This has to go by the Board of Regents." We found out later that the six Regents had it all planned. They let us come down to Lincoln and make our case. We planned and had all kinds of speakers and what we were going to say. Then we found out two days before that it was a done deal. They were going to vote 6-0 for doing it.
Coming Soon: A look at why UNO dropped wrestling from the vantage point of program insiders and the aftermath of the decision.