Destruction Of A Dynasty: The Bombshell That Rocked UNO Wrestling
Destruction Of A Dynasty: The Bombshell That Rocked UNO Wrestling
Nebraska Omaha had one of the strongest program in college wrestling when they were cut. Andy Hamilton dives into their story in part 1 of this series.
Mar 10, 2021
by Andy Hamilton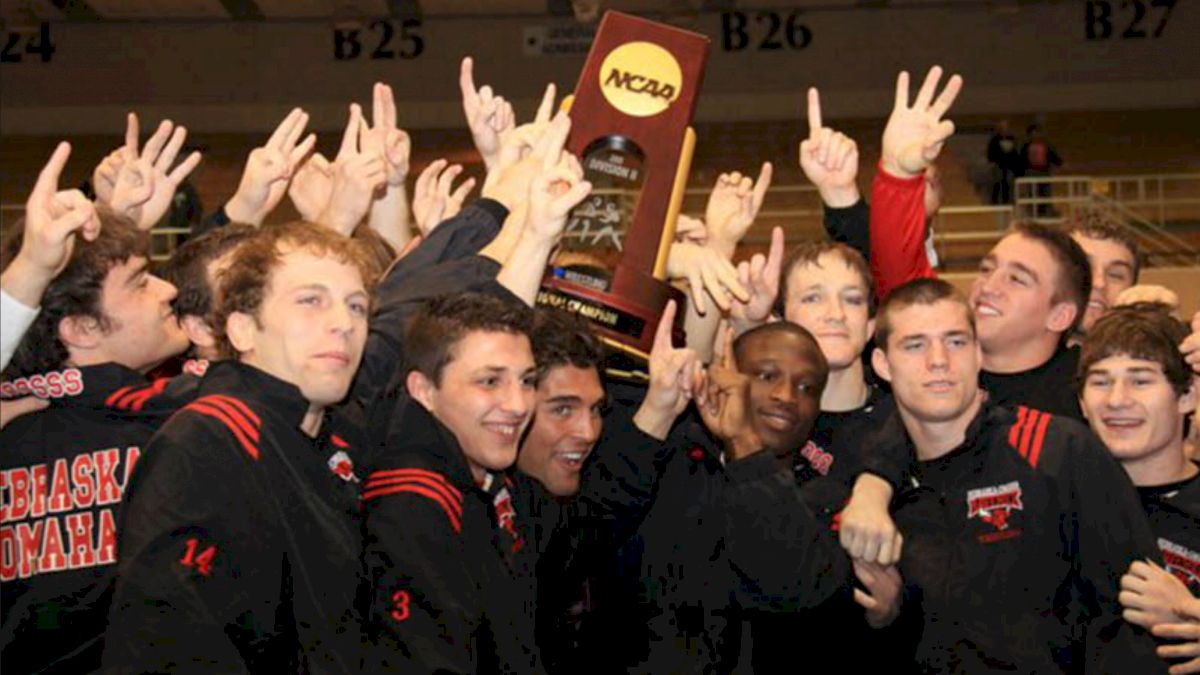 By every surface indicator, Nebraska-Omaha's wrestling program was on rock-solid footing 10 years ago.
The Mavericks were arguably college wrestling's top dynasty at the time. On the mat, they'd won six Division II national titles in eight years. Off it, they were involved and embedded in the Omaha community. Their roster had a heavy local flavor, and they were helping support themselves with their fundraising efforts.
Longtime coach Mike Denney led the Mavericks to their first national title in 1991 and they were perennial contenders before another championship breakthrough in 2004. That's when UNO really got it rolling, and there seemed to be no end in sight for the Mavericks' mastery of Division II wrestling.
Until a bombshell decision landed on Denney's voicemail on March 12, 2011, roughly an hour after the Division II NCAA Championships in Kearney, Nebraska.
Denney was delivering a speech at UNO's post-tournament party when he felt the phone in his pocket vibrate. The call was from the school's 40-year-old athletic director Trev Alberts, a former Nebraska football star whose once-promising NFL career was cut short by injuries after three seasons with the Indianapolis Colts.
Alberts grew up in the heart of wrestling country, a Cedar Falls, Iowa, native who attended Northern University High, one of the few schools in the area that did not offer wrestling. He attended high school across the street from the UNI-Dome, where Nebraska-Omaha won the National Duals each year Alberts headed up its athletic department.
Minutes after Denney delivered his speech at UNO's 2011 post-tournament celebration in Kearney, he reached into his pocket to check his messages. The voicemail from Alberts — and phone conversation that followed — rocked Denney, his wrestlers and sent shockwaves throughout the wrestling community.
Nebraska-Omaha was dropping wrestling.
This is the first of a three-part oral history series by Andy Hamilton and Kyle Klingman chronicling the stunning elimination of a powerhouse program at the peak of its dynasty and the aftermath as told by Denney, his former wrestlers and others connected to the decision. An interview request for Alberts made through the Nebraska-Omaha sports information department was declined.
Denney and others described the former UNO coach's relationship with Alberts as contentious. Denney never mentioned Alberts' name during an hour-long interview for this series, repeatedly referring to him as "the AD."
DENNEY: After the meeting I looked at my phone and I saw that the AD had called. He never congratulated us on anything we'd ever done. We won the national title at home the year before, packed house, great championship, sold out, and I don't think he showed up.
It was a strained relationship. We televised every one of our home duals. We had a television station there so they could use their cameras. Nebraska TV covered it and one of our boosters covered the cost of that. He made us quit doing that. He told us we couldn't have a banquet. Every week there was something he would do to us.
We went through all that stuff and we still won three in a row. I knew he wasn't calling to congratulate us because he never did. Not once did he ever do it. He said to give him a call, so I called him up and he said we were dropping the program and we dropped football also. I was in shock.
My wife was right beside me. I did call him the most arrogant, egotistical, in-love-with-himself, narcissistic, son-of-a-bitch I've ever met. I told him that over the phone because he is. He said, "Are you threatening me?" I said, "No, I'm telling you because you are." I said, "You won't even meet with me one-on-one? Come on. You have to do this on the phone?"
FORMER UNO ASSOCIATE HEAD COACH RON HIGDON: When coach Denney called me and told me I didn't know what to say. It didn't sound like it could be real. It didn't even register. That's how out of the blue it was.
The Mavericks pulled away from second-place St. Cloud State during Saturday night's final round to win the 2011 national title. Three UNO wrestlers — seniors Mario Morgan, Ryan Pankoke and Aaron Denson — capped their careers by winning individual championships.
After the team party concluded, several of the Mavericks had just left the team hotel to continue the celebration elsewhere.
UNO ALL-AMERICAN GEORGE IVANOV: Coach texted us and told us to get back to the hotel. It sounded urgent. We didn't know if someone got in trouble.
DENNEY: I brought the wrestlers back to the hotel and they looked at my face and they knew something was wrong.
IVANOV: He had tears in his eyes when we saw him in the lobby. I thought someone had been in an accident, someone had gotten injured or was in the hospital, something of that nature. UNO dropping the program couldn't have even crossed our minds at that point. I thought it was a joke. It didn't even process at the time.
MORGAN: When you have three seniors and some of your best friends and you all trained together for the last five years and you all win individual titles, you have teammates that were All-Americans, and you have the team winning its third national championship in a row, you're on the highest of highs. For me, winning a national title was something I had been close to and had been dreaming about — for me and my family. A lot of people make sacrifices for you to reach those types of goals. You want to thank everyone and bask in that day and that evening and enjoy and then you get blindsided like that.
ST. CLOUD STATE COACH STEVE COSTANZO, A THREE-TIME ALL-AMERICAN FOR DENNEY AT UNO: Rumors spread fast and it spread through that hotel. As the kids were mingling around and they started talking with other competitors and teams and UNO guys, it became real that they really were dropping the program.
For our guys, you just got done battling with a team like Omaha. We were in that tournament. It came down to the last round to determine the champion. You just get done competing against your competitor then you find out they dropped their program right after they received their national championship trophy.
It was during that team trophy presentation at the conclusion of the tournament when Denney noticed the first red flag. One of his longtime friends — school chancellor John Christensen — a former college wrestler, whose son coached a Nebraska high school championship wrestling team, had been a fixture in past UNO title photos. Denney recalls seeing Christensen at the tournament in Kearney that weekend, but was conspicuously absent when the team gathered for a championship photo.
In the weeks leading up to the tournament, Denney and Christensen had discussions revolving around chatter that UNO might make the leap to Division I. But Denney said he had been given assurances from Christensen that the Mavericks were planning to remain in Division II.
DENNEY: Our guys had really responded to some adversity during the year. I was really proud of how they did in the national tournament. After the national tournament, I said, "Guys, let's not just rush out of here. I want you to savor this a little bit. Talk to your parents. Talk to people." So we did.
I didn't see John Christensen, but he had been at the national tournament. He left and he had been in every picture for every national championship. We would actually give him a ring and put it in a case. He had a national championship ring for six national championships. We didn't give him one for the seventh. He sneaked out and I thought, "That was weird. Where's he at?"
Coming Next: A look at how Denney built a dynasty in Omaha and a startling surprise that awaited the Mavericks when they returned home from the national tournament.
Destruction Of A Dynasty Part I: The Bombshell That Rocked UNO Wrestling
Destruction Of A Dynasty Part II: A Title Locked Up And A Team Locked Out
Destruction of a Dynasty Part III: Aftermath & Opportunity In Omaha