2021 Big Ten/Big 12 Championship Watch Party
Myles Amines Business: 197-Pound Big Ten Preview
Myles Amines Business: 197-Pound Big Ten Preview
Previewing the Big Ten Conference Wrestling Championships at 197-pounds.
Mar 5, 2021
by Andrew Spey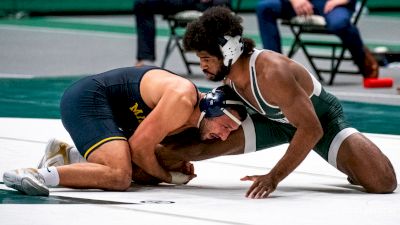 Unlock this article, live events, and more with a subscription!
Get Started
Already a subscriber? Log In
Soon there will be a gathering where the Big Ten 165-pounders will vie for the great prize. While the fate of humanity does not hinge on the outcome, it is still a pretty big deal. As this strange covid season of 2021 reaches the conclusion, we find Alex Marinelli as the undisputed #1 seed, despite having only wrestled in two dual meets.
Who will be crowned 2021 Big Ten Champ? There can be only one.
Watch the Big Ten/Big 12 Championships Watch Party LIVE on FloWrestling
197 Pounds (6AQs)
1. Eric Schultz, Nebraska (#2)
2. Myles Amine, Michigan (#1)
3. Jacob Warner, Iowa (#3)
4. Cam Caffey, Michigan State (#11)
5. Lucas Davison, Northwestern (#10)
6. Thomas Penola, Purdue (#23)
7. Michael Beard, Penn State (#12)
8. Matt Wroblewski, Illinois (#25)
9. Gavin Hoffman, Ohio State
10. Billy Janzer, Rutgers
11. Garrett Joles, Minnesota
12. Jaron Smith, Maryland
13. Nick Willham, Indiana
14. Andrew Salemme, Wisconsin
Olympian Myles Amines Business
The pride of San Marino (which is no joke, Myles' mother is Sammarinese) has bumped up two weight classes after taking last season off while on an Olympic Redshirt. Similar to the seeding process at 141, Amine appears to have been penalized by the Big Ten coaches for moving up a weight class.
Amine finished 4th, 3rd, and 3rd in three trips to the NCAA Championships, all at 174-pounds. There is but one other competitor who has wrestled on Saturday at the NCAAs, Jacob Warner, who placed seventh in 2019. However, to be fair, Eric Schultz was seeded third going into the canceled 2020 NCAAs, and Warner and Cam Caffey were seeded 5th and 6th respectively.
Amine also wrestled zero folkstyle last season while redshirting. The strategy was quite successful, though, as Myles Amine qualified for the Olympics and will represent the small landlocked Apennine principality of San Marino at the Tokyo Olympics.
Watch Amine punch his ticket to the semifinals of the 2019 World Championships, earning him an Olympic qualifying bid in the process:
However, no seeding credit for qualifying for the Olympics, no matter how nifty the achievement. Regardless, Myles means business in folkstyle as well. As the most credentialed wrestler in the field, he'll have the target on his singlet not matter where he's seeded.
The Challengers Care Not For Accolades
The aforementioned trio of Schultz, Warner, and Caffey are more than up to the challenge of hoisting a Big Ten championship trophy, as they were all slated to earn All-American honors at last year's NCAAs. However, we do have some relevant results from this weird, shortened season.
Caffey, who bumped up from 184 last season, has two losses on the season, 11-6 to Amine and 6-5 to Schultz. Schultz also beat Warner 3-2. Amine has never wrestled either Schultz or Warner. Warner has also never wrestled Caffey.
Northwestern's Lucas Davison is also in the mix for the Big Ten crown.
Other Contenders, Sleepers, and Landmines
It wasn't that long ago that Gavin Hoffman and Miachel Beard were the respective #10 and #11 ranked prospects in the class of 2018. Beard took two shirts of the gray and red variety the last two seasons but appears ready for a break out season. Hoffman took a circuitous path to the starting 197-pound gig in Columbus. He stumbled a bit but may have found his footing.
Watch this blast from the fairly recent past as Beard and Hoffman wrestle a thriller at 2017's Who's #1: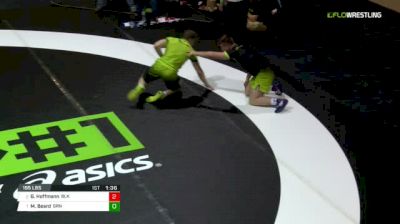 Unlock this video, live events, and more with a subscription!
Get Started
Already a subscriber? Log In
Beard is ranked 12th nationally and is very dangerous from the #7 seed. Hoffman is right outside the top 25 rankings and, if he finds his groove, is capable of a deep postseason run.
Billy Janzer spent most of last year ranked at 184. Rutgers has had trouble getting mat time this season and Janzer's loss to Hoffman keeps him on the top 25 bubble but as #10 seed he's a landmine you don't want to encounter on either side of the bracket.
Most Anticipated Matchups
Round of 16
Jaron Smith, Maryland vs #10 Lucas Davison, Northwestern.
Smith is coming back after being injured all last season and has not yet returned to form, but has knocked off his fair share of ranked wrestlers in his career. Davison defeated Smith 5-1 earlier this season, but this could be a trap-match for the Wildcat in the first round of the tournament.
Billy Janzer, Rutgers vs #12 Michael Beard, Penn State
Beard will be the heavy favorite but it will still be a good first-round test for the Nittany Lion. Janzer will need to be prepared after not having had a competitive match in over a month.
Quarterfinals
#1 Myles Amine, Michigan vs #12 Michael Beard, Penn State
Assuming Beard advances he'll have the #2 seed Myles Amine waiting for him. Beard is a full size 197-pounder, but Amine has proven himself against some of the best 86 kilo (189.2 pounds) wrestlers in the world.
#3 Jacob Warner, Iowa vs #23 Tommy Penola, Purdue
There's not a lot of room to breathe in the toughest conference tournament in the county. After an opening-round match with Salamme, Warner will likely see the indefatigable Tommy Penola. While Warner will be the favorite, his stamina will be tested.
Spey's Spredictions
Though he's giving up some size, I'm sticking with the Olympian to win his first conference title. Back in the 2019 season, Amine only lost to guys with NCAA titles to their name. I believe that trend will continue in 2021.
And in a mild upset, I'm picking Caffey to rely on his funk and defeat Warner for third.
1) Myles Amine, Michigan; 2) Eric Schultz, Nebraska; 3) Cam Caffey, Michigan State; 4) Jacob Warner, Iowa