2020 FloWrestling 8-Man Challenge: 150 lbs
The 2020 Year In Review As Told By Holiday Movies
The 2020 Year In Review As Told By Holiday Movies
A recap of the bar-none most unique year in of wrestling in memory, as told with the help of some of our favorite holiday movies.
Dec 24, 2020
by Brendan Scannell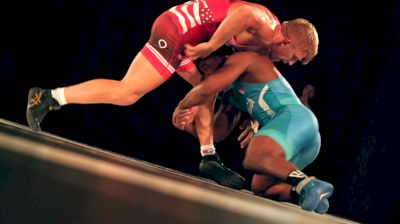 Unlock this video, live events, and more with a subscription!
Get Started
Already a subscriber? Log In
Unlock this article, live events, and more with a subscription!
Get Started
Already a subscriber? Log In
Can you believe we've made it to the final week of 2020?
After what has been an incredibly difficult year for the most of us, what better way to end 2020 by spreading a little holiday cheer?
The wrestling world stays busy. This year was no different. Even in the midst of a pandemic.
So, go ahead and pour yourself a cup of hot chocolate, settle in by the fire, and enjoy the Second Edition of the season in review - brought to you by some of my favorite Christmas movie quotes.
I know about losing things. But the magic isn't just in what you lost. It's in what you still have.
Jingle Jangle: A Christmas Journey (2020)
2020 was supposed to be our year. An epic NCAA tournament at US Bank Stadium in Minneapolis, followed shortly by the most anticipated Olympic Trials to date. That is, until it all came tumbling down. Cities nationwide began entering into lockdown mode and the NCAA tournament was canceled just days in advance, spoiling what was about to be a thrilling few months of wrestling. Despite the challenges brought on by the Covid-19 pandemic, the wrestling community responded the only way it knows how: resiliently.
In the midst of lockdown, amateur and professional wrestling cards began popping up nearly every week, putting money in the pockets of the athletes while expanding the boundaries of competition we've come to expect.
In the first big-money Flo card on July 25th, Kyle Dake knocked off the International Treasure Frank Chamizo. In the fall, we got a chance to see Jordan Burroughs bump up and initiate his famous clutch gene in a hard-fought victory over Zahid Valencia. A virtual Beat the Streets fundraiser was a huge success, despite requiring a bit of a facelift. Who's #1 wasn't hosted in front of a packed Carver crowd, but still delivered some awesome high school matchups for fans at home. Meanwhile, Myles Martin and India's Bajrang Punia were the champions of Flo's 8-Man Challenge brackets at 195lb and 150lbs, respectively.
Never count out the resiliency of wrestlers.
"A lovely cheese pizza just for me."
Home Alone (1990)
When NCAAs was canceled, crushing the spirits of wrestling fans across the country, it also crushed the Iowa Hawkeyes hopes of dethroning Penn State as national champions.
After defeating the Nittany Lions in a dual at home in January and then taking home the Big Ten title just days before the nationwide shutdown, Iowa had its sights set on its first national championship since 2010.
Instead, it was a one-man party in Iowa City when the 2020 Dan Hodge Trophy was awarded to Hawkeye Spencer Lee.
All season long he was exciting, he was dominant, and most importantly…he was undefeated.
The Hodge finalists weren't quite the usual faces, considering the lack of an NCAA tournament led to an increased number of undefeated wrestlers. Among the group, one stood out from the rest.
Lee was a whirling dervish of points all season long, going nearly untested and bonus-ing all but one of his opponents to flaunt a ridiculous 89% bonus rate. The two-time NCAA champ was just overwhelming from the very first whistle, attacking the second he put his hands on opponents and consistently opening matches with a quick takedown before transitioning to back points and a six-point lead.
This version of Spencer Lee might just be the best we've ever seen. Although he hasn't competed since the season's abrupt ending, many fans have penciled him in as USA's 57kg Olympic rep.
Thanks for the Christmas card, Violet.

I didn't send you a Christmas card, Charlie Brown.

Don't you know sarcasm when you hear it?
A Charlie Brown Christmas (1965)
It was the skype call that shook the wrestling world.
It started as a harmless morning segment of FRL when Kyle Dake, with the help of co-host Ben Askren, essentially ambushed Jordan Burroughs during a discussion of the greatest NCAA wrestlers of all-time.
Pretty soon, things got…tense.
Dake did a lot of the talking. The back and forth teetered between entertaining and uncomfortable. Some moments even reached Bachelorette-levels of cringey as Dake peppered the Olympic champ with jabs about his training and his age, before adding some tired excuses about the World Team selection process. It was some serious bravado considering Dake's 1-7 career record against Burroughs.
The biggest highlight reel moment was Dake's claim that while Burroughs continues to age, he is indeed "getting younger", leaving some wrestling fans listening at home scratching their heads. Others embraced it as part of Dake's quirky persona.
The trash talk hasn't stopped there, though. It was a summer and fall full of sub-tweets and callouts. It's clear these two don't like each other. A clash for the 74kg Olympic spot between these two American greats is at the top of everyone's Christmas list.
Hey @SpartanRTC you guys had to go to Canada to find a 74kg? I thought you had a guy.

— Jordan Burroughs (@alliseeisgold) December 5, 2020
What's this? What's this?

There's color everywhere!

What's This?

There's white things in the air!

What's this?
Tim Burton's The Nightmare Before Christmas (1993)
What's this? A Dual meet tournament? At the senior level?
The first ever RTC Cup on December 4th-6th provided us with a kind of freestyle team competition we'd never before seen domestically. It was the type of event fans had anticipated for years as RTCs continue to grow all over the country.
Pools of six teams from some of the best RTCs made for an abundance of stars and some incredible matchups throughout the two-day event. Top contenders on the 65kg Olympic ladder, James Green and Yianni Diakomihalis hit on back-to-back days, with the young star Yianni prevailing on criteria in both matches. At heavyweight, Gable Steveson knocked off current World Team member Nick Gwiazdowski, signaling a potential changing of the guard.
The RTC Cup had it all. There was some trash talking, TV breaking, and even some roof raising. And the people friggin' loved it! Regional support for nearby RTCs was encouraging and raised the optimism for a future that could include that some sort of a sustainable team competition at the senior level.
In the end, it was Michigan's Cliff Keen Wrestling Club that came out as the champions, defeating the NJ/SERTC team in a competitive final. The team was led by a breakout performance from young heavyweight Mason Parris, three-time All-American Alec Pantaleo, and free-agent pickup Seth Gross. Cliff Keen came in as the favorites and left $50,000 richer.
Here is my Christmas speech: Thank you all and Merry Christmas.

That was the speech?

It was dumb.

It was obvious.

It was pointless.

It was…short.
The Muppet Christmas Carol (1992)
At the end of each wrestling season, the community is forced to brace itself for the potential cutting of programs. It's a painful reality that wrestlers have grown to accept. Athletic departments are hardly ever held accountable while coaches and athletes are left to deal with the aftermath. Ultimately, we're never left with very much of an explanation. At least, not a good one. It tends to be dumb, obvious, pointless, and short.
The memory of Boise State, who dropped its wrestling program for a baseball team that would go on to get cut just three years later, is still fresh in everyone's minds. Conveniently, a worldwide pandemic shouldered much of the blame this time around.
This offseason, it was Fresno State, Old Dominion, and Stanford who all got the ax. Fresno State, a recently revived program, enjoyed plenty of local fan support since reinstatement and even had an All-American in 2019. It wasn't enough to keep the athletic department satisfied.
Stanford, though, was truly crushing. The athletic department cited "finances and competitive excellence" as the main factors to eliminate the wrestling program, along with ten other sports.
Anticipating one of its biggest seasons in years, including two national title contenders in Shane Griffith and Real Woods, Stanford's coaches and the athletes were completely blindsided by the news. In the months since the announcement, the #KeepStanfordWrestling campaign has already raised $12 million, so there's hope it can be salvaged. Unfortunately, it's an uphill battle.
Wow! What's this?

This is the North Pole.

No, it's not.

Yes, it is.

No, it's not

Yes, it is

No, it isn't

Yes, it is.

No, it isn't

Yes, it is.

No, it's not. Where's the snow?
Elf (2003)
After a year full of cancellations and postponements, it wasn't at all shocking when it was announced UWW wouldn't be holding a World Championships this year. If there is no 2020 Olympics, there's no World Championships. Makes sense.
Still, the pushback was enough for UWW to compromise and hold a 2020 Individual World Cup held in Serbia, December 12th-18th. Which was basically just a World Championships under a different name.
When the announcement came of Team USA's decision not to attend, it was met with some disappointment in USA Wrestling leadership. Fans and media were left asking "Why aren't we sending a team?"
But, why would we?
With no Olympic Trials qualifying implications, there wasn't any real incentive for our best wrestlers to compete. Some fans pleaded for the US team to send backups in place of any current World Team members not interested in participating. But, is it really the World Championships if we send a team full of backups? There's no denying this version of the tournament will be marked with an asterisk.
I know it sounds like I'm advocating against wrestling, but I promise I'm not. I'm really just advocating for meaningful wrestling. While I can understand and sympathize with any wrestlers who wanted the opportunity to compete overseas - as a fan, I just can't get myself excited about a World Championships that, well, isn't really the World Championships. To send a team to a pseudo-World Championships that doesn't even include most of the traditional power countries felt forced and superfluous. There's no North Pole without snow, and there's no World Championships without USA, Iran, and Japan. After all, the emergence of all of these awesome wrestling cards all over the country is plenty to satisfy the appetite of a wrestling fan starving for any sort of competition.
If Russia wants to send its A-Team to collect medals at the World Championships (sorry, World Cup…?), so be it. Considering the country's recently announced Olympic ban, I'm sure it'll take all of the medals it can get.
As for the USA, we're focused on Tokyo 202One.
Now you listen to me, young lady! Even if we're horribly mangled…There will be no sad faces on Christmas.
Dr. Seuss' How the Grinch Stole Christmas (2000)
It's Christmas and there hasn't been an NCAA wrestling match anywhere in sight.
High school seasons around the country remain in limbo. There was no Beast of the East. No Ironman. I'm sure I'm not the only one getting restless.
Sure, the start of the season looks different but hang in there wrestling fans. There's still plenty to be excited about.
The NCAA season remains in a holding pattern, but with some dual meets scheduled to begin at the start of the new year, I remain optimistic. And I'm not alone. Just ask Northern Iowa head coach, Doug Schwab, who reminded us, "We're having a damn season."
On January 9th, Jordan Burroughs and David Taylor will face off live on FloWrestling for what is probably the biggest domestic exhibition match in history.
Olympic Trials are slated for the first week of April.
We will get through this.
Last year, at the end of this same article, I had the gall of signing off with - "Bring on 2020".
If only I knew what I was in for…
So, this year I'll just say, Merry Christmas! I hope you and your family a happy and healthy holiday season!