From DeSanto To Happy Valley: The NCAA Review, Holiday Edition
From DeSanto To Happy Valley: The NCAA Review, Holiday Edition
From the Penn State upset to Austin DeSanto, here's everything that went down in the first half of the season — as told by Christmas movies.
Dec 20, 2019
by Brendan Scannell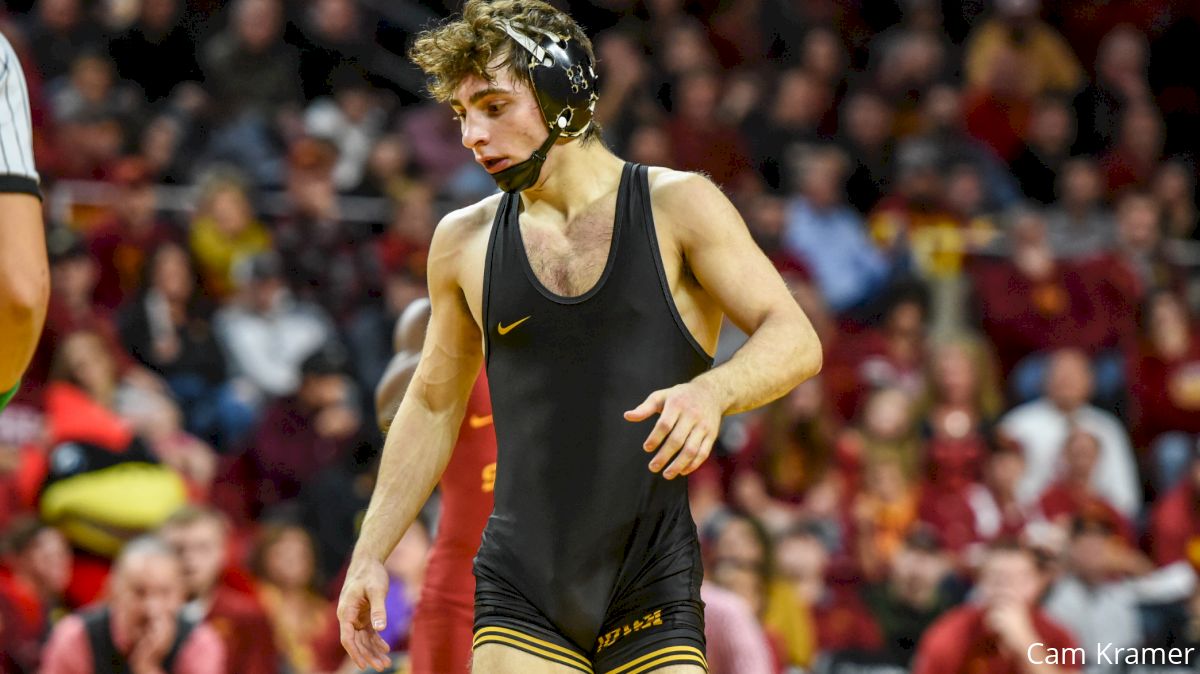 Unlock this article, live events, and more with a subscription!
Get Started
Already a subscriber? Log In
During this time of year, you'll usually find me on my couch, avoiding the cold, and doing one of two things: watching wrestling or watching Christmas movies. Holiday season means it's wrestling season. For most of the world, this time of year is synonymous with decking the halls and unwrapping gifts. For wrestlers, it's memories of long bus rides and cutting weight.
We're only about two months into the 2019-20 NCAA season, but there are still a lot of takeaways based on what's happened on the mats in the final months of the year and what it could all mean moving forward. As we prepare to close the door on this decade, we anxiously look ahead to what could be the biggest year ever in USA wrestling history.
So, here is my review of the season so far — as told by some of my favorite quotes from classic Christmas movies and TV shows.
"My family's in Florida, and I'm in New York?"
-Home Alone 2: Lost in New York (1992)
Earlier this month, Ohio State and Cornell wrestled a dual meet. In the Cornell lineup, there was no two-time NCAA champ Yianni Diakomihalis, no NCAA finalist Max Dean, and no All-American Vito Arujau. At Cliff Keen Las Vegas Northwestern impressed, but its star, Sebastian Rivera, was nowhere to be found. I went to watch Princeton dual Iowa in New Jersey, but two-time defending champ Spencer Lee didn't make the trip.
Where is everybody?
In 2016, one-third of the US Olympic team featured NCAA wrestlers. Currently, some of the NCAA's best wrestlers sit high on the Olympic ladder. For that reason, the anticipation of the upcoming Olympic Team Trials has resulted in some load management, as well as athletes taking advantage of Olympic Redshirts, leaving them sidelined for the NCAA season. But don't worry. It's not all bad. Spencer isn't sitting out all year. We'll see him in the postseason. Same with Rivera. With that said, things don't quite feel the same without some of these guys.
"So, what's it going to be, huh? Do you want your menorah or candy cane? Christmas or Hanukkah? Don't worry about it, buddy. Because in this house you don't have to choose. Allow me to introduce you to a little something that I like to call . . . Chrismukkah.
The O.C. Season 1, Episode 13 "The Best Chrismukkah Ever" (2003)
So, what's it going to be? Freestyle or folkstyle? Rideouts or pushouts? Don't worry about it, buddy. Because this year, you don't have to choose.
This winter, not only do we have the usual high school and NCAA action to keep fans busy, but also the entire qualifying process for the 2020 Summer Olympics. One weekend it's the college guys duking it out at CKLV, and a few weeks later it's Senior Nationals in Fort Worth, Texas, where Trials qualifying spots are on the line. The NCAA Championships in March will be followed up by Olympic Team Trials just two weeks later.
Looking towards Tokyo 2020, Team USA is the best it's ever been. The result of this depth is qualifying tournaments loaded with some of wrestling's biggest stars from the past and present, each with dreams of Olympic glory. So, next time you are at a dual and your team's favorite wrestler is sitting out, just remember, you might get to watch him wrestle a big-time freestyle match the next week. Who doesn't love a good double dose of wrestling?
But let's get back to the NCAA season.
"Faith is believing in something when common sense tells you not to. Don't you see?"
-Miracle on 34th Street (1947)
HOLY UPSETS!
Penn State loses for the first time since Barack Obama was president. To Arizona State?! Minnesota loses to Rider at home. Huh? Lehigh beats Oklahoma State. Then Princeton takes out Lehigh.
In the first month and a half, three #1-ranked wrestlers went down.
What a start to the season it's been.
"So, go ahead."
"Go ahead with what?"
"Are you going to sing a song or something? Or should I just go back to work?"
"A song? Um – yeah, anything for you, dad!"
-Elf (2003)
Across all sports, the offspring of world-class athletes have provided us with all-time greats like Ken Griffey Jr., and Steph Curry. Now it seems like wrestling is a part of that wave.
The newest generation of American wrestlers features many children of past American greats. David Carr of Iowa State and Okie State Cowboy Joe Smith both compete for their fathers' alma maters and are considered title contenders at their respective weight classes. Meanwhile, both of Kenny Monday's boys, Kennedy and Quincy, are back in action at UNC and Princeton, respectively.
A bit of a surprise addition was the emergence of Nelson Brands, son of Terry. We saw Brands in the starting lineup for Iowa early on against some of the team's lesser opponents. Most figured he was filling in for injured Round of 12er Cash Wilcke. But in the dual against Iowa State, his starter status was solidified when "Coach Dad," as Nelson referred to him during his post-match press conference, asked a tall task out of the redshirt freshman. In enemy territory, Nelson knocked off #5 at the time, Sammy Colbray, as part of a dominant Hawkeye victory. Then, in true Brands Boy fashion, he celebrated the win with a mean stare-down of the Cyclone bench. Like father, like son.
"Seeing is believing, but sometimes the most real things in the world are the things we can't see."
-The Polar Express (2004)
You can't see it, but whatever dark magic floats inside the hallowed halls of Carver-Hawkeye Arena is very real. Iowa's Austin DeSanto delivered the biggest shocker of the season so far by dominating 2018 national champ — and many people's Hodge favorite — Seth Gross. That makes for back-to-back Carver victories over national champs for DeSanto. Who can forget his dramatic last-second takedown over Suriano last year? What is it about that place? Not to mention, who better to perpetuate the Carver Curse, than the Hawkeye's biggest heel, Austin DeSanto.
Whether you like him or not, you have to admit this guy is appointment viewing.
"Dad! That thing won't even fit in our yard!"
"It's not going in our yard, Russ. It's going in our living room."
-Christmas Vacation (1989)
With the loaded Hawkeyes breathing down its neck for the 2020 NCAA team championship, Penn State made the surprising move to pull Aaron Brooks' redshirt on December 6. Brooks' debut was long anticipated by the We Are faithful, but few expected it to come this year.
So where does he fit? He's wrestling 184 at the moment while Shakur Rasheed recovers from injury, but most expect the 2018 All-American to return. At 197, there's offseason transfer and 2018 NCAA tournament darling Kyle Conel. But Conel has looked underwhelming to this point. I thought Penn State would give Conel some time to shake the cobwebs off before peeking at the end of the season, like he did in Cleveland two long years ago. But maybe the "plan" changed.
I doubt we'll have too much insight on this one, but one thing is clear: There look to be three really good guys vying for only two starting spots. However, the decision to pull Brooks makes me wonder if there are really only two guys left fighting for just one spot.
"For now, let me say, without hope or agenda, just because it's Christmas – and at Christmas you tell the truth. To me, you are perfect."
-Love Actually (2003)
Fresh off the heels of Penn State's first dual loss since 2015, one of the biggest conversations wasn't Kordell Norfleet's impressive debut over the then-#3 Kyle Conel. Not Penn State's forfeit to two-time defending champ Zahid Valencia. It wasn't even the ASU students storming the mat. Instead, we were once again forced to debate whether dual meets should be the way we determine the team champion in NCAA wrestling. I like to think the people who hold this opinion are also the first to argue for an additional upperweight between 197 and 285 after Kyle Snyder loses to Adam Coon.
Yes, duals are awesome and upsets are incredible, but a regular-season dual meet victory by Arizona State should not have us rethinking our entire process. Sometimes teams lose. Of Alabama's five national championships under Nick Saban, the Tide lost a regular-season game four times. The goal of the NCAA Tournament is to determine the best team, not create the most parity.
This year, the best two teams in the country are undoubtedly Penn State and Iowa, and those will be the final two teams fighting for the national championship in Minneapolis in March.
No one asked my opinion but I'm going to give it.
So, for now, let me say, NCAA tournament . . .
To me, you are perfect.
Merry Christmas you filthy animals.
Happy Holidays and a Happy New Year.
Bring on 2020.