How'd Spey Do With His Men's Freestyle Individual World Cup Picks?
How'd Spey Do With His Men's Freestyle Individual World Cup Picks?
Spey takes a look at his 2020 Men's Freestyle Individual World Cup picks and assesses his performance.
Dec 23, 2020
by Andrew Spey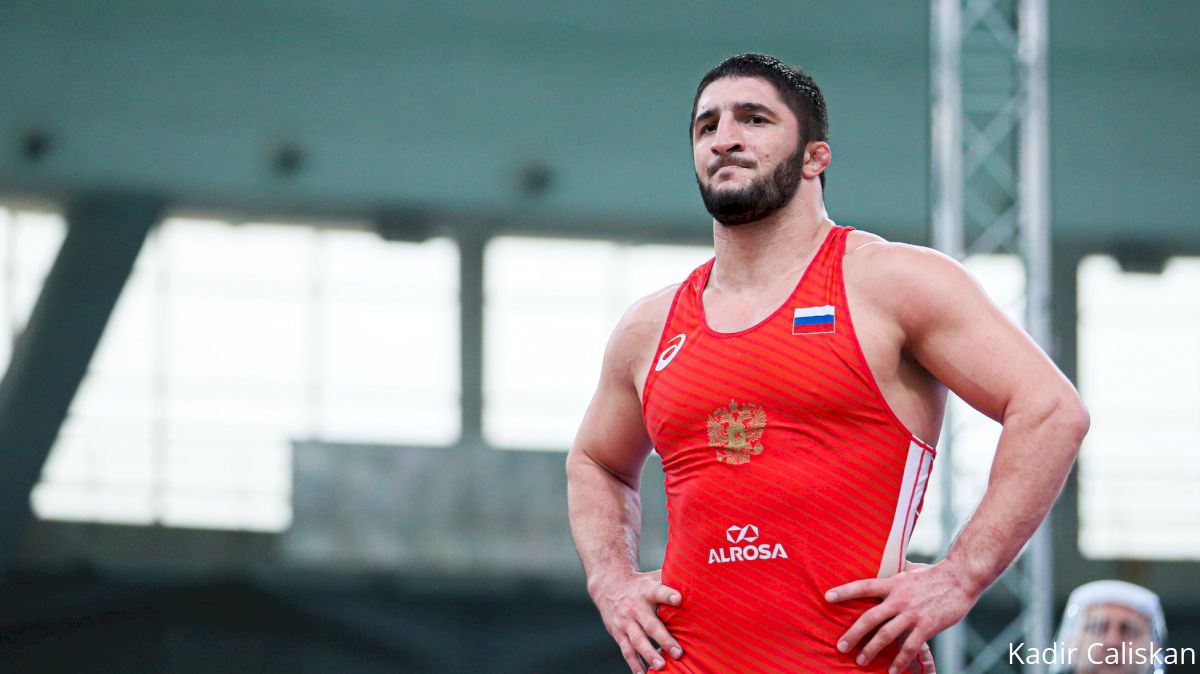 Unlock this article, live events, and more with a subscription!
Get Started
Already a subscriber? Log In
I scoured the web for predictions for the men's freestyle divisions of the Individual World Cup but couldn't find any, so I'm going to go ahead and crown myself world's greatest wrestling picker of 2020 based on the following tweet:
My picks for the UWW MFS Individual World Cup. I did this with minimal research, basically just looking at the bracket and firing from the hip. If you disagree you MUST respond with your top 5. No exceptions. Thank you for adhering to my rules. pic.twitter.com/bghEamYeTx

— The Winter Solsticer (@SpeyWrestle) December 16, 2020
But so as not to I've completely betray my humble roots, I will also publicly recognize that I did not accurately predict every placement. In fact, I got more wrong than I did.
Which is okay. I did not expect to get them all right. I'm not omniscient. And part of the fun of picking pics is reviewing reviewing them upon the completion of the competition to see where your powers of prescience excelled and where they failed you.
So let's dig in, see how I did, and figure out what went wrong!
Italicized names are where I nailed the placements dead on. An asterisk next to a name means I correctly predicted a top-five finish, just not in the exactly correct placement.
57 Kilograms
Picks
1 Uguev RUS
2 Kumar IND
3 Micic SRB
3 Andreyev BLR
5 Harutyunyan ARM
5 Amouzad IRI
Reality
1 Uguev RUS
2 Harutyunyan ARM*
3 Yatsenko UKR
3 Amouzad IRI*
5 Micic SRB*
5 Andreyev BLR*
What Happened:
I got Uggie right. Doesn't take a genius to pick the most dominant 57kg over the last three years to win again. Zaur Uguev has now won 57kg gold at the last three Russian Nationals, the last two World Championships, and now the 2020 World Cup.
Don't let the 3-2 loss to Azerbaijan's Amiraslanov at the 2019 Euro Games cast any doubt, Uguev is the favorite to win Olympic AND world gold in 2021.
That was my only correct placement pick, however, I did correctly pick four of the other five competitors to wrestle for a medal.
I didn't think Hungary's Halidov would beat 2019 World bronze Ravi Kumar of India. I hadn't even heard of Halidov before, but the Hungarian Federation has made some big investments in training facilities and transfers recently so this may be a harbinger of things to come.
I thought the Serbian Sickle Stevan Micic would lose to Kumar in the quarters. Instead, Micic dispatched Halidov only to fall to Harutyunyan of Armenia in the semis. Harutyunyan has had some decent results recently but this was a bit of a surprise as I thought Stevan would get the win in the bronze medal match. Instead, it was the Ukrainian veteran (veteran for 57kg, he's just 23) Yatsenko that bested Micic in a nailbiter.
That was the top half. Came pretty close to getting the bottom half correct. If it wasn't for Andreyev blowing a late lead against Amouzad anyway. So thanks for that Andreyev!
---
61 Kilograms
Picks
1 Magomedov RUS
2 Gvarzatilov AZE
3 Zholdoshbekov KGZ
3 Topal TUR
5 Grigorev POL
Forgot to make the pick but would've had Vangelov BUL here, I promise.
Reality
1 Magomedov RUS
2 Gvarzatilov AZE
3 Destribats ARG
3 Vangelov BUL* (fake pick but I'm counting it)
5 Papikyan ARM
5 Ikromov TJK
Did pretty well here, getting both finalist and the champ. Missed everyone else, except Vangelov, who I forgot to include in my original tweet but I swear I meant to. Is that cheating? Maybe. That is one of the perks of writing your own critique. I AM THE LAW.
But for real, considering my 1st and 3rd picks, fifth had to be one of three people, and Vangelov was the obvious selection. One of the secrets to my success in making predictions is a lot of these brackets weren't terribly large.
I did not expect Destribats, who beat Zain Retherford at the Pan Am Olympic Qualifier, to beat 2019 World bronze Rahul Aware of India, or Zholdoshbekov of Kyrgyzstan, or Papikyan of Armenian. I underestimated him. Next time, I will estimate him.
I also did not see Ikromov of Tajikistan coming at all, as I thought it would be two-time Euro bronze Topal in the semis. He is another one I will henceforth estimate.
---
65 Kilograms
Picks
1 Rashidov RUS
2 Ali BRN
3 Aliyev AZE
3 Okhlopkov ROU
5 Skriabin BLR
5 Ohannesian UKR
Reality
1 Tevanyan ARM
2 Musukaev HUN
3 Aliev AZE
3 Ohannesian UKR*
5 Grahmez MDA
5 Mukhtarov FRA
Taking a mulligan here, since two-time world gold Gadzhimurad Rashidov got hurt against Haji Aliev and that blew up my bracket. Although I did peg Aliev for a bronze, had I known Rashidov would default out of his match with Aliev I would have picked the Azerbaijani to win gold and not lose to Tevanyan in the finals. But it pays to be lucky sometimes.
We all know Ismael Musukaev is good. Moreover, we know him to be a treat to watch on the mat, especially late in matches when he gasses. However, I mistakenly assumed he was going to lose to Skriabin, as he did the last time they wrestled at the 2019 Euros.
The big question from this bracket is now: is Tevanyan the real deal? He's taken all sorts of losses in the last few years, but he's also very young, at just 21.
Also, not to make excuses, but Tevanyan's win over Aliyev makes more sense when you see how much Aliyev's ribs were hurting him at the end of the tournament. All the cold spray in the world couldn't bring him back to full strength.
They just unloaded like 2 cans of cold spray on Haji pic.twitter.com/3Xz5DsED2H

— The Winter Solsticer (@SpeyWrestle) December 18, 2020
I'd like at least one more comparable tournament before I put Tevanyan in the top tier of global 65kg (anyone else remember David Safaryan?) but he certainly has shown he possesses the potential.
This event also shows that 65 is truly the weight where anything can happen. Even without Rashidov, Russia still has Chakaev, Kuular, and Olympic champ Soslan Ramonov, as well as the young up-and-comer Shriaev, plus all sort of other guys I'd have to look up, PLUS some dudes only those inside a few wrestling rooms in Dagestan or Ossetia are currently aware of. Oh yeah, and everyone's favorite, David Baev (Dave Bave), could be moving down from 70kg.
And then there are all the other countries. There is a crazy concentration of talent at 65kg worldwide is what I'm saying. And not only am I here for it, but I am also using it as my excuse for getting a bunch of these picks wrong.
---
70 Kilograms
Picks
1 Gadzhiev POL
2 Yavuz TUR
3 Gadzhiyev AZE
3 Valiev RUS
5 Orozbekov KGZ
5 Akhmedov TJK
Reality
1 Gadzhiev POL
2 Yavuz TUR
3 Andreasyan ARM
3 Orozbekov KGZ*
5 Gadzhiyev AZE*
5 Valiev RUS*
Another weight where I can claim victory by dint of picking the gold and silver medalists ahead of time.
I did not foresee Cherman Valiev withdrawing due to injury after making the finals (I'm not that good) and I did not expect Andreasyan to make the bronze medal match. Armenia had an outstanding tournament, finishing fifth and claiming two medals. Very impressive for a tiny country with meager financial resources that very recently concluded a nationally traumatizing war with Azerbaijan.
Gadzhiyev lost to Orozbekov in the final seconds of their match, so that's not much of a miss. Basically, I crushed this weight class. Good job, Spey.
---
74 Kilograms
Picks
1 Chamizo ITA
2 Zhamalov RUS
3 Nurikov BLR
3 Salkazanov SVK
5 Yadav IND
5 Kuramagomedov
Reality
1 Zhamalov RUS*
2 Chamizo ITA*
3 Eryilmaz TUR
3 Salkazanov SVK
5 Nurikov BLR*
5 Kuramagomedov HUN
Zhamalov's bolt from the blue to the top of the 74kg global ladder is why I'm not worried about Russia at 65kg. Did anyone see Zhamalov coming prior to him winning 2020 Russian Nationals? If so, speak up a little louder next time!
Okay, so Zhamalov thumped Magomed Kurbanaliev at Yariguin in January and beat Baev in 2019's Yariguin. How about before that then? Who saw him coming in 2018? Better yet, predict who the next Zhamalov will be now. Who's the next new 74kg champ at Russian Nationals?
Not so easy without the benefit of hindsight, now is it?
Anyway, I thought Frank Chamizo would be able to fend off the latest Russian 74kg dynamo but was mistaken. However, I was correct in predicting respective Ossetian and Dagestani transplants Salkazanov and Kuramagomedov would finish 3rd and 5th from the top half of the bracket.
On the bottom, I figured Nurikov (another Dagestani transplant) would finish third but was proven wrong by Eryilmaz, which I should've foreseen as the Turk gave Kyle Dake an extremely tough match in the 2020 Pellicone semifinals.
Go ahead and watch that match right now if you like.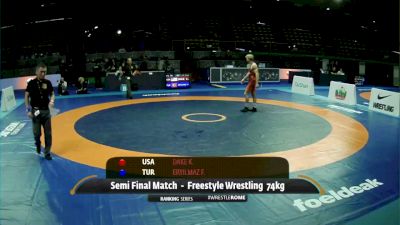 Unlock this video, live events, and more with a subscription!
Get Started
Already a subscriber? Log In
I was way too high on India's Yadav, mostly due to fond memories of his headlock hip toss of death against Khadjiev from the 2015 worlds bronze medal match. Interestingly, Yadav just got done serving a PED suspension and Khadjiev just started his. WADA doing work!
---
79 Kilograms
Picks
1 Kadzimahamedov BLR
2 Gulaev SVK
3 Kotanoglu TUR
3 Usmanov RUS
5 Kurbanov UZB
5 Novac MDA
Reality
1 Usmanov RUS*
2 Kotanoglu TUR*
3 Kadzimahamedov BLR*
3 Mykhailov UKR
5 Gulaev SVK*
5 Gourav IND
For a non-Olympic weight class that had a nearly entirely different field from the 2019 79kg World Championship bracket, and zero repeats on the podium, I'm going to chalk this up in the official win column for predicting four of the top six. Can I do that? Absolutely I can. My blog, my rules.
Not getting Usmanov right is my own fault. When in doubt, pick the Russian. In my defense, Kadzimahamedov and Gulaev are also originally from Russia (Dagestan and Ossetia I'm pretty sure).
I picked Kurbanov because he is 1,000 years old and I wanted him to get a win for us olds. But he could not get it done against Mykhailov, and Kurbanov and my generation moves one more step closer to the dumpster of history.
---
86 Kilograms
Picks
1 Kurugliev RUS
2 Magamaev BUL
3 Makoev SVK
3 Tsikhayev BLR
5 Friev ESP
5 Punia IND
Reality
1 Kurugliev RUS
2 Baranowski POL
3 Gocen TUR
3 Ianulov MDA
5 Friev ESP
5 Punia IND
I said this and I meant it.
If Kurugliev doesn't win I will eat a Keurig machine.

— The Winter Solsticer (@SpeyWrestle) December 11, 2020
Thankfully for my digestive tract, the powerful Dagestani came through and dominated a surprisingly skimpy bracket.
I had Baranowski on my radar, but took a flyer on Bulgarian's Dagestani transplant Magamaev, which resulted in failure. My apologies to the Baranowski family and all the good people of Poland.
I'm also done picking Makoev to win anything. His win over J'den Cox in the 2018 Worlds looks flukier by the day. Tsikhayev is another Russian transfer (I'm pretty sure anyway, don't have time to go searching google in Cyrillic right now to confirm) I should not have picked. But getting both fifth-place finishes correct was a nice consolation prize.
---
92 Kilograms
Picks
1 Zhabrailov RUS
2 Magomedsaidov AZE
3 Rubaev MDA
3 Scherrer SUI
5 Pahasian BLR
5 Matuhin GER
Reality
1 Zhabrailov RUS
2 Rubaev MDA*
3 Yaylaci TUR
3 Scherrer SUI
5 Pahasian BLR
5 Magomedsaidov AZE*
Another non-Olympic weight, another dominant prognostication by yours truly.
Zhabrailov made it two-for-two Chechen wins in the finals. He and Zhamalov also won Russian Nationals earlier this year. Zhabrailov beat Gheorghe 'Big Ru' Rubaev of Moldova by way of Ossetia.
Rubaev squeaked by Magomedsaidov (a Dagestani) in the semifinals thanks to one of the worst challenges I have ever seen. It really was terrible, and likely cost Magomedsaidov the match. A dejected Magomedsaidov completed the semi-slide by losing to Pahasian of Belarus in the bronze medal match (not sure if Armenia can claim partial credit for that result but maybe?)
And since I didn't think Big Ru was going to make the finals, I could not have picked Yaylci to get pulled into the repechage, although he looked good this tournament and helped propel Turkey to second place, ahead of third-place and fellow Turkic nation Azerbaijan.
---
97 Kilograms
Picks
1 Sadulaev RUS
2 Zubairov AZE
3 Hushtyn BLR
3 Andriitsev UKR
5 Jabrailov MDA
5 Karadeniz TUR
Reality
1 Sadulaev RUS
2 Hushtyn BLR*
3 Karadeniz TUR*
3 Bataev BUL
5 Zubairov AZE*
5 Andriitsev UKR*
One of these days, Abdulrashid Sadulaev is going to lose again. That day was not going to be in Belgrade, and it may be a while before we see it happen again. My duty as a citizen of this great republic now requires me to point that Kyle Snyder or Cox absolutely can hand Sadulaev his next L in Tokyo.
I whiffed on Zubairov, who, like his teammate Magomedsaidov, slid from the semis to a disappointing fifth-place. Veteran Andriitsev was upended by Karadeniz, which may be a signal of a changing of the guard.
Honestly, this was a small bracket (12 entries) so I'm not going to claim much of a victory here. Pedestrian results at best.
---
125 Kilograms
Picks
1 Khotsianivski UKR
2 Magomedov AZE
3 Lazarev KGZ
3 Sharipov RUS
5 Khramiankov BLR
5 Baran POL
Reality
1 Sharipov RUS*
2 Baran POL*
3 Khramiankov BLR*
3 Lazarev KGZ
5 Khotsianivski UKR*
5 Magomedov AZE*
I keep thinking Khostisanivski is going to turn the corner and every time he hangs me out to dry. I'm sure he feels just as bad about letting me down as he does about his fifth-place finish, so I won't stay mad at him.
Very solid performance by Sharipov, who got the start over Khugaev, even though Khugaev beat Sharipov at 2020 Russian Nationals. Khugaev could be hurt, or head coach Tedeev might be looking to the younger Sharipov to step up to the big leagues after Khugaev failed to medal at the 2019 World Championships. That also means Russia still needs to qualify 125 for the Olympics, and this tournament made it more likely that they'll send out Sharipov to get the job done, although there is still the matter of 2021 Russian Nationals to be decided.
This was the only weight class in which I identified all six wrestlers who participated in the medal matches, but again it was a small bracket (13 wrestlers), so I'm not taking a victory lap. Still, not bad!
Overall quite an enjoyable tournament. Not a legit World Championship but considering the circumstances, I think it was a success. Great table-setter for 2021, a year which can't get here soon enough!