2020 Beat the Streets Matches Live
What's The Deal With Abkhazia And Georgia?
What's The Deal With Abkhazia And Georgia?
A look at Abkhazia and Georgia, a key component of the global wrestling hotbed found in between the Caspian and Black Seas.
Sep 14, 2020
by Andrew Spey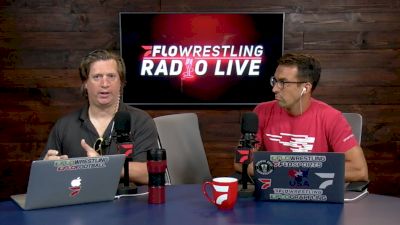 Unlock this video, live events, and more with a subscription!
Get Started
Already a subscriber? Log In
Unlock this article, live events, and more with a subscription!
Get Started
Already a subscriber? Log In
As is typically the case, this year's Beat the Streets NYC Benefit will feature an international flair. The headlining match will see Cornell's Yianni Diakomihalis take on Vladimer Khinchegashvili, who hails from Georgia, not the Peach State, but the former Soviet Republic nestled on the south side of the Caucasus Mountains.
Additionally, UVA's Jack Mueller will wrestle Rustam Ampar, who was born and raised in Abkhazia, a stretch of land on the eastern shores of the Black Sea. But what, exactly, is Abkhazia? Is it an independent nation, or is it a constituent region of Georiga? It's not quite either, and the precise answer will vary greatly on who you ask.
Watch Beat the Streets LIVE on FloWrestling
This is one of the many perks of following the world's oldest and most excellent sport. The best men's freestyle wrestlers frequently come from some of the most fascinating parts of the world. Parts of the world with engrossing but oft-overlooked history and culture in which to delve. And delve we shall.
The area between the Black and Caspian Seas, also known as the Caucasian Isthmus, produces more world-class men's freestyle wrestlers per square mile than anywhere else on earth. Need proof? Here is a heat map I did for the 2019 World Championships.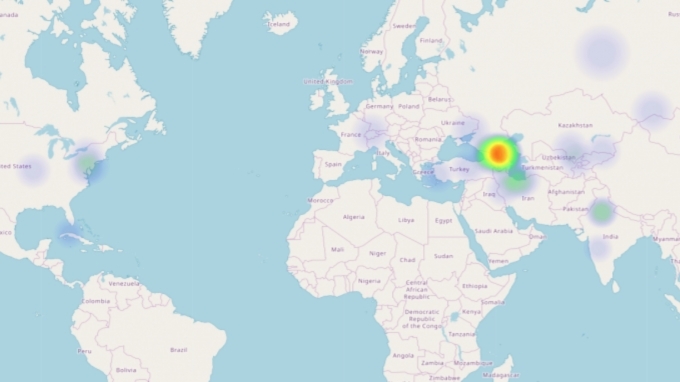 How did I create that heat map and what exactly does it mean? We don't have time for that now, but you can read the original article for more information. Just know that that big red dot on the map covers both Georgia and Abkhazia and is where you'll find the preponderance of excellent men's freestyles.
Need more proof? Here is a map that pinpoints where every men's freestyle medalist from the 2016 Rio Summer Games is from.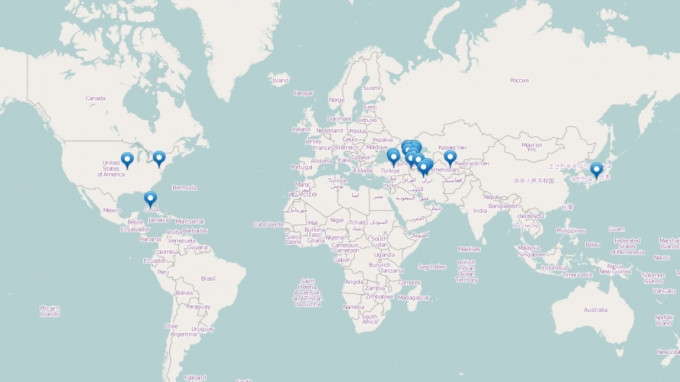 That area crowded with pins is near the hometowns of Khinchegashvili and Ampar. Actually, Khinchegashvili's hometown of Gori, Georiga, is one of those pins, as Vladimer won Rio gold at 57 kilograms! There's more information in the original article, which you can find here.
Speaking of Vladimer "Lado" Khinchegashvili, check out this man's hit list. Wins over 20 different world and Olympic medalists. Big bad Vlad has been killing it for the better part of a decade. Junior world gold in 2010, silver at the London Olympics, gold at Rio, and three other world championships medals including another gold in 2015. Most recently, Khinchegashvili finished as runner-up at the 2019 Euro Games.
Let's watch one of Lado's nicest matches. Here he is, winning a 2017 European gold medal over Russia's two-time world bronze medalists Akhmed Chakaev.
Rustam Ampar is no slouch either. He won a junior world silver in 2009 and was crowned champion of the prestigious Ivan Yariguin in 2014. Ampar also won a wild match over the Wild Man himself, Dan Dennis, at the 2016 Yariguin, which you can watch below.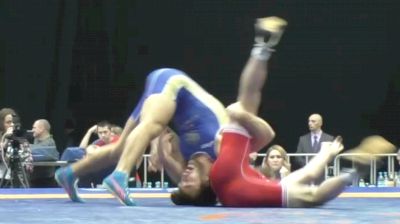 Unlock this video, live events, and more with a subscription!
Get Started
Already a subscriber? Log In
Coincidentally, these two hammers learned to wrestle about two-hundred miles from each other. They will also wrestle at the same charity event over five thousand miles from their hometowns. See how close Rustam Ampar and Vladimer Khinchegashvili's hometowns are?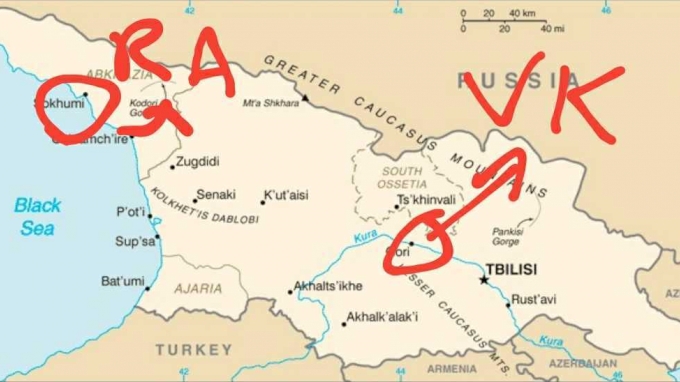 Now see how far that is from New York City?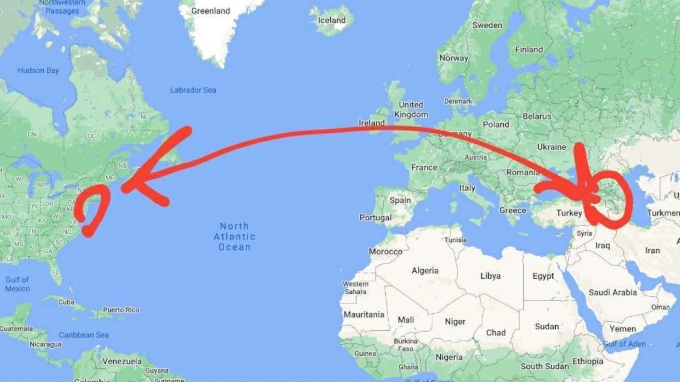 Yes, very far.
But why, one might ask, would Ampar wrestle for Russia, when that map of the country of Georgia clearly shows that Abkhazia is part of Georgia? That's where it gets interesting!
Nationality is a tricky concept and is easily oversimplified coming from a Western, Eurocentric mindset. Americans are from America, Canadians are from Canada, the French are from France, Germans come from Germany, etc., etc. All very simple.
Things get a little more complicated in the areas around the Caucasus Mountains. Nationality isn't tied to citizenship as it is in the West. When the Russian Empire conquered the Caucasus in the 1800s, it was just the latest in a series of empires that enveloped the region, joining the Ottomans (present-day Turkey), Persians, Georgians, and a host of other empires I would need to Google that ruled the land since recorded history.
Rather than be assimilated, the region retained its unique and varied ways of life, as evidenced by the patchwork crazy-quilt of adjacent and overlapping political entities comprised of varying languages, religions, and ethnicities that we see today.
Here are some maps of the composition of the varying languages, religions, and ethnicities of the Caucasus to help literally paint the picture.
Language: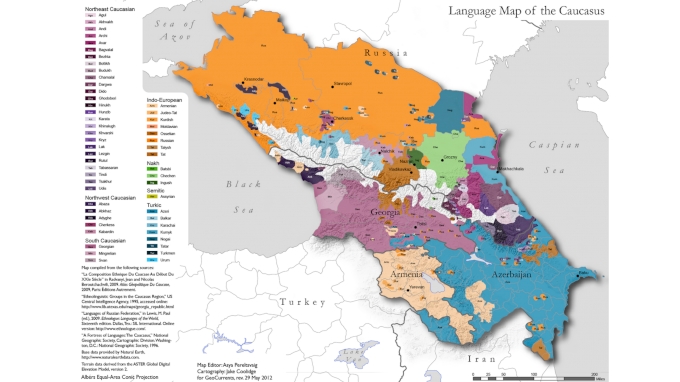 Religion: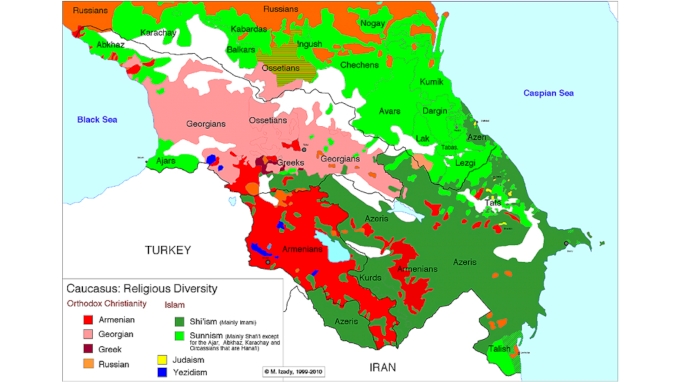 Ethnicity: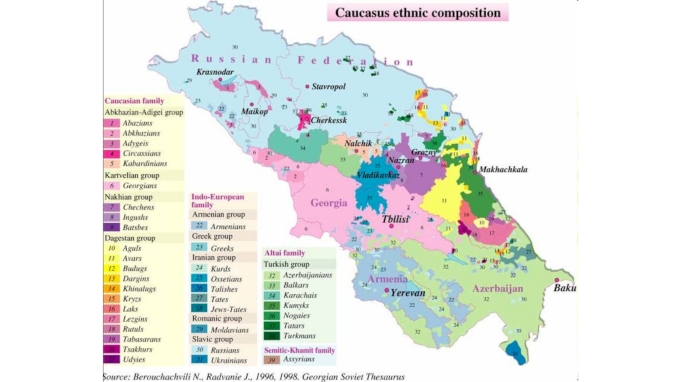 The Soviet Union inherited (or re-conquered, depending on your perspective) a vast array of different people that did not identify with, nor had any intention of assimilating with, Russian people and their culture. Even after the breakup of the USSR, many parts of the Russian Federation would be better understood as colonies than as "states" or "provinces" of a singular Russian nation.
Prior to 1991, everything north of Iran and Turkey was administered by Moscow by Russians. Russians were in charge, and you were a Soviet first before you were a Georgian or Abkhazian (or Chechen or Armenian or Avar or Dagastiani, etc. etc.), and it didn't' matter much whether you lived in Abkhazia or Georgia or anywhere else within the USSR.
Upon the fall of the Soviet Union, however, sectarian strife emerged. Now it mattered whether Abkhazia was going to be administered by Georgians in Tblisi or Russians in Moscow. And different people in Abkhazia felt differently about what kind of future they wanted.
Folks in Abkhazia differed so much that a brief but violent war was fought very soon after the collapse of the Soviet Union. Similar conflicts played out in multiple theaters along the periphery of the former Union, as various forces rushed in to fill the power vacuum.
The first war resulted in a stalemate that saw Abkhazia gain defacto independence but little international recognition. That outcome was later reinforced by the subsequent war between Russia and Georiga in 2008. That resulted in a further confirmation of Abkhazian independence with their political security backed by Russia.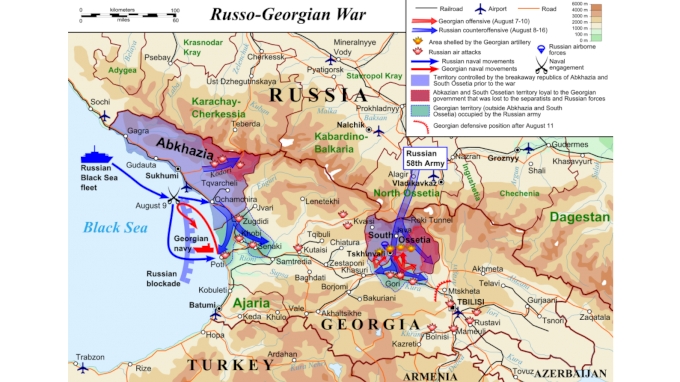 The 2008 war was the same conflict that saw South Ossetia gain de facto independence from Georgia. International recognition largely eluded both Abkhazia and South Ossetia, however, which is largely why Denis Tsargush (an Abkhazian) and Soslan Ramonov (from South Ossetia) won Olympic medals for Russia, and not the nations of Abkhazia and South Ossetia, which the International Olympic Committee do not recognize.
All this is not to say that Rustam Ampar and Vladimer Khinchegashvili would be natural enemies. Far from it. They both share much in common, as their cultures, from sports to cuisine to music, would be much more similar to each other than they would be to that of mainstream Russian culture.
What it means is that things are complicated! And that's what makes it fascinating! Wrestling binds us all together, and international competitions become a vehicle for celebrating all our differences. The world's most ancient and radical sport allows unique and vibrant nations to come together in the pursuit of the same passion, regardless of politics.
Sorry not sorry if that is too kumbaya for you. Wrestling rules, and it rules because wrestling fans in the United States get exposed to, and learn to appreciate, people from far-flung cultures and ways of life!
So whether you are an Avar speaking Sunni Muslim from Tsurib village, like Abdulrashid Sadulaev, or an English speaking Nebraska Cornhusker from South Jersey like Jordan Burroughs, we can all agree, Beat the Streets featuring Yianni vs Khinchegashville and Mueller vs Ampar is going to be a most excellent sporting competition!
One final aside: can we take a moment to appreciate the flag of Abkhazia?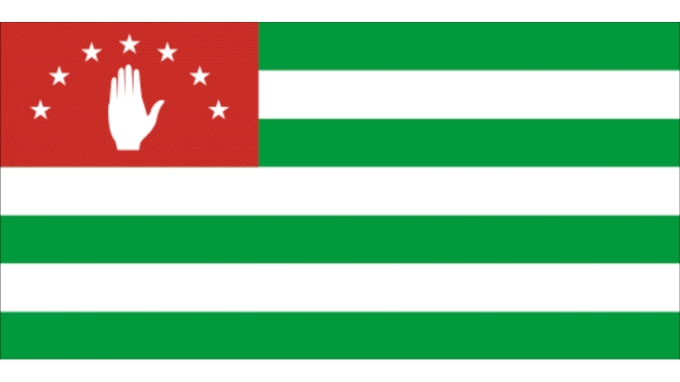 1) It's inspired by Old Glory and 2) The open hand in the top left corner means "Hello to friends! Stop to enemies!" I'm not even sure if that's even true but I think it's great so I will choose to believe it even if it's totally made up.