Unlock this article, live events, and more with a subscription!
Get Started
Already a subscriber? Log In
Where does one go to find the best men's freestyle wrestlers in the world? One tried and true method would be to look at where the most accomplished wrestlers were born and plot those locations on a map.
Additionally, one could make a heat map out of those plots. We're big fans of the heat maps. We're fans of all wrestling-related maps in general, but especially heat maps. That's why we keep making them. For instance:
Now, because the 2019 UWW Senior World Championships are still fresh in our memory, we decided to map the locations of each men's freestyle bronze, silver, and gold medalist.
Finding hometown and/or birthplace for every medalist proved to be quite the chore, and there may be some inaccuracies. We'll post the full list in a table below and welcome any corrections. But first, the maps!
Below is a heat map of the entire world based on the hometowns of the gold, silver, and bronze medalists from the 2019 UWW Senior men's freestyle World Championships. Please note that we made no distinction between the colors of the medals when weighting the intensity of the heat on said map.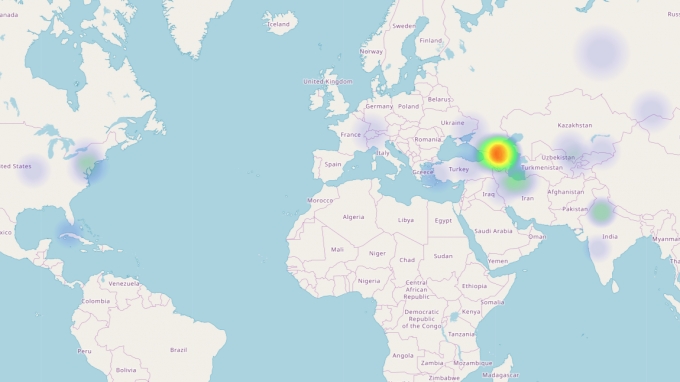 For longtime readers of FloWrestling, there is likely no surprise that our map glows brightest in the Caucasus, a mountainous stretch of land that separates the Caspian and Black seas.
That same map, but with pins instead of heat clouds, might provide a slightly more clear picture of the international freestyle hotbeds.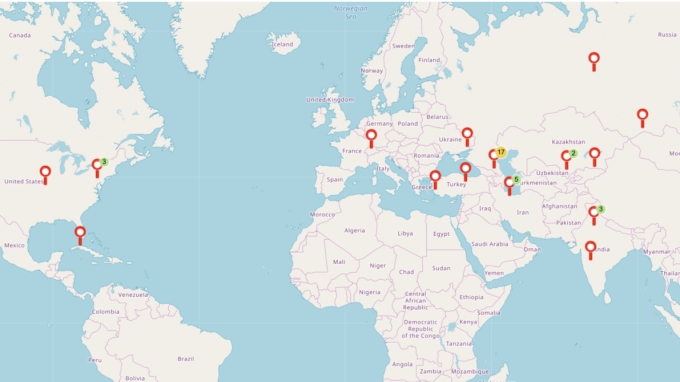 As the map shows, 17 wrestlers who medaled in Nur-Sultan were born in the shadow of the Caucasus Mountains. Russia scored a massive haul of nine medals (from 10 weight classes), but due to transfers, six more wrestlers medaled for other federations but were born within Russian borders, for a total of 15.
Some other notable pins on the map are Frank Chamizo, who was born in Cuba but wrestles for Italy, and Stefan Reichmuth, who was born in Switzerland and wrestles for Switzerland. A cursory review of the UWW Database reveals that the last time Switzerland medaled in men's freestyle at the World Championships was precisely never.
Also note most northerly pin, in the upper right corner of the map, right in the middle of Russia. That's Artur Naifonov, an ethnic Ossetian, which means his family has roots in Ossetia, which is located in the Caucasus region of Russia. However, Naifonov was born in Khanty-Mansi, which is an oil-rich region of Siberia.
Another noteworthy medalist is Nurislam Sanayev. His hometown is Chadan, in Tuva, another region in Siberia, this one just north of Mongolia. Sanayev is a native Tuvan and was formerly known as Artur Sanaa before changing federations from Russia to Kazakhstan. He also converted from Buddhism, to which most Tuvans adhere, to Islam, the predominant religion of Kazakhs.
We can also zoom in on the hottest spot on the world map to get a more detailed look at where the Nur-Sultan medalists come from.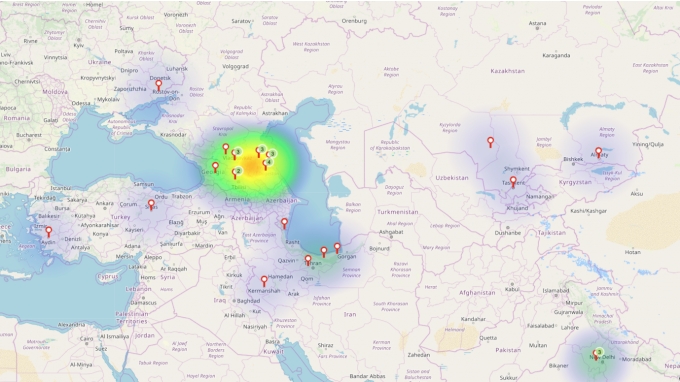 India's three medalists from the state of Haryana just make it into the frame in the lower right-hand corner — as do Turkey's two medalists (Atli at 57kg and Akgul at 125kg). Ukraine's heavyweight, Khotsianivski, is from Donetsk, just North of the Black Sea, a region currently being partially occupied by Russia's military. Three of Iran's four podium placers are from Mazandaran, a low-lying province hugging the south shores of the Caspian.
And then there are the competitors from the Caucasus. Georgia and Azerbaijan combined to send four wrestlers to the awards ceremony, all representing their native countries. Those on the Russian side of the mountains, however, won medals for Poland, Slovakia, France, Azerbaijan, and Hungary, as well as for the Russian Federation. However, it should probably be noted that France's Zelimkhan Khadjiev was born to Chechen parents in Russia but moved to France when he was 10 years old.
To see how the freestyle hotbed of the Middle East compares to that of North American, we can look at that same sized-window, only shifted West over the Atlantic Ocean.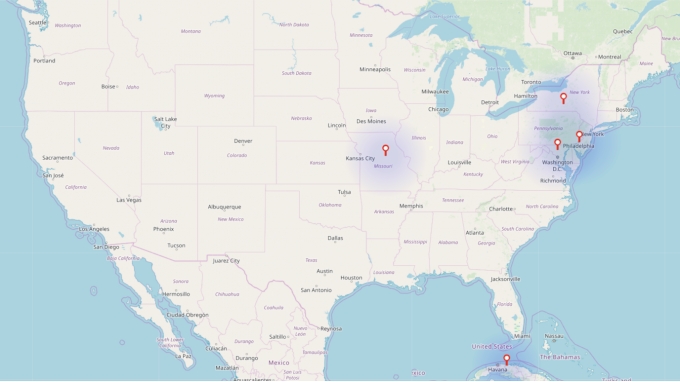 Starting from left to right that's J'den Cox in Missouri, Frank Chamizo just to the east of Havana, Kyle Snyder in Maryland, Kyle Dake in upstate New York, and Jordan Burroughs in South Jersey. An impressive array of elite wrestlers no doubt, but not quite the volume you'll find in the Caucasus.
Switching back east, we can zoom in even tighter over the Caucasus region to reveal more precise locations of the hometowns of our 2019 medalists.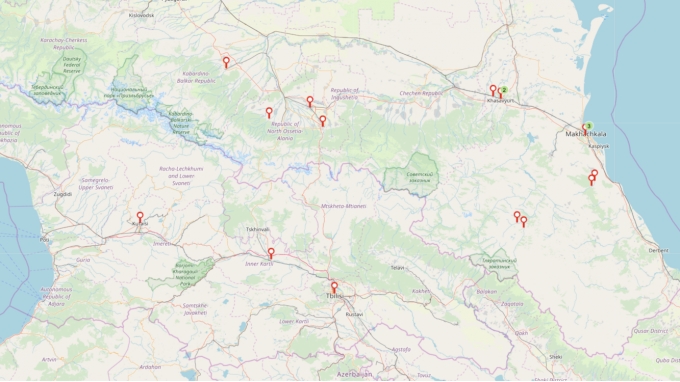 Again, that same window but over the Northeast USA. We were just able to fit the three East Coast American medalists into frame.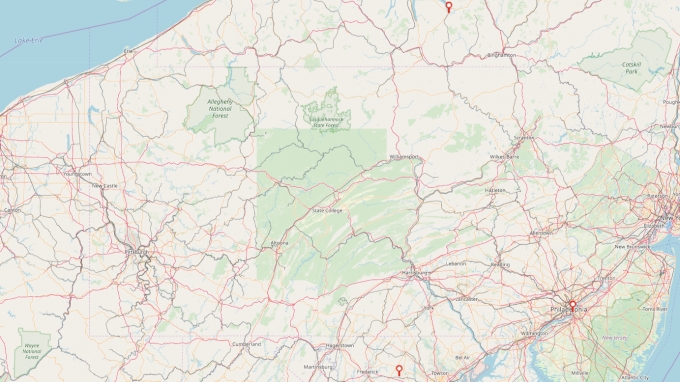 And now, as promised, the table of medalists and their hometowns. Also as mentioned earlier, corrections are always welcome!
| | | | | | | |
| --- | --- | --- | --- | --- | --- | --- |
| WT | MEDAL | FED | NAME | CITY | STATE | COUNTRY |
| 57 | Gold | RUS | Zaur Uguev | Khasavyurt | Dagestan | Russia |
| 57 | Silver | TUR | Suleyman Atli | Aydin | Aydin | Turkey |
| 57 | Bronze | KAZ | Nurislam Sanayev | Chadan | Tuva | Russia |
| 57 | Bronze | IND | Ravi Dahiya | Nahri | Haryana | India |
| 61 | Gold | GEO | Beka Lomtadze | Kutaisi | Imereti | Georgia |
| 61 | Silver | RUS | Magomedrasul Idrisov | Makhachkala | Dagestan | Russia |
| 61 | Bronze | IRI | Behnam Ehsanpoor | Behshahr | Mazandaran | Iran |
| 61 | Bronze | IND | Rahul Aware | Patoda | Maharashtra | India |
| 65 | Gold | RUS | Gadshimurad Rashidov | Gubden | Dagestan | Russia |
| 65 | Silver | KAZ | Daulet Niyazbekov | Zhanakorgan | Kyzylorda | Kazakhstan |
| 65 | Bronze | IND | Bajrang Punia | Jhajjar | Haryana | India |
| 65 | Bronze | HUN | Ismail Musukaev | Nalchik | Karabdino-Balkaria | Russia |
| 70 | Gold | RUS | Daid Baev | Vladikavkaz | North Ossetia-Alania | Russia |
| 70 | Silver | KAZ | Nurkozha Kaiponov | Almaty | Almaty | Kazakhstan |
| 70 | Bronze | IRI | Younes Emami | Kermanshah | Kermanshah | Iran |
| 70 | Bronze | POL | Magomedmurad Gadzhiev | Gurbuki | Dagestan | Russia |
| 74 | Gold | RUS | Zaurbek Sidakov | Beslan | North Ossetia-Alania | Russia |
| 74 | Silver | ITA | Frank Chamizo | Matanzas | Matanzas | Cuba |
| 74 | Bronze | USA | Jordan Burroughs | Camden | New Jersey | USA |
| 74 | Bronze | FRA | Zelimkhan Kahdjiev | Solnechnoye | Dagestan | Russia |
| 79 | Gold | USA | Kyle Dake | Ithaca | New York | USA |
| 79 | Silver | AZE | Jabrail Hasanov | Suparibag | Astara | Azerbaijan |
| 79 | Bronze | RUS | Gadzhi Nabiev | Makhachkala | Dagestan | Russia |
| 79 | Bronze | SVK | Taimuraz Salkazanov | Karman-Sindzikau | North Ossetia-Alania | Russia |
| 86 | Gold | IRI | Hassan Yazdani | Jouybar | Mazandaran | Iran |
| 86 | Silver | IND | Deepak Punia | Charkhi Dadri | Haryana | India |
| 86 | Bronze | SUI | Stefan Reichmuth | Grosswangen | Lucerne | Switzerland |
| 86 | Bronze | RUS | Artur Naifonov | Nizhnevartovsk | Khanty-Mansi | Russia |
| 92 | Gold | USA | J'den Cox | Columbia | Missouri | USA |
| 92 | Silver | IRI | Alireza Karimi | Karaj | Alborz | Iran |
| 92 | Bronze | GEO | Irakli Mtsituri | Tblisi | Tblisi | Georgia |
| 92 | Bronze | RUS | Alikhan Zhabrailov | Khasavyurt | Dagestan | Russia |
| 97 | Gold | RUS | Abdulrashid Sadulaev | Tsurib | Dagestan | Russia |
| 97 | Silver | AZE | Sharif Sharifov | Gunukh | Dagestan | Russia |
| 97 | Bronze | USA | Kyle Snyder | Woodbine | Maryland | USA |
| 97 | Bronze | MKD | Magomedgadzhi Nurov | Makhachkala | Dagestan | USA |
| 125 | Gold | GEO | Geno Petriashvili | Gori | Shida Kartli | Georgia |
| 125 | Silver | TUR | Taha Akgul | Sivas | Sivas | Turkey |
| 125 | Bronze | UKR | Alexsander Khotsianivski | Andriivka | Donetsk | Ukraine |
| 125 | Bronze | UZB | Khasanboy Rakhimov | Tashkent | Tashkent | Uzbekistan |