2020 Beat the Streets Matches Live
Vladimer Khinchegashvili's Luxurious Hit List
Vladimer Khinchegashvili's Luxurious Hit List
Olympic champion Vladimer Khinchegashvili has been racking up wins over other World and Olympic medalists for the past 10 years.
Sep 9, 2020
by JD Rader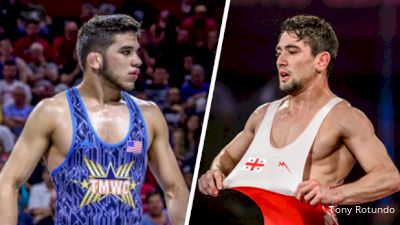 Unlock this video, live events, and more with a subscription!
Get Started
Already a subscriber? Log In
Unlock this article, live events, and more with a subscription!
Get Started
Already a subscriber? Log In
With five World/Olympic medals to his name, including gold in 2015 and 2016 at the Rio Olympics, Vladimer Khinchegashvili is one of the best Georgian wrestlers of the 21st century. He's getting back on the mat for the first time since the European Championships in February to take on two-time NCAA champion Yianni Diakomihalis at Beat the Streets.
Watch 2020 Beat the Streets LIVE on FloWrestling
Khinchegashvili made his Senior level debut at the European Championships 2010, so he has been around the block a few times. In doing so, he's racked up quite the win list: five World champions, five Olympic medalists, and at least 15 World medalists.
World champions
Haji Aliyev (AZE)
Hassan Rahimi (IRI)
Gadzhimurad Rashidov (RUS)
Logan Stieber (USA)
Radoslav Velikov (BUL)
Olympic medalists
Haji Aliyev (AZE)
Hassan Rahimi (IRI)
Rei Higuchi (JPN)
Shininichi Yumoto (JPN)
Radoslav Velikov (BUL)
World Medalists
Hassan Rahimi (IRI)
Gadzhimurad Rashidov (RUS)
Suleyman Atli (TUR)
Akhmed Chakaev (RUS)
Rahul Aware (IND)
Nurislam Sanayev (KAZ)
Vladimir Dubov (BLG)
Erdenebat Bekhbayar (MGL)
Ghenadie Tulbea (MON)
Akhmednabi Gvarzatilov (AZE)
Franklin Gomez (PUR)
Enkhsaikhan Nyam-Ochir (MGL)
Amit Kumar (IND)
Radoslav Velikov (BUL)
Vladislav Andreev (BLR)
Americans
Logan Stieber
Dan Dennis
Tony Ramos
Angel Escobedo
Alan Waters
BJ Futrell
---
55 kg
Khinchegashvili has been around long enough to be wrestling on the Senior level with the old weights. After winning a Junior World bronze in 2008, Georgia felt he was able to represent his country on the Senior level starting in 2010 at the European Championships. Khinch went 1-1 losing to Viktor Lebedev. However, Khinch did win a Junior World title shortly after.
Khinch made his first Senior level splash at the 2011 Yasar Dogu, which he won over 2006 World champion and 2008 Olympic bronze Radoslav Velikov of Bulgaria. However, Velikov would win the rematch at the 2011 World Championships after Khinch defeated his first three opponents.
At the 2012 Olympics is when Khinchegashvili became a star. Before dropping his finals match to Dzhamal Otarsultanov of Russia, Kinch came out of a loaded bottom half of the bracket. He got the last laugh on Velikov, beat 2013 World silver Amit Kumar Dahiya, and defeated Shinichi Yumoto of Japan who would go on to win bronze.
60 kg
After the 2012 Olympics Khinchegashvili decided to move up to the second-lowest weight class at the time, 60 kg. After winning a tough Yasar Dogu for the second time, Khinch went 2-1 at the World Championships and failed to medal.
57 kg
Khinchegashvili bounced back from a disappointing 2013 World Championships by dropping back down to the lowest weight class which had moved up to 57 kg. This is where Khinchegashvili truly excelled.
The Georgia star bounced back from disappointment in 2013 by winning Europeans and taking silver at Worlds in 2014. In 2015 he one-upped that by taking gold in a loaded weight class that included more than five multiple-time World/Olympic medalists. Khinchegashvili defeated 2013 World champion and 2016 Olympic bronze medalist, Hassan Rahimi of Iran, for gold.
Listen to Khinchegashvili after winning World gold in 2015 below.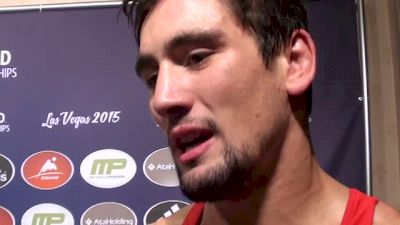 2016 is when Kinch started to enter prime form. At the World Cup he defeated American Dan Dennis, two-time World medalists Suleyman Atli of Turkey and Erdenebatyn Bekhbayar of Mongolia, and World champion Gadzhimurad Rashidov of Russia.
Watch Khinchegashvili defeat World champion Gadzhimurad Rashidov below.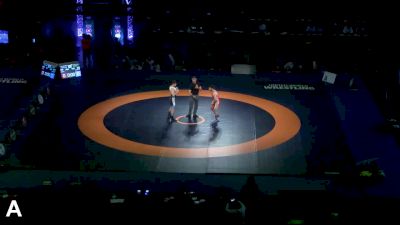 Unlock this video, live events, and more with a subscription!
Get Started
Already a subscriber? Log In
If the 2012 Olympics is when Khinchegashvili became a star, the 2016 Olympics is when he became a legend. The Georgian went through two-time World medalist Nurislam Sanayev of Kazakhstan, three-time World champion and Olympic bronze Haji Aliyev of Azerbaijan, and two-time World medalist Vladimir Dubov of Bulgaria just to make it to the finals. And he was on the easy side of the bracket. Rei Higuchi of Japan made it out of the bottom half. Khinch was trailing the entire match until the last 45 seconds when he pulled ahead on criteria 3-3 and became an Olympic gold medalist.
61 kg
Once again after the Olympics Khinch decided to move up in weight. Outside of his World and Olympic medal performances, the 2017 Euros might have been Khinch's best. After getting down 7-0 he defeated two-time World medalist Akhmed Chakaev of Russia in the finals in what UWW deemed it's 2017 match of the year.
Watch Kinch defeat Russia's Akhmed Chakaev in UWW's 2017 match of the year below.
Things went a little different for Khinchegashvili at the World Championships. Russia sent Rashidov as their 61 kg rep, who defeated Kinch 6-3 in the quarterfinals. Kinch was able to battle back for bronze.
65 kg
Most likely due to UWW moving weigh-ins to the day of, Khinchegashvili only spent one year at 61 kg before moving up to 65 kg. He's spent the past three years here. The Georgia legend has failed to medal at the past two World Championships, going a combined 3-2 with losses to Chakaev in 2018 and Ismail Musukaev in 2019.
Khinch showed a glimpse of greatness once again at the 2019 Euro Games when he defeated Chakaev.