FloWrestling 1: Dake vs Chamizo
Which Club Team Scored The Most Points On July 25th?
Which Club Team Scored The Most Points On July 25th?
Mike Mal does a point by point breakdown of FloWrestling's July 25th card and which RTC scored the most points.
Aug 5, 2020
by Michael Malinconico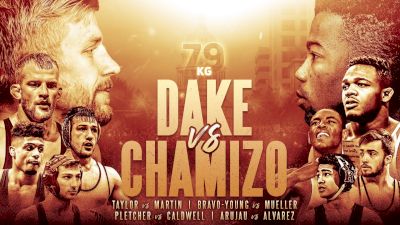 Unlock this video, live events, and more with a subscription!
Get Started
Already a subscriber? Log In
Unlock this article, live events, and more with a subscription!
Get Started
Already a subscriber? Log In
July 25th card had 10 wrestlers that represented six different wrestling clubs. The Nittany Lion Wrestling Club had David Taylor and Roman Bravo-Young, The New York City Region Training Center was represented by both Frank Chamizo and Jack Mueller. Cornell's New York Regional Training Center had Vito Arujau and Kyle Dake wrestling for them. The Wolfpack WC, Pitt WC, Ohio RTC, and The NJRTC all had Darrion Caldwell, Luke Pletcher, Kyle Martin, and Sammy Alvarez wrestling for them respectively.
So, which club produced the most amount of points? As I said in my last article, the numbers may seem skewed giving that there is a very small sample size, so my plan is to do this again with numbers from each weight at the 2019 World Championships.
3rd Place - 9 Points - Pitt Wrestling Club
Luke Pletcher wrestled a great match against Darrion Caldwell. It was clean and as close to perfect positionally as you can get. As time was running out in the match Darrion went for broke and tried to hit a flying squirrel and Pletcher promptly dropped the NCAA champion on his back.
Pletcher comes away with nine points altogether to put him in third place for points scored at the event. Even without Caldwell's failed attempt at the flying squirrel, the five points that Pletcher had accumulated were enough to pass up Myles Martin who was the sole representative of the Ohio Regional Training Center, Sammy Alvarez and the NJRTC, and the NYCRTC's joint effort of Chamizo and Jack Mueller.
2nd Place - 19 Points - Nittany Lion Wrestling Club
News flash: Penn State wrestlers score points! While that last sentence is riddled with no-duh-sarcasm, it is great to reaffirm ideas that you have in your head. Roman Bravo-Young added eight points to the tally from three different positions, offense (two single-legs), defense (one go-behind), and par terre (one trap arm gut). David Taylor hung 11-0 on the board in his 11-0 tech fall of Myles Martin. Most of DT's points came from single-legs (10) and one point came from a step-out.
1st Place - 20 Points - NYRTC
If you're taken aback by the fact that guys from Cornell outscored a Penn State duo, you may not be paying very close attention. There have been rumblings of the Big Red and their move towards national prominence as of late. Most people recognize that Iowa and Penn State are the obvious frontrunners should there be a 2021 NCAA season, but Cornell may not be as far behind as a lot of people think. Especially if they're willing to pull everyone's Olympic red shirts off.
There may not be the same type of star power gracing the mats of the Friedman Center on a consistent basis as there is in Penn State's room, but having a guy like Kyle Dake stay around the program and continue to train in Ithaca has made an obvious impact on recruiting as well as added to the level of wrestler that already have in their room.
That said, Vito scored the most points of all wrestlers on the July 25th card racking up 16 points on the way to a 16-5 tech fall against Sammy Alvarez. Vito turned in a solid all-around performance in the same way that RBY did, scoring from all three major positions. Vito used a right-handed single to score both offensively and used that same single-leg as a defensive weapon when Alvarez tried to go back to the same cement-job-well that scored for him in the first period. Vito scored on a trap arm gut from par terre, and added to his total score by getting a few step outs as well.
While I'm sure no one was super surprised to find that Kyle Dake would have a serious challenge in Frankie Chamizo, I was fairly surprised that Chamizo held Dake to exactly zero takedowns in the six minutes that they wrestled. On "Who Ya Got" the Wednesday before the event, I said that I thought the match would come down to Dake's right side gut and while I may pull a muscle patting myself on the back it'd be totally worth it. Dake's gut is killer and something tells me that if Chamizo didn't get reversed so close to the out of bounds line I think Dake could have opened up the score a lot more than he did.