FloWrestling 1: Dake vs Chamizo
What Technique Is Hot Right Now?
What Technique Is Hot Right Now?
Mike Mal crunches the numbers from the July 25th card to show you exactly what is scoring at a high level right now.
Jul 31, 2020
by Michael Malinconico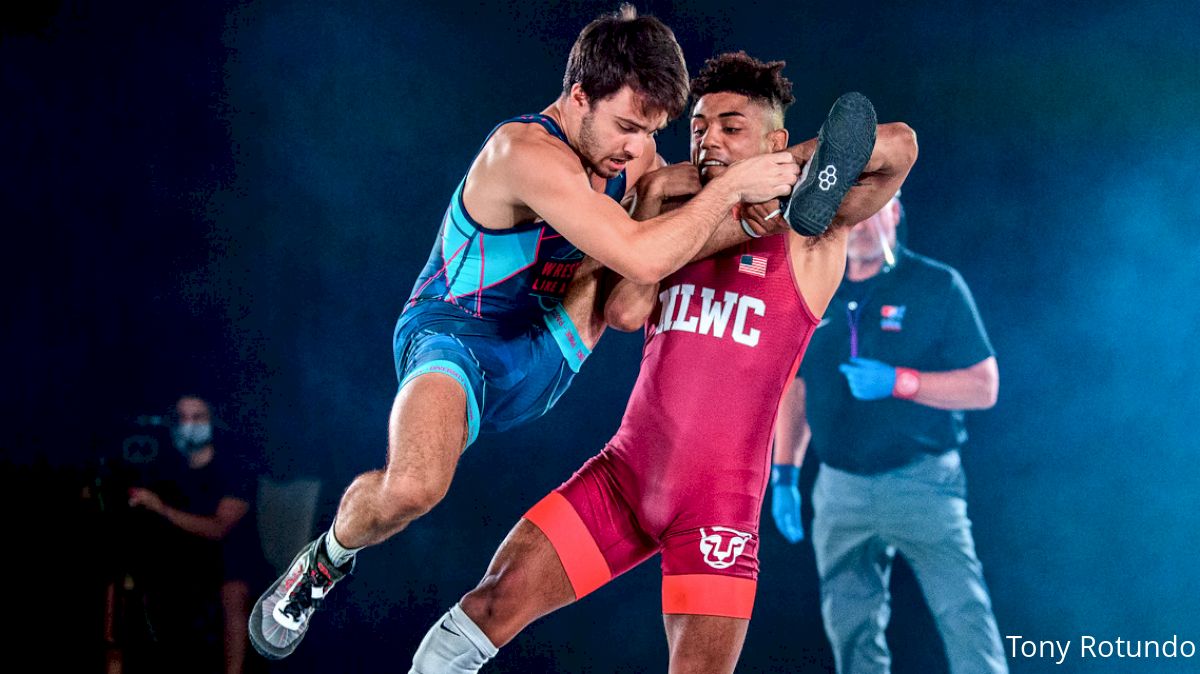 Unlock this article, live events, and more with a subscription!
Get Started
Already a subscriber? Log In
FloWrestling's July 25th has come and gone. Experiencing any live wrestling at all was great, let alone watching some of the best wrestlers in the world showcase their technique. But what can we deduce from the technique used at this event post mortem?
Before we get started, just know that this is not an exact science. Numbers in this sport are difficult to crunch, there are a ton of different factors that go into making any attack successful.
The antithesis of wrestling, as it relates to scoring or data crunching, is baseball. A pitcher throws the ball, either the hitter hits it or he doesn't. The amount of scenarios that can come from each play are pretty finite. If you looked at a box score of a wrestling match it would be extremely difficult to get a sense of how the match went and how each athlete scored, and how it impacted the match.
I'm going to do my best to not just give the numbers invalid with score from July 25th, but to try to build context around each score and show where the score was initiated from and how it was finished. This should act as a guide for coaches to see what is working at the highest level and where they should have their athletes spend their valuable reps. If you think this is valuable shoot me a DM on Instagram and let me know how we can make the process better.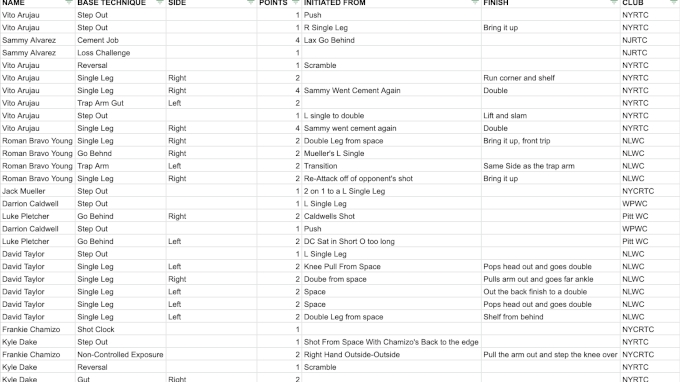 Single Legs…. So Hot Right Now
There are very few constants in our sport, but one thing that remains is that single legs score in freestyle wrestling. This shouldn't come as a big surprise but but if you take a closer look at the action there are few things that you can take away that you may not have known.
Learn To Wrestle With Your Left Hand
Out of the 10 single legs that scored on July 25th. Four of them were lefty. Granted, they all came from David Taylor, and the sample size is very small, but this is evidence that supports a trend that I have notice more lately. People are starting to wrestle lefty. I understand that David Taylor (being a world champion and all) may seem like the exception to the rule, and would negate any numbers analysis, so I'm going to run through a couple of world championship brackets next week and see what I get.
Go Get A Leg
One thing that raised my eyebrows was the fact that 13 of the 54 points were scored off shots from space. From where I was sitting it looked like once guys got a beat on their opponent's hands the objective was simple, get to the leg and figure it out. This was especially evident in the case of David Taylor and RBY.
How To Finish?
If you train athletes and you're thinking about where to spend the bulk of your time finishing single legs this may make your job a little bit more difficult. The numbers from this event point to the fact that finishing on your feet is more effective for lighter weights and upper weights tended to be more effective at finishing on the mat.
Both Vito Arujau and Roman Bravo-Young neutralized considerable defensive opponents in Sammy Alvarez and Jack Mueller respectively by getting to their feet immediately. David Taylor picked apart Myles Martin by finishing on the mat. Frank Chamizo scored non-controlled exposure on Kyle Dake by finishing on the mat as well.