FloWrestling 1: Dake vs Chamizo
Dake vs Chamizo Match Notes
Dake vs Chamizo Match Notes
Live updates of the greatest wrestling event of the year! Dake vs Chamizo is going down in Austin, Texas!
Jul 25, 2020
by Andrew Spey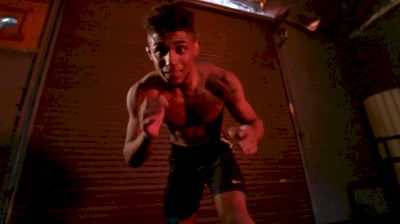 Unlock this video, live events, and more with a subscription!
Get Started
Already a subscriber? Log In
Unlock this article, live events, and more with a subscription!
Get Started
Already a subscriber? Log In
Match night is finally here! I'm pumped to be bringing you all live updates of the biggest wrestling event of the year!
Extraordinary times call for extraordinary safety precautions so my blogging perch will be outside the main ballroom. The event room is full up and to maintain social distancing I will not be watching live, but on the live stream, like so many other wrestling fans.
Kyle Dake vs Frank Chamizo
Austin, Texas
Weigh-ins for four of our five bouts have concluded. And now that we're less than an hour away from first whistle, I can confirm that both Dake and Chamizo made 79 kilos as well. Preshow gets going at 7:40 PM and the first bout will get started at 8:00 PM.
We're less than 10 minutes away. There will be breaks between each match so settle in for a couple hours of entertainment. I'm fuelling up for the long haul as I type.
At my blogging perch with a full can of blogging fuel. pic.twitter.com/IAaO4ZFs4E

— Andrew Spey (@SpeyWrestle) July 25, 2020
Vito Arujau vs Sammy Alvarez
140 Pounds
1st period: Both wrestlers are in red singlets, but know that Sammy is the blue wrestler.
...and we're back, as you are I'm sure aware that our updates got delayed. Someone may have hacked our mainframe. Investigators are on the case. But we appreciate your patience. In all sincerity, there are no words your humble blogger can say but thank you for hanging in there.
I'll also probably be avoiding social media for a while, but In any event, life goes on, and more importantly, so does this card! We are only one match in out of five and it's all systems go for the next four matches.
As for that first match, here are my abridged notes that I kept on a google doc while we got the hamster wheel turning again.
Vito strikes first with step-out point. Sammy with an attack but Vito defends. Vito in deep, Sammy counters. Sammy gets a pretty feet to back and takes the lead. Arujau's corner challenges. Those are confirmed Sammy's points. Alvarez takes the lead going into the break.
2nd period: Arujau goes on the attack. A slick duck for two. Another takedown and Vito has a trap arm. He's got a turn for two. And another. Alvarez in trouble. One more for good measure and its 11-5. Arujau has stormed back and gotten himself a comfortable lead late in the match thanks to his par terre offense. Alvarez staying after it but Vito holds off his attacks. It's going to be Vito by a solid margin. In fact, it was a win by technical superiority, 16-5. Very good performance by Arujau
That may be a little off as far as the exact sequences go. Had a little bit of a fire drill going on here behind the scenes. Once again, thanks for waiting out that rain delay with us.
It started out close but Vito was able to pull away and get the tech. Wrestling has been held due to technical difficulties and will be returning soon. pic.twitter.com/694f7tm3hv

— FloWrestling (@FloWrestling) July 26, 2020
---
Jack Mueller vs Roman Bravo-Young
137 Pounds
1st period: Starting a little later than planned but we got a great bout coming up now. RBY attacks first, he's got a single leg. He takes Mueller down to draw first blood. No turns so we go back to neutral 2-0 RBY. Reattack by RBY but Mueller stops it. Level change again by Mueller and this time RBY snaps and goes behind for 2 more. Gut wrench and RBY races out to a 6-0 lead. 90 seconds to go still in the first. Lot of time for a Mueller come back, but RBY is a feet to back away from a tech.
Mueller hit with a passivity with a little over a minute to go in the first. Neither wrestler makes much of a committed attack for the rest of the period and we go to the break, Bravo-Young still up by 6.
2nd period: Cautious opening. Mueller now on a sweep single, he's in at his deepest yet. Rby way dives for a far ankle. We're scrambling. Action is stalemated and we go back to neutral, no change in the score. Big snap by Mueller. RBY on the reattack, he timed it perfectly and he goes behind again for 8-0. Trap arm on top but Mueller defends. It's 8-0, RBY getting close to a tech, looking great. 90 seconds left in the match, RBY in control. Quick foot shuffle for RBY. Mueller is going to have to figure out a way to get through RBY's defenses. Mueller gets to a leg but RBY defends. Mueller does get a step out but in the waning seconds of the match.
Roman Bravo-Young cruises, looking as slick as ever. That was an impressive display against an NCAA finalist. RBY at 133 is going to be a terror this season.
RBY comes out and dominates on his way to an 8-1 win. Darrion Caldwell vs. Luke Pletcher coming up next at 9:27 ET. pic.twitter.com/byjPL4mk8b

— FloWrestling (@FloWrestling) July 26, 2020
---
Luke Pletcher vs Darrion Caldwell
149 Pounds
1st period: Now for one of the most intriguing matchups of the evening. Darrion Caldwell interrupts his quest for MMA glory to take on the #1 seed at the 2020 NCAA tournament, Luke Pletcher. Darrion with the throwback NC State Wolfpack singlet. Lots of good hand fighting but no scores in the first 30 seconds. 30 seconds later and Caldwell goes on the shot clock. Pletcher decides the best defense is a good offense, but Darrion circles and attacks to earn a step out. It's 1-0 Caldwell with 90 seconds to go in the period.
We get another flurry, Pletcher snapping and trying to go behind but Darrion avoids the takedown. Now Caldwell gets warned for hands to the face. Caldwell again goes on the clock. Darrion gets away with another hands to the face. Activity clock expires to make it 1-1. Then Pletcher bulldozes forward to catch DC off balance and it's two points for Pletcher. He takes the lead late in the period. And 2-1 in favor of Luke is how we'll go to the break.
2nd period: A flurry and Caldwell positions himself well to get another step out. He pulls to within 1. Caldwell tries a duck under, Pletcher catches him in short offense and Pletcher's misdirection go behind scores another takedown. It's 5-2 with 2 minutes left in the match.
Pletcher attacks and Caldwell almost pivots to collect another step out but Pletcher grounds himself and we restart. 90 seconds to go, Pletcher leading 5-2. A feet-to-back would be enough for Caldwell. He level changes, a fireman's carry would do it. But instead we stalemate, 1 minute to go. Shot off the restart but Pletcher catches him, then chews up some clock. 30 seconds to go. Caldwell looking for an opening. Inside trip from space fails. Flying squirrel attempt and it'll be four for Pletcher, who catches and plants Darrion on the mat. Appreeciate the attempt!
Pletcher would not be denied. Caldwell put it all out on the mat, taking the match in short notice and having been training MMA exclusively for about 7 years. Impressive stuff from both wrestlers but Pletcher was in control for pretty much the entire time. 9-2 win for Pitt's newest assistant coach.
Wrestling gas tanks are different than MMA gas tanks. Kudos to Caldwell for the performance and well done by Luke.
Darrion threw everything he had at Pletcher but it wasn't enough. Luke Pletcher gets the 9-2 victory, DT vs. Myles Martin coming up at 9:42 ET. pic.twitter.com/5cyxNLkjHS

— FloWrestling (@FloWrestling) July 26, 2020
---
David Taylor vs Myles Martin
200 Pounds
1st period: Maybe it's the Monster Energy talking but I am extremely pumped for these next two matches. This is #1 vs #8 at 86kg. We'll see how far Myles Martin has progressed against one of the best pound-for-pound wrestlers in the world. Snatch single for Taylor and he's got Martin hopping. Close to the boundary and it's 1 for DT, although he nearly converted. In on another attack, Taylor switches off to a double, Martin with a crotch lock. Taylor concert to go up 3-0. Now 90 seconds left in the first. Another level change, Myles gets a far ankle but Taylor is nearly unstoppable in these scrambles. He's up 5-0. A shot right off the restart, another short scramble and it's 7-0. An exposure makes it 9-0. Martin pushed to the brink. 30 seconds left int he period. Taylor attacks again martin cannot stop him. 11-0 tech fall. Wow.
Not like we didn't know David Taylor was good but that was impressive. Taylor has not missed a beat over the pandemic.
Taylor called out Sadulaev in his post-match interview with Ben Askren. I absolutely love it. Let's gooooooooo!
David Taylor works his magic and cruises to a tech over Myles Martin. Dake vs. Chamizo is NEXT! pic.twitter.com/nJxB32LDXA

— FloWrestling (@FloWrestling) July 26, 2020
---
Kyle Dake vs Frank Chamizo
79 Kilograms
1st period: Here it is, the main event. Two-time world champ Kyle Dake and two-time world champ and Olympic bronze medalist Frank Chamizo. Please excuse my while I hyperventilate a bit.
Okay now I'm good. Let's really do it! Okay we're really doing it now!
A cautious 30 seconds, although Dake is a little more active. Passivity warning for Chamizo after 40 seconds. Next on will put him on the clock. Dake digs an underhook but Chamizo is comfortable with an over tie. Collar ties but no scores. 90 seconds to go. Dake may have gotten a passivity as well. Someone will need to go on the clock soon. Dake will get called. He has 30 seconds to score. He can't get through Chamizo's defenses but he does get a step out against Chamizo with 12 seconds left in the period. It's 1-1, with a slim criteria lead for Dake.
2nd period: Slight delay to get the clock in order. We're under way again. Dake takes a shot. Now Chamiz in on a single. Dake with a crotch lock. Dake has Chamizo up in the air, Dake tries to back arch but it's Chamizo's pints. He leads 3-1. Dake works his way back on top to get a reversal point. He cuts into the lead. It's 3-2 Chamizo. But a gut wrench gives Dake the lead as they go out of bounds for a restart Dake leads 4-3.
1:16 left as we pause after Dake takes an eye poke. Back in action. Dake lowers his level, Chamizo shakes his head as if to say, you don't want to shoot on me. 45 seconds to go, Chamizo down by one. Now 20 seconds to go. Locked fingers warning with 13 to go. Chamizo in on a shot, chest wrap defense from Dake. Chamizo has Dake's leg in the air but time runs out. By the skin of his teeth, Kyle Dake gets it done.
Chamizo nearly had him but Dake wins 4-3.
Dake wins one that comes down to the wire but it's all love after the match. Who's next for Kyle Dake? pic.twitter.com/EjnGIqfPv3

— FloWrestling (@FloWrestling) July 26, 2020
Dake looks like he's been through a war in the post match interview. Par terre offense was the difference. Dake says he'd like to wrestle Zauerbek Sidakov and Jordan Burroughs. I agree with Kyle!
And that's a wrap on Dake vs Chamizo! Exciting from many different perspectives!
Can't wait to see the memes some of the creative elements fo the wrestling community come up with. Match archives should be up. Please enjoy and thanks for reading. See you next time!