WE ARE: Cael's First Decade
The Complete Frank Molinaro Wrestling Bio
The Complete Frank Molinaro Wrestling Bio
Everything you need to know about 2016 Olympian Frank Molinaro's wrestling career.
Jun 17, 2020
by Andrew Spey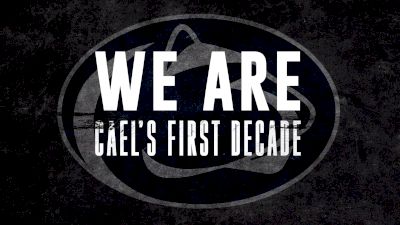 Unlock this article, live events, and more with a subscription!
Get Started
Already a subscriber? Log In
There are many significant milestones on the way to wrestling notoriety. Winning a championship in the powerhouse single-class state of New Jersey, for instance, or attaining the ultimate collegiate prize of an NCAA title, or going Gorilla Hulk beast mode in the final seconds of a World Team Trials match. Nittany Lion great Frank Molinaro has done all of those things and more, such as being an Olympian, which is quite notable.
First Episode Premiers Wednesday 8 PM EST
Below we will recount Molinaro's most significant notables of his career world. If you're short on time, you can skip over to JD's article feating his five favorite Frank matches. Or don't read it but click on it anyway. Every pageview is always appreciated!
High School: 3X NJSIAA Champion at Southern Regional
Frank attended Southern Regional High School in the competitive Shore Conference, uncoincidentally located on the famous Jersey Shore. Molinaro excelled, winning three state titles from 2005 to 2007. Molinaro did not lack for quality competition either. You may have heard his 2005 finals opponent, Jordan Burroughs.
Some, like Steven Falk of the Asbury Park Press, have even speculated that Frank Molinaro is the greatest wrestler ever to emerge from the Jersey Shore, an impressive but too often overlooked wrestling region.
College: 4X All-American, 2012 NCAA Champion at Penn State
Molinaro had one of the smoothest textbook collegiate progressions, going from a redshirt season as a true freshman in 2008 to an NCAA champion at 149-pounds as a fifth-year senior in 2012. In between those seasons he took eighth at the NCAAs in 2009 at 141-pounds, fifth in 2010 at 149, and second in 2011.
The 2011 finals match would be his infamous defeat at the hands of Kyle Dake during Dake's sophomore campaign. Molinaro would find redemption the next year, defeating Dylan Ness on primetime cable TV in 2012. Molinaro also defeated Ness in the 2012 Big Ten finals (his second conference title) in what would be an undefeated senior season for the Nittany Lions.
Watch highlights of Molinaro's 2012 Big Ten title bout below.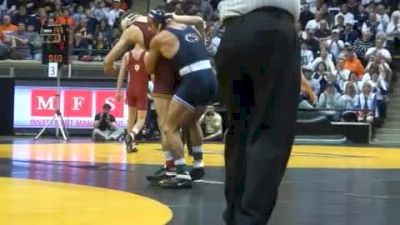 Molinaro finished his career at Penn State with a 121-29 record and was the Nittany Lions' fifth-ever four-time All-American. Although Frank began his matriculation in Happy Valley two years ahead of Cael Sanderson's arrival, Molinaro was instrumental in kicking off the Cael-era dynasty.
Coaching Career
With his wife, Kera, and their burgeoning family, now stabilized at three sons, Frank cross-crossed the continent during his coaching and competitive career. The short version is Molinaro moved from Penn State to Rutgers, back to Penn State, down to Virginia Tech, over to Oklahoma, then finally out to Arizona State, where the Molinaro family currently resides.
The more detailed version (with links!) is that soon after his 2012 national championship, fellow Jersey Shoreman Scott Goodale recruited Molinaro to return to the Garden State to become an assistant coach at Rutgers. After two seasons in Piscataway, Frank returned to State College, PA, to focus on his ultimately successful Rio Olympics bid as a volunteer assistant.
After a fifth-place finish in Rio, Frank, alongside 2012 Olympian Jared Frayer, made their way to Blacksburg, VA, to join the Virginia Tech Hokie coaching staff. Molinaro then moved to the Tulsa metroplex to continue his training at the Oklahoma-RTC in December of 2018. Finally, Molinaro was added to the Sun Devil squad in Tempe, AZ. Head coach Zeke Jones, longtime assistant Lee Pritts, and new additions Molinaro and Mark Perry all spoke to Mark Bader recently about the bright future of the Arizona State program.
2016 Rio Summer Games: 5th-Place
Frank's participation in the Rio Games is a saga unto itself. Molinaro was not favored to make the team. 65kg was as deep and competitive as any of the six Olympic men's freestyle weight classes. Brent Metcalf the favorite and #1 seed at the trials, had made three straight world teams from 2013 to 2015 leading up to the wrestle-off.
Indeed, Frank was officially the #9 seed in Iowa City, where the 2016 Team Trials took place. Below is the stacked bracket through which the Gorilla Hulk would smash.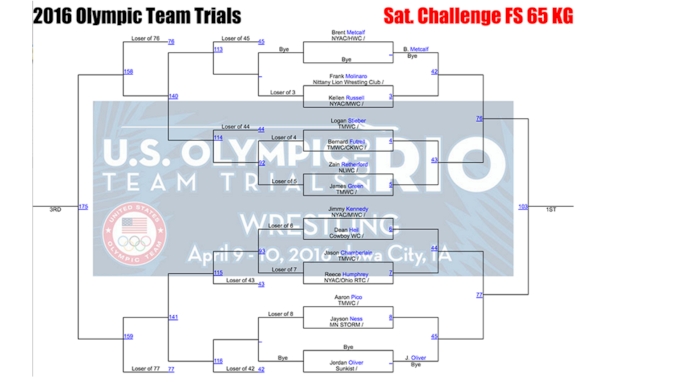 First, Molinaro dispatched Kellen Russell with a 14-1 thumping. For context, Russell and Molinaro finished tied for fifth place at the US Senior Nationals and Olympic Team Trials Qualifying tournament in December of 2015, having both withdrawn from the bout.
That put Molinaro in the quarters against Brent Metcalf, who advanced on a bye. Molinaro avenged a 4-2 loss to Metcalf from the 2015 US Open with a 3-3 criteria victory at. Frank was on to the semis to take on Logan Stieber, who had just beaten Zain Retherford in his quarterfinal bout.
Molinaro would need criteria again, but with a 5-5 victory, Frank earned a spot in the finals for a showdown with teenage phenom Aaron Pico. Molinaro would be pushed to the brink but prevailed in three matches in the best-of-three series, losing 2-4 in round one before winning 4-3 in round two and 4-4 on criteria in the deciding bout. This impressive performance earned Molinaro the coveted FloWrestler of the Week award.
Read a detailed breakdown of Frank's OTT run here.
But that was just the beginning of Frank's Olympic journey. The United States had not yet qualified their bid to Rio at 65kg in men's freestyle. The USA, with Metcalf as the rep in both instances, failed to place in the top five at the 2015 World Championships or top two at the 2016 Pan-Am Olympic Games Qualifier at 65kg, both of which occurred before the US Olympic Team Trials.
That left just two chances for Molinaro to qualify the weight for himself and the Red, White and Blue. First opportunity was a tournament just weeks later on April 24 in Mongolia. Failing that would leave only the last chance qualifier in Istanbul on May 8. The top three from Mongolia qualified for Rio, while only finalists got bids in Turkey.
Frank dutifully traveled to and made weight at both far-flung locations but failed to earn bids, going 1-1 in Mongolia and placing third in Istanbul.
But just when all hope looked lost, fate intervened. The short version is two previously qualified wrestlers tested positive for meldonium, a recently banned substance by the World-Anti-Doping Agency, and Frank by dint of his third-place finish in Istanbul, was awarded one of the vacated bids.
The long, complicated version, which I will attempt to explain if for no other reason than because I just looked up every single detail, is below.
Andriy Kvyatkovsky of Ukraine and Magomedmurad Gadzhiev of Poland (originally Dagestan) made the finals of the European Olympic Qualifier on April 15 and earned bids for the Olympics. Then Zurabi Iakobishvili of Georgia, Adam Batirov of Bahrain (also originally Dagestan), and Yakup Gor of Turkey qualified via the Mongolian tournament. Then Boris Novachkov of Bulgaria (and Cal Poly) and Haislan Garcia of Canada qualified in Istanbul. Then Kvyatkovsky and Gadzhiev were disqualified due to the Meldonium detected in their bodies, and Zurabi Iakobishvili and David Safaryan of Armenia were deemed to have officially qualified via the Euro Qualifier. That left the bid Iakobishvili won in Mongolia unclaimed, so it was awarded to Boris Novachkov, which in turn left an open bid from Istanbul, which is what Molinaro received.
The series of convoluted cascading occurrences was nearly moot, as WADA later went back on their original decision and said that Kvyatkovsky and Gadzhiev were, in fact, eligible to compete in Rio due to the timing of Meldonium's inclusion on WADA's banned substance list and the amount of time Meldonium is alledged to stay in a person's system. But rather than rescind any bids, the IOC allowed UWW to raise the participation cap at that weight class and everyone that got bids to Rio at any time all got to compete.
And if none of that made sense, perhaps Brock Hite's explanation from 2016 will be more clear.
So all's well that ended well for Frank in that regard, and he joined five other men's freestyle Americans at the 2016 Summer Games.
Frank's performance at the Games was a mixed bag, going two-and-two and losing in the bronze-medal match. Both those two wins were solid, as Frank beat both Gadzhiev and Kvyatkovsky, the original Meldonium users that set off the whole qualification fracas. And Molinaro's losses were to two of the all-time greats, Frank Chamizo of Italy by way of Cuba and Togrul Asgarov of Azerbaijan, ultimately proving Molinaro was a worthy, world-class 65kg contender.
Hear from Frank after the Olympics on a podcast with Mike Mal and Brock Hite.
Kvyatkovsky also memorably got hungry in the middle of his match with Frank and confused Frank's wrist with food. The bite was not penalized but Molinaro still won, which put him in the bronze-medal match after beating Gadzhiev and losing to Toghrul Asgarov in his first two bouts.
Other Senior Level Accomplishments
If words aren't you're thing and you just want to watch some awesome matches from Frank's post-collegiate career, then buddy, do we have a segment for you.
Molinaro defeats Zain Retherford in round 1 of the 2017 World Team Trials Finals: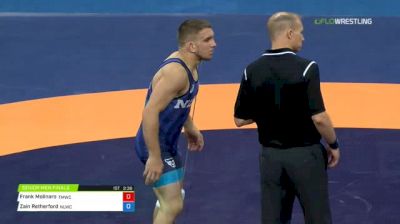 Unlock this video, live events, and more with a subscription!
Get Started
Already a subscriber? Log In
Frank defeats rising superstar and 2019 Final X competitor Ryan Deakin at the 2018 US Open: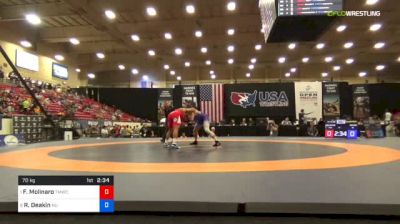 A couple of months before the Olympics, Molinaro put together a powerhouse performance at the 2016 World Cup in Los Angles. Read more about here, as Frank won yet another coveted FloWrestler of the Week award.
Watch Frank iconic win over Iakobishvili of Georgia: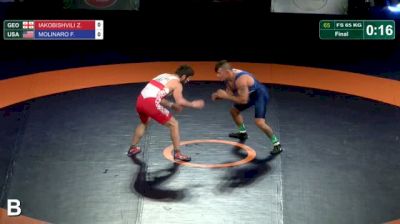 Unlock this video, live events, and more with a subscription!
Get Started
Already a subscriber? Log In
And here is Frank's win over Mohammadi of Iran: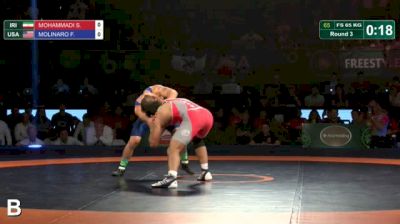 Unlock this video, live events, and more with a subscription!
Get Started
Already a subscriber? Log In
There's far more Frank content on FloWrestling, but we'll leave things off with Frank's last of victory, a win over two-time NCAA finalist Bryce Meredith in the fifth-place about at the 2019 US Senior Nationals and Olympic Team Trials Qualifying Tournament.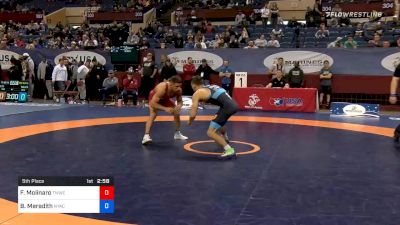 Unlock this video, live events, and more with a subscription!
Get Started
Already a subscriber? Log In