Unlock this article, live events, and more with a subscription!
Get Started
Already a subscriber? Log In
As we always do at this time, we have begun our projected seeding for the upcoming Big Ten championships at Rutgers. I will do one every weekday, continuing here with 141 pounds.
Watch the 2020 Big Ten Championships Live on Flo
March 7-8 | 10 AM & 11 AM Eastern
The seeding rules changed once again this year. In 2019, they seeded all 14 guys if a weight had eight or more automatic qualifier allocations. This year, they are seeding every entry at all 10 weights no matter what the allocations look like.
Perhaps no weight has as many moving pieces as 141, where the seeds are still very much in flux depending on how the last two weeks shake out. Let's still give a shot at sorting it all out, though.
Projected 141 Seeds
Luke Pletcher, Ohio State
Nick Lee, Penn State
Tristan Moran, Wisconsin
Mitch McKee, Minnesota
Chad Red, Nebraska
Max Murin, Iowa
Dylan Duncan, Illinois
Cole Mattin, Michigan
Alec McKenna, Northwestern
Parker Filius, Purdue
JoJo Aragona, Rutgers
Matt Santos, Michigan State
Eddie Bolivar, Indiana
Hunter Baxter, Maryland
At the top, the winner of Luke Pletcher/Nick Lee this weekend will be the top seed. Right now both the national and conference rankings have Pletcher ahead of Lee, but they will settle it on the mat in the Bryce Jordan Center on Saturday night. Mike Mal did a thorough breakdown of this match on his latest episode of Who Ya Got.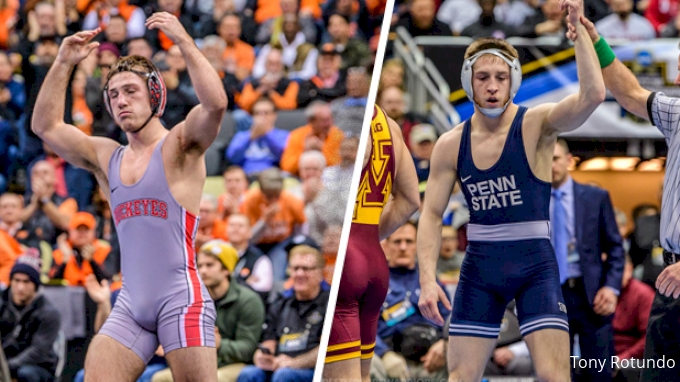 Unlock this video, live events, and more with a subscription!
Get Started
Already a subscriber? Log In
Unlike 125 and 133, there are still a couple of high-profile matches that need to happen to finalize seeds, so there will be a bit more projecting done at this weight than at the first two weights. For the sake of that, we are assuming all starters wrestle.
This weekend, Iowa faces Minnesota, which means we could see Max Murin against Mitch McKee. The Gopher senior beat Murin twice last season, so I am going to go with history and give McKee the win, also because Murin has missed several duals and may not be at 100 percent, though this one is in Iowa City at Carver-Hawkeye.
Then to close out the year, Nebraska goes to Minneapolis and we'll get McKee vs fellow All-American Chad Red. McKee won that series twice last year as well. If he repeats his performance from the 2018-19 season, I think he winds up as the four seed behind Tristan Moran, who beat McKee on January 10 in Madison.
Moran is also battling injuries right now and the Badgers end the Big Ten schedule hosting Michigan, where he should see Cole Mattin. Although Moran has the loss to Murin, he'd be 2-1 against the McKee/Red/Murin grouping, and with McKee being the other 2-1 guy he'd hold the head-to-head. That then means Red and Murin go 1-2 in this round robin, and Red's victory over Murin in the dual puts the Hawkeye in the six-hole, which is actually ideal for Iowa if he can repeat his win over Moran when they hit in the quarterfinals.
Dylan Duncan has won five in a row and will be favored this weekend against Parker Filius of Purdue, which would put him firmly as the seventh seed. His January 26 win over Cole Mattin puts the Wolverine in the eight-slot, setting him up with a first-round matchup against Alec McKenna.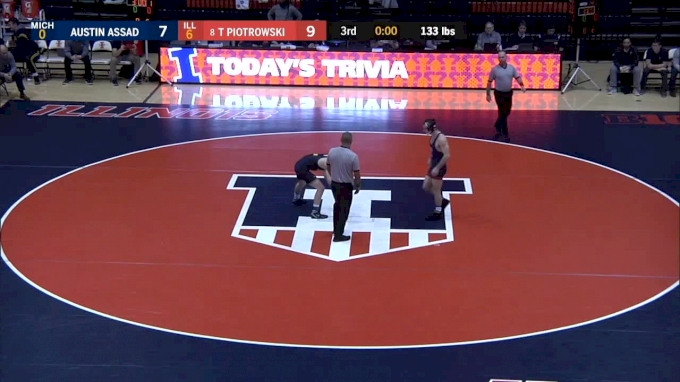 Unlock this video, live events, and more with a subscription!
Get Started
Already a subscriber? Log In
Although he has a losing record overall, McKenna has performed well for Northwestern in conference duals. Going against the grain of our Big Ten rankings, I have him as the nine seed. He has wins over Filius, Matt Santos of Michigan State, and Eddie Bolivar of Indiana. That sets up a clean grouping: Duncan beat Mattin, who defeated McKenna, who beat Filius, and Filius took one from Aragona.
The Rutgers true freshman has no doubt been battle-tested, but his resume leaves him as the 11th seed with Murin potentially coming in round one at the RAC. Aragona is the reason Santos is starting for the Spartans after his match with Jaden Enriquez ending in an injury default. I have Santos ahead of Eddie Bolivar based on better margin of victory against their common opponent wins: Dominic Dentino and Hunter Baxter, the latter of whom is winless against Big Ten foes.