Unlock this article, live events, and more with a subscription!
Get Started
Already a subscriber? Log In
As we always do at this time, we have begun our projected seeding for the Big Ten championships. I will do one every weekday, continuing here with 133 pounds.
Watch the 2020 Big Ten Championships Live on Flo
March 7-8 | 10 AM & 11 AM Eastern
The seeding rules changed once again this year. In 2019, they seeded all 14 guys if a weight had eight or more automatic qualifier allocations. This year, they are seeding every entry at all 10 weights no matter what the allocations look like.
There's no question 133 is much more difficult to seed than 125 was. You have the Austin DeSanto/Roman Bravo-Young injury default debate, Sebastian Rivera has wrestled in zero Big Ten duals, we still don't know who Michigan will be using, and Boo Dryden being a late replacement for Brent Jones in Minnesota.
Let's try to figure this out.
Projected 133 Seeds
Seth Gross, Wisconsin
Roman Bravo-Young, Penn State
Austin DeSanto, Iowa
Travis Piotrowski, Illinois
Ridge Lovett, Nebraska
Sebastian Rivera, Northwestern
Sammy Alvarez, Rutgers
Cayden Rooks, Indiana
Boo Dryden, Minnesota
Travis Ford-Melton, Purdue
Joey Silva, Michigan
Garrett Pepple, Michigan State
King Sandoval, Maryland
Jordan Decatur, Ohio State
Seth Gross owns the last win over Austin DeSanto, beat Roman Bravo-Young in their only meeting, beat Sebastian Rivera and outplaced Travis Piotrowski at Midlands, beat Ridge Lovett head-to-head, and has a common opponent win over Sammy Alvarez, making him the unquestionable 1 seed.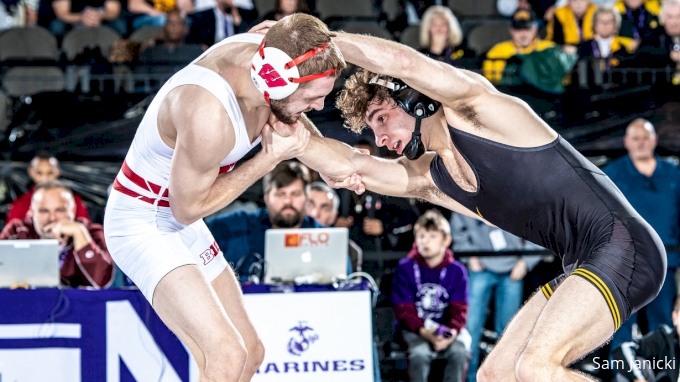 Unlock this video, live events, and more with a subscription!
Get Started
Already a subscriber? Log In
Now to the question of RBY/DeSanto. For rankings purposes, I stand by what we did leaving DeSanto ahead. Additionally, the debate between 2 and 3 only matters in terms of who you face in the quarters, but it is important for precedent purposes. It is further muddied by DeSanto having a win over Gross, while Bravo-Young lost to Gross.
Ultimately, I think the Big Ten coaches go RBY over DeSanto due to the black and white fact that, for NCAA seeding purposes, the injury default counts as a quality win and counts for win percentage purposes. It will be fascinating to see how it plays out.
There was another injury default situation between Travis Piotrowski and Sebastian Rivera at Midlands. I would say that one is less contentious though, since Rivera hasn't wrestled since then. If Seabass doesn't wrestle this weekend, he has to be the 14 seed. If he does, he can be 11 with a win over King Sandoval or as high as six with a win over Sammy Alvarez.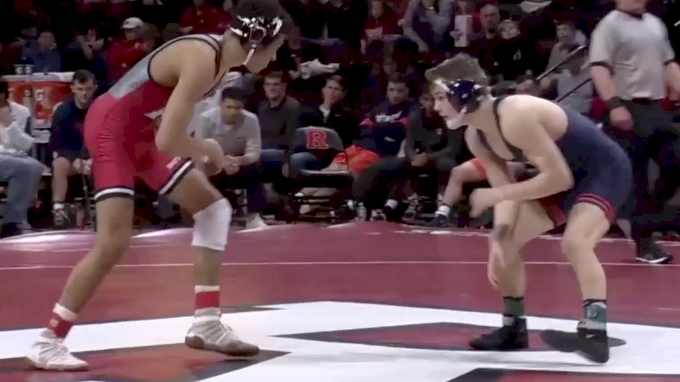 Unlock this video, live events, and more with a subscription!
Get Started
Already a subscriber? Log In
Mark Manning and the Nebraska staff looked smart after pulling Ridge Lovett's redshirt. The Husker true freshman has a pretty similar resume to Piotrowski and I'm putting him over Alvarez, disagreeing with our Big Ten rankings. I think Pio's win over Alvarez gives him the advantage over Lovett, but I'm not sure if the coaches give Rivera the benefit of the doubt with just two wins when Lovett is going to wrestle in every conference dual.
I have Lovett over Alvarez because of Garrett Pepple. Lovett beat Pepple in the dual and Alvarez split with the Spartan, taking the most recent one in their dual on January 12. They both beat Cayden Rooks, Lovett will face Boo Dryden in the final dual of the year, and they both have beaten Travis Ford-Melton.
If the seeds go as I said, with RBY at the 2 and Sammy the Bull getting the 7, then we would be treated to an excellent quarterfinal. That would be a rematch of their scramblefest in Rec Hall back on January 19, won by the Nittany Lion right at the end of the second sudden victory period.
Rooks has wins over Dryden, King Sandoval, and Ford-Melton, splitting with the Boilermaker freshman but winning in the dual. Dryden is obviously tough as he came in late, but his win over Ford-Melton puts him in the 9 slot. He'll see DeSanto and Lovett to close out the regular season.
The bottom five gets a little wonky, but those guys will all need to outplace their seed to qualify anyway. Ford-Melton and Pepple both beat Sandoval, who beat defeated Decatur. Joey Silva beat Pepple and Sandoval, as well as backups Paul Glynn and Brent Jones.
It's unclear if the Wolverines will go with Silva or Austin Assad, but neither will be seeded very high. Assad beat Sandoval and Northwestern backup Dylan Utterback, so they'll both be in that 11/12 range.