Unlock this article, live events, and more with a subscription!
Get Started
Already a subscriber? Log In
Week 6 of the NCAA season was absolutely loaded with ranked matchups and major upsets. The CKLV had close to half of all the ranked wrestlers in the country, and we also had a handful of big dual meets. The CKLV brackets and this week's box scores will give you all the important results, but here are the top eight stories of the weekend:
---
Huskers Look Like a Trophy Team
The team race for the top spot this year will almost certainly come down to Iowa and Penn State, but the battle for the remaining two trophies couldn't be further from certain. Every week a new team seems to establish themselves as a real trophy contender. This weekend it was Nebraska who looked most impressive.
Before the season began, Nebraska already had returning All-Americans in Chad Red, Isaiah White, Mikey Labriola, and Taylor Venz. The remaining weights were unproven.
This weekend, Nebraska placed 9 out of their 10 starters in the toughest in-season tournament of the year. Those four Husker All-Americans all placed in the top five with Isaiah White leading the pack as the 165-pound champ.
Veterans Eric Schultz and Collin Purinton also placed at 197 and 149, respectively. Perhaps most encouraging for Husker fans that three first-time starters made the podium. Heavyweight Christian Lance took sixth, 157-pounder Peyton Robb placed seventh, and most exciting of all, true freshman Ridge Lovett placed third at 133.
The Huskers produced fantastic results, but they also looked like a team all weekend. It was common to see a pack of Husker wrestlers travel from mat to mat supporting their teammates which led to some fantastic celebrations after important matches.
Here's one example from Chad Red's quarterfinal win over Tariq Wilson: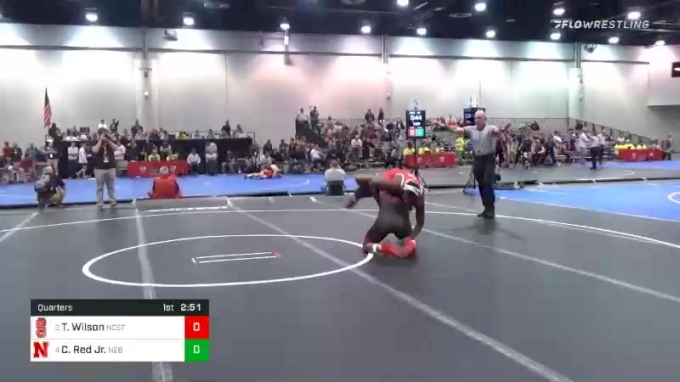 Unlock this video, live events, and more with a subscription!
Get Started
Already a subscriber? Log In
---
Pletcher Piles On
Luke Pletcher claimed the #1 spot in our rankings after the first weekend of the year when he upset preseason #1 Dom Demas. Since then, he has continued to impress, and this weekend was his most dominant performance to date.
In previous seasons, Pletcher has won close matches fairly regularly and has developed a reputation for having a limited offense. Anyone who still believes that about Pletcher hasn't been paying attention this year.
This weekend, he entered a field that included five of the top seven wrestlers in the country. He scored 65 points over the course of his five matches including a 10-6 win over #4 Mitch McKee and an 11-3 major decision over #6 Chad Red.
Check out his quarterfinal match against Cole Mattin where he racked up 13 takedowns: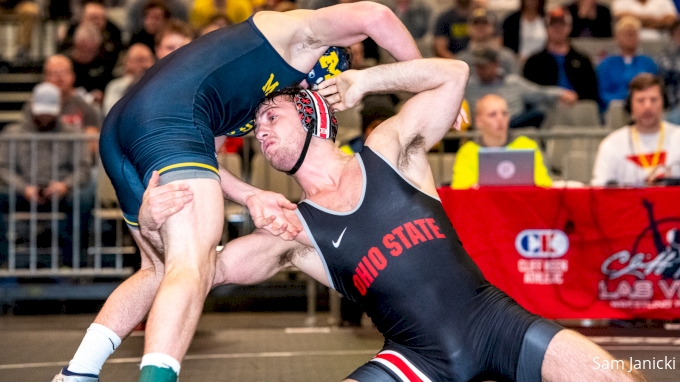 Unlock this video, live events, and more with a subscription!
Get Started
Already a subscriber? Log In
---
Zahid Blitzes Brutal Field
Zahid Valencia wrestled in the toughest bracket in the CKLV. It included eight of the top 10 and all of the top five wrestlers in the country. While Zahid has been considered the leader in the race for the Hodge trophy, he is also in his first season up at 184 and has already had a tight match with Nebraska's #9 Taylor Venz.
Zahid answered any questions about his preparedness for 184 this weekend. He opened the tournament with two falls before teching #7 Sammy Colbray in the quarters, majoring #3 Lou DePrez in the semis, and majoring #2 Trent Hidlay in the finals.
Valencia has been clear about his goal to be an Olympic champion and explained why he believed he needed to dominate everyone in Vegas: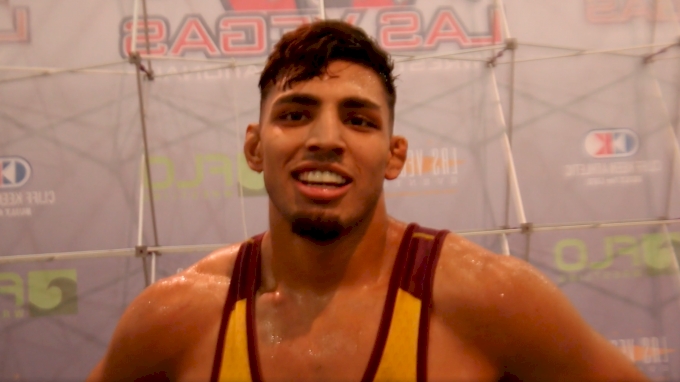 Unlock this video, live events, and more with a subscription!
Get Started
Already a subscriber? Log In
---
Ryan Deakin Rolls to #1
Before this weekend, we knew that the winner of the 157 bracket would be the top-ranked wrestler in the land. Ryan Deakin took over the #1 spot with head-to-head wins over #2 David Carr and #1 Hayden Hidlay.
In the past, Deakin has shown all the signs of being a title contender between his 2017 Junior World Silver medal performance, his CKLV title last year, and his win over James Green to earn a spot at Final X. This weekend's performance was a reminder of how good Deakin can be.
Perhaps the most impressive thing about Deakin's performance was the way he left no doubt against both Carr and Hidlay. He controlled his match with Carr from the start and ended up with a 9-3 decision.
Deakin's win against Hidlay was a bit closer, but there was no question Deakin was the better 157-pounder in Vegas, and he'll be number the new top dog at 157.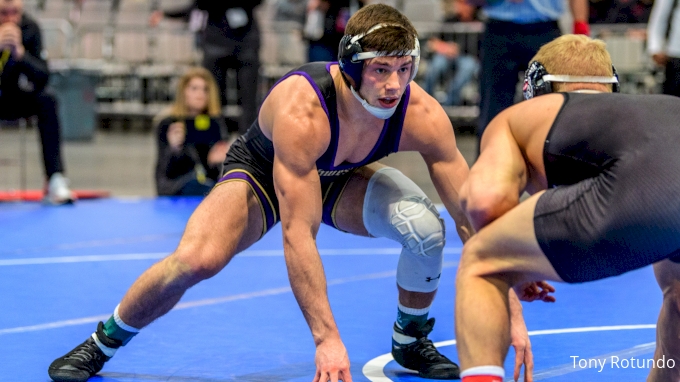 Unlock this video, live events, and more with a subscription!
Get Started
Already a subscriber? Log In
---
Lydy Leads Promising Purdue
The Purdue Boilermakers have been putting together a solid season without much fanfare, but their performance in Vegas this weekend should have them on everyone's radars.
The leader for Purdue this weekend was Dylan Lydy at 174. He had wins over #25 Kimball Bastian, #14 Anthony Mantanona, #5 Mikey Labriola, and #4 Bryce Steiert. All of a sudden, Lydy is undefeated with an impressive hit-list and the leader of one of the hottest teams in the country.
Joining Lydy in the finals were 10th-ranked 125-pounder Devin Schroder and 19th-ranked 197-pounder Christian Brunner. Schroder's best win on the weekend came against #7 Alex Mackall of Iowa State. Brunner beat #25 Lucas Davison, #16 Jake Woodley, and #9 Jay Aiello.
Two more solid Boilermaker performances came from #4 Kendall Coleman and #7 Griffin Parriott. Coleman finished fourth at 157 while Parriott was fourth at 149.
These performances led Purdue to a fifth-place finish at the CKLV which ranked them ahead of a number of traditional power programs. Purdue now looks like a must-watch team. Here's Lydy's finals win over #4 Bryce Steiert.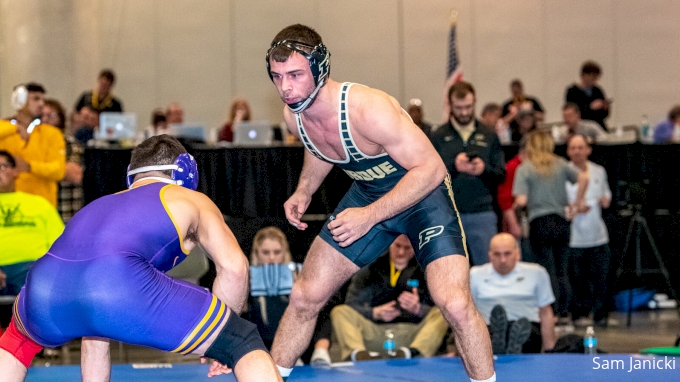 Unlock this video, live events, and more with a subscription!
Get Started
Already a subscriber? Log In
---
Lee Leads Youth Movement at 149
Before this weekend's Cliff Keen Las Vegas Invitational, the battle for the top spot at 149 was filled with intrigue as there didn't seem to be a true favorite. Would it be a previous All-American like Max Thomsen or Jarrett Degen? Would it be another veteran like Brock Zacherl or Collin Purinton? Would it be someone new to the weight like Yahya Thomas or Griffin Parriott?
In the end, the title came down to the two highly touted freshman Brayton Lee of Minnesota and Sammy Sasso of Ohio State. These two have an incredible rivalry which made their finals match at CKLV even more exciting than it would have been otherwise. Lee earned the victory this time with a 6-4 decision.
Coming into this weekend, Lee and Sasso were ranked 12th and 10th, respectively. In a weight class that seems wide open across the country this year, the belief that Lee and Sasso were serious contenders has now been confirmed.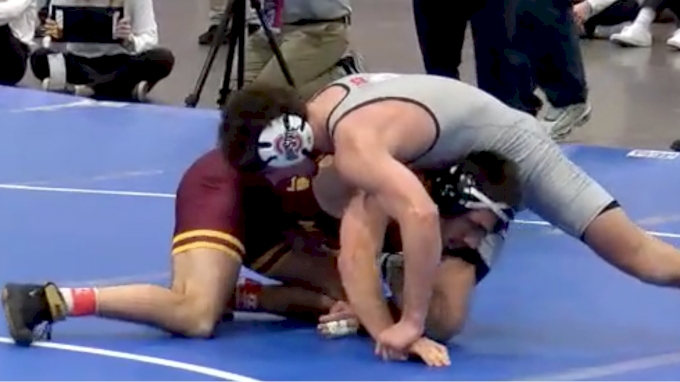 Unlock this video, live events, and more with a subscription!
Get Started
Already a subscriber? Log In
---
Activated Aaron Brooks Shakes Up Team Race
In Penn State's Friday night dual against Lehigh, Cael Sanderson pulled Aaron Brooks' redshirt for a match with NCAA qualifier Chris Weiler. Brooks controlled the match and took a 10-5 decision in Penn State's 23-10 win over Lehigh.
Brooks continued his dominance on Sunday with a 19-4 tech fall over Penn's Jesse Quatse in Brooks' first Rec Hall dual.
When Brooks was recruited to Penn State, he was one of the nation's top prospects, and as a result, Brooks brings with him the hope of NCAA success as many believe he could be a big-time point-scorer for the Nittany Lions.
The introduction of Brooks into the lineup naturally leads to speculation about what Penn State will do with their eighth-ranked 184-pounder Shakur Rasheed. One likely solution seems to be moving Rasheed to 197 to step in for a struggling Kyle Conel.
Rasheed, who was an All-American at 197 in 2018, would be projected to score meaningful points at a weight where Penn State is currently projected to score half a point. After Iowa's recent surge in the rankings, this move by Penn State creates a whole lot of intrigue about the end of the year.
---
Princeton Notches 3 Marquee Upsets During Intense Weekend
Princeton has become known for their relentless schedule, and this was one of their toughest weekends of this season. The Tigers traveled to #10 Oklahoma State on Friday night then immediately returned home in order to dual #1 Iowa on Sunday.
Princeton came within three points of Oklahoma State without a 165-pounder. They dropped their match against Iowa 30-9. Despite losing both duals, the Tigers came away from the weekend with some things to be excited about. Most notably, they had three major upset wins.
Their first big upset of the weekend came at 125 against Oklahoma State. Last season, Nick Piccininni beat Princeton's Pat Glory three times. On Friday night in Stillwater, Glory finally got his revenge with a 9-4 win over Picc.
On Sunday Quincy Monday won a tight bout with Iowa's #3 Kaleb Young at 157, and Travis Stefanik knocked off #6 Nelson Brands. These are important wins for a Princeton Tiger team that takes on all comers.