2019 Cliff Keen Las Vegas Collegiate Wrestling Invitational
141 At CKLV Is Worth The Price Of Admission (Or A Flo Subscription)
141 At CKLV Is Worth The Price Of Admission (Or A Flo Subscription)
The 141-pound weight class at CKLV this weekend is going to be worth the price of admission with five of the top-seven ranked wrestlers in the country.
Dec 3, 2019
by Wrestling Nomad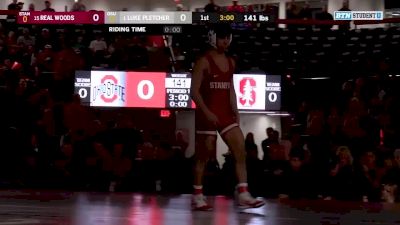 Unlock this video, live events, and more with a subscription!
Get Started
Already a subscriber? Log In
Unlock this article, live events, and more with a subscription!
Get Started
Already a subscriber? Log In
I might be biased since I just did the lightweight preview, but for me, 141 at this weekend's Cliff Keen Las Vegas invitational is the weight to watch.
Watch 2019 Cliff Keen Las Vegas LIVE on Flo
December 6-7 | 12:00 PM Eastern
Five of the top seven ranked guys, including a potential #1 vs #2 final, and each with their own unique style that only makes the matchups more interesting. You've got the baseline fundamentals of Luke Pletcher, the inside trips of Dom Demas, the freestyle centric game of Mitch McKee, Chad Red's mixer and cradle, and the relentless shooting of Tariq Wilson.
There are arguments for 157 and 184, but let's get into the stars that make 141 so fascinating at the CKLV. Don't forget, brackets are in FloArena and registration is publicly available to view.
#1 Luke Pletcher, Ohio State
Just like last year, the Buckeye senior captain enters CKLV undefeated with six bonus-point wins. The difference this time around though is that he's knocking off ranked guys and now holds the top spot himself. Although he didn't score a takedown in his MSU Open finals win over Dom Demas, he was in deep on four or five shots in regulation and had several mat returns to win it in tiebreakers.
#2 Dom Demas, Oklahoma
The highest returning placer and preseason #1, Demas is no doubt the most exciting wrestler in the field. The unorthodox style must flummox traditional fans who get miffed when an inside trip and headlock are your go-to moves before single legs and go behinds. Last year's CKLV was a bit of a breakout for Demas, who was seeded eighth but finished fourth. Although he only went from #15 to #13 in the rankings, the momentum carried over a week later with his win over Kaid Brock.
Unlock this video, live events, and more with a subscription!
Get Started
Already a subscriber? Log In
#4 Mitch McKee, Minnesota
The Gopher senior has nine bonus-point wins on the year, but has yet to face a ranked opponent, which is unusual given his college resume. Even though he's missed CKLV the past two seasons it hasn't prevented him from having a persistently strong strength of schedule. Which leads me to wonder if his freestyle-centric tricks will work against the guys in this field. Thus far this year he's pinned guys with an assassin, a cow catcher, a head pinch, and a modified butcher into a pancake. Protect ya neck and be careful with your elbow placement against McKee.
#6 Chad Red, Nebraska
Red's got some stuff to prove in this bracket, as he is 0-2 against McKee and got pinned by Demas in the Journeymen finals. However, he does have two pretty epic wins over Pletcher from when they were in high school: the back-breaking cradle in the FloNats finals and then the low-scoring scramble-fest at Who's #1. We all know about his flashy mixer and how difficult he can to be score leg attacks on from neutral, but Red is very underrated on top. In all of his postseason wins last year, he either got a pin or picked up riding time.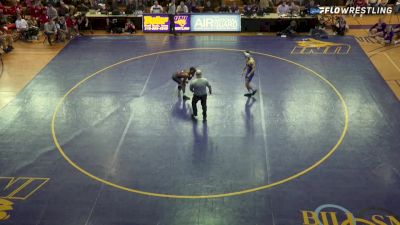 Unlock this video, live events, and more with a subscription!
Get Started
Already a subscriber? Log In
#7 Tariq Wilson, NC State
Similar to McKee, Wilson hasn't lost so far but hasn't been tested either. His closest matches have been one point against Sa'Derian Perry, and four points over both Anthony Sparacio and Noah Baughman. It's impossible to erase the memory of his third-place run in Cleveland, but that attack rate may be difficult to maintain up a weight. Even still, we're putting a shot counter on Tariq, the guy who has the most to gain of anyone this weekend. Check out some interviews Bader did with Tariq on a recent visit to Raleigh.
---
Beyond those five studs though, you have #13 Ian Parker of Iowa State and #19 Mitch Moore of Virginia Tech. Parker split with Demas last year on his way to being a national qualifier and is 2-0 on the year. As for Moore, he wrestled at WNO in high school and over half of his career wins in college are by fall.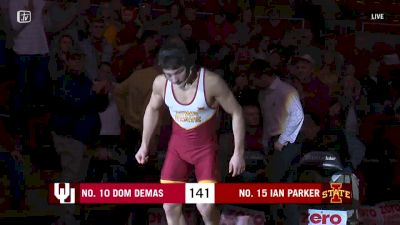 So let us know, who ya got this weekend? Whoever it is, they'll be #1 in the country on Tuesday morning and looking like a favorite to win the national title.