Unlock this article, live events, and more with a subscription!
Get Started
Already a subscriber? Log In
It's early December, which means the best college tournament of the year is right around the corner. The 2019 Cliff Keen Las Vegas Invitational starts on Friday with over 100 ranked wrestlers likely to compete.
Watch 2019 Cliff Keen Las Vegas LIVE on Flo
December 6-7 | 12:00 PM Eastern
Remember, CKLV is a single entry event, so for all intents and purposes each team will enter their "starters," though of course nearly every squad is battling injuries or starters being out of their lineup for one reason or another. Brackets will eventually be in FloArena, but for now we only have the registered athletes.
Let's take a look at the first three weights and predict how the top four will shake out. Projected seeds can be found here. David Bray will be handling the middleweights (149-165) and Andrew Spey is tackling the upperweights (174-285). On to the first preview!
125lbs: 7 Ranked
#2 Jack Mueller (Virginia), SR: 1-0
#7 Alex Mackall (Iowa State), JR: 4-1
#10 Devin Schroder (Purdue), JR: 12-1
#14 Jakob Camacho (NC State), FR: 7-1
#15 Jacob Schwarm (Northern Iowa), SR: 2-2
#18 Jace Koelzer (Northern Colorado), FR: 7-2
#19 Cole Verner (Wyoming), SR: 2-3
Joey Prata (Virginia Tech), JR: 6-2
Malik Heinselman (Ohio State), SO: 6-4
Patrick McKee (Minnesota), FR: 7-2
Brandon Courtney (Arizona State), SO: 8-1
Alex Thomsen (Nebraska): 5-5
Jack Medley (Michigan), JR: 6-5
Dominic Lajoie (Cornell), SO: 8-4
Michael DeAugustino (Northwestern), FR: 2-1
Danny Vega (South Dakota State), JR: 8-3
Earl Blake (Kent State), FR: 6-7
Commentary: For the past several years, 125 at CKLV has been a mixed bag of participants, which tends to create some interesting results. This year, that comes in the form of Jack Mueller being a big favorite. The returning NCAA finalist is just 1-0 with a pin on the year and hasn't wrestled many of the guys in this bracket, but I'm expecting him to pick up bonus in at least two or three matches and no one in this field to be within four points of him at any time. Beyond him though, it gets tricky.
David Bray's seed projections pretty well match our rankings, with Mackall coming in at the 2 and Devin Schroder the 3. They've never met before and each has just one loss on the year. To get to Schroder, the Cyclone will have go through Cole Verner, the Wyoming senior who currently has a losing record. That seed might also get screwed up with Josh Portillo in the bracket, who beat Verner at the Cowboy Invite.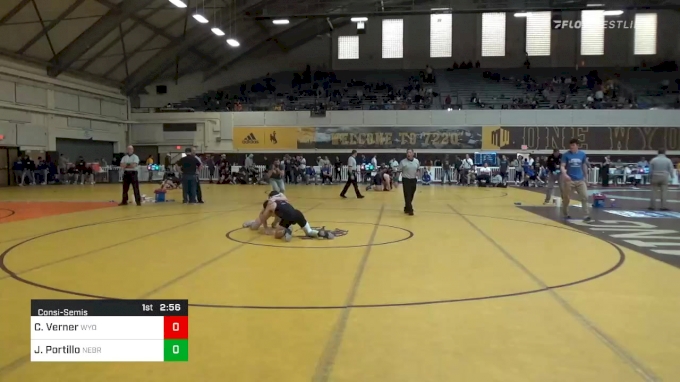 Unlock this video, live events, and more with a subscription!
Get Started
Already a subscriber? Log In
In the other quarter, Schroder and Northern Colorado redshirt freshman Jace Koelzer are on pace to meet. Schroder is the only returning placer from last year at the weight and has no losses to anyone in the field. Koelzer does have a loss to Alex Thomsen from last year, so that could prevent this quarter if they are matched up early.
Two of the fascinating wild cards to me are Jakob Camacho and Jacob Schwarm. Camacho took over the starting spot for the Wolfpack this year and during his redshirt year had wins over Mackall, Fabian Gutierrez, and Joey Prata. Then there's Schwarm, who got teched by Mackall and then gave up three takedowns to Thomsen, only to pin him in the second.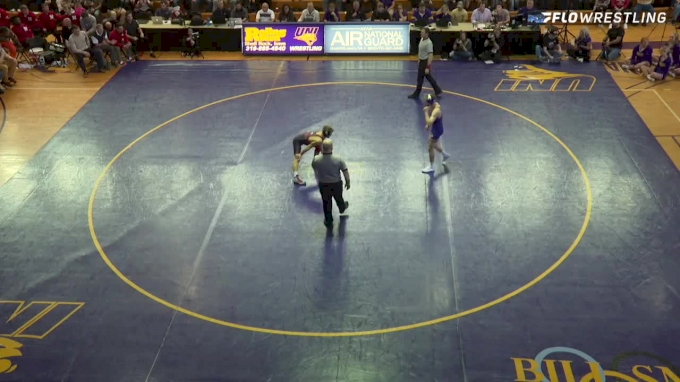 Unlock this video, live events, and more with a subscription!
Get Started
Already a subscriber? Log In
For my picks, I harken back to the very first CKLV I attended in 2016, when Trey Andrews vs Jose Rodriguez was a semifinal at 125. I think we see similarly goofy results, not necessarily flukey because there is talent at this weight, but also a great deal of parity.
My mind is leaning toward Schroder making the finals, taking a tight semi over Mackall. Then I think Joey Prata screws up the rankings, which leaves the Camacho/Schwarm/Koelzer/Verner grouping fighting for the last placing spots with the likes of Thomsen, Heinselman, McKee, Jack Medley, and Brandon Courtney.
Nomad's Prediction: 1) Mueller, UVA 2) Schroder, Purdue 3) Mackall, ISU 4) Prata, VT
133lbs: 11 Ranked
#6 Chas Tucker (Cornell), SR: 7-0
#7 Montorie Bridges (Wyoming), JR: 6-1
#8 Cam Sykora (North Dakota State), SR: 3-1
#10 Taylor Lamont (Utah Valley), SO: 1-1
#12 Josh Kramer (Arizona State), SR: 7-2
#13 Anthony Madrigal (Oklahoma), SO: 7-3
#16 Chance Rich (CSU Bakersfield), FR: 3-2
#18 Collin Gerardi (Virginia Tech), FR: 5-3
#19 Quinn Kinner (Ohio State), FR: 5-4
#20 Tim Rooney (Kent State), SR: 10-4
#23 Tye Varndell (Edinboro), FR: 7-3
#25 Louie Hayes (Virginia), JR: 6-1
Todd Small (Iowa State), JR: 3-2
Zack Trampe (Binghamton), SO: 6-0
Mosha Schwartz (Northern Colorado), FR: 6-0
Jack Skudlarczyk (Northern Iowa), SO: 4-2
Commentary: A great weight for someone to break through and grab the nation's attention. Such is life right now when you don't have DeSanto, Gross, or RBY in a tournament. Montorie Bridges was a 2018 AA who made the Round of 12 here in 2017, losing to Luke Pletcher and Austin DeSanto, and then was sixth a year ago. He had a tiebreaker win over Tucker in a dual last year so should probably be the one seed.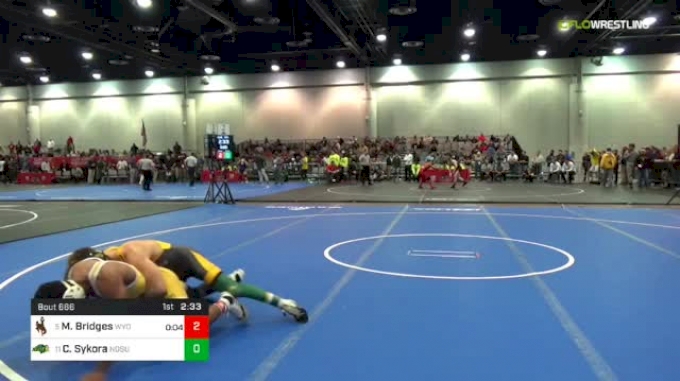 Unlock this video, live events, and more with a subscription!
Get Started
Already a subscriber? Log In
Tucker is going to control matches and most will be close but should finish Top-3. Sykora is a hammer on top with 40 career techs! While I still think it's Montorie and Tucker a cut above, Sykora's top game could put him in the finals and will either way be a huge help to NDSU's team points.
Much like 125, this weight is very in flux and could go down several different avenues. You have Kramer, who jumped into the rankings thanks to his Journeymen performance, and just had a one point match with Roman Bravo-Young. Then there is Sooner sophomore Madrigal, who appears on an upward trajectory after having a losing record and failing to qualify for NCAAs last year.
Chance Rich got into the rankings with his win over Sammy Alvarez (and has also beaten Brent Jones), but has losses to Derek Spann and Sykora. Rich was in the Redshirt Report and is one of the guys who can make a name for himself this weekend if he picks off a few guys, even ones ranked lower than him.
You saw I picked Prata to do well above and I'm feeling similarly good about Collin Gerardi. I believe he competes hard and already has a 7-1 win over Kinner, who I'm betting high on this weekend. I see Gerardi making a good run through the backside and solidifies his ranking.
I know Kinner's coming off two straight losses (and didn't wrestle against Cornell), including one to Gerardi mentioned above. But here's why I think Kinner does well. Kinner's weight should not be as much of an issue in a tournament setting, and I like betting on talent when there's a large field. The redshirt freshman was 15th on 2018 Big Board and two of his losses are to #4 Micky Phillippi. Lastly, his best position is top, which I trust heavily in at high level events like CKLV.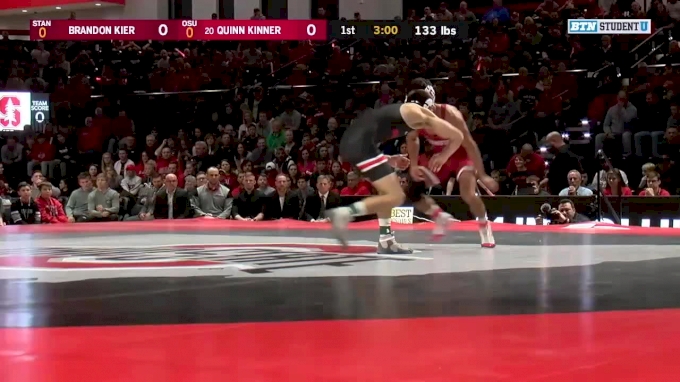 Unlock this video, live events, and more with a subscription!
Get Started
Already a subscriber? Log In
We haven't even gotten to Taylor LaMont, back off Olympic Redshirt and wrestling in his second CKLV. Back in 2017, he made the finals, knocking off Ethan Lizak, Connor Schram, and Sean Russell in order to take the title.
LaMont has just two matches so far, and even having seen Bridges loss to Theorius Robison, I'm taking Bridges over LaMont in the finals, with Tucker and Sykora right behind them. Kinner and Gerardi should be in the mix right below those four.
Nomad's Prediction: 1) Bridges, Wyoming 2) LaMont, UVU 3) Tucker, Cornell 4) Sykora, NDSU
141lbs: 8 Ranked
#1 Luke Pletcher (Ohio State), SR: 9-0
#2 Dom Demas (Oklahoma), SO: 9-1
#4 Mitch McKee (Minnesota), SR: 11-0
#6 Chad Red (Nebraska), JR: 5-1
#7 Tariq Wilson (NC State), JR: 9-0
#13 Ian Parker (Iowa State), JR: 2-0
#19 Mitch Moore (Virginia Tech), SO: 5-3
#23 Cole Mattin (Michigan), FR: 7-3
Michael Blockhus (Northern Iowa), FR: 3-1
Clay Carlson (South Dakota State), FR: 9-2
Noah Baughman (Cornell), SR: 9-2
Parker Filius (Purdue), SO: 8-1
Durbin Lloren (Fresno State), JR: 7-1
Lot on the line this weekend in Vegas, but if you're a betting man, do like the Entourage boys did and put $5 on red (it's gonna be a good weekend). Five of the top six guys in this field have a shade of red as the dominant color of their school's logo.
Your top seed will be Luke Pletcher, who has five ranked wins thus far in his eight matches. He's also got six bonus point wins already, putting him on a clip to shoot by his best career bonus rate. It seems like he's got more pop to him this year, like the extra eight pounds all went to more energy on his feet. But he does have that 17-8 loss to Tariq Wilson from two years ago at NCAAs.
Then there's Dom Demas, who might be one of the few guys who has thighs similar size to Pletcher. The inside trip maestro exploded to a fourth place finish in Pittsburgh last March and began the year ranked #1 in the country. His frenetic energy is hard to match, and the ability to wrestle with such confidence from a duck into a trip or headlock is devastating (see his Journeymen match with Chad Red). But he did fall to Pletcher in the MSU Open finals.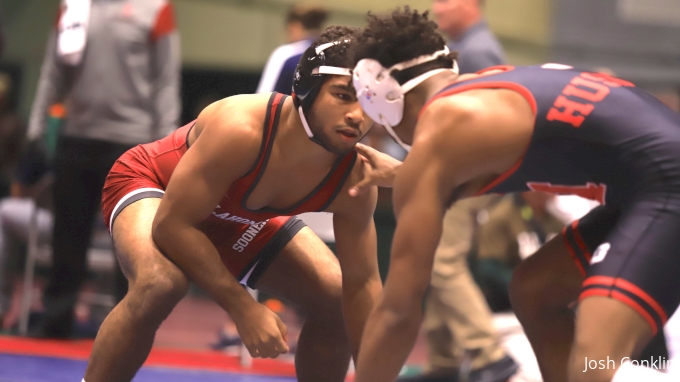 Unlock this video, live events, and more with a subscription!
Get Started
Already a subscriber? Log In
Then there's Mitch McKee, for years thought of as more of a "freestyle guy," but breaking through and finally placing as a junior. Now in this weight he looks like he could seriously contend for a national title, and it appears his chest lock is even more effective up at 141lbs. He fell to Demas in the U23 finals a year ago, and lost to Pletcher in overtime at Big Tens.
Chad Red is one of the best scramblers in the country and his mixer is vicious. He's showed some excellent top work in good wins over JoJo Aragona, Chase Zollmann, and Michael Blockhus so far. We're looking at excellent quarters and semis matchups with Tariq Wilson followed by Pletcher. The Tariq match is one we've never seen, but Pletcher and Red were very familiar with each other in high school.
Tariq is the absolute wild card of the weight, coming up from 133 and undefeated so far with two-thirds of his victories coming by bonus. Feel free to call me a hater, but I'm on wait and see with Wilson for now, though we'll have plenty of content coming on exactly why he is the guy you'll need to set your FloArena alerts for at this weight.
Ian Parker has a win over Demas from last year and Mitch Moore is the one guy who could truly make this bracket fall apart. Cole Mattin seems to have taken control of the 141 spot for Michigan after some early roster battles for the Wolverines.
Blockhus seems the most likely of non-ranked guys and freshmen to make a splash, but this weight is too top heavy to see someone like that grabbing the spotlight without a major upset on his part.
I'm going to dive a little deeper into this weight in a separate article, but the picks boil down to: In my opinion, it's Pletcher's year. McKee seems to have finally hit his folkstyle stride and combined his freestyle identity in his final year of Gopher eligibility. Demas pinned Red in under a minute and although I have otherwise been very impressed with CJ this year, the image of the Sooner's pinfall is burned in my memory.
Nomad's Prediction: 1) Pletcher, tOSU 2) McKee, Minnesota 3) Demas, Oklahoma 4) Red, Nebraska