Unlock this article, live events, and more with a subscription!
Get Started
Already a subscriber? Log In
Since the end of last season, we have suspected that this year's team race would come down to Penn State and Iowa. Even though we can't determine this year's NCAA team champion until March, every result for each team during the regular season leads to speculation about what it could mean for the team race at the NCAA tournament. After the first month of the season, both teams have given us a lot to talk about.
Before the season started, Penn State was projected to score 119.5 placement and advancement points and Iowa was projected to score 103. Now, just five weeks into the season, Iowa is projected to score 139.5 while Penn State's projected total has dropped to 102.
So how have the Hawkeyes pulled off this 54-point swing? Here are the biggest factors:
---
197: Conel's Slow Start (Iowa +19)
Kyle Conel's rocky first month of the season has moved him from third in the rankings all the way down to #21. As a projected third-place finisher, Conel was projected to score 13.5 points while the 21st ranking is only good for half a point. To make matters worse for Penn State, Jacob Warner has risen in the rankings from seventh to fourth leading to a six-point bump in the rankings.
Warner's rankings jump is due to losses and injuries to guys ahead of him in the rankings, so he still needs to prove that he's a top-four guy. If Conel can regain his 2018 NCAA form, this is a weight class where Penn State could certainly make up ground.
---
285: Cassioppi's Rise (Iowa +14)
Iowa fans have been excited for Tony Cassioppi to get into the lineup, and he has seized the opportunity. Cassioppi already has two wins over ranked opponents, his best of which came against Wisconsin's #3 Trent Hillger. That win, combined with an inactive Gable Steveson's departure from the rankings, has Big Daddy Cass all the way up at #2.
Cassioppi has earned the #2 ranking to be sure, but we'll have to wait and see if he can perform up to this new expectation. He has yet to see a number of top guys in this field. His current #2 ranking does make a potential matchup with #1 Anthony Cassar more compelling, especially with these team implications at play.
Here's a look at Cassioppi taking out #14 Gannon Gremmel of Iowa State: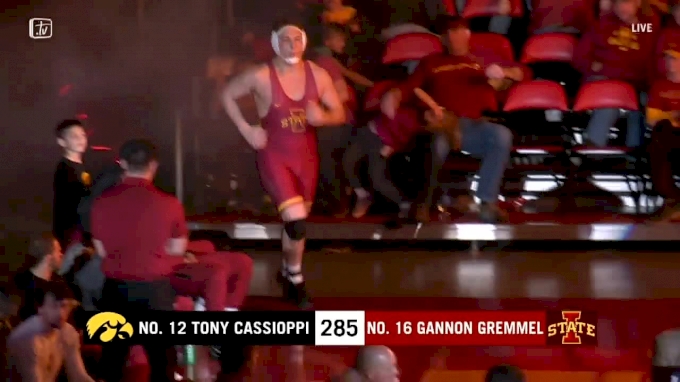 Unlock this video, live events, and more with a subscription!
Get Started
Already a subscriber? Log In
---
184: Nelson Brands Seizing 6th (Iowa +8)
At the start of the season, Cash Wilcke was projected to be Iowa's starter at 184, and Shakur Rasheed was ranked seventh in the country. All of that has changed because of Nelson Brands. The Iowa freshman was considered to be a backup at either 165 or 174, but he has made the most of his two opportunities to start for the Hawkeyes by beating then #17 Matthew Waddell of Chattanooga in Week 3 and then #5 Sammy Colbray in Week 4.
Those wins have earned Brands the #6 ranking and move Iowa's projected total at 184 from two points to nine. The move also bumps Rasheed back to eighth in the rankings, projecting one less point for Shak.
This weight seems like one where Penn State could make up a lot of ground as Rasheed, when he's healthy, is more than capable of finishing high on the podium and Brands, though solid so far, is still relatively untested against most of this field. For now, though, the Hawks are getting the better of the projection battle at this weight.
Here's Brands' win over Sammy Colbray: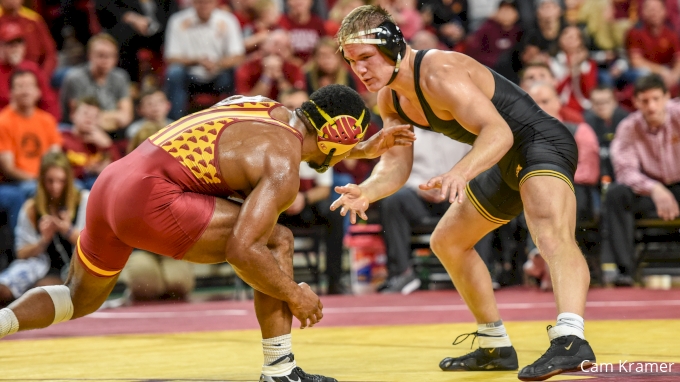 Unlock this video, live events, and more with a subscription!
Get Started
Already a subscriber? Log In
---
141 Lee and Murin Waiting for Opportunities (Iowa +6)
This is a weight where the change in the projection has nothing to do with either wrestler's season. Nick Lee and Max Murin have both defeated every opponent they've faced this year, but the other guys at the weight have shifted things a bit. Luke Pletcher's win over Dom Demas moved him past Lee and into first place. Kyle Shoop's loss to Josh Heil has moved him behind Murin.
These factors combine for a net six points in the Hawkeyes' favor and demonstrate how fickle these NCAA projections can be.
---
149 Lugo Over Degen (Iowa +4.5)
Pat Lugo started the year ranked sixth due in large part to his two losses last year to Jarrett Degen. Lugo got the Degen monkey off his back last weekend in Iowa's dual against Iowa State. This happened in a week when both Max Thomsen and Brock Zacherl took losses, which has moved Lugo into the #3 spot with a 4.5-point bump in the team rankings.
Penn State seems to still be figuring out if Luke Gardner or Jared Verkleeren is their better option at this weight. Either one of them would have to significantly improve on their current results to factor into this team race.
---
133 Austin DeSanto #1 (Iowa +4)
On Sunday, Austin DeSanto pulled off an improbable upset of Wisconsin's #1 Seth Gross. DeSanto looked dominant in a 6-2 decision over the 2018 NCAA champ. This win puts DeSanto atop the 133-pound rankings and adds four points to his team tally. The question of whether DeSanto can replicate his win over Gross looms large, but he was rather impressive this weekend.
---
Preseason vs Current Rankings
---
The Key Question: Can Penn State Still Win?
Of course.
As stated above, Penn State could see major jumps in the team standings by improving upon current rankings at 184 where Shakur Rasheed could climb up the podium and at 197 if Conel were to return to form. On top of that, Nick Lee is a serious threat to win it all at 141 which would give PSU a big point bump.
Additionally, Iowa still has a lot to prove to maintain their rankings at 184 and 285 as is often the case when freshmen are in the lineup.
Don't be surprised to see a whole lot more shifting in these team projections as this season marches on. We'll be watching out for it and will keep you updated.
Bonus Question: The Bonus Question
No team race conversation is complete without discussing how each team's bonus points could factor into the final score. Each team has a list of guys who could score significant bonus points at NCAA's this year. For Iowa, Spencer Lee is a proven bonus point scorer, and Austin DeSanto's pace often yields bonus points, especially in early rounds. Throw in Michael Kemerer who has bonus points in all three of his matches this year and Tony Cassioppi who has professed his goal of claiming the Hawkeye pin record, and you could see a whole lot of bonus points from Iowa.
Penn State has bonus point machines Nick Lee and Anthony Cassar as well as Vincenzo Joseph, Mark Hall, and Shakur Rasheed who all have the potential to pin opponents. Don't be surprised if either one of these teams puts up serious bonus points in March, but right now, neither team has a clear edge in this category.